Wondering if there's a way to add a form in WordPress without a single touch of code? Yes, it is!
Online forms allow you to collect information and data efficiently and easily. With these instruments, you can sell products, gather feedback from your customers, hire people, and so on. And this is not all. Once you collect information about your customers, you can create a database and use it to send newsletters.
There are countless benefits to using online forms, but how do you create a form and add it to your WordPress website?
---
In this article, we will share:
Why use Kali Forms to create online forms;
How to build a WordPress form using this form builder;
How to add a form in WordPress with just a few clicks;
And much more.
---
---
Why use Kali Forms to create online forms?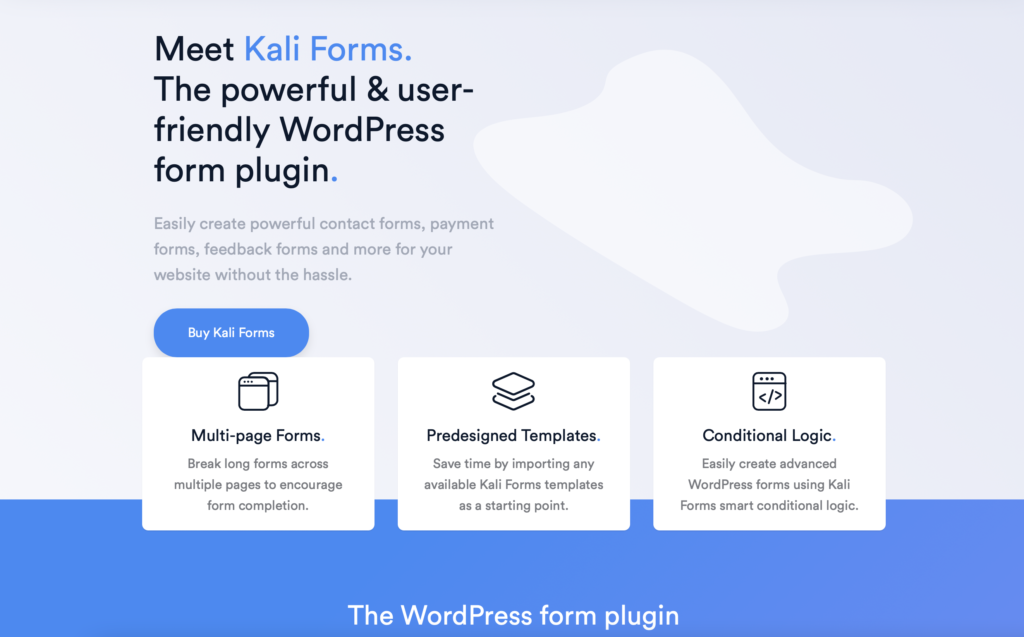 Kali Forms is a great plugin that helps you simplify your work and speed up the process. It is the most powerful and user-friendly WordPress form plugin that integrates a significant amount of features:
Drag and drop builder;
Mobile responsiveness;
Advanced fields – collect information from users through a big bunch of field types;
Digital signature – add digital signatures to your form;
Conditional logic – hide and show fields in your forms based on your user selections;
Multi-page forms – group your page fields on different pages;
Form notifications – trigger one or multiple notifications on each submission form;
Submissions handling – store submission data in your database;
reCAPTCHA and Akismet integration – prevent spam submissions through Google reCAPTCHA and Akismet services;
Form templates – pre-made templates that can be added to your form;
Form calculator – perform complex or straightforward calculation through your form fields;
PayPal and Stripe integration – allow payments through the PayPal and Stripe payment gateways;
User registration – create, edit, and login users;
Digital signature – add digital signatures to your form;
Enhance eCommerce – Increase e-Commerce flexibility by adding multiple product fields;
MailChimp, MailerLite, ConvertKit, ActiveCampaign, Sendfox, Sendinblue; Mailpoet, Moosend, Campaign Monitor – add users to your newsletters;
Google Analytics – track user behavior on your forms;
HubSpot integration.
And much more.
And the best part? You only need to create your form in Kali Forms and then copy and paste the shortcode into a page or post.
---
How to create a WordPress form with Kali Forms
First of all, you will need to install and activate Kali Forms. Then, you can start creating your form. Kali Forms lets you build unlimited forms for your website and integrates many fields to create forms for different purposes:
When you want to create a new form, go to your WordPress menu > Kali Forms > Add New.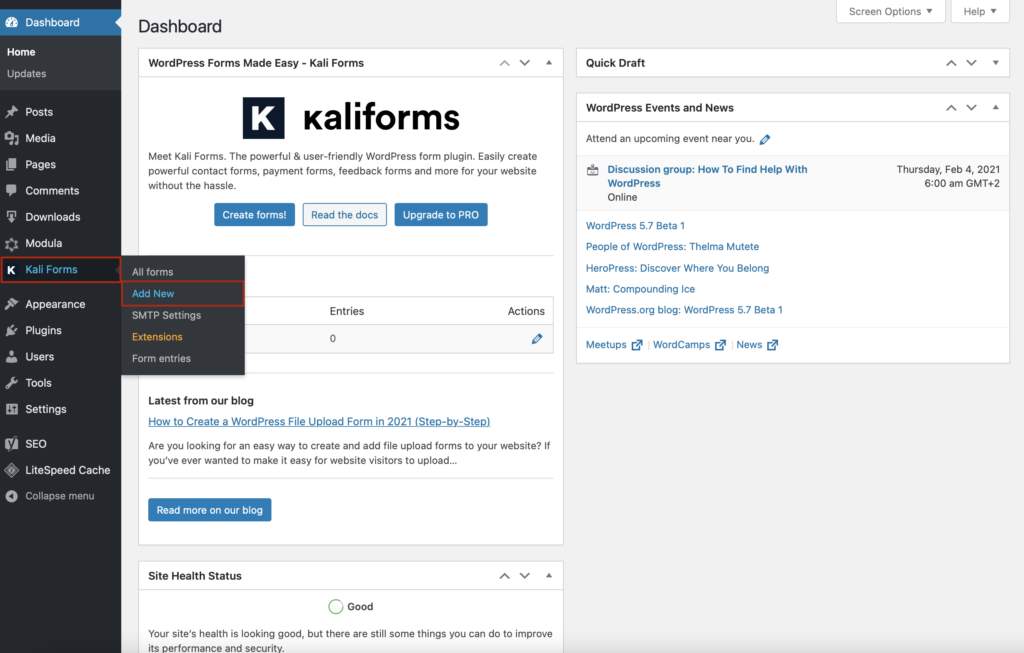 You'll be redirected to a page with pre-designed templates – contact form, customer feedback form, appointment form, etc.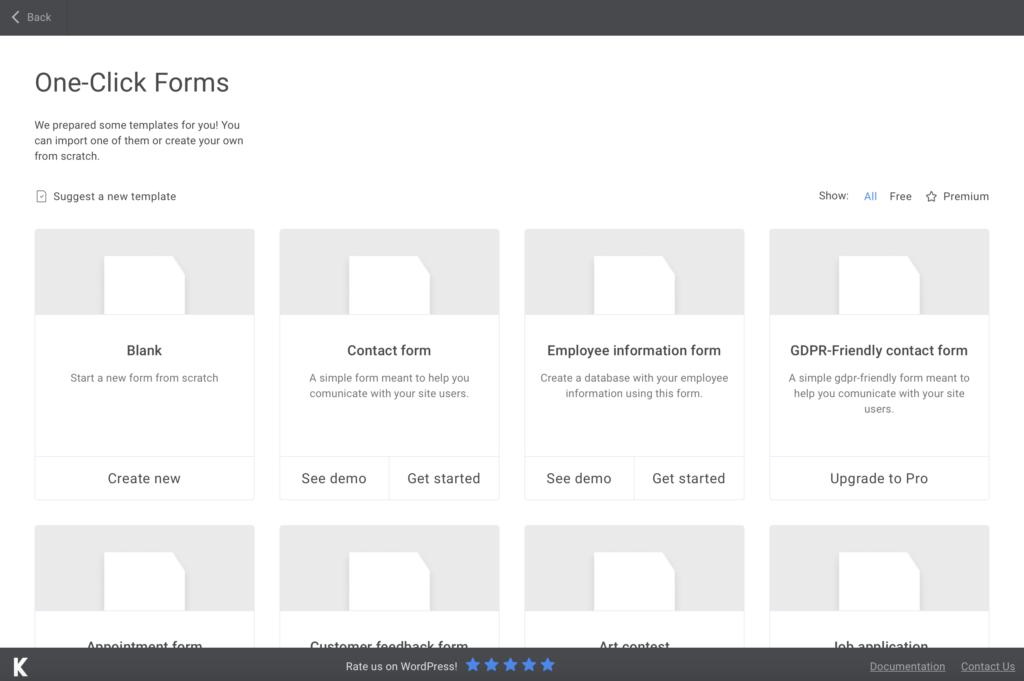 If there's one of your needs, you can use any of these templates and customize them according to your style, or you can create a new one.
Well, let's choose the contact form template and add it to our WordPress page. Hover your mouse cursor over the template and click Get started.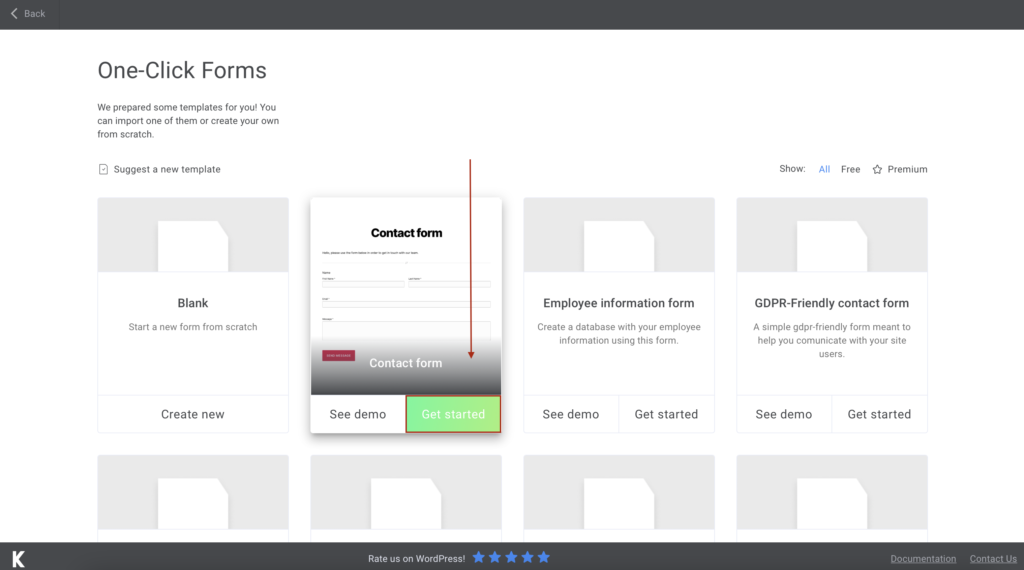 Next, you'll have to select your form's visual style – I'll choose the dark theme. Once you're happy with your form theme, click Import.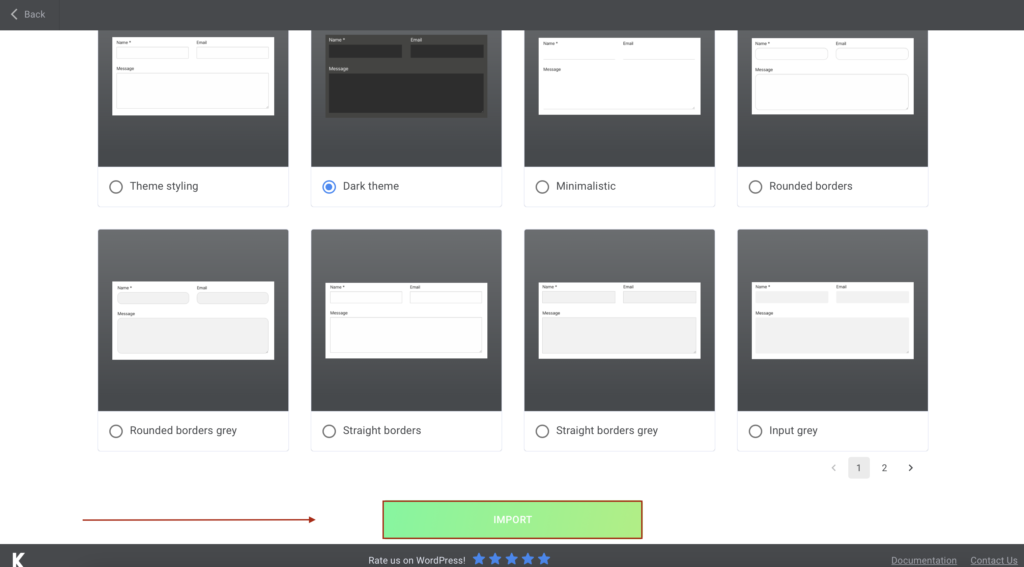 Now, you'll find yourself redirected to customize your contact form. Here you can add more fields or edit existing ones. You can add a name, a description or placeholders, make fields required to fill or not, and more advanced customizations.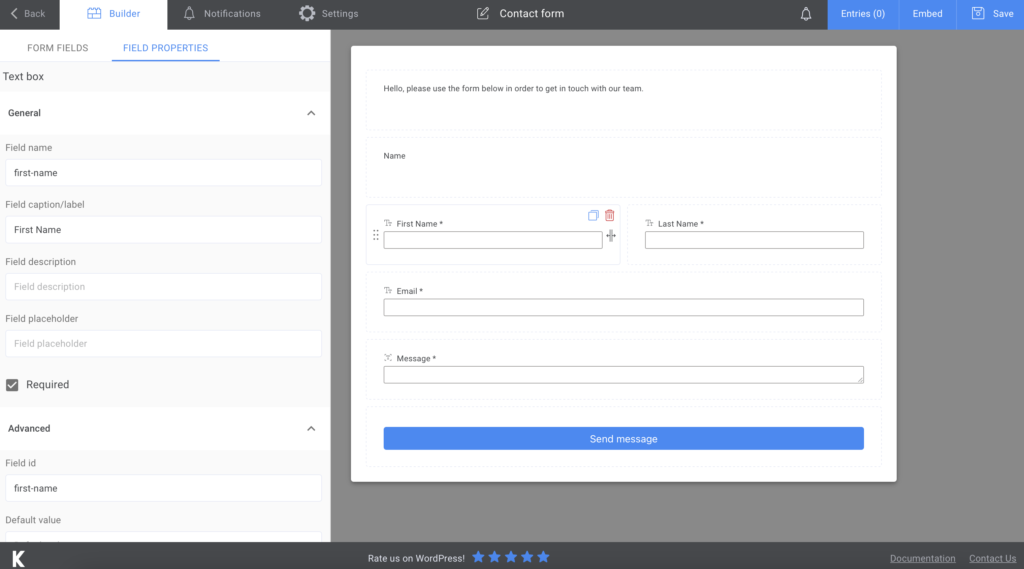 Moreover, you can set email confirmation in the Notifications section. Moreover, if you upgrade to Kali Forms PRO, you can even send SMS notifications.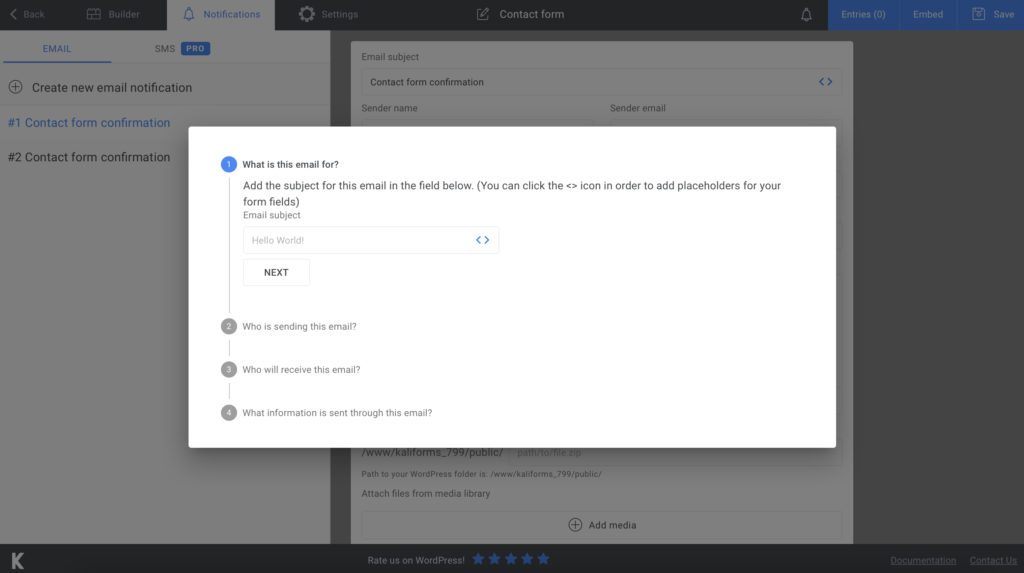 After that, you can take advantage of more customization options in the Settings section. You can choose the form style or display a personalized "thank you" message. If you pay for the premium version, you can also send newsletters, create user registration, and so on.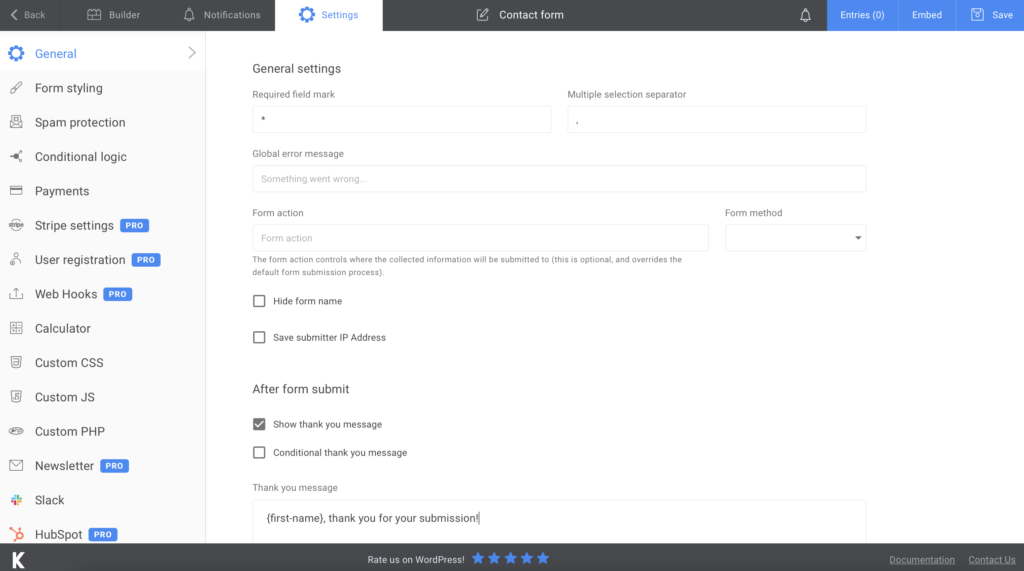 Are you satisfied with your form? Then, click Save.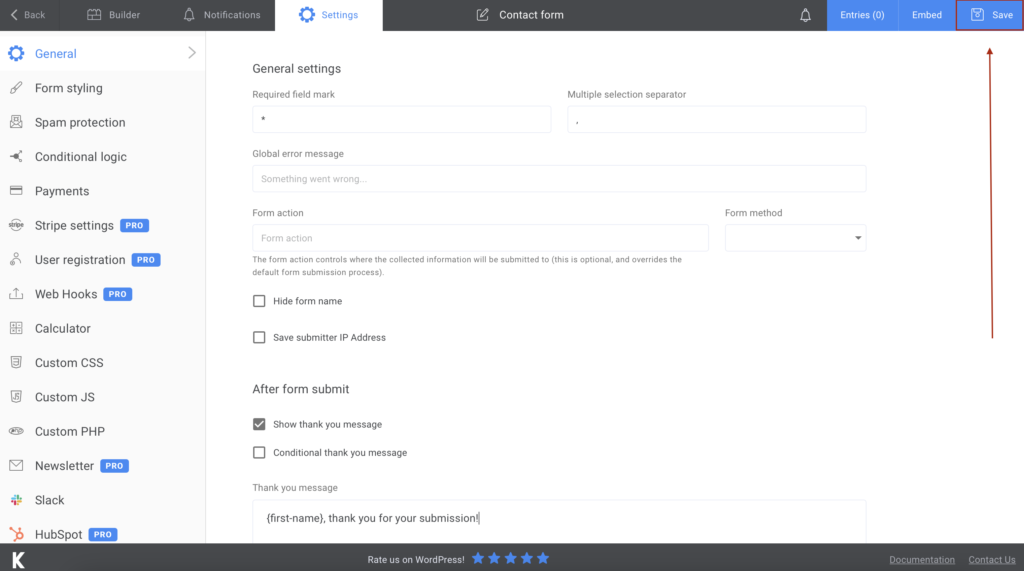 ---
How to add a form in WordPress
Every time you want to add a form in WordPress, go to Kali Forms, and here you will find all the built forms. When you see your contact form, copy its shortcode.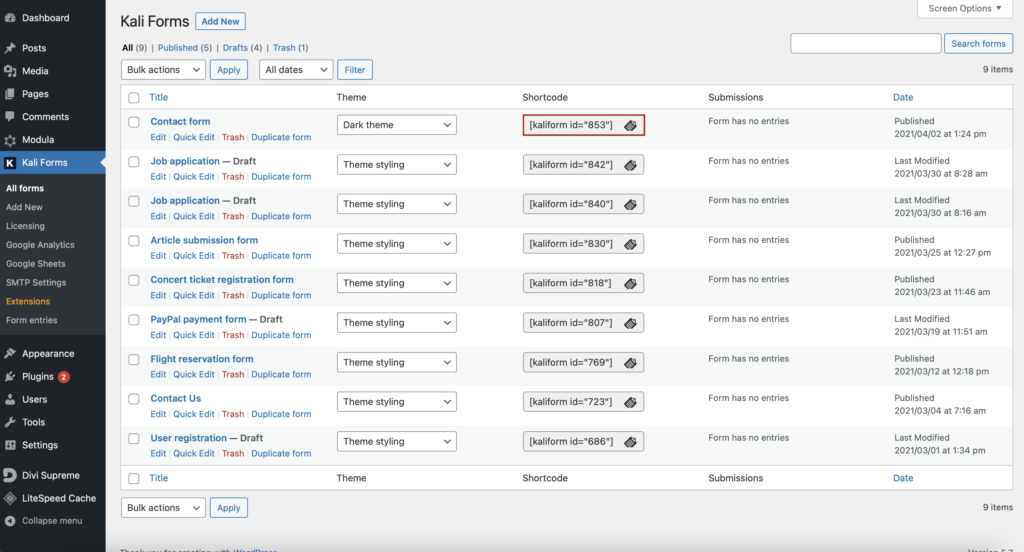 Next, go to one of your pages or create a new one and paste the shortcode there.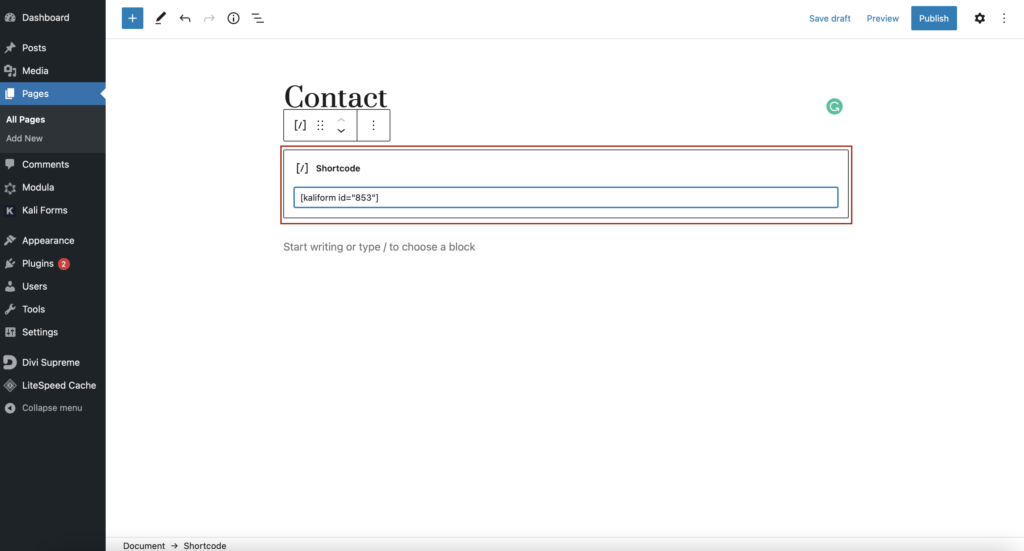 ---
Summary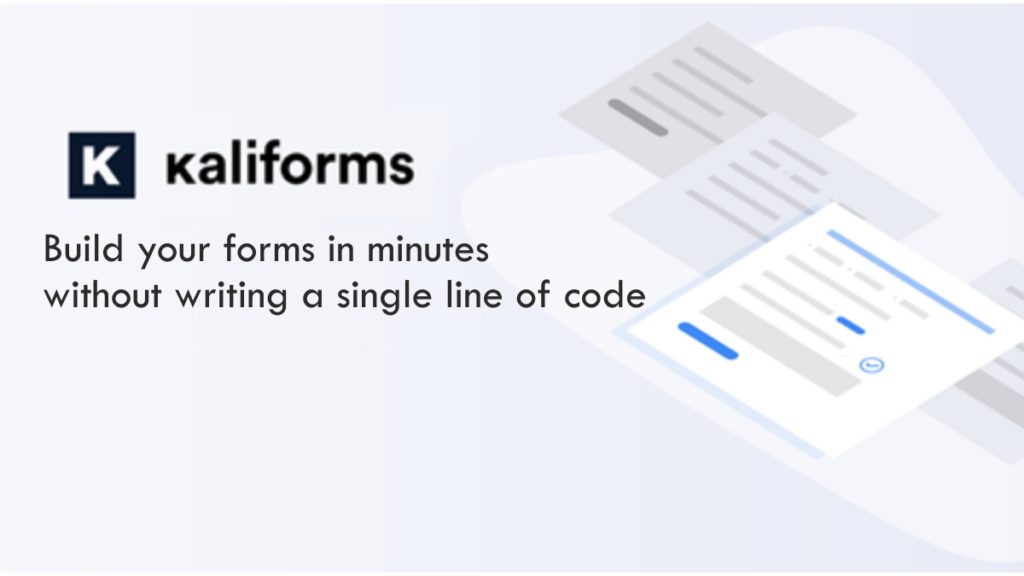 Adding forms to your WordPress pages has never been easier. As you can see, Kali Forms is a fast, modern, clean, and extensible form plugin that increases your workflow. Give it a try and convince yourself!