Are you looking for a sponsorship application form to support charity events?
Look no further! We are here to show you how to create a sponsorship application form and gather as many organizations as possible. Organizations create sponsorship forms to build partnerships with different communities or businesses. This form is a good way to give money for charity events and keep track of every organization that you will support. The purpose of these application forms is to create a lifelong relationship between your business and the organizations that manage charity events.
Lucky for you, we are going to take you through the entire process of creating a sponsorship application form and presenting the benefits of doing this online.
---
Why should you use an online sponsorship application form?
Building an online form is more efficient and can be used to gather more information for a wide range of purposes. But let's discuss more details and see how those online forms can help you.
Simple to build
An online form provides you the option to use multiple fields and customize your form according to your preferences easily than designing it manually. It also saves you a lot of time. You won't have to call every organization or go directly to their headquarters to negotiate with them the amount you will give them for the event. You will have full control over the forms, and it will be time-saving for you and the event planner as well.
Accurate data
An online form builder can reduce costs and grow efficiency. You will get all the information you need and you will be sure that each field will be completed. Creating an online sponsorship application form will be the better choice you have made. The form can also be filled in from every mobile device, tablet, laptop, PC, and so on. Moreover, your forms can be completed by many organizations doing this process online and you won't have to distribute them at their headquarters.
Keep track of everything
After you gathered a significant amount of the charity events, you have to create a database with the information of those organizations. It will be easier for you to collect all this data online and store the contact details with these online forms. You'll have everything in one place, and you won't have to worry about losing information. You will reduce paperwork and increase the security of the documents.
---
How to create a sponsorship application form
This process is super easy, and you will go through it in no time. Follow this tutorial and start creating your sponsorship application form with Kali Forms, a plugin that will help you to customize your forms according to your needs. Let's take it step-by-step and see what you need for this kind of form.
Install Kali Forms plugin
I'm going to take a wild guess and say you already have a website. If not, you can follow this tutorial on how to create a WordPress website – it is extremely easy to follow. Building a website will bring you many benefits, and you will have fun with a lot of features. The next step is to go to your WordPress dashboard and find the Plugin item. Click on Add new, and a search bar in the right corner will appear. Type Kali Forms in the search box, press Install, and wait for a couple of minutes.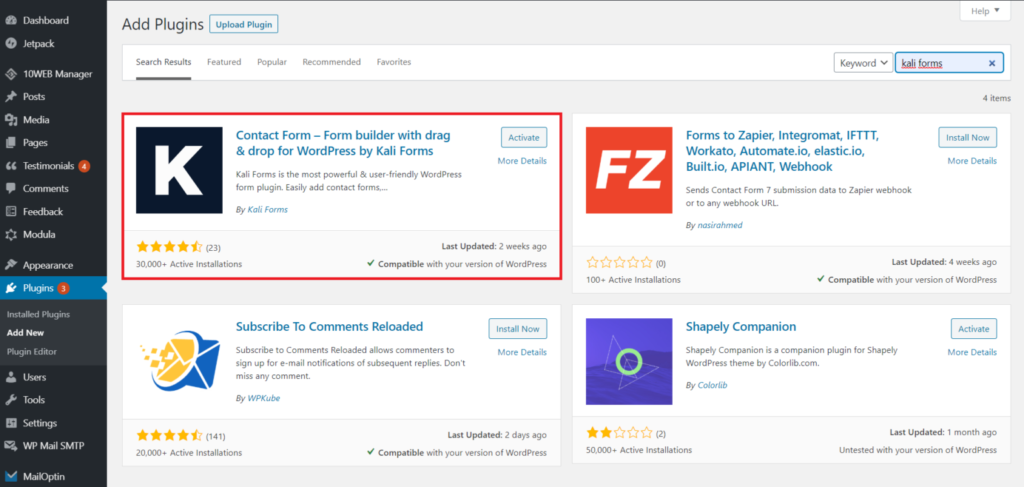 After you install the plugin, you need to Activate it by pressing this button. So, do it.

Now you are ready to create your sponsorship application form. Kali Forms will pop up in your WordPress menu. Every time you want to add a new form, go to the plugin item and click on Add new.
---
Creating a new form
Next, click on Add new, and it will appear a new page with a bunch of predesigned templates. You can choose one of these if it's one of your interests. But right now, we will create a form from scratch. So, press on Create new.
What's next? Give a name to your form. I am going to write sponsorship application form, but you can type whatever you want.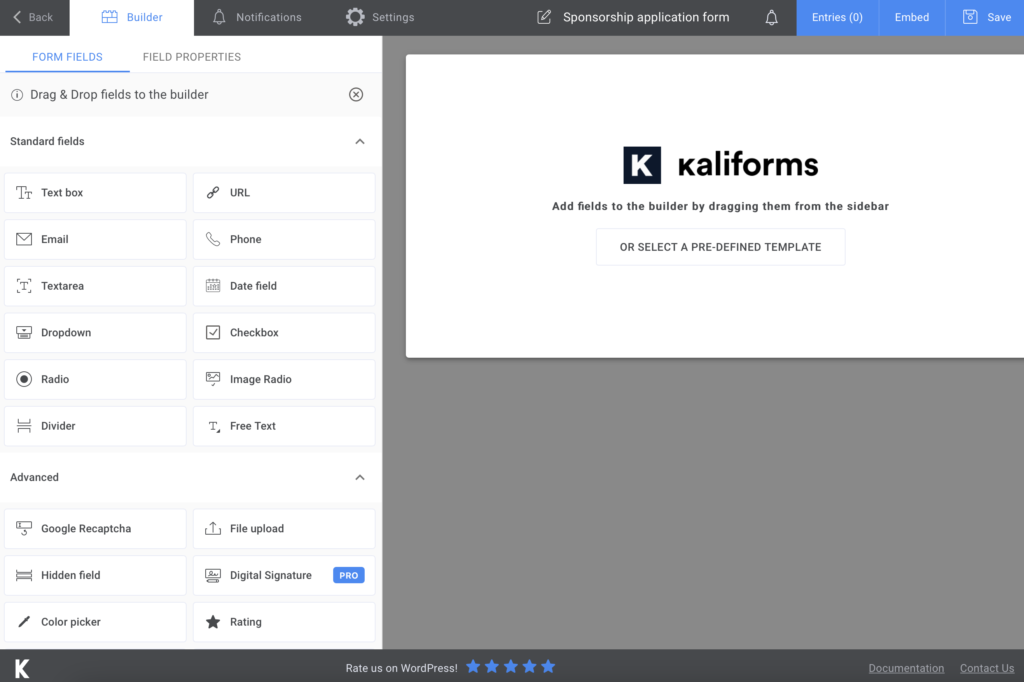 ---
Adding form fields
You can now start adding fields and get crazy with features – you will see that here everything is customizable. On the left of your page, you will see a lot of options and features that will complete your form with a large variety of fields. Once you get used to them, start adding fields to your form. The customization option will also appear on the left. Name your fields, add a description for every area, make them required to fill or not. Without further ado, let's create our sponsorship application form.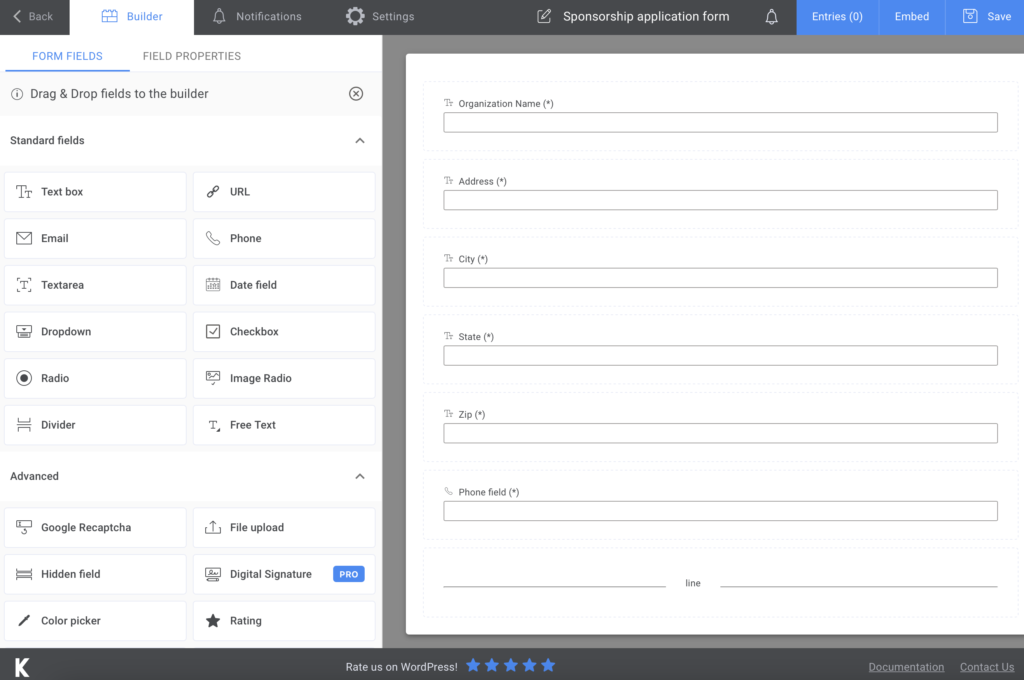 I'm going to start with the information about the organization that is requesting sponsorship. You can begin with adding five Text boxes – one for the organization name, another one for the address, and three more for the city, state, and zip code. After that, I added a Phone box with the phone number of the organization. Once you find out the information of the organization, you can add a Divider to separate this section from others.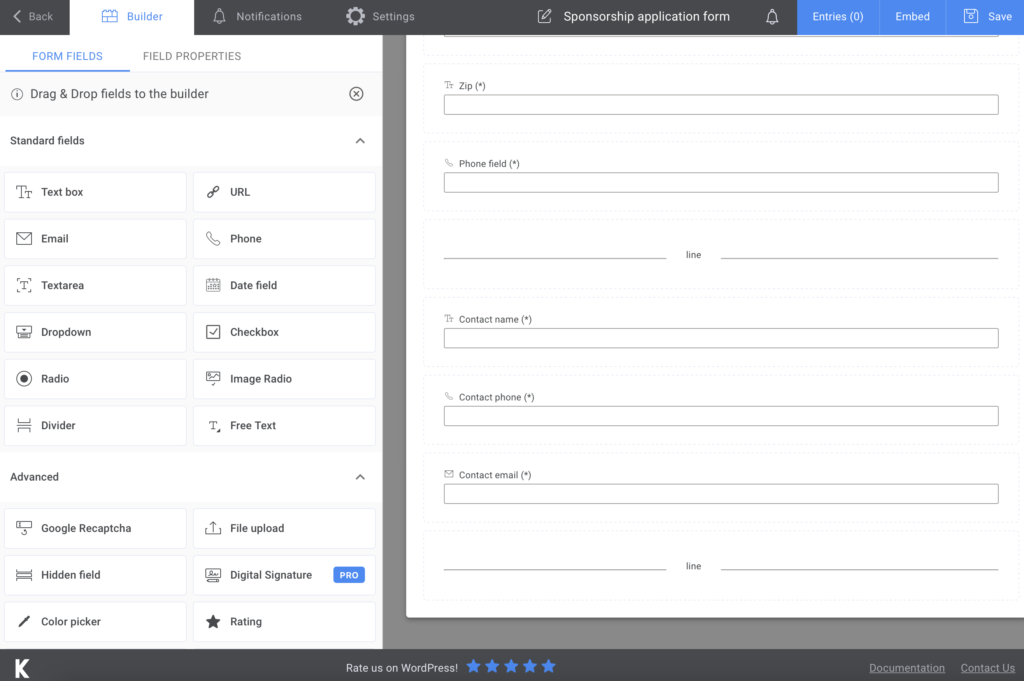 The next section of your form should include some personal information about the contact person. I added a Text box for the contact name, a Phone box for the number of the contact person, and an Email field to find out the email of this person. As in the previous section, I attached a Divider to split this section from the others.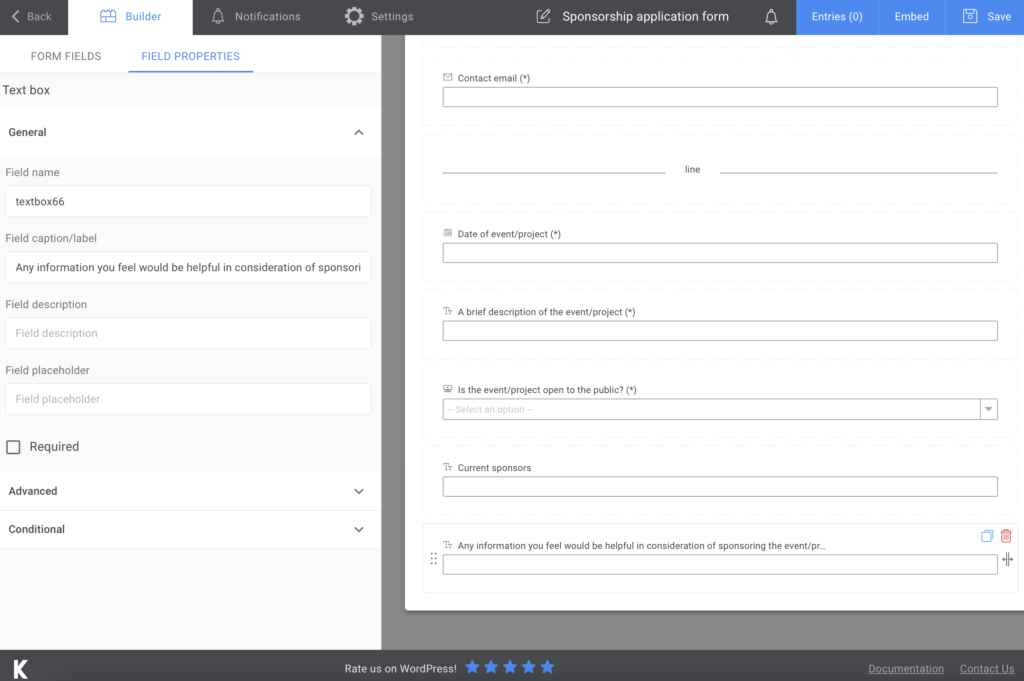 In the last section, I added four more fields to find out details about the charity event. Add a Date field for the date of the event/project, a Text box for the description of the event/project, a Dropdown to find out if the event/project is open to the public or not, a Text box to see who are the current sponsors and another Text box for additional information they want to provide you. You can add any more information or other details if you think so.
---
Additional features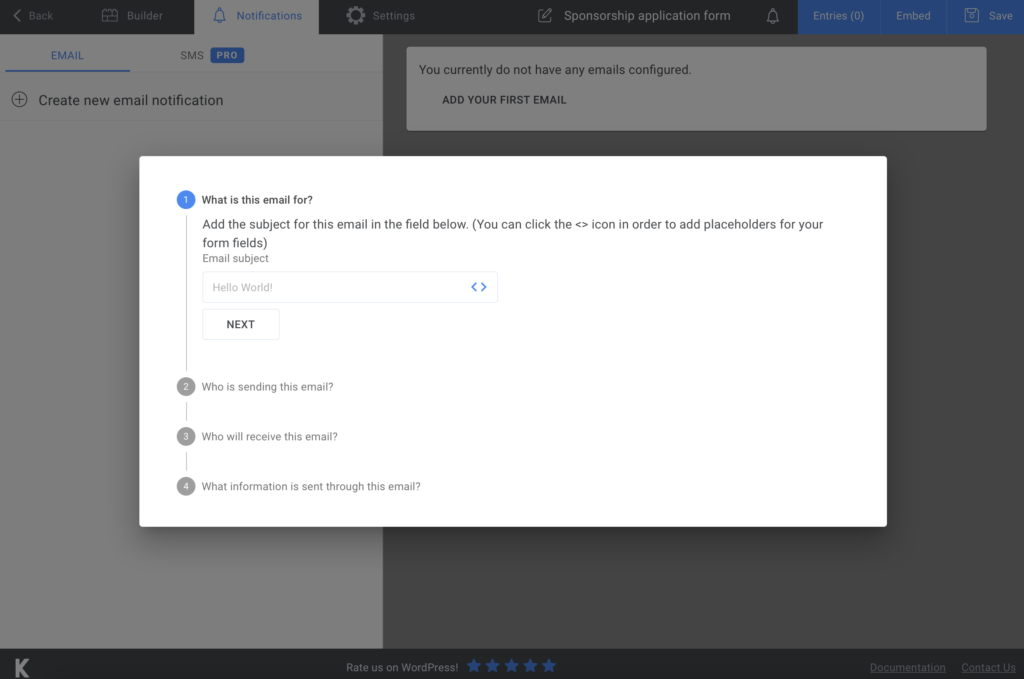 What's more, you can send an automated confirmation mail. Go to Notification, and it will appear a page like the one shown above. As an alternative, you can watch this tutorial of how to send submitted data in the form notifications.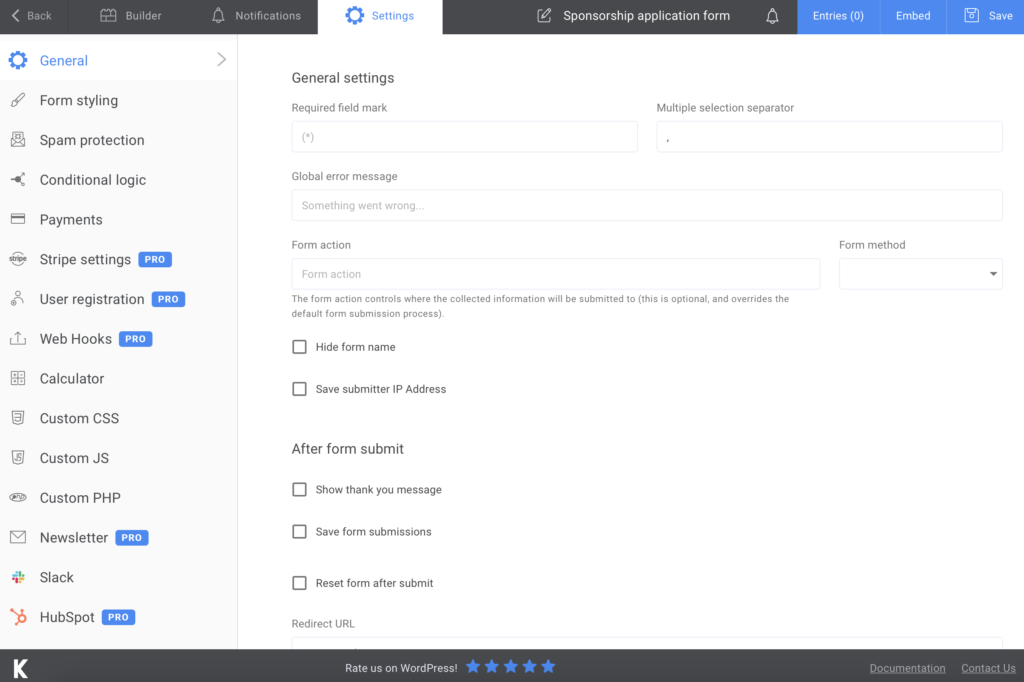 You can also go crazy with customization by going to the Settings section. You can type a personalized "thank you" message and choose your preferred Form Style. Take a look at these settings and modify them according to your preferences.
---
Adding the sponsorship application form to your website
Now we are really in the final phase. Once you are done playing with the fields, settings, and customization, click the Save button. A specific shortcode will be generated for your form. You will only have to copy the shortcode and paste it into a page on your website.
If you want to have an organized database with the information of the organizations and the events, you can export your form submission to CVS or Excel. I advise you to store it somewhere safe if you want to find them easily.
---
Summary
Now that we finished with this extremely easy tutorial, you can share the sponsorship application form to your website and wait for the organizations to fill it in. It's is easy-to-use, time saver, and very intuitive thanks to Kali Forms, the most stunning online form builder. Try it out and convince yourself it's worth it.