Customer testimonials show a high level of trust because they are authentic feedback from individuals who have used them. Customers will always be able to persuade your future clients more than you can.
The good news is that an excellent testimonial will do much serious work for you and can typically be used across your marketing site.
No matter how persuasive your content is or how lovely your product is presented, testimonials are still the most effective approach to demonstrate that the public is on your side and that those who trust you get the outcomes they want.
---
This article will present you:
What is testimonial, and why to display testimonial request forms on your website
Tools to create a client testimonial request form
---
---
What is a testimonial?
A testimonial is a statement made by a previous consumer about how a product or service helped them. Usually, business owners write testimonials based on particular questions they ask happy clients. Moreover, they frequently give before-and-after comparisons or particular improvement figures to demonstrate their effectiveness.
Testimonials differ from reviews because reviews are usually unguided and submitted by the consumer directly. Moreover, reviews can be negative, while testimonials will always present your clients only with the benefits of working with you. Testimonials can help you gain customers' trust and credibility, especially if you utilize them to overcome skepticism. They're frequently seen on a company's website, marketing materials, or social network accounts.
With that being said, let's take a look at the benefits you will gain if you add a testimonial submission form:
Testimonials work like referrals — For good reason, people prefer to trust other customers than businesses. Few individuals will put their confidence in a company since they believe their only objective is to obtain their money. Customer testimonials are similar to referrals because they persuade your visitors to trust you.
Explains how your product/ service works — The products and services offered by a brand may not always be self-explanatory. Some products and services, in reality, may be used in a variety of ways. So, your client testimonials can provide your website's visitors with information on how your products or services function. This is because your consumers are more likely to describe how your products or services helped them satisfy their needs.
Build trust — Simply having a customer testimonial section on your website could be enough to gain visitors' trust. This is because, firstly, they demonstrate that you have clients and, as a result, you have a real business rather than an online scam. Secondly, testimonials are similar to positive feedback from former clients. The more testimonials you have, the more likely your visitors will believe you are a trustworthy organization.
Explains the advantages of your products/ services — Customer testimonials are excellent in illustrating how useful your product or service is in helping to position your business in a favorable and trustworthy light. So, a good customer testimonial will explain the client's problem and how your product or service solved it.
Create emotional bonds — Visitors find it easier to connect with other buyers than interact with their CEO. It will be easier for people to relate to your brand if they can relate to them through testimonials. When it comes to converting new clients, such an emotional connection can be a strong strategy. Make sure to include the names and photos of the customers who provided the testimonials so that visitors can connect with them on a more emotional level.
---
How to add a testimonial request form to your website
Now that we established how important a testimonial form is and we have seen its benefits, let's compare the three most popular tools that business owners use when creating a testimonial submission form:
---
Kali Forms
Kali Forms is the ideal WordPress form builder plugin for anyone who wants to contact them or sign up for an event through their website. If you want to build a WordPress form, you should use Kali Forms, whether you're a business owner, blogger, agency, or designer.
Moreover, you can create an online testimonial form from the ground up because it is effortless to use. Without writing a single line of code, you can design and edit sophisticated forms for your WordPress website. However, if you're a developer who wants to modify your forms further, we're not going to stop you or stand in your way. Even though the GDPR law is pretty rough, with Kali Forms, you can create forms that directly request permission from your clients to post their testimonials online.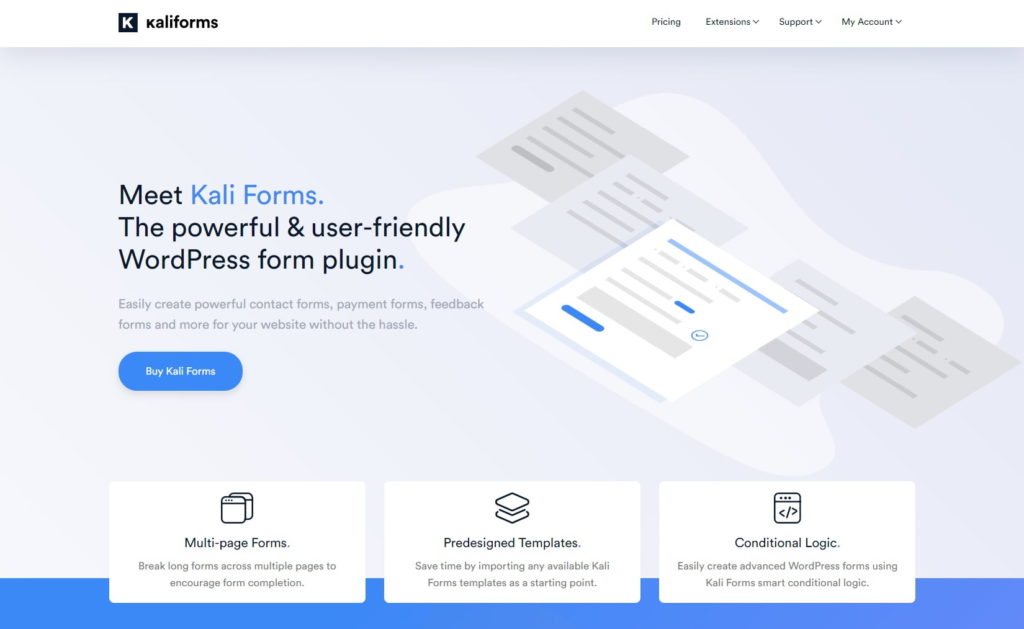 ---
Benefits of using Kali Forms
💰 Increase conversions by having plenty of people signed up in your request forms.
🐱‍🏍 Having professional customer testimonial forms displayed on your website will create an amazing image for your brand.
📨 Build an incredible email fast.
🤗 Populate your CRM (Customer Relationship Management).
📞 Offer support to your customers.
---
Kali Forms features
👩🏻‍💻 Build the form you need in minutes with this form builder plugin.
📧 Each form submission can trigger notification via email for both submitting users and admins.
🤩 Kali Forms provides a large variety of form fields that can be used to built-up your forms.
🤹🏻‍♀️ Easily group fields in separate pages for a better submission process for your users.
🎨 Stop spending hours designing forms. Instead, start using Kali Forms' predesigned templates.
🛑 Use our built-in reCAPTCHA integration to protect your forms from spam.
📂 Want people to submit documents or photos? Easy. Just add file upload fields to forms.
📲 We're here to make sure no questions are left unanswered and you have a smooth experience.
---
With the help of Kali Forms, you can design testimonial request forms and any other type of registration form. Thanks to its user-friendly interface, you will be able to create the most professional forms.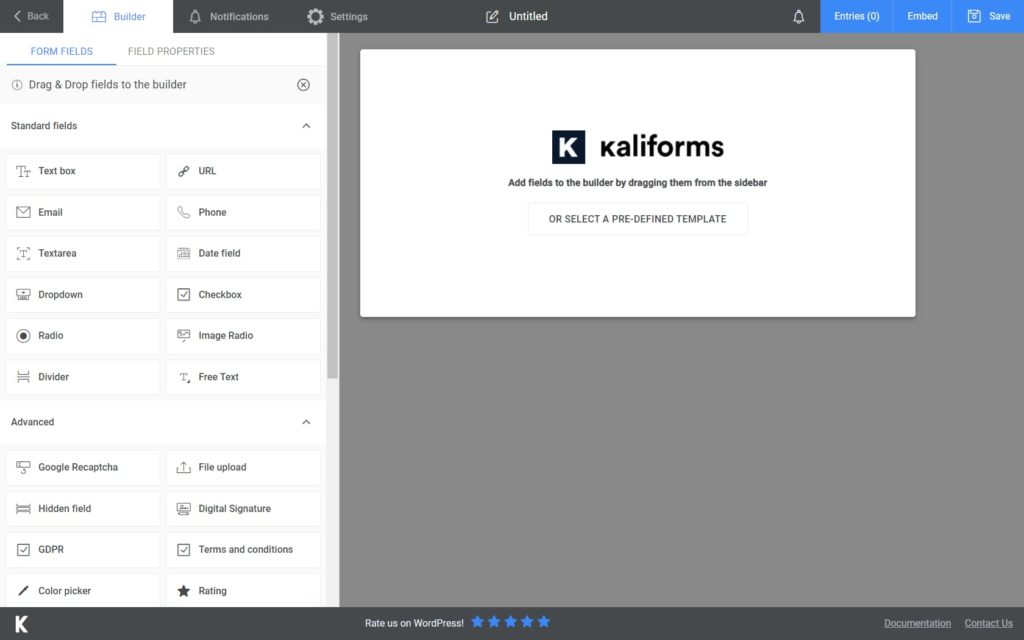 Furthermore, as mentioned above, you have at your disposal multiple templates you can choose from. Therefore, these templates will simplify your work and make your forms stand out from the crowd.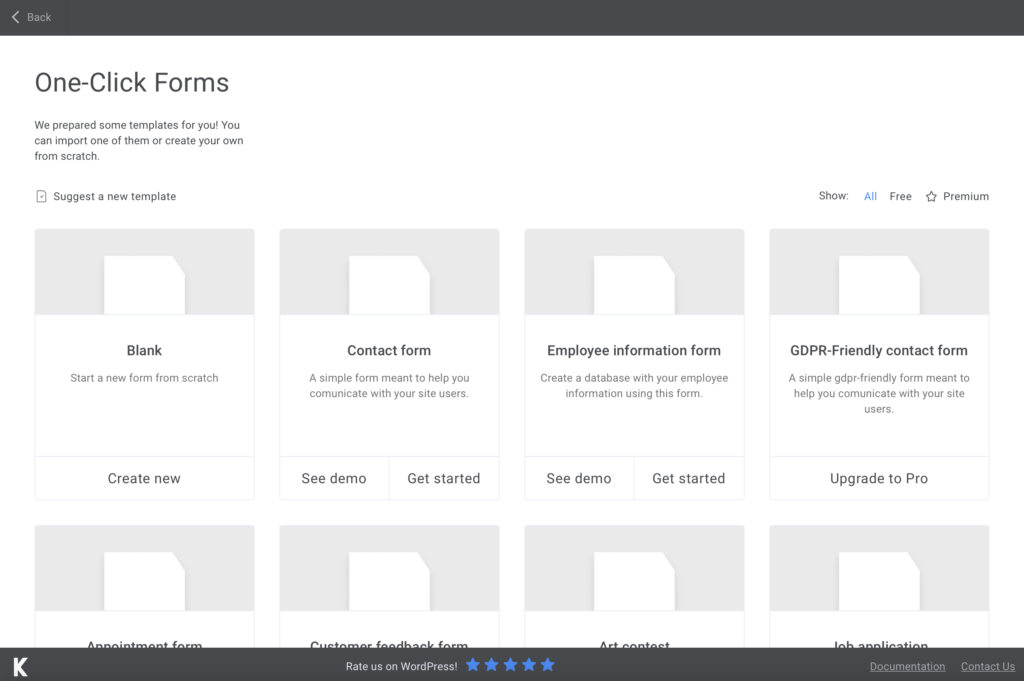 ---
Usability
Thanks to its amazing interface and the straightforward drag and drop process, the plugin is pretty simple to use, and it requires little effort to learn all of its functions. Overall, I would give it a 5⭐ rating.
---
---
Pricing
The Plugin comes in two versions — the free one and the paid ones. Of course, you have plenty of customization settings with the free version. Still, if you want to take advantage of all its features and create the most authentic testimonial registration form, I am totally recommending you upgrade it to the premium version. The cheapest plan starts from $29 per year, and the most premium plan goes all the way to $89 per year. So, choose the right plan depending on your needs.
If you consider the free version isn't enough, take a look at this table that shows all the premium plans Kali Forms has to offer: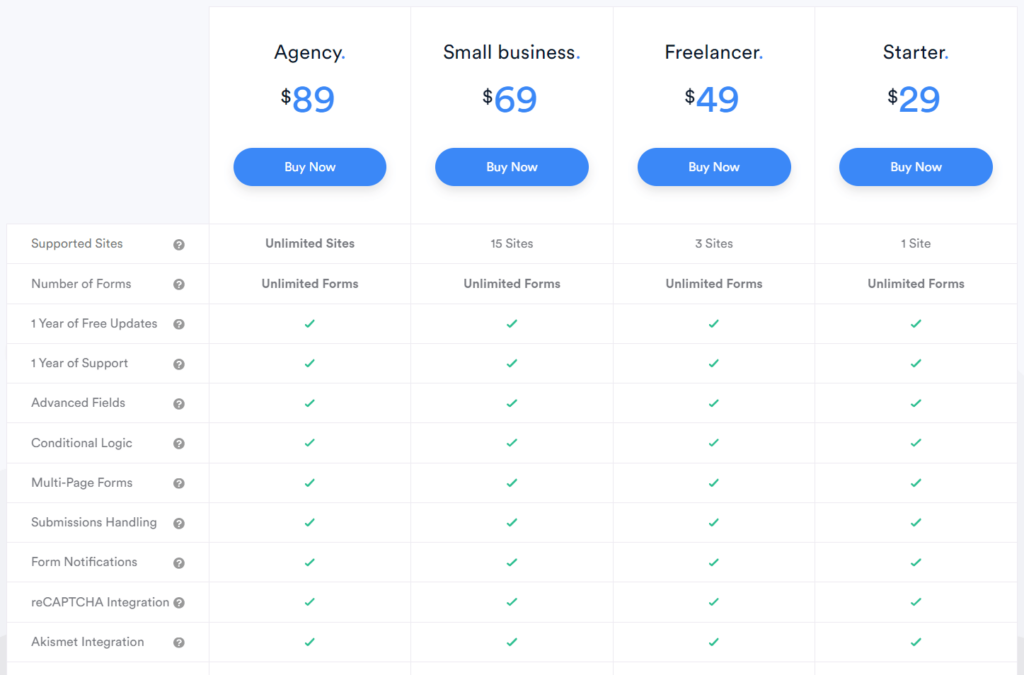 Read the following articles to see in-depth how to use the plugin
---
Strong Testimonials
Strong Testimonials is the ideal option for WordPress-based businesses and brands looking to boost conversions and establish trust. The Strong Testimonials Plugin makes it easier than ever to create and use testimonials because you don't have to write a single line of code. However, if you're a developer who wants to personalize testimonials further, I am totally encouraging you to use our functions to customize your testimonials exactly the way you want!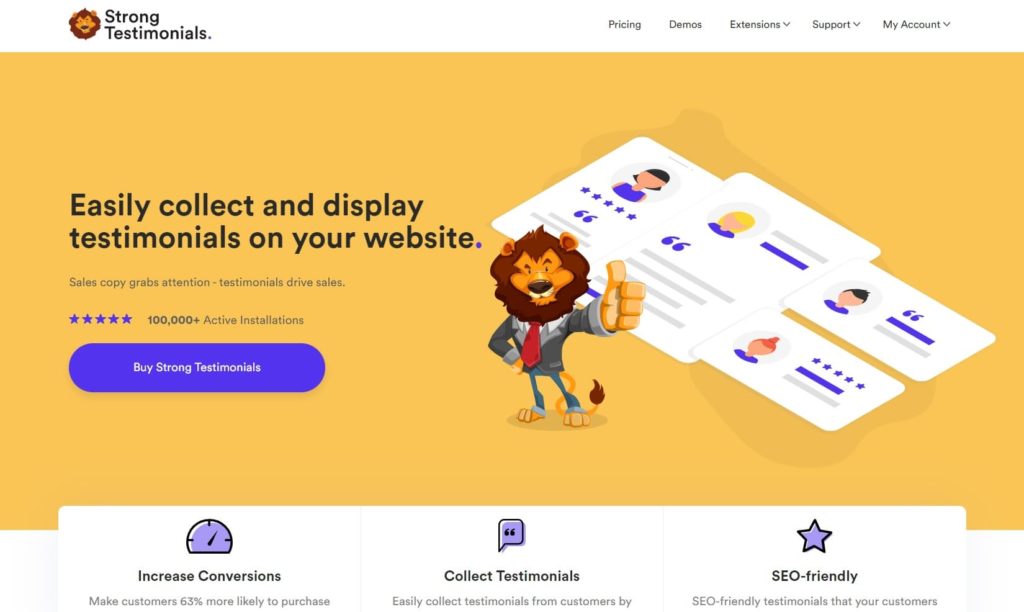 ---
Benefits of using Strong Testimonials
💪🏻 Build trust.
😋 Overcome skepticism and create credibility.
💸 Amazing sales pitch technique.
🎯 Get more exposure to your brand.
💰 Maximize your profits.
---
Strong Testimonials features
🤗 The possibility of creating SEO-friendly testimonials.
🎭 Create beautiful testimonial designs with several predesigned and easy-to-use premium templates.
🛡️ Protect your testimonial submission forms from spam and other types of automated abuse.
🌟 Customize your testimonials beyond star ratings, reorder fields, and more.
👀 Enhance your submission forms to both collect and display additional information.
---
From multiple perspectives, this is the best testimonial form plugin you can add to your WordPress website. Firstly, besides a testimonial request form, you can also create all types of testimonials. Therefore, you can choose from different template styles such as card, elegant, modern (my favorite), simple, table, etc.
Secondly, after creating a testimonial and choosing the desired template style, you can select how your testimonial is displayed. There are four main Views options, Display, Slideshow, Form, Single Template. Obviously, we will go for the Form view option. Every single one of them has different customization options to make sure that it fits your preferences.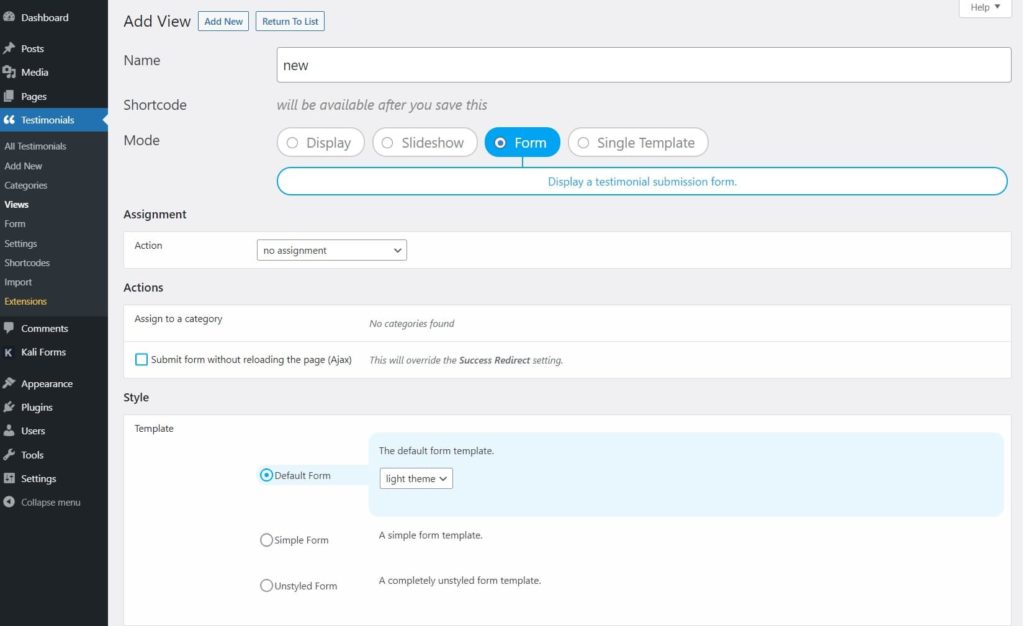 After that, scroll down and click on Save Changes. By doing so, a shortcode will be generated to copy and paste into an existing page/ article post or a new one.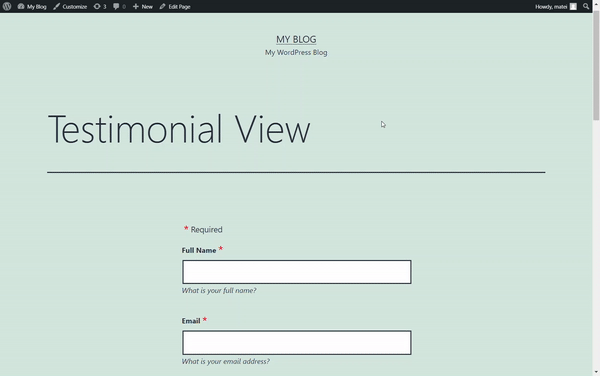 ---
Usability
At first glance, it might seem a bit overwhelming to work with Strong Testimonials, but once you start playing with it, you'll realize how easy and fun it is. I said it once, and I'll repeat it, this plugin delivers such amazing results in minutes without needing any coding knowledge.
---
---
Pricing
Just like Kali Forms, the plugin has a free version and a premium one. You can get the job done and have amazing results even with the free version of it, but the features that the premium version has to offer are game-changing. So, choosing one of the premium plans will literally skyrocket your profits and boost your SEO score immediately. The cheapest premium version is $49 per and goes all the way up to $149 per year — this plan makes sure that it delivers full power.
The image below presents the four premium plans, in case if you consider that the free plan is not enough: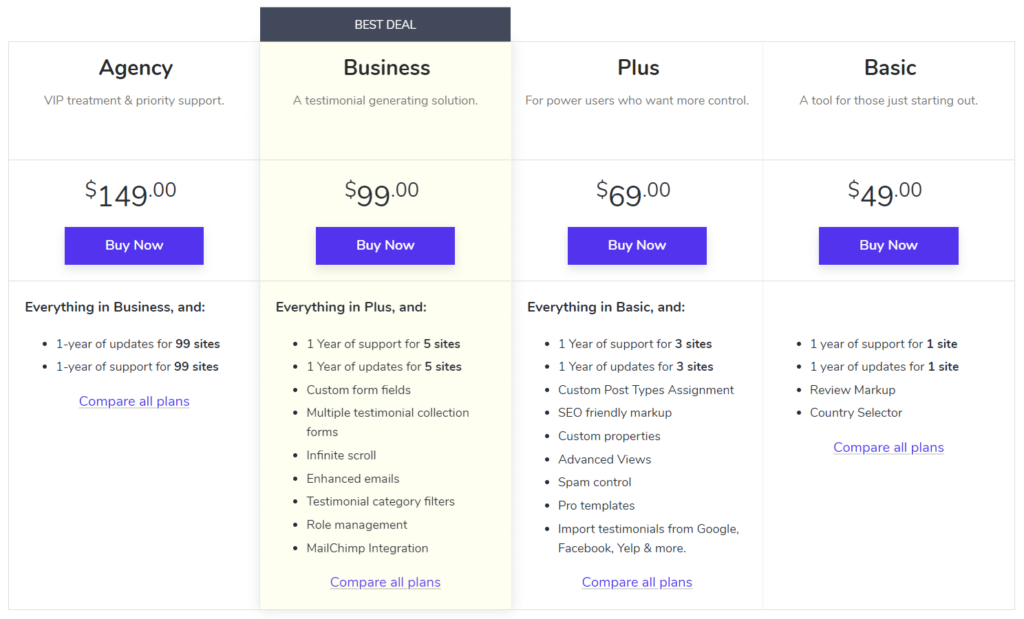 ---
To sum up, if you want to find out how to get a testimonial form on your website for clients with the help of this plugin, read these articles:
---
---
Google Forms
Google Forms is a free tool made by Google for people and organizations who have a Google account. It is a great form builder because there are no restrictions on surveys, forms, or replies. Furthermore, you will have great collaboration features at your disposal provided by this tool.
However, Google Forms has a lot of notable flaws. The questions available are restricted, the form logic isn't solid, and personalizing your forms is restricted. To some extent, with this free software, you do get what you pay for.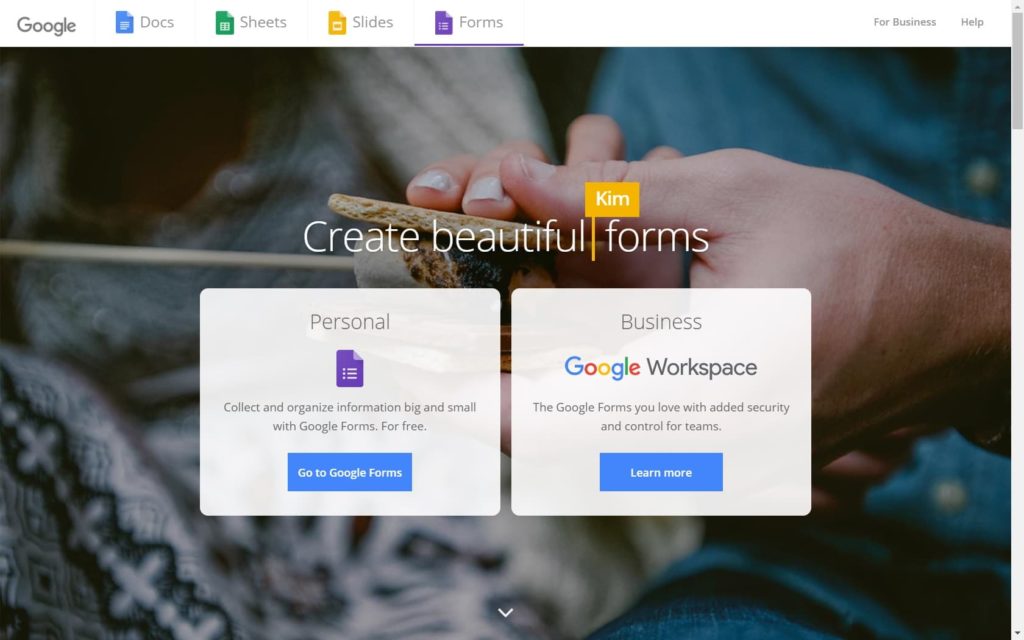 ---
Benefits of using Google Forms
⌛ Get the job done fast
👩🏻‍💻 No coding experience needed
📧 Create an Email list
🤑 Free to use
---
Google Forms features
👶🏻 User-friendly interface
🤩 Plenty of fields that are cost-free
---
Usability
Because Google Forms has a set of limited features, it's suitable only for simple forms or conventional question types.
When you look at the types of questions offered, you can see how basic Google Forms is. For example, you can ask respondents to submit a file to your survey and use multiple choice, drop-down, and short response question options. However, you won't be able to receive money through your form, nor be able to build image- or video-based inquiries or design hierarchical menus for drilling down into a subject. Furthermore, you can only randomize questions if the entire survey is randomized. So, if you want to create a testimonial request form with the help of Google Forms, you will be pretty limited.
---
Pricing
Google forms are the only completely free testimonial form builder that is available for all Google users. So, all you need is a Google account.
On the other hand, Google is also offering a plan for businesses part of the G Suite, which is $6 per month. The functionality of Google Forms is the same regardless of your G Suite membership tier.
---
So, if you are interested in this Google Forms, check this tutorial on using it.
---
Summary
In conclusion, choosing the right tool for creating a testimonial request form is essential because all of these three are amazing to use but, at the same time, pretty different. So, Kali Forms is amazing for creating any registration form. Strong Testimonials will smash the testimonial game, while Google Forms is amazing for personal use because you can send it through a link.