Do you want to know how to run a successful giveaway? This is great because you came to the right place! In this tutorial, you will learn how to make a professional giveaway registration form.
Whether you are an influencer or owning a brand, a giveaway will always be an amazing way to gain more followers, increase sales, or drive traffic to your website. For the past years, online marketing is dominating the industry. Social media plays a huge part in the advertising world because more and more brands decide to work with influencers to promote their products or services.
Therefore, if you want to maximize your profits and gather as many people as possible in your contest, you will need an intuitive giveaway registration form. This guide will show you why online registration forms are important and how to create a giveaway entry form with Kali Forms' help.
---
---
Why you should create an online giveaway registration form
Not only teenagers but adults as well spend most of their days online. Social media is not just a place where you connect with your friends and post videos or photos. Many influencers are making a living out of all these platforms. I listed a few of the many reasons you should create a giveaway registration form below.
Efficiency – With the help of an online giveaway registration form, you will skyrocket the results and maximize the profits. The results you've been waiting for won't hesitate to appear.
Amazing data collection tool – When the giveaway ends, you will have all the important details about the attendees, which is always essential. What is the reason for this? Later on, you'll use the email newsletter to build a community or submit invites to the upcoming giveaways.
Professionalism – With an online giveaway registration form, you will create an incredible first impression. Designing your form with various fields and styles will make you look like you know what you're doing and you're doing well!
---
How to set up a giveaway registration form
This is a simple and easy-to-follow process that will take you through all the necessary steps to create this online giveaway registration form. It will save you an incredible amount of time and help you have a more organized database. All you need is an amazing tool to create a giveaway entry form. In other words, if you want to create a breathtaking online giveaway form for your fans or clients, you should take advantage of Kali Forms.
---
How to Install Kali Forms
Firstly, to install Kali Forms, you will need a running website. Don't worry if you don't have one, follow this step-by-step guide on creating a WordPress website. Whether you are an influencer or own a brand, most people have a website nowadays because it's a powerful tool. Why? Because a website helps you build an online presence, drive more traffic, and increase sales. Creating one is not an easy process, but it will definitely pay off.
Once you created your website, go to WordPress dashboard > Plugins > Add New.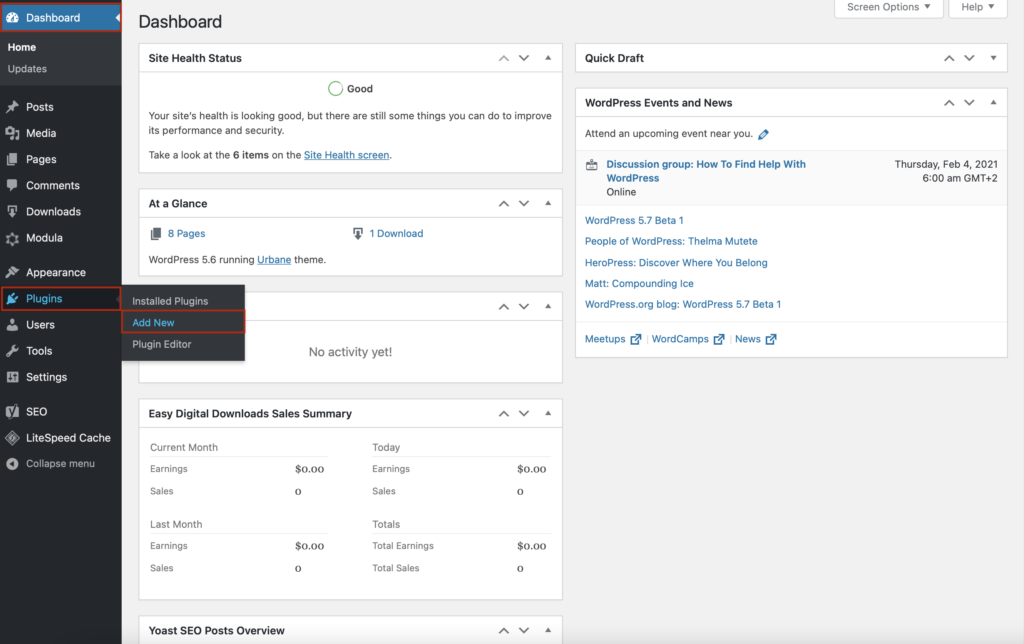 You'll be taken to a page that lists all WordPress plugins available. Type Kali Forms in the search bar, and when you find it, press Install.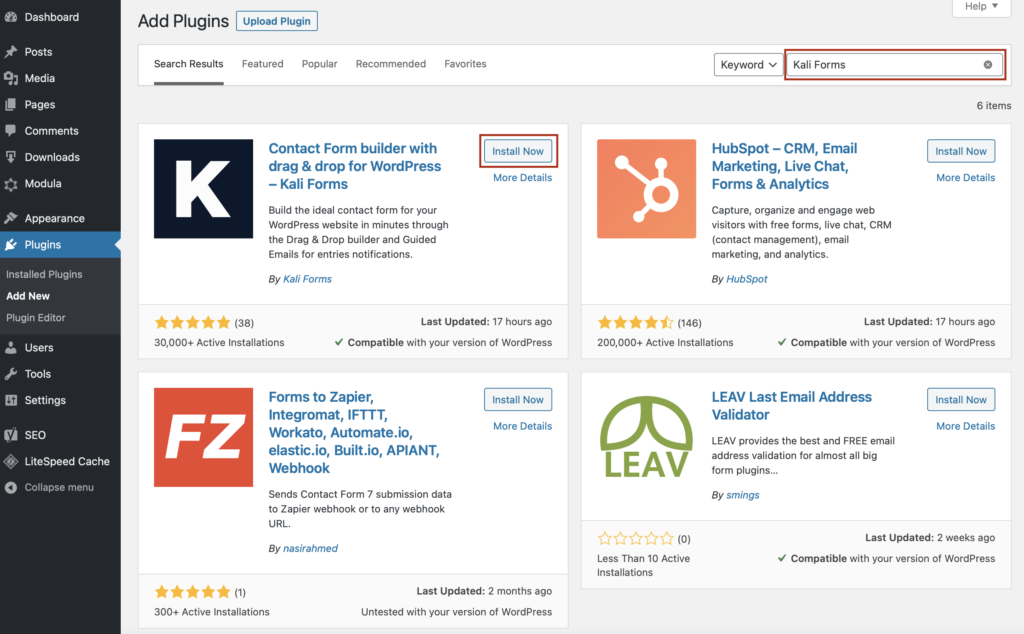 After the installation process is done, click on Activate.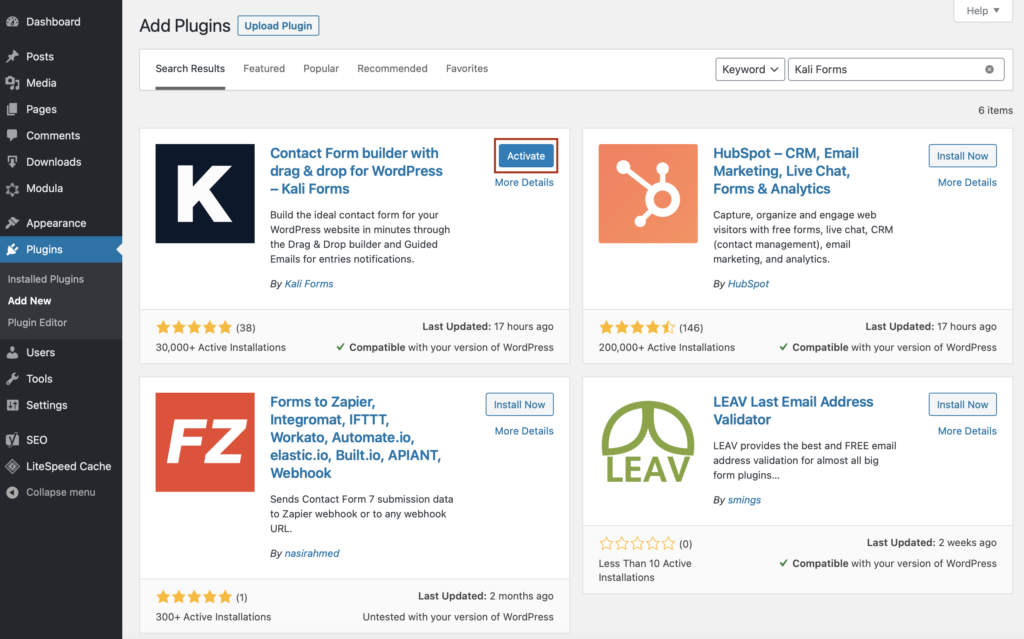 The Kali Forms will instantly appear in your WordPress menu.
---
Create a new form
From now on, whenever you want to create a new form, go to your WordPress menu > Kali Forms > Add New.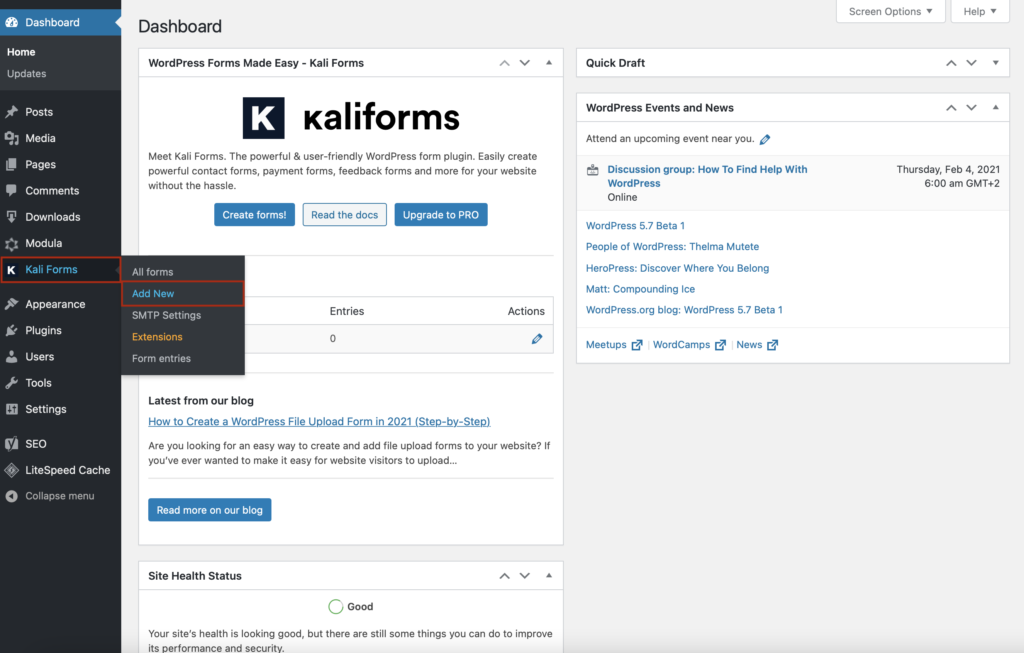 You will be redirected to a page with pre-made templates. Since there's no giveaway entry form template, we will create one from scratch to see how the plugin works. Click Create new, and let's get started!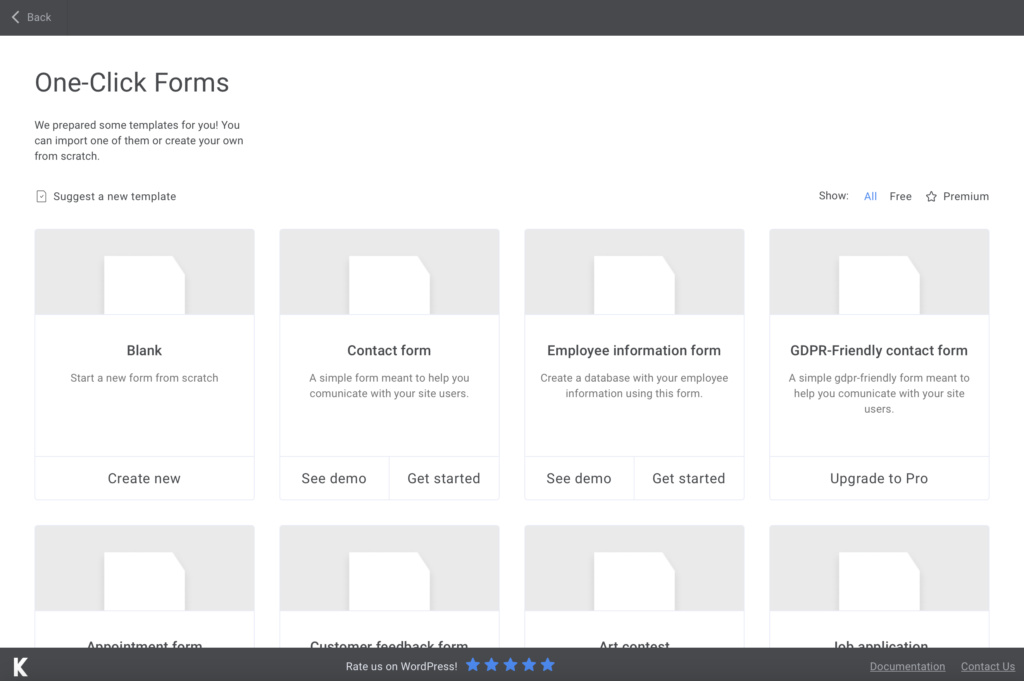 In the first place, you can start with your form's name to let your attendees know what they're signing up for.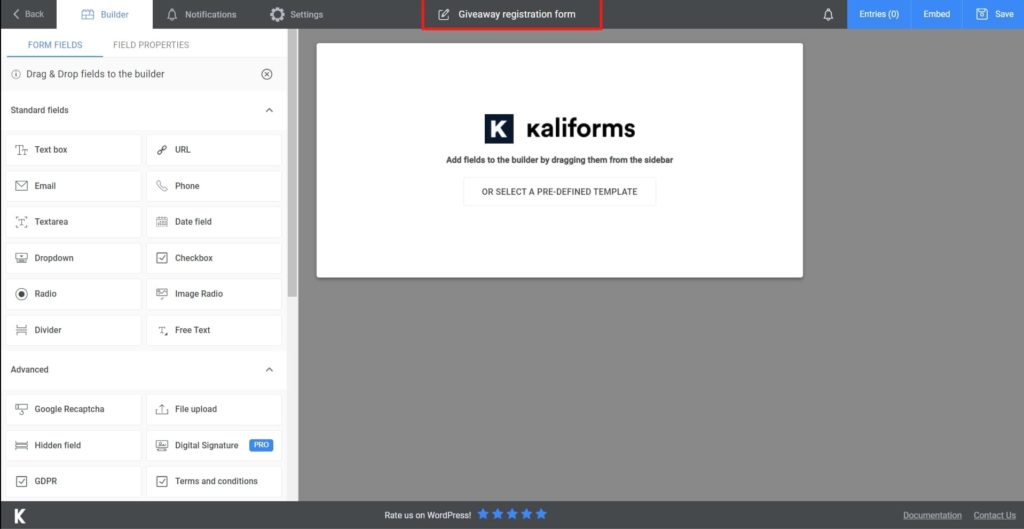 ---
Adding Form Fields
The best part about this online form builder is that it allows you to customize everything! You can change the fields' names, add a description and placeholders, make the fields required to fill, and so on. The menu with all types of fields is placed on the left side. So, experiment with each section and see which one fits your needs.
For our giveaway sign-up template, I started by adding a Text Box field for the full name, a Phone field, and an Email field for contact information. Then I added a Divider to separate this section from the next one. To add a name to each field, right-click on each one and write the desired name. Make the fields required to fill by selecting the Required option.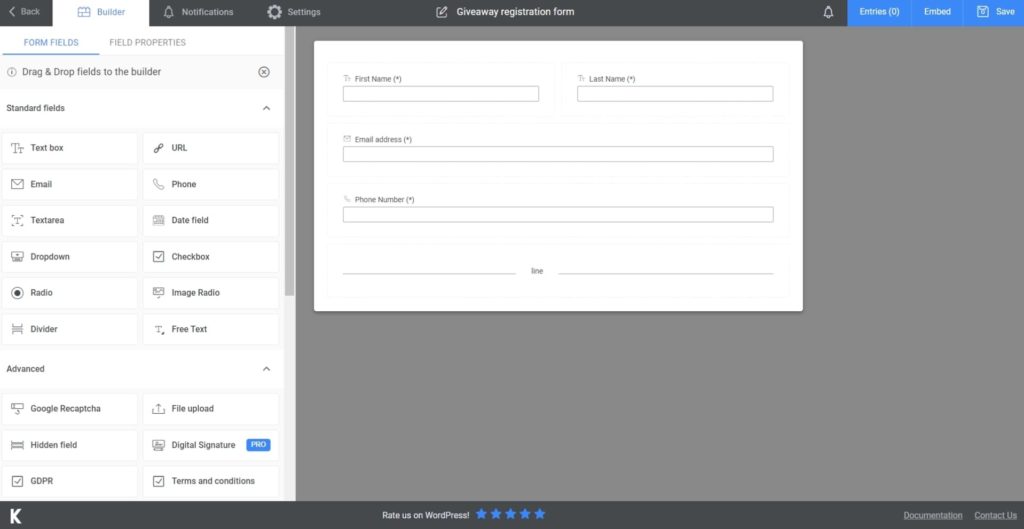 Next, I added a Text box field for the address and one for the postal code to know where to ship the product. After that, I added a Dropdown field for the countries and two Text Box fields (one for the state and one for the city).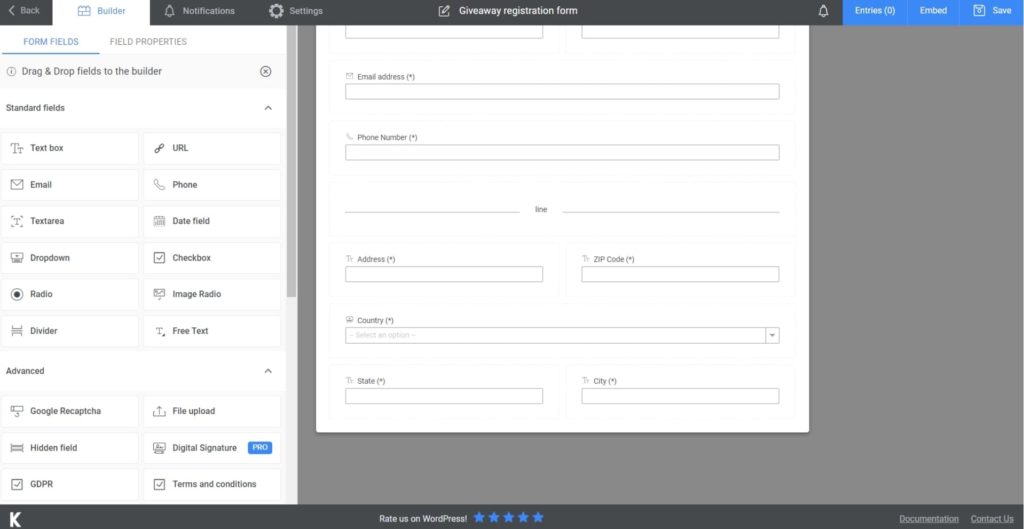 To add countries to the Dropdown, right-click on the field and scroll down to Options. Press Add Choice and insert the name of the countries. This step is required only if the giveaway is organized for multiple countries.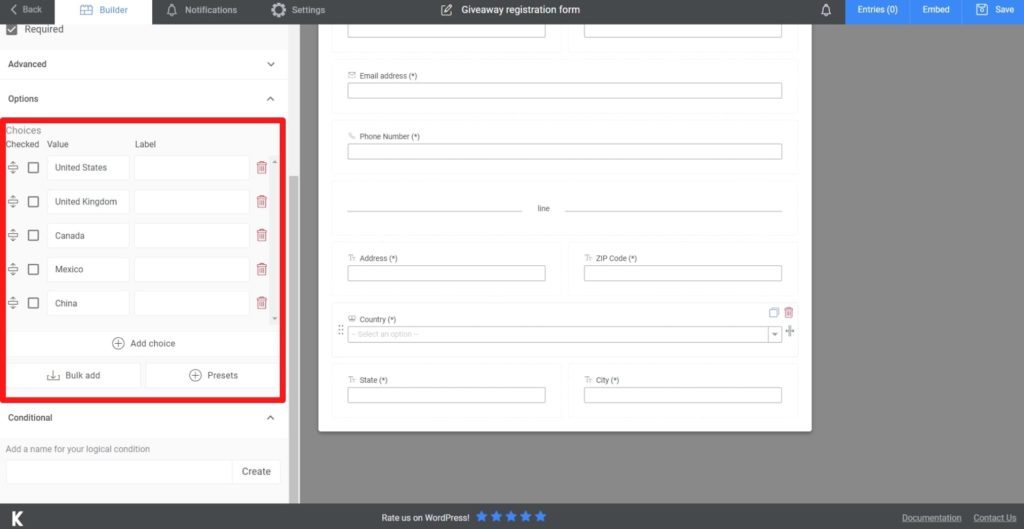 For the second section of the form, I added a Checkbox option to determine how each participant heard about the giveaway. The process for adding choices is similar to the Dropbox field for the countries. Right-click on the field, scroll down to Options, and add the desired choices.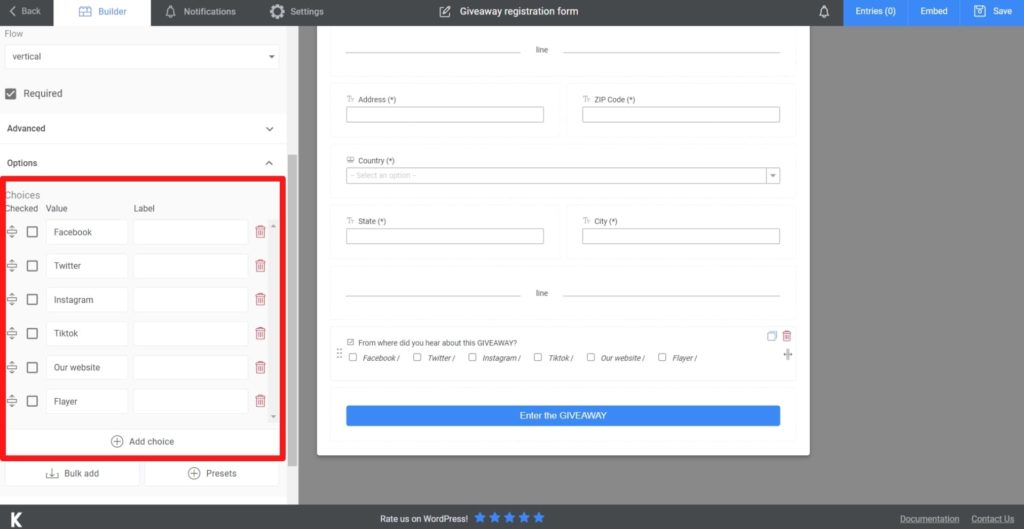 ---
Additional Features
This is how you make a giveaway registration form. Also, you can send an email to your customers informing them that their sign-up to the giveaway was completed. To do so, go to Notifications and follow the instructions shown there step by step. If you purchase the premium version, you can also send an SMS confirmation.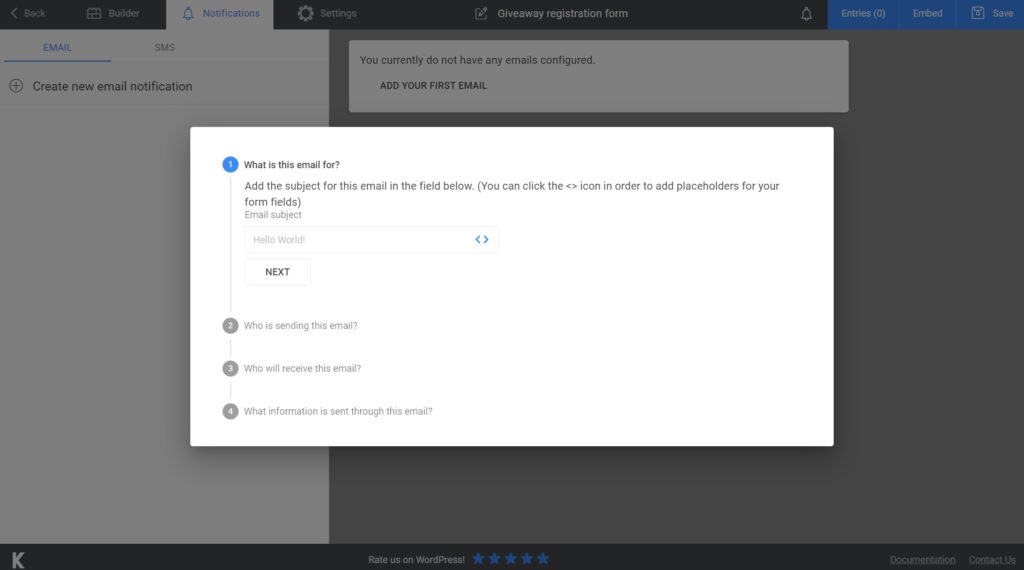 If you want to take advantage of all Kali Forms' functionalities, go to Settings. Here you can change your giveaway form style or display a "thank you for participating" note. If you chose the premium version, you can link your giveaway form to Slack, HubSpot and submit newsletters.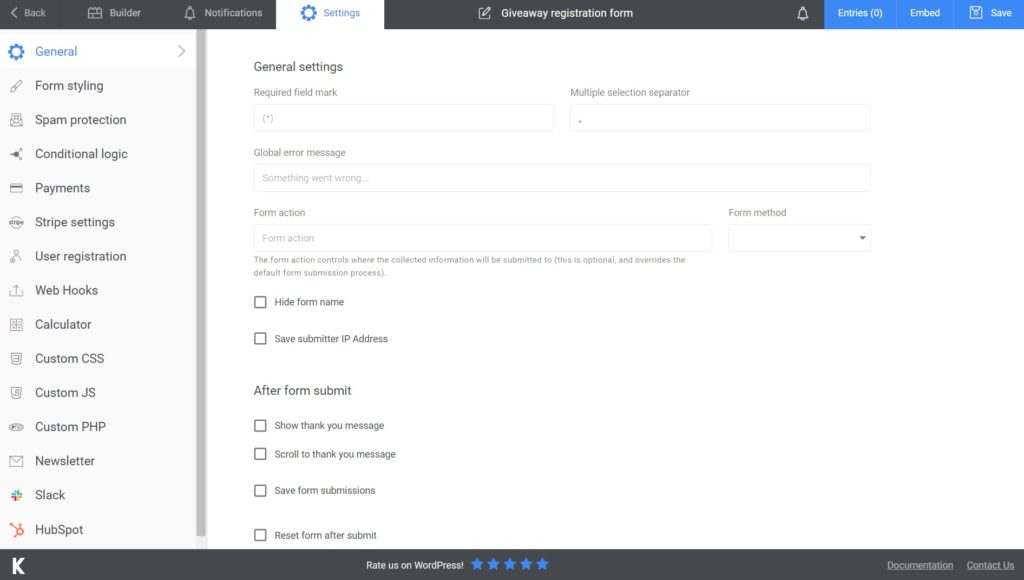 ---
Add your giveaway registration form to your website
When you have finished building and customizing your form, click Save – Kali Forms will create a shortcode for your form. All you have to do now is copy and paste the link into a page or post.
If you value your data and wish to keep it private, export it to CSV or Excel and save it securely. It's as easy as that.
---
Summary
Kali Forms simplifies the whole process by a lot, so you don't have to feel overwhelmed by all the steps required to get the much-desired results. I am more than sure that you will be way more efficient by organizing a giveaway with the help of this form builder.
Take your time to get in touch with every feature to create the most authentic form.