The Likert Scale is often used for customer surveys and with good reason: it allows you to more accurately measure customers' or visitors' feelings about your brand, products, or services.
---
If you're planning on conducting a customer survey and wondering what's the best way to gauge customer satisfaction, you're in the right place. In this post, we'll define the Likert Scale is and how you can use it on your website.
What is a Likert Scale?
If you've ever participated in a customer satisfaction survey, you've probably come across the Likert Scale.
A Likert Scale is a rating scale developed by an American social scientist Rensis Likert.
Instead of using open-ended questions or simple yes or no responses, the Likert Scale is a 5 or 7-point scale that asks customers, visitors, or users how they feel about your product or service or brand in general.
7 point Likert Scale example: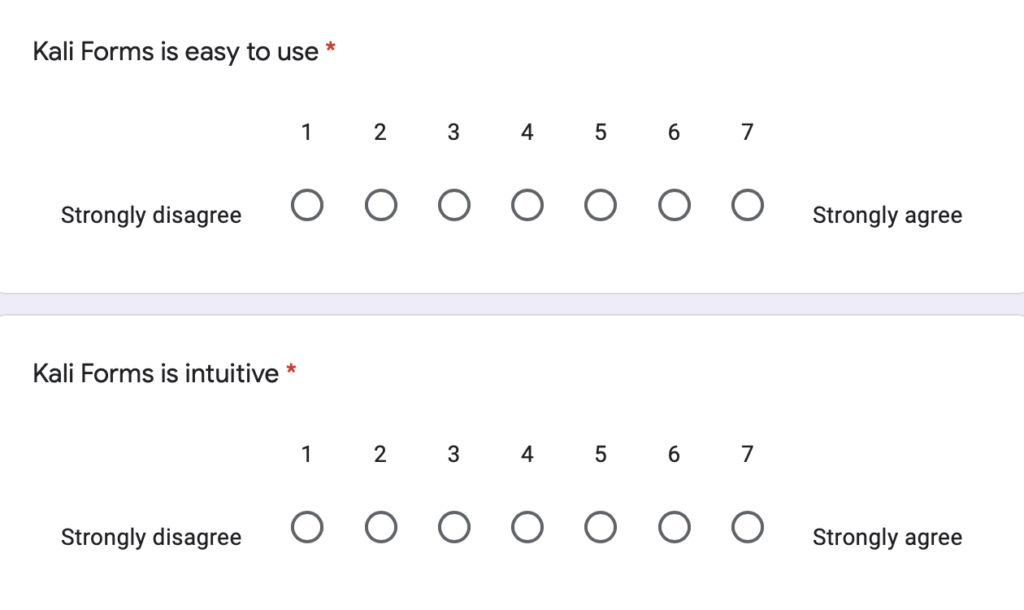 5 point Likert Scale labels:
Likert Scale example for agree/disagree survey: Strongly Disagree, Disagree, Neither Agree nor Disagree, Agree, Strongly Agree;
Likert Scale example for level of satisfaction: Highly Dissatisfied, Dissatisfied, Neutral, Satisfied, Highly Satisfied;
Another example of Likert Scale frequency: Never, Almost Never, Neutral, Almost Every Time, Every Time.
They can choose answers that range from one extreme such as "extremely likely" or "strongly agree" to another, such as "extremely unlikely" or "strongly disagree". As shown above, the scale also includes a neutral midpoint along the lines of "neither agree nor disagree".
Likelihood Likert Scale (also known as likely/unlikely Likert Scale) is usually used to determine if your customers will embrace a special behavior like suggesting your services to others or continuing to purchase your products.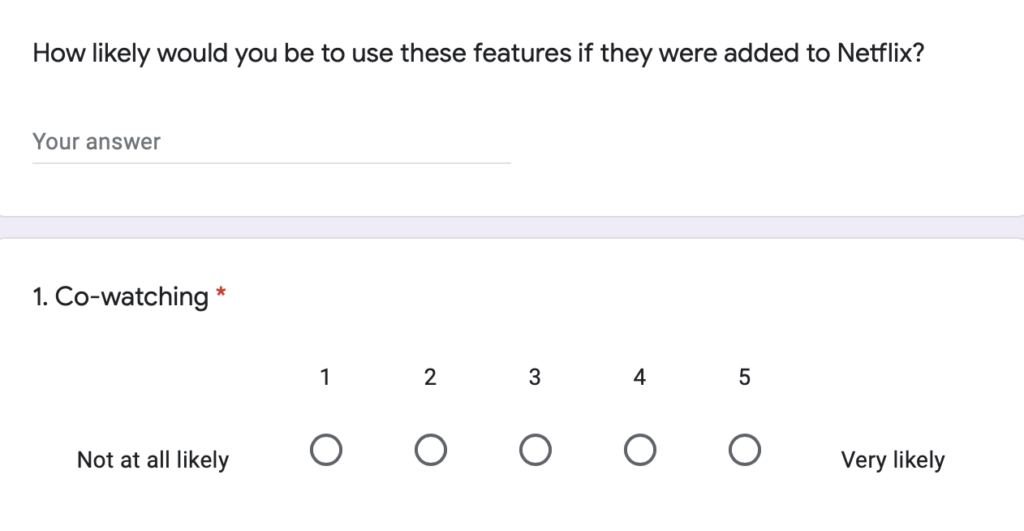 In other words, a Likert Scale can be used to measure the following:
The level of agreement which uses the scale ranging from strongly agree to strongly disagree
The frequency which uses the scale ranging from Often to Never.
The quality with a scale ranging from Very good to Very bad.
The likelihood which can range from Extremely likely, to Not likely at all.
The importance which can range from Very important to Not important at all.
---
What Are The Benefits of Using a Likert Scale Survey?
Why use a Likert Scale? Well, the importance of using a Likert Scale is highlighted by the fact that it gives you more reliable and granular insight into your customer satisfaction.
Another benefit of using a Likert Scale is that you are giving your customers more options than a simple yes or no.
It also facilitates answering the questions without having to think about how to describe their experience and satisfaction.
As such, a Likert Scale increases the chances of customers completing the survey because there are no "hard" questions, including open-ended questions, selecting all that applies, or fill-in-the-blank questions.
---
When Should You use Likert Scale Surveys?
Creating effective surveys is often seen as a complicated process, but we're here to break it down for you. The question is: how do you know when you should use Likert questions?
Likert scales are great when you're trying to find out what people think about one specific topic or area in more detail. That being said, here are some common situations in which you should consider using a Likert scale to:
Find out how people are reacting to your new product
Understand what your team thinks about a recent development
Discover how your clients feel about your customer service
See how successful your public event was
…or any other questions where you need to measure sentiment about something specific, and you want a deeper level of detail in your responses.
If you want to get a bit geeky about it, the deeper level of detail is what survey experts call variance. The more variance you have, the better you know the nuances of someone's thinking.
---
How to Create a Survey With a Likert Scale?
Now that you know what this psychometric scale is and how it can benefit your business, let's take a look at how to make a Likert Scale using a form builder.
Decide On The Subject Of Your Survey
To set your own Likert Scale survey up, start by determining what will be the focal point of your survey.
For example, you can create a survey that measures how happy your customers are with your customer support or how happy they are with your products in general. This means you can use the Likert Scale to measure the quality of your products or customer service.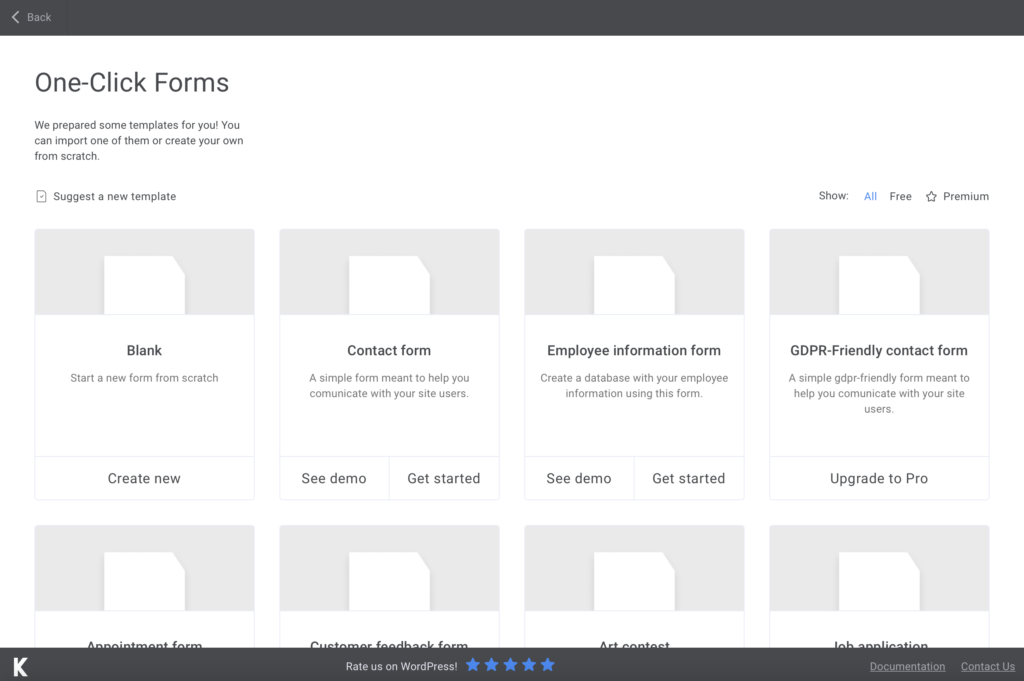 Another example includes measuring the ease of use of your website or a mobile app. Here, you can set up the Likert Scale to measure agreement.
This initial step will determine the questions you need to ask as well as the answers that are offered on the Likert Scale. In the end, remember that whatever the topic of your survey is, it can be measured in terms of opinion, feelings, attitude, or experience.
---
Create Questions for Your Likert Scale
Once you know what you want to focus your survey on and how you want to measure it, you need to create questions.
Here are a few things to keep in mind when it comes to questions:
Avoid using industry jargon and instead, opt for clear language your customers will understand or would use themselves
Avoid asking questions that would cause your customers to answer in a biased way
Make sure each question is clear and specific
Don't combine two or more questions into one, as this can confuse your customers and leave them wondering how to answer.
---
Set Up Your Likert Scale Responses
After you have set up your questions, you need to set up your responses. This means you will have to choose between using a 5-point scale or a 7-point scale, as well as including a neutral midpoint.
Here are a few tips to keep in mind when it comes to setting up the responses:
Use an odd number of questions so you can include the midpoint and ensure you have a sufficient amount of responses to give your customers a chance to share how they truly feel.
Use words instead of numbers to label the responses. Numbers can make it difficult to understand what is positive and what is negative.
Don't be afraid of using the entire range so customers who are on both sides of the extremes can answer correctly.
---
How to Create a Survey Using a Likert Scale on Your Website?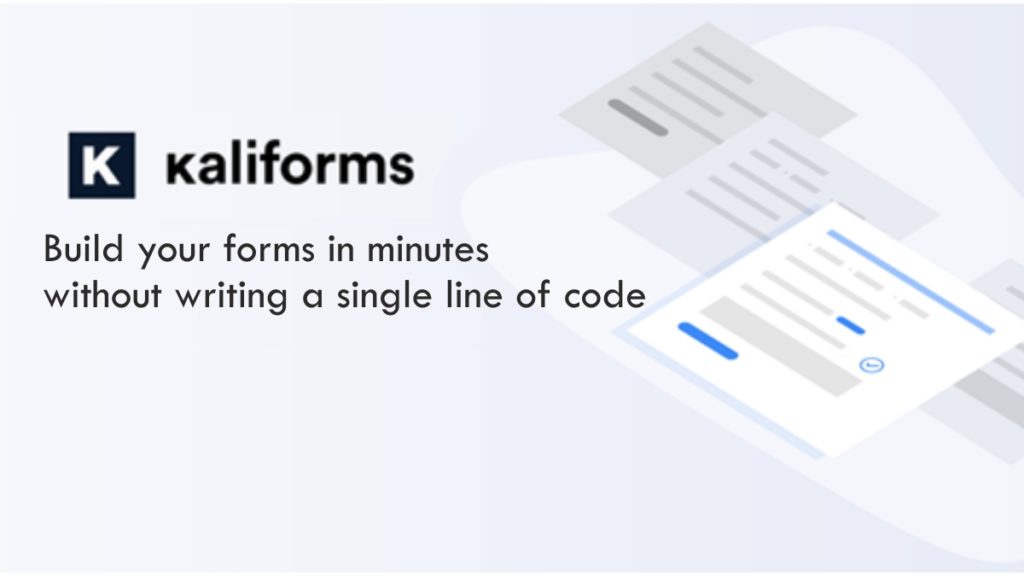 Creating a Likert Scale survey is easy when you have a WordPress form plugin like Kali Forms. Here are the basic steps you will need to set up your Likert Scale survey on your WordPress website.
PS: If you're not sure why we use WordPress and recommend it – you might be interested in checking out this post about blogging platforms and which ones you should consider using.
---
Step 1: Install the Pro version of Kali Forms on Your Website
First things first, you will need to install the Pro version of Kali Forms on your website. Head to your site and go to Plugins > Add new.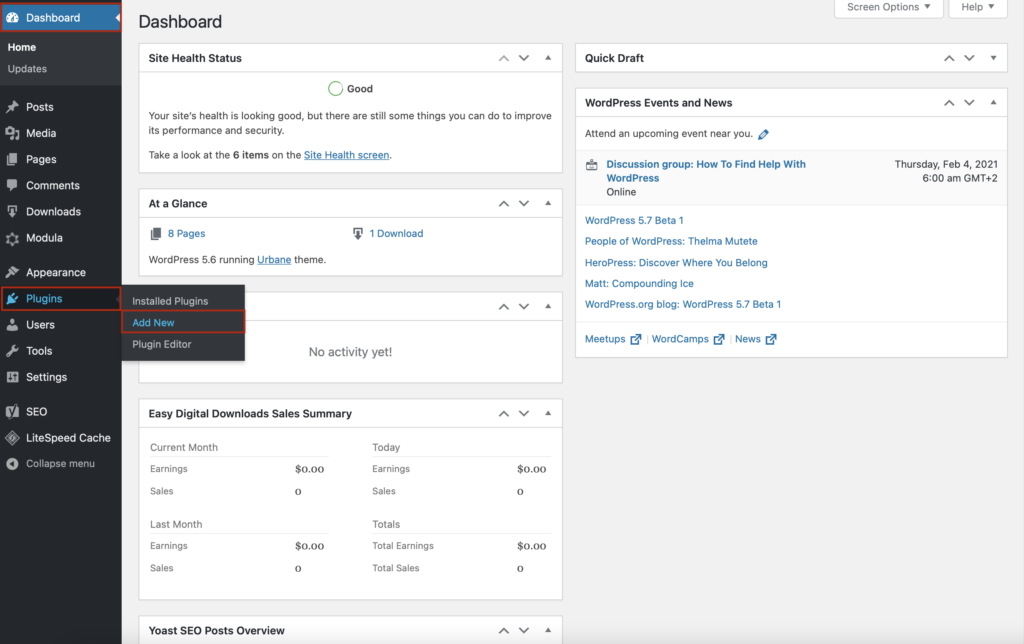 Search for Kali Forms, and click Install.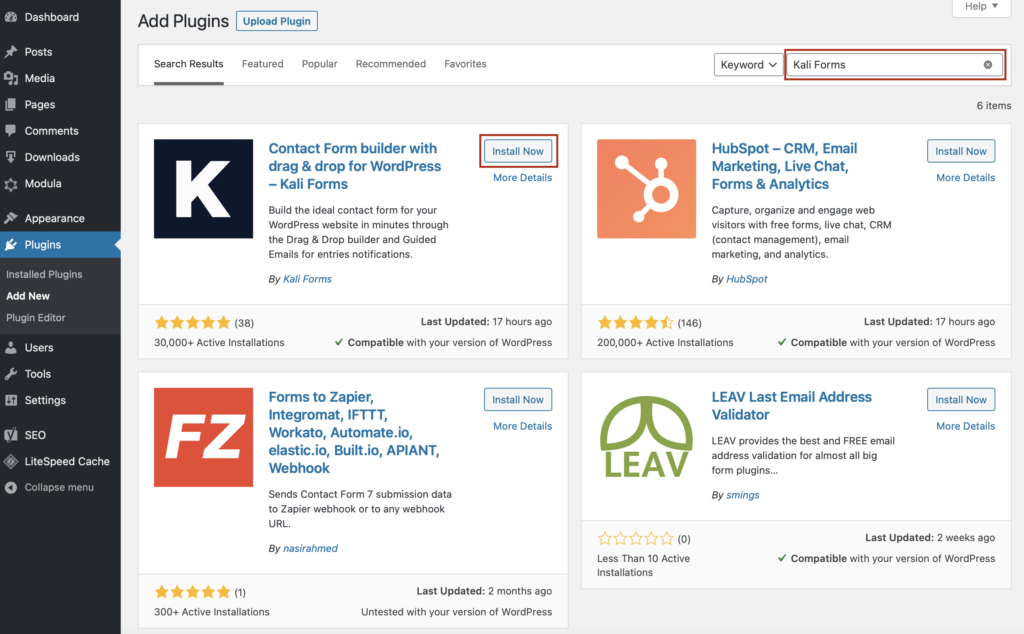 Wait a couple of seconds, then click the Activate button.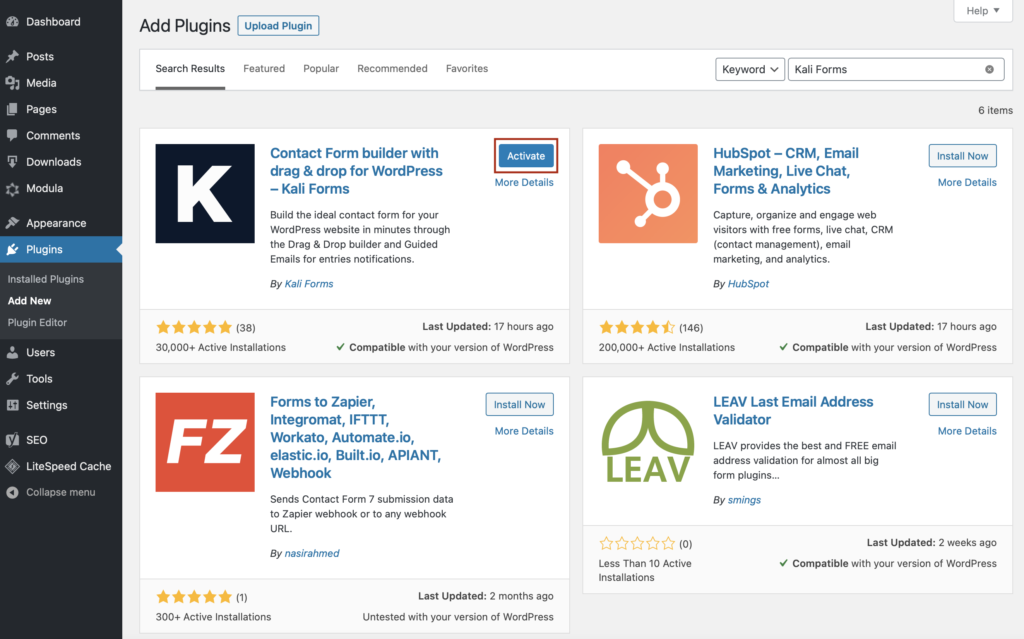 ---
Step 2: Create a New Form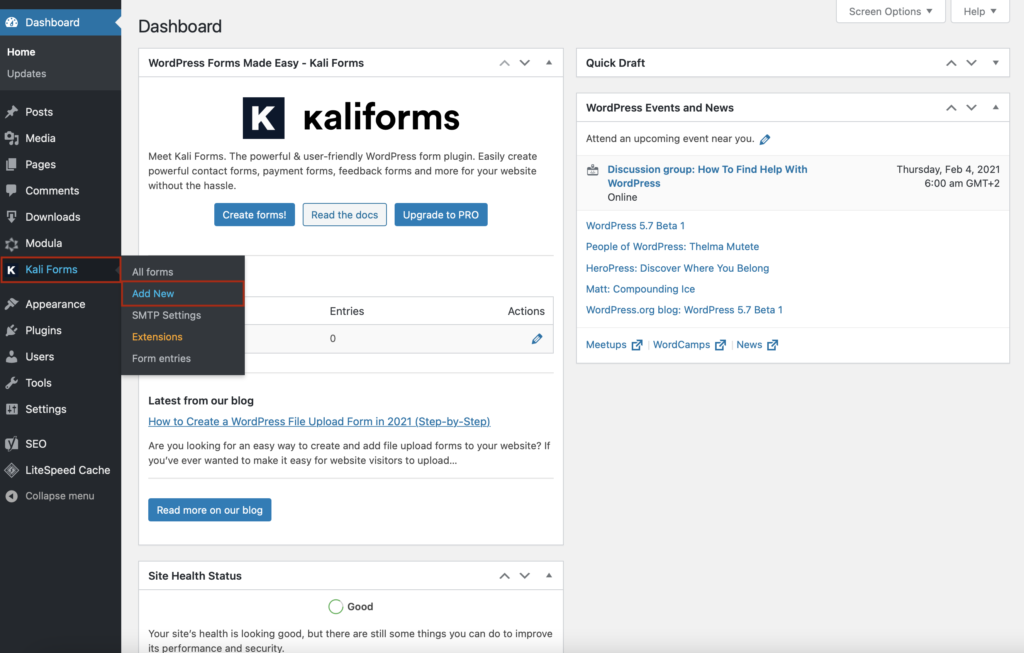 Now that the plugin has been installed and activated, it's time to create your own survey. In your WordPress dashboard, go to Kali Forms > Add New.
---
Step 3: Choose the Customer Survey Template
The easiest way to create your form is to start with a pre-made template. In this case, choose the Customer Feedback form template, choose your theme, and click the Import button.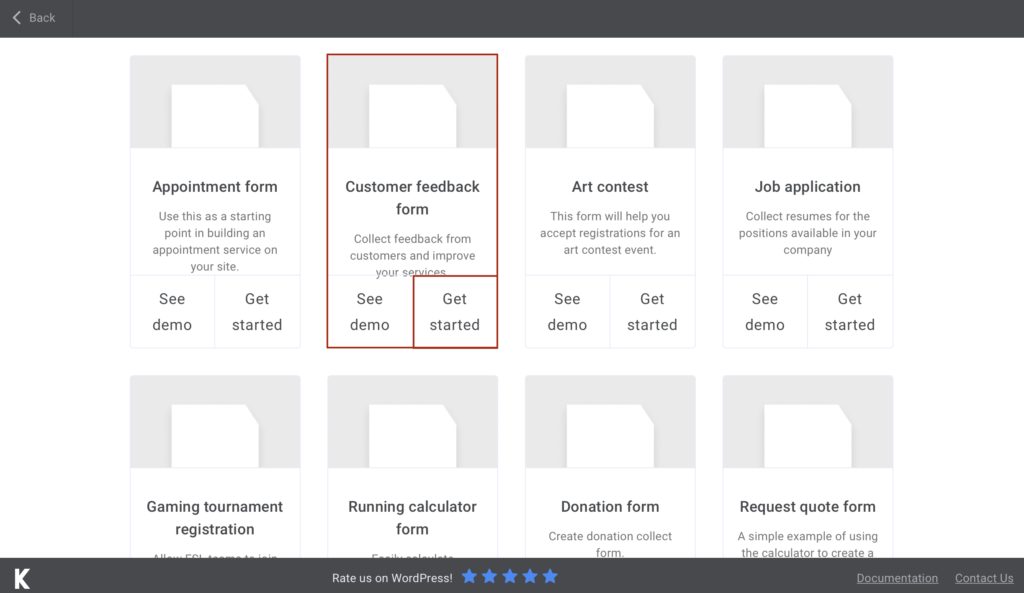 Keep in mind that you can also start from scratch if you prefer. You can also style your forms using CSS.
---
Step 4: Customize the Questions and Answers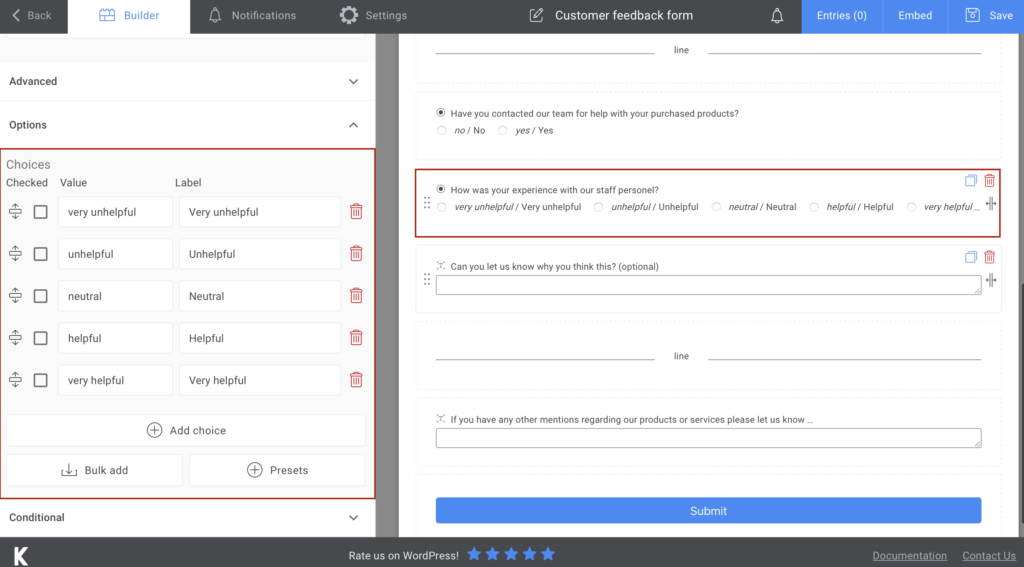 Once the template loads, click on each text box to customize the questions for your survey as well as the choices shown above.
---
Step 5: Publish the Form
When you're done, save the changes, and your form will be published. All that's left to do now is to add it to a page. Click the Back button to exit the form builder and go back to your WordPress dashboard. You'll see a form shortcode next to your newly published form, so go ahead and copy it.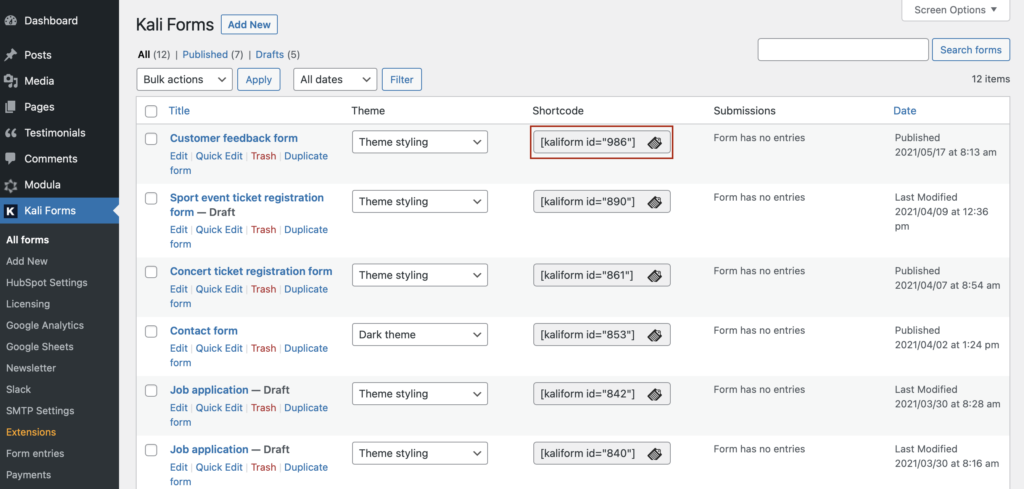 ---
Step 6: Embed the Form in a WordPress Page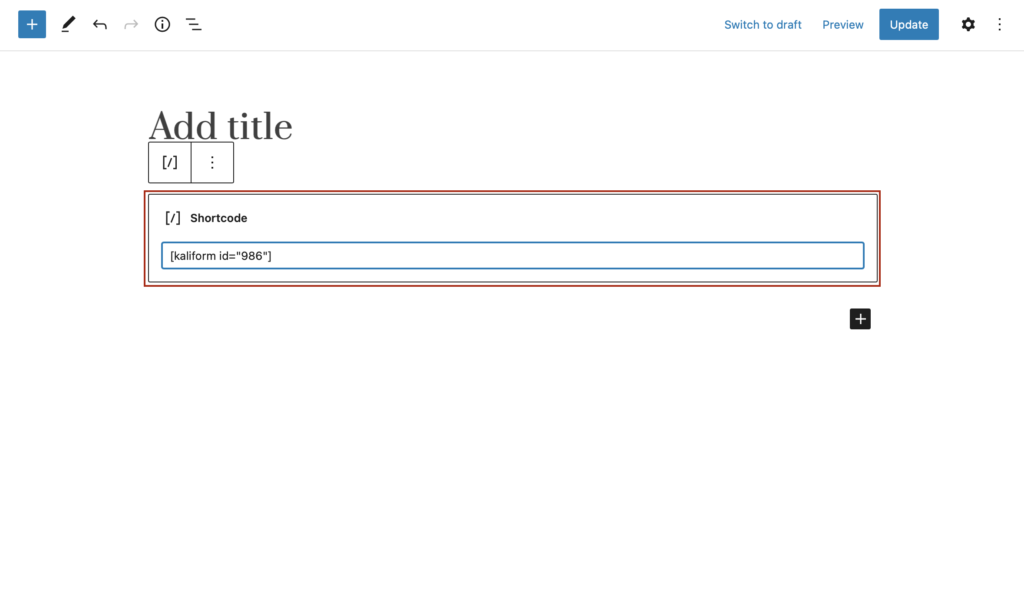 Go to Pages > Add new and create a new page for your survey. Then paste the form shortcode you copied and click on Publish to make your survey publicly available.
After you're done with the form, and you got your answers, don't forget that you can export your submissions to CSV or Excel. This way, you can have them in a safe place and analyze them.
---
Conclusion
Using a Likert Scale will get you better survey results and allow you to see how people really feel about your service or products. Thanks to a plugin like Kali Forms, you can easily build a Likert Scale survey and share it with your audience and existing clients or customers.
So what are you waiting for? Get started with Kali Forms today for better results from your customer surveys. Have you used this strategy before? Leave a comment below to let us know how it went! 💬