If you are invited as a photographer to a wedding, you'd better prepare a wedding photography questionnaire form for the newlyweds.
Asking the right questions for a wedding day photoshoot will help you organize your time and the pictures you take. A wedding photography questionnaire form is the right tool to gather information about the groom and the bride, guests, the wedding day, etc.
In this tutorial, you'll learn how to create an online wedding photography questionnaire form so you can act like a professional.
---
Why should you use an online wedding photography questionnaire form?
You may already think of some benefits of digitalizing this process, but there are countless reasons why this is more efficient. Down below, we will present you the most impactful benefits of creating an online form.
Save time – These online forms are very easy to use and allow you to collect data more straightforwardly. You will just have to add some fields to your wedding photography questionnaire form and then send it to the newlyweds. It will save you a lot of time not printing the form.
Gather accurate data – Using online forms can increase efficiency and accuracy in the information gathering process. You can make the fields required to fill so that you can assure that your clients will respond to all your questions.
Keep the information in a safe place – Well, with GDPR being so hash these days, you need to keep your client's personal information in a safe place. Losing a paper can cause a lot of problems, so make sure you don't end up there. Keep all the data stored on your computer and never lose a single piece of information about your clients.
---
How to create a wedding photography questionnaire form
This process is very easy to implement, and I'm pretty sure you'll manage it from the start. By reading this article and follow all steps, you'll figure out how to create such a straightforward form. All you need is a running website and the help of one of the most powerful tools – Kali Forms. Let's see how it works.
---
Installing Kali Forms plugin
First of all, you need to install Kali Forms on your website. If you don't have one, you can read this step-by-step tutorial on how to make a website. This guide will walk you through the whole process. When you have your website up and running, go to your WordPress dashboard and look for the Plugins section. Click on Add new, and you will see a search bar in the upper right corner. Type Kali forms and press Install.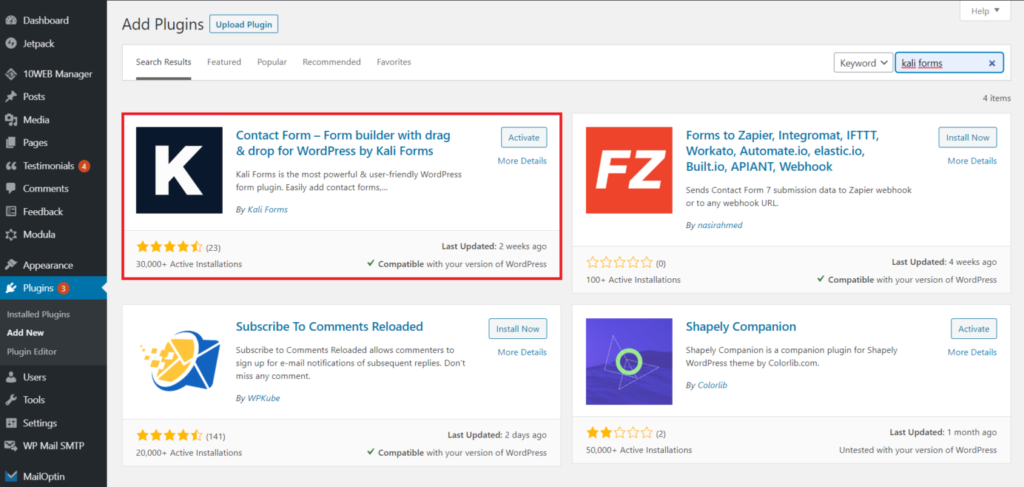 Wait for a couple of minutes, and then click the Activate button.

Everything is done now, and you can find the plugin in your WordPress menu. To start creating a form, go to the plugin icon and click on Add new.

---
Creating a new form
After you pressed Add new, you'll be redirected to a page with a bunch of pre-designed templates. This type of form is not among them, so we'll help you create one from scratch. Click on Create new and let the magic happen.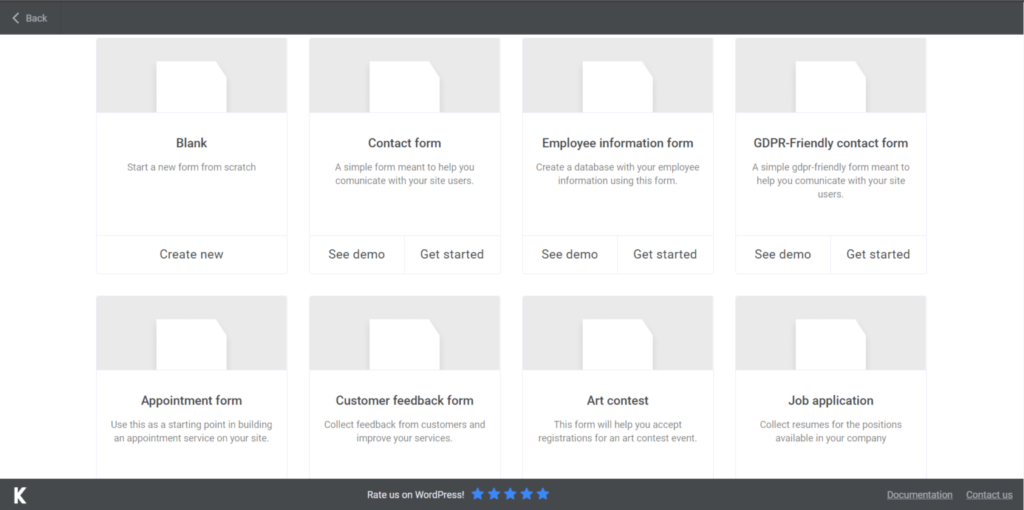 Start by naming your form so that your clients know what they are filling in. I will simply name mine "wedding photography questionnaire form", but you can choose whatever you find appropriate.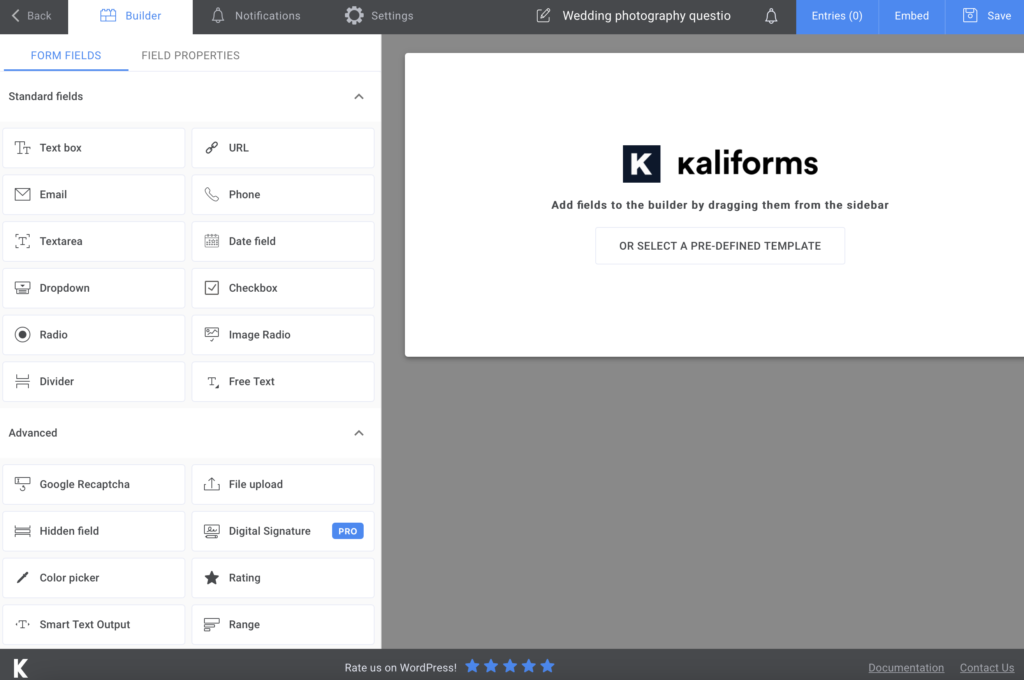 ---
Adding form fields
Now we can start adding fields to the form. Everything here is customizable. You can name your field, add a description or placeholder, make it required to fill or not. When you start creating a form, you will see the customization options in the menu that appears on the left.
For this form, we're going to start by adding a Text box for your clients' names and one more for their address. More, I added E-mail and Phone fields for the contact information that is usually required in forms. I also opted for a Divider to separate this section from the next.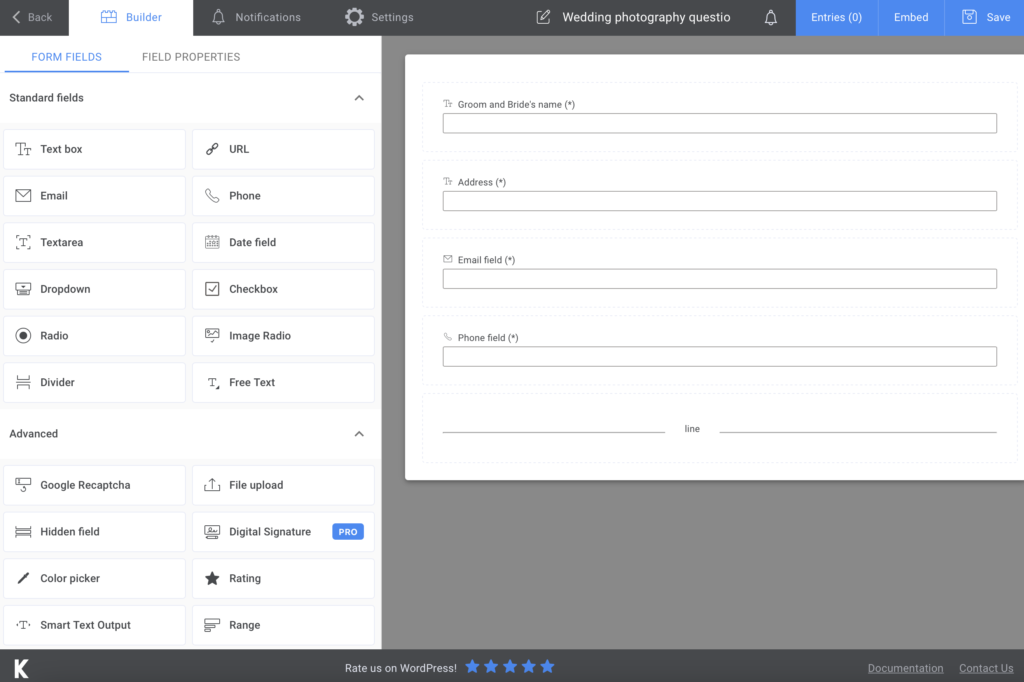 The next section is dedicated to questions you should ask your clients. If you want to find out more information about these questions, you can take a look at this article about 8 questions wedding photographers should ask their clients.
Therefore, I will add 8 Textarea fields for every question that a wedding photographer should fill in.
As you can see, I made all the fields required to fill to ensure you will have all the necessary information.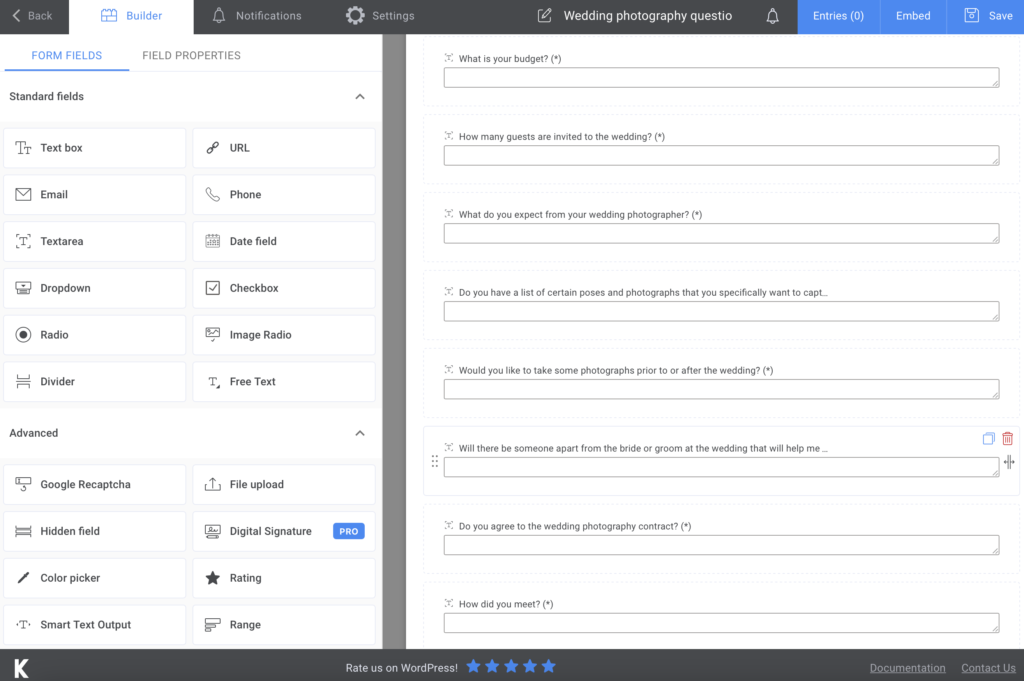 This form ends with a Submit button – that's kind of it. So simple, right?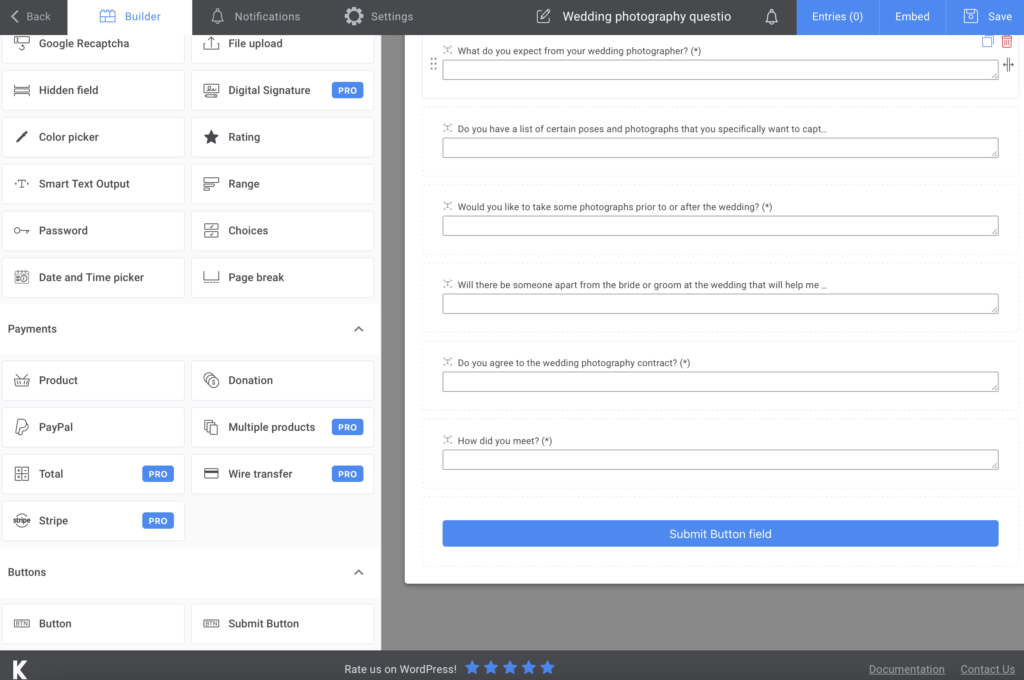 If you want to let your clients know that you received their form, you can opt for a confirmation e-mail. Go to Notifications, and the whole process will be explained there. However, if you choose the PRO version of Kali Forms, you can send SMS notifications.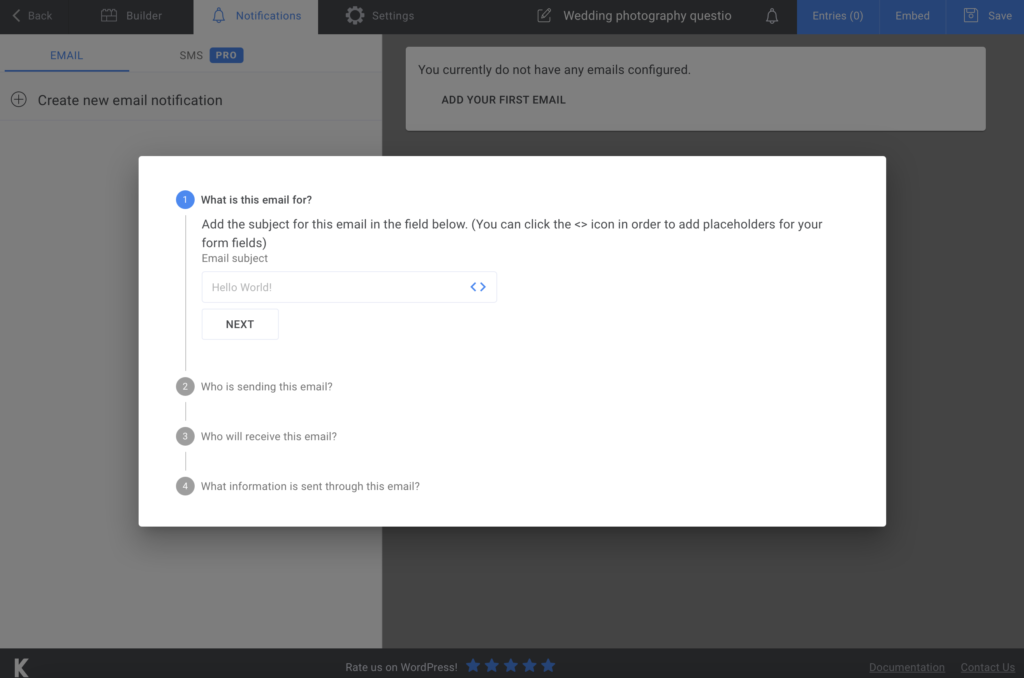 You can also take advantage of some customization options in the Settings section. Choose your Form Style or display a ''thank you'' message after they press submit. You will see there some pro features that will make your form more comprehensive.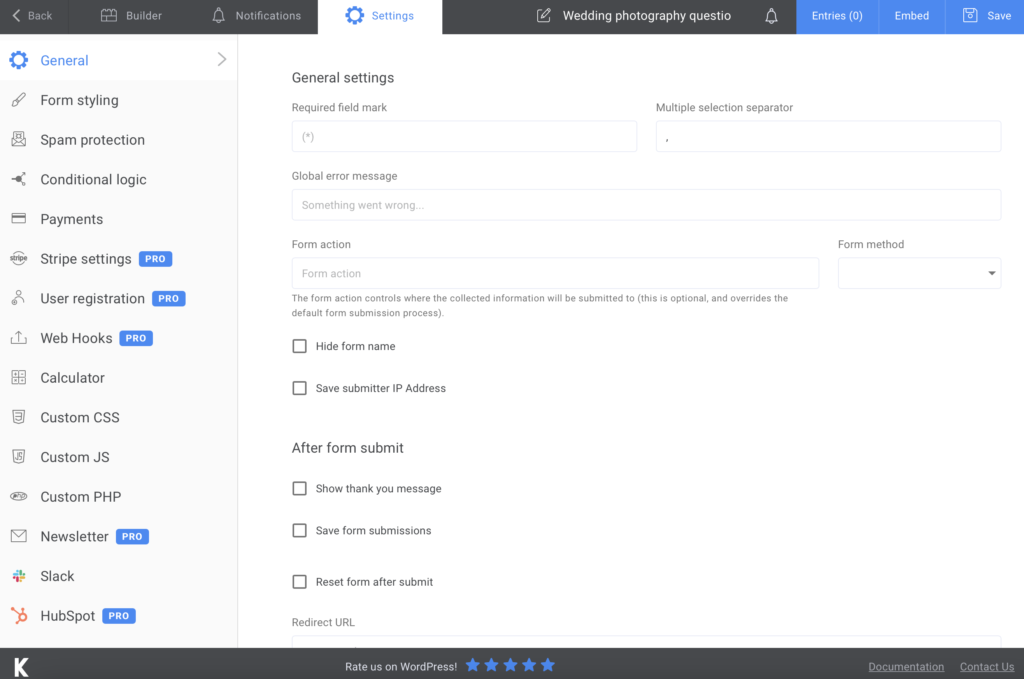 ---
Add the wedding photography questionnaire form to your website
Now that all the steps are done, you just have to press Save, and the shortcode with the copy link will be generated. All you have to do is copy that shortcode and paste it on a page on your website – you can insert it into an already existing one or create a new one.
Keep in mind that you can export all your data to CVS or Excel to store it in the cloud or on your computer.
---
Summary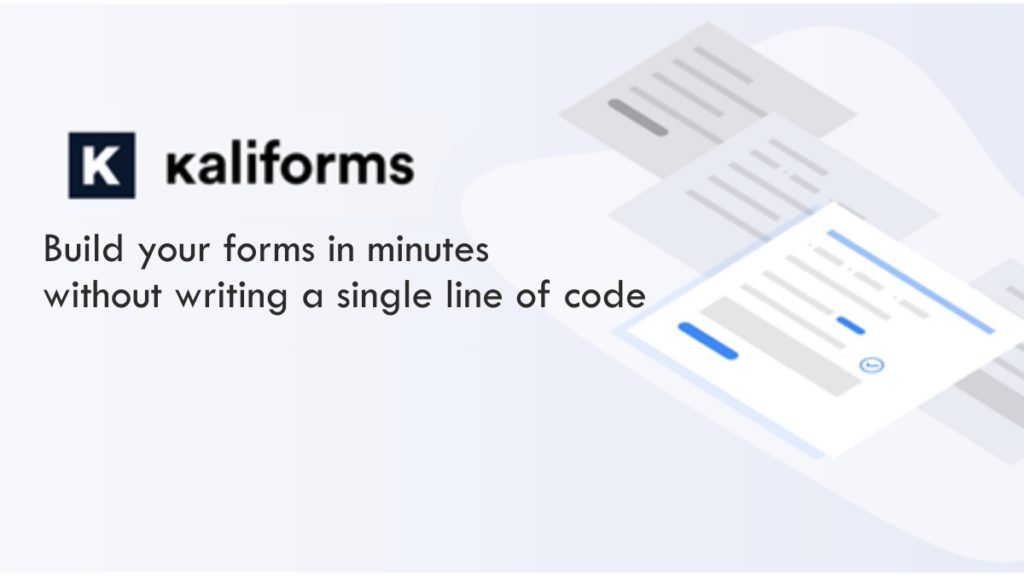 As you can see, this process is as easy for you as it is for us. Kali Forms is super useful, and it has a lot of features as well. Forget about all the time-consuming paperwork and start digitalizing this process. You can create forms for any purpose. So, give it a go and see how it works!