Are you looking for an easier way to accept house rental application forms?
Nowadays, people are trying a lot of new things – a lot of them are traveling, moving to different countries to start a new life and meet new people. But not everyone is ready to settle and buy a house. Many of these people are just at the beginning of their lives, with not much money in their pockets. Because of this, they're renting out houses in order to start this new life we're talking about. So why not make this easier for them and for you and create an online house rental application form?
There are countless benefits to this and there's so much to gain by using this method. In this tutorial, we're going to teach you how to create a basic rental application form that will make your rental process more efficient.
---
---
Why should you use an online house rental application form?
Well, as I already said, there are a lot of benefits for you and your future clients. And happy clients means that the business will grow, right? Let's see why it's important to digitalize this process and what are some of its benefits.
---
Save time
This is a perk that goes both ways. Having an online rental application form means that you save yourself the trouble of having people come to your headquarters, waiting in line, filling a form, and so on. Maybe some of these people already have jobs and their schedule doesn't allow them to leave when they need to. So if you create a simple rental application form that is online, you'll save yourself the trouble of having a crowded office every day and you'll get more clients because they will not be forced to make an extra effort some can't afford.
---
Be more organized
Paperwork and bureaucracy are known to be among the four horsemen of making your job harder. Forget about losing requests or not having enough space to store them. There's always the problem of prioritizing requests – skip all these unnecessary problems by having everything in one place. You can store the forms in your computer, organize them digitally as you please, and have them in a safe place for future reference.
---
Gain more clients
By going online with this procedure, you'll see something of a bloom in your business. You can advertise your business and also have a call to action that will work – people will be able to apply in the moment they're looking for a place, skipping the trouble of coming to your office. It's a great opportunity for becoming a very popular and efficient business!
---
How to create a house rental application form
This will be one of the simplest things you'll ever have to do. It takes less than an hour to do everything – all thanks to Kali Forms, an amazingly user-friendly, responsive plugin that will make you gain popularity. Just follow me to the end of this tutorial, and you'll definitely be impressed by how fast this goes.
---
Installing Kali Forms plugin
This is step one. First, you need a website. If you don't have one already, I strongly advise you to create one. You can use this comprehensive tutorial on how to build a WordPress website and you'll have it in the blink of an eye. After you're all set with this part, go to your WordPress menu and find the Plugins section. Click on Add New and you'll be taken to a page with a search bar in the upper right corner. Type Kali Forms and once you find the plugin, Install it.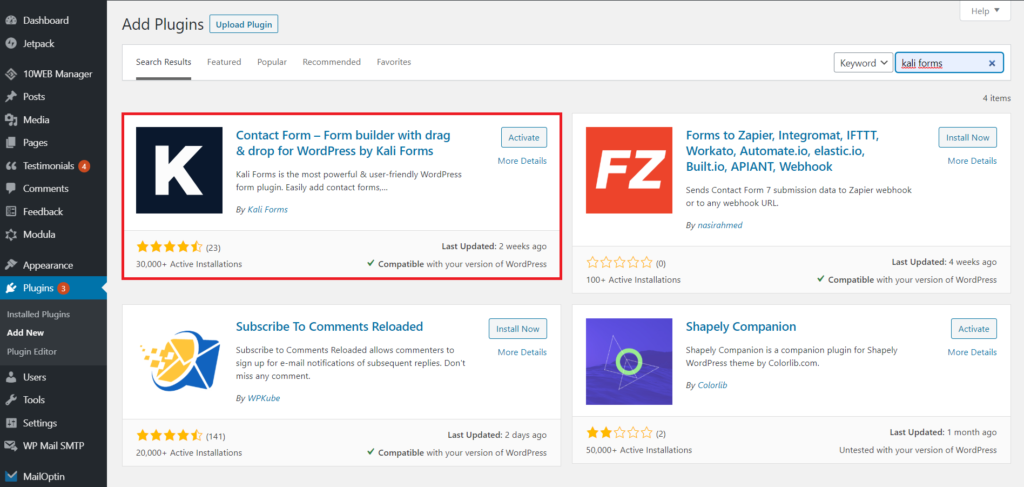 The installation shouldn't take more than a couple of minutes, so after it's ready, make sure you Activate your plugin.

The only thing left now is to look for Kali Forms in your WordPress menu and press Add New. Start creating your first form!
---
Creating a new form
After you've clicked Add New, a page with a bunch of pre-made templates will appear. Right now you'll not need any of those. You can use them for any other purposes. But right now, we're going to create an apartment rental application form from scratch, so click on Create New.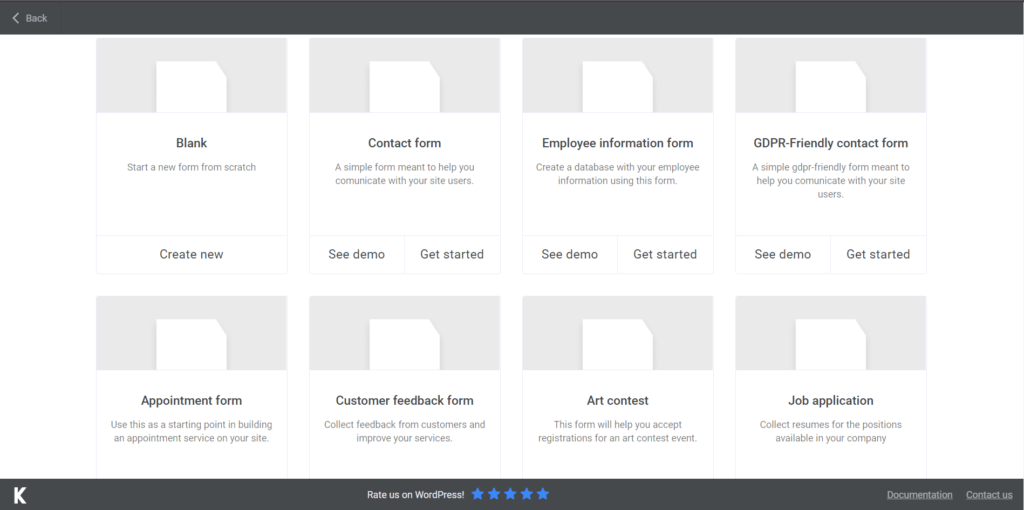 You might want to start by naming your form, so your clients don't get confused by any other thing on your website. I simply named mine ''house rental application form'', but you can choose anything else that you find appropriate.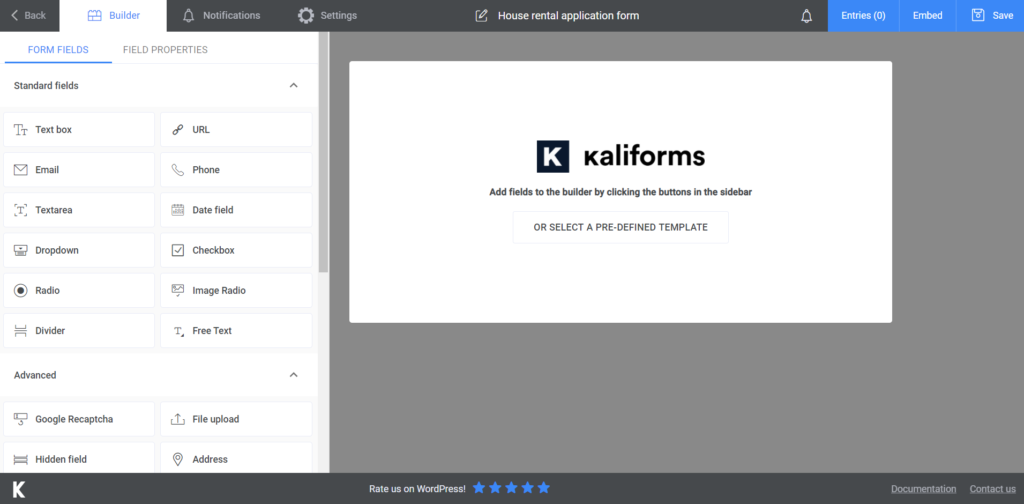 ---
Adding form fields
Before we go on with creating the actual form, you need to know that everything you see on the menu (on the left) is customizable. You can change any fields' settings by firstly adding it to your form, and then clicking on it. The customization menu will appear instead of the regular one. You'll get to name your field, add a description to it, or use the placeholders. You can also make the fields required to fill or add anything you feel it's necessary for this procedure.
For our standard rental application form, we're going to start by adding a Text box for the name, E-mail, and Phone ones for the contact info. After this comes a Choices field, for the person to choose how many rooms should their future house has, a Dropdown field for the preferred areas, and a Date field to find out when they want to move in. I also added a Divider, to separate this part of the form from the rest.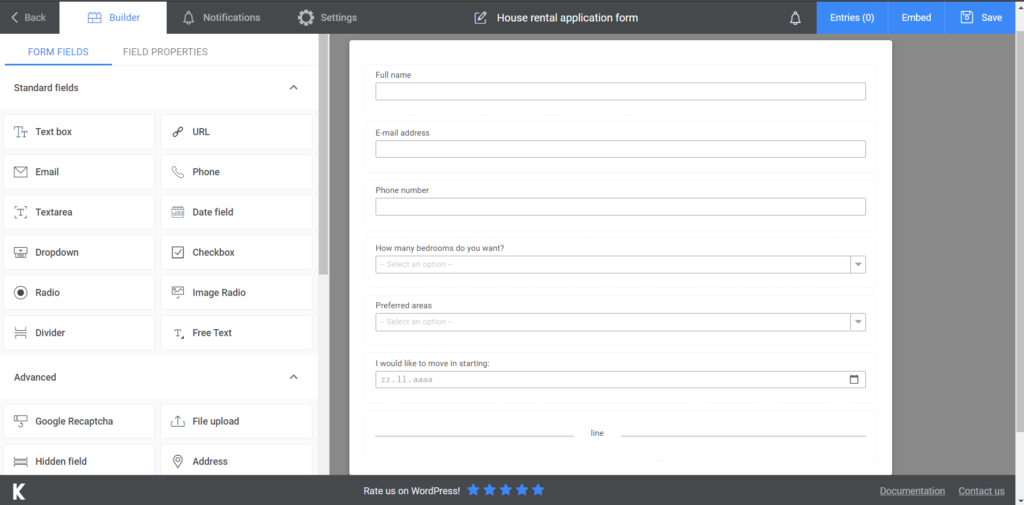 Some landlords or agencies request information about your previous rent to make sure you're a serious potential tenant. So for this section, we're going to use an Address field for their previous rented location, two Text boxes for the reason why you moved out and your previous landlord's name, and another Phone field for their phone number.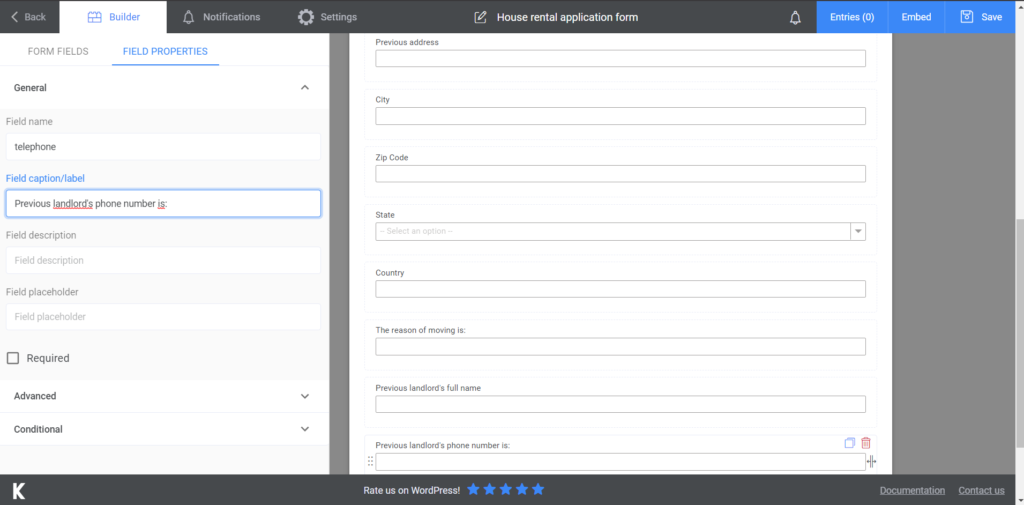 We're close to the end of creating our form, so this is the part where your future client will state their employment information. You're going to start with a Choices field, so they can let you know if they're currently working. Then, you'll need two Text boxes for the name of the company and position they're currently working, a Date field for the time they started working there, and another Text box for their current income statement. You can also opt for another Text and Phone fields, for their supervisor's contact information.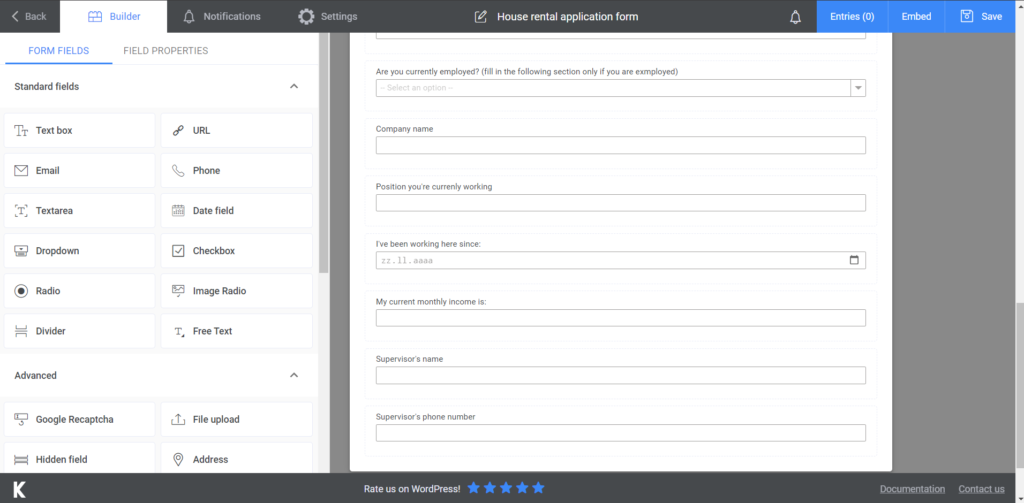 The last part of your form should contain a consent from your future customer, stating that they understand the condition of the services you're offering. I'm going to add a Choices field for this, with a yes/ no type of answer. If you're going for the premium version of Kali Forms, you can also add a Digital Signature field. If you request any documents to make sure what they're filling in this form is valid, add a File Upload field. Lastly, add a Submit button and you're all set.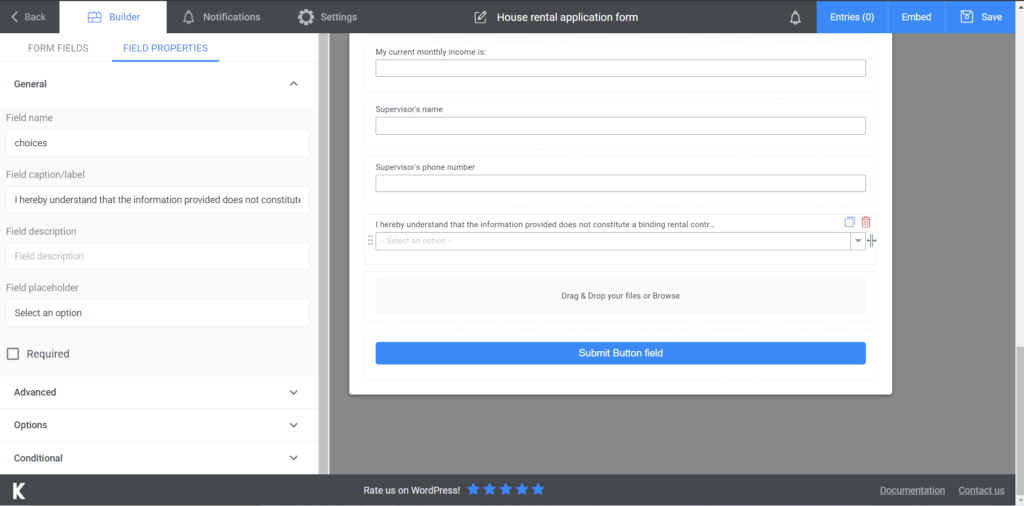 If you want to let your potential customers know that you received their application, opt for a confirmation e-mail that you can set up in the Notifications section. The whole process is explained there. The pro version also offers the possibility to send SMS notifications.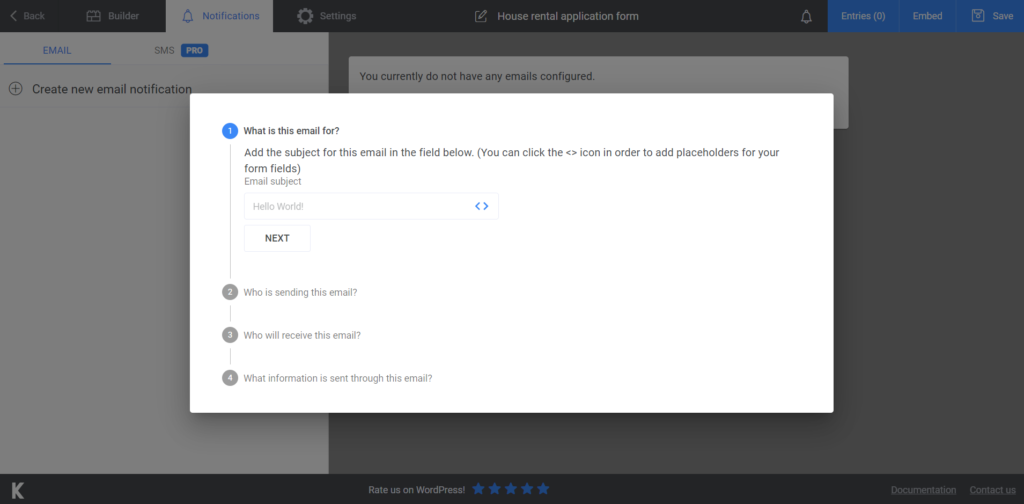 Last but not least, make sure you go to Setting as well, to set the final details of your form. You can choose your Form style or opt to display a ''thank you'' message after the submission of the form. By installing Kali Forms pro, you'll get a lot of premium features such as user registration, newsletter, or the possibility to connect Kali forms to Slack or HubSpot.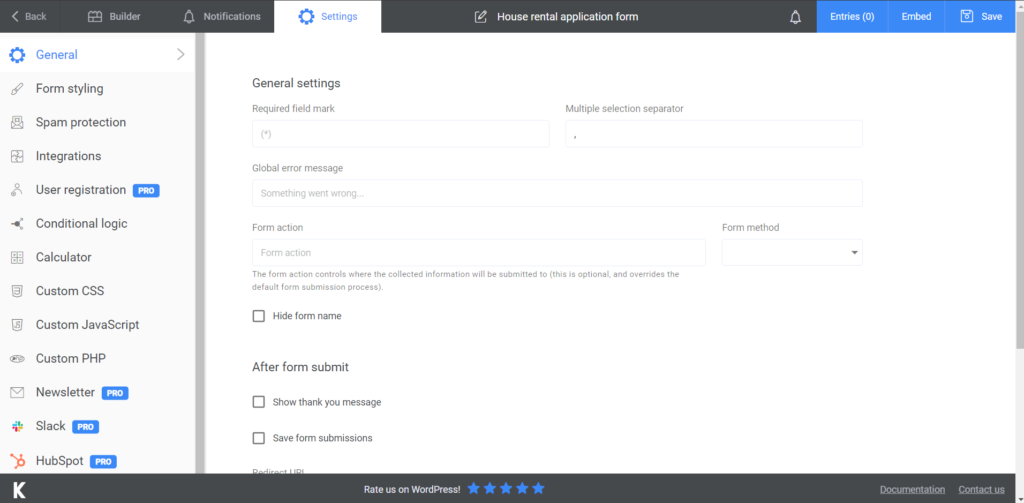 ---
Adding the house rental application form to your website
Once you're done with creating your form, don't forget to press Save. A shortcode will be generated, and all you have to do is copy it and paste it to its designated page on your website. You can integrate it into an already existing one or create a page, especially for this form.
Remember that you can export all your data to CVS or Excel and store it somewhere safe or organize it as you please.
---
Summary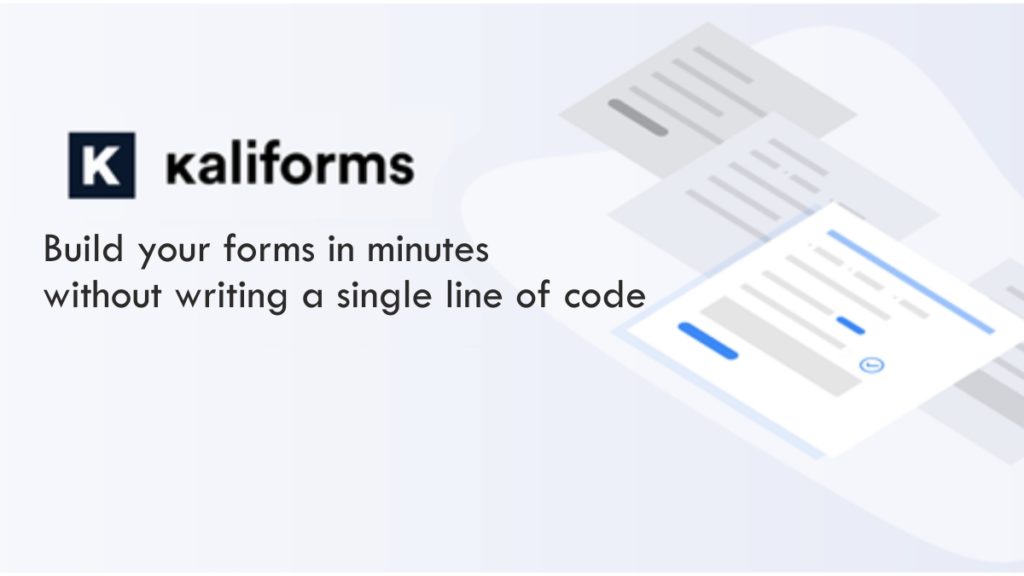 Now that you've seen how easy creating a form with Kali Forms is, what are you waiting for? Take some of the stressful things that your jobs imply off your mind. It doesn't sound like much now, but when you'll see how some things speed up thanks to this great tool, you'll be in love with it. Waste no more time and choose Kali Forms.