We all know how irritating it is to find in our database fake contact information. Therefore, to overcome this problem, you have to learn how to create a contact form with a CAPTCHA.
CAPTCHA is an acronym for Completely Automated Publish Turing test to tell Computers and Humans Apart. It has been used as protection for a long time to prevent these spam bots from submitting your form and adding fake contacts to your website. Moreover, these bots search for forms or any other websites to place advertising content – and even beat complex anti-spam protections.
To clarify, this article will give you an overview of why you should use CAPTCHA and a step-by-step guide on how to add CAPTCHA to a contact form.
---
---
How CAPTCHA works?
So, to submit a form, you have to pass a simple test. Firstly, you have to click the checkbox on your form that says, "I'm not a robot." By doing so, multiple pictures will appear on your screen. After that, you will have to check only those images that contain a specific object. Once you selected all the required images, your contact form will be successfully submitted.
---
Why using a CAPTCHA in your contact form
Prevents comment spam – Sometimes, bots send unwelcome messages and ads to your forms. They obstruct real user experiences and frustrate your customers. If you have a website with a specific audience and use contact forms, allowing CAPTCHA is one of the most common ways to avoid comment spamming. Thanks to Kali Forms, you can add a CAPTCHA easily into your contact form.
Stops fake registrations – Forms are used by online businesses for registration, signups, and offer services to their customers. Bots typically target such forms and fill them with false content, damaging the business's database. CAPTCHA is typically used to prevent certain spam registrations from bots.
It makes online shopping more secure – Using a CAPTCHA in your online store gives customers the security that their personal information won't be compromised.
It prevents hackers from creating multiple accounts.
---
How to add a CAPTCHA to a contact form
Now that you know how important a CAPTCHA is, we can go further to the next step — a pretty straightforward installation process. To stop the spam coming through Contact Us form, you will need a capable tool to solve your problems regarding bots and hackers. Again, Kali Forms is the easiest plugin to use, whether you want to create any registration form or add a CAPTCHA to an existing one.
---
Installing Kali Forms
Supposing that you already have a website, all you have to do is install Kali Forms from the WordPress page with all the available plugins and follow the steps.
Firstly, go to the WordPress dashboard > Plugins > Add New.
Look for the search bar in the top right corner of the page; there you will type Kali Forms. After you found the plugin, click on Install.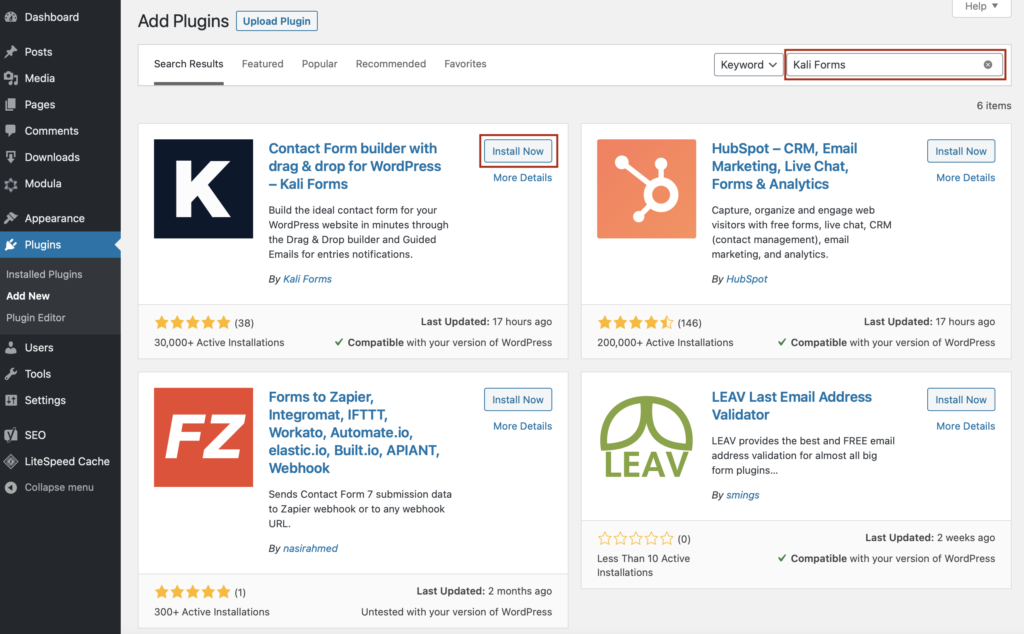 When the plugin is installed, click on Activate.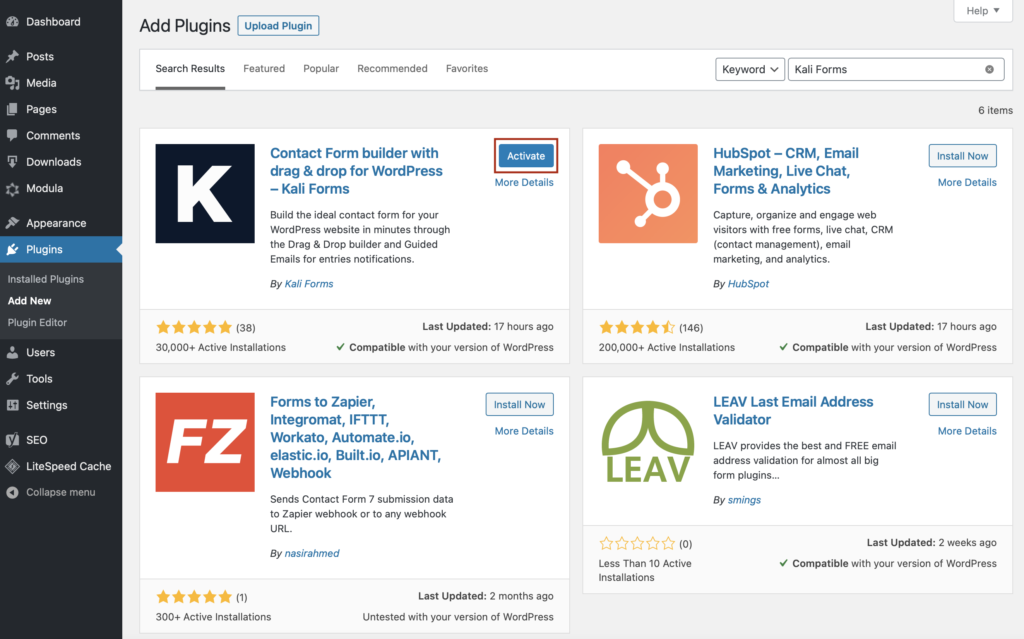 After that, the Kali Forms plugin will appear in your WordPress menu. So, from now on, anytime you want to create any form, go to Kali forms > Add New.
---
Creating a new form
You will be redirected to a page with all the predesigned templates that Kali Forms offers. You can use any of them, but we will choose the Contact Form template this time. We also have a guide on creating a contact form from scratch; feel free to check it. Let's start by clicking on Get Started.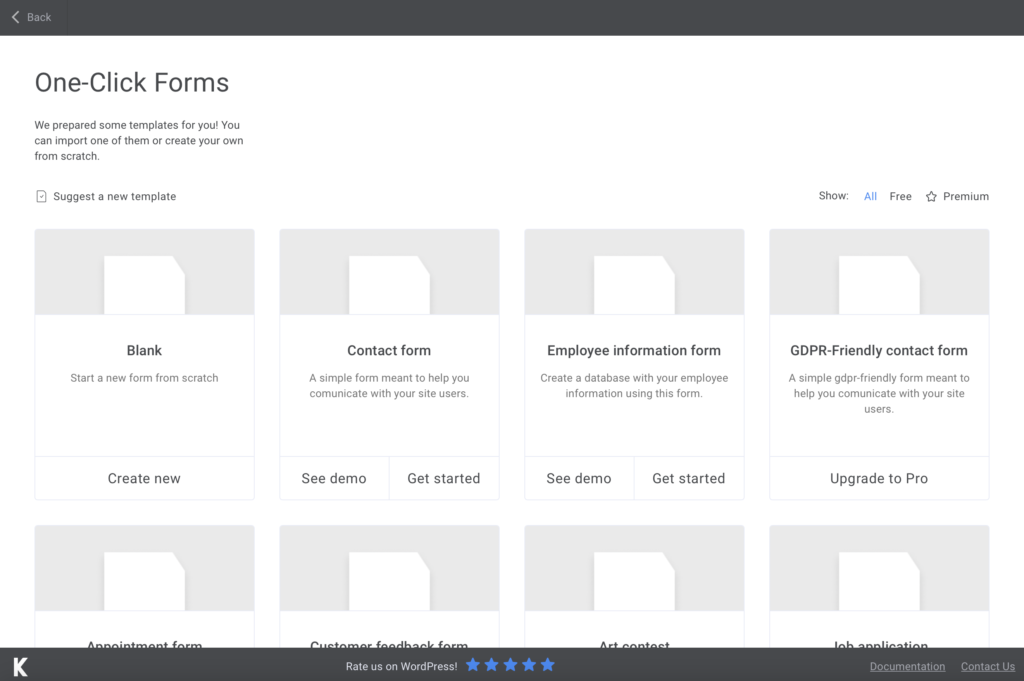 You will be led to a page with all the form styles you can choose from. After selecting the desired one, click on Import.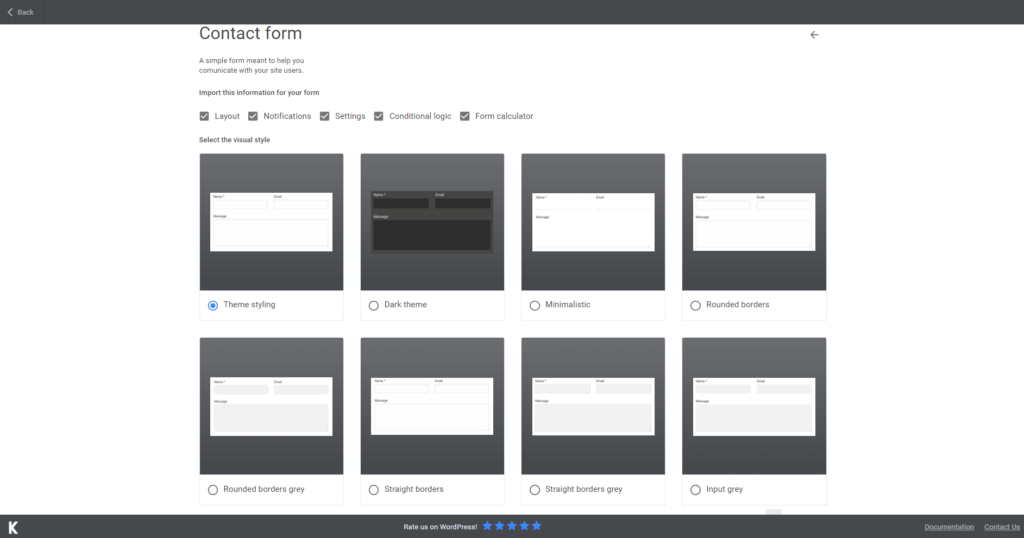 After you imported it, a menu with all the fields will appear on the left side of the screen. Scroll down and drag & drop the CAPTCHA field into the preexistent form.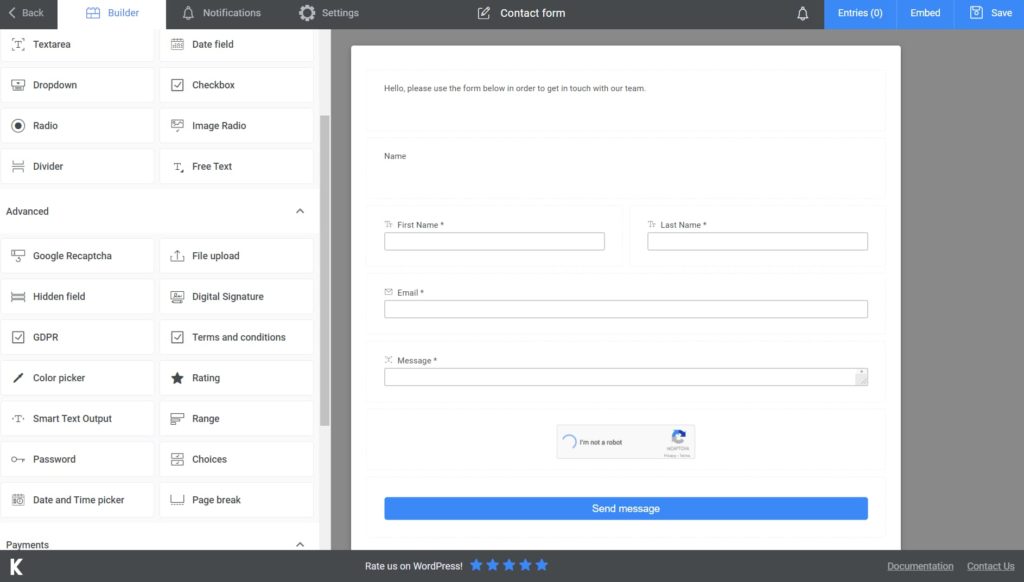 ---
Adding the Contact Form to your website
After you finish editing your form, click on Save. Kali Forms will create a shortcode to copy and paste into an existing page/ post or a new one.
Further on, if you consider it is necessary to export your data somewhere for protection reasons, you can! For example, export your form to Excel or CSV to have the certainty that all your data is kept safe!
---
Conclusion
To sum up, having a CAPTCHA attached to your contact form will help you a lot because you won't have to take care of fake registrations or spam comments anymore. Moreover, with the help of the most user-friendly plugin called Kali Forms, you have the certainty that you are safe from bots or hackers. Moreover, you can use this plugin to create any registration forms, such as a concert ticket registration form or a registration form for an online conference.