If you are looking forward to leveling up your conference registration form template game, you've come to the right place!
Whether you are a manager who has conferences with the employees, a teacher, or you hold a webinar, sending a formal registration form for an online conference will always make you look like a professional. Moreover, creating a registration form will get you additional information about the attendees. This includes email addresses, phone numbers, or even the location from where the person attended.
In this article, we will show you how to create an online conference registration form with the help of our drag-drop plugin Kali Forms.
---
---
Why you should create an online registration form for your conference
Even though our lives are getting more and more digitized, we still need to connect with our good friends, hold seminars, or communicate with the employees. There are plenty of reasons to create a professional registration form for your online conference. Let's enumerate the most important ones.
Better organization – Creating an online registration form will make the sign-up process way more efficient and automatic. To clarify, people will register through your form and possibly pay if the conference has a paid entrance. Besides, you can make the conference private. So, after signing up, the attendees will receive the password in the confirmation mail or SMS.
The first impression – The truth is that you never get the second chance to make a first impression. This is why it's so important to start with the right foot, by creating the perfect registration form for your online conference. People are actually paying attention to the details, so having a dreadful invitation won't help you.
Amazing data collection tool – Even before the conference starts, you will have all the details about your attendees which is always extremely important. Why? To build a community or to send invitations to future online conferences through the email newsletter.
Protection – Having such an organized registration form will help you avoid scammers that can hack your online conference and ruin it.
---
How to create a registration form for an online conference
The process of creating a registration form for an online conference is even easier than you think. All you need is a powerful tool that will do the work for you. Kali Forms is the most user-friendly plugin that will always get the job done. Let's start by installing this tool – you can follow this process for all free WordPress plugins.
---
Installing Kali Forms
Supposing that you already have a site, all you need to do is to download Kali Forms from the WordPress plugin section. If you don't have a site yet, don't worry. In short, you can follow this tutorial on how to create a WordPress site in minutes.
Once the site is built, go to the WordPress dashboard > Plugins > Add New. Look for the search bar in the right corner; there you are supposed to type Kali Forms.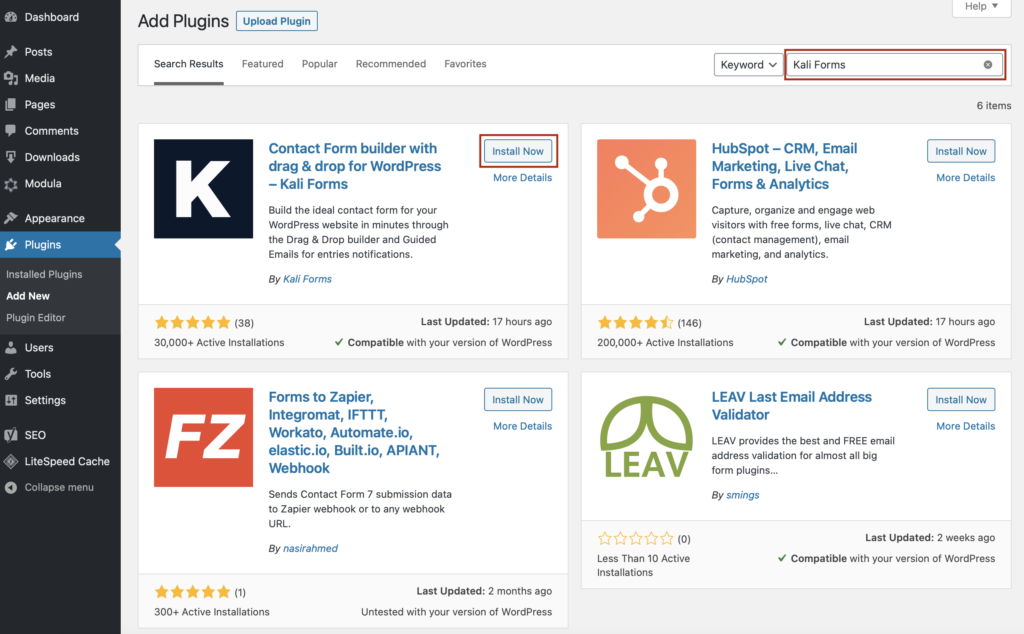 After you press Install Now, wait a few seconds until the installing process is done, and click Activate. The Kali Forms plugin will pop up in the WordPress dashboard menu. After that, if you want to create an online form, go to Kali Forms > Add new.
---
Creating a new form
You will be redirected to the page with all the prebuilt templates. You can use any of those if you need them, but now, we will create one from scratch. Click Create New, and let's get started!
Start by naming your form so people can easily find it. You can give it whatever name you find it's suitable for this.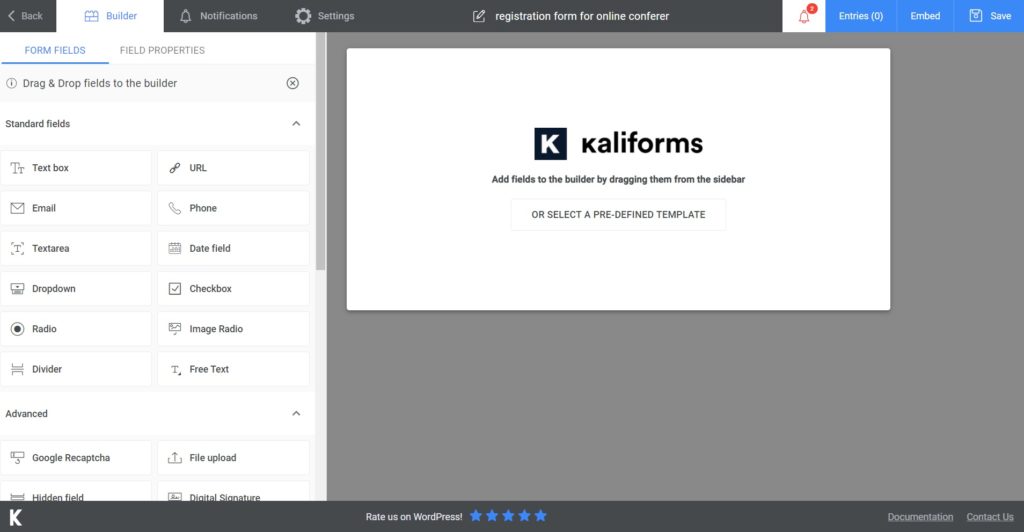 ---
Adding Form fields
Firstly, you must know that all these fields are customizable. In the left menu, you will see all Kali Forms fields. To customize any of these fields, drag and drop one into the form and then click on it. Instead of the menu, you will see some customization options that will allow you to style fields according to your wishes. You can do plenty of things, such as add descriptions, insert placeholders, label the fields, and make them required to fill.
For the first section of this online conference registration form, I will add two Text boxes for attendees' first and last names, a Phone and Email field, so we can contact them. Finally, add a Text box to find out the city they came from to create a demographic view of our online conference's attendees. I ended this first section with a Divider, so the form will look cleaner and easier to understand.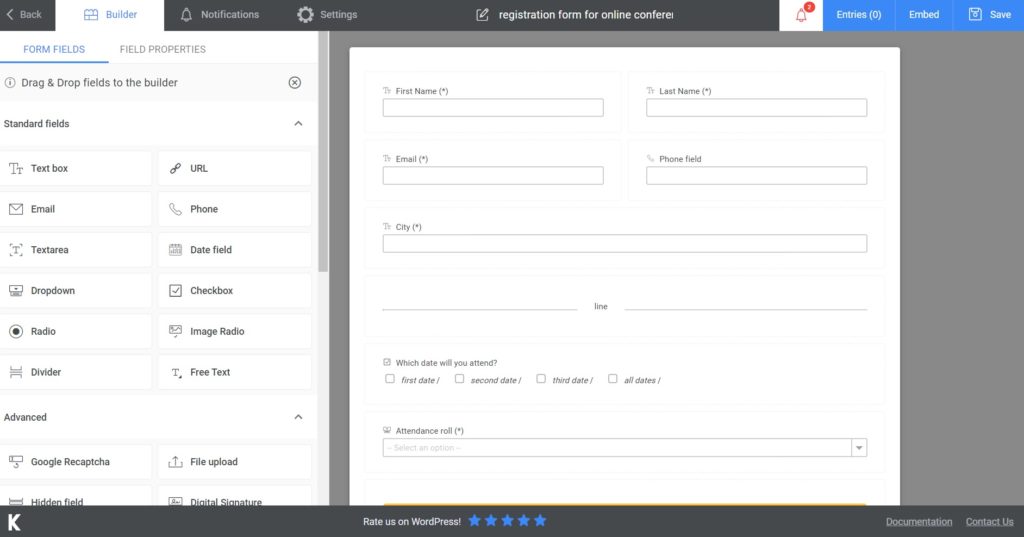 For the second section, I added a Check Box field for the dates your participants will attend – in case that your conference will be held in more than one day. Afterward, I added a Dropdown field so the people who will attend can select the position taken in the conference – a speaker or just a participant. Finally, I added a PayPal and a Submit Form button.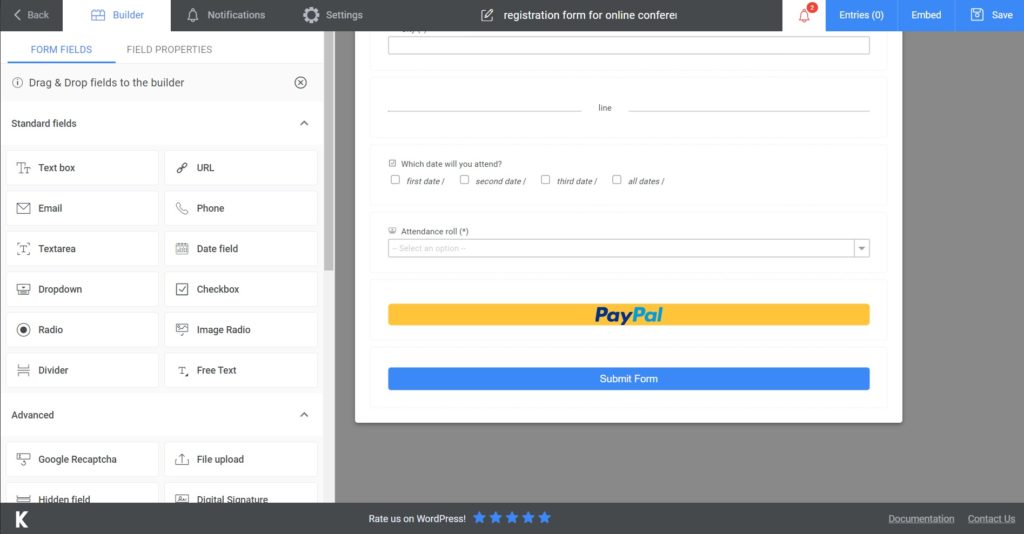 If you want to use a credit card, add a Stripe button, or if the conference is for a charity, we have a Donation field that can be added for the people who want to donate. If the entry is free, a Submit Form button will be more than enough.
As you can see, I've made all the fields required to fill to make sure I'll have all the necessary information.
---
Additional features
To conclude the form as professionally as we started it, go to Notifications and create an automated confirmation email – where you can additionally send the conference password in case it will be private. If you are not sure about how to do that, the process is pretty clear – still, we have a tutorial for that too as. In addition, you can even send an SMS notification if you upgrade to the premium version.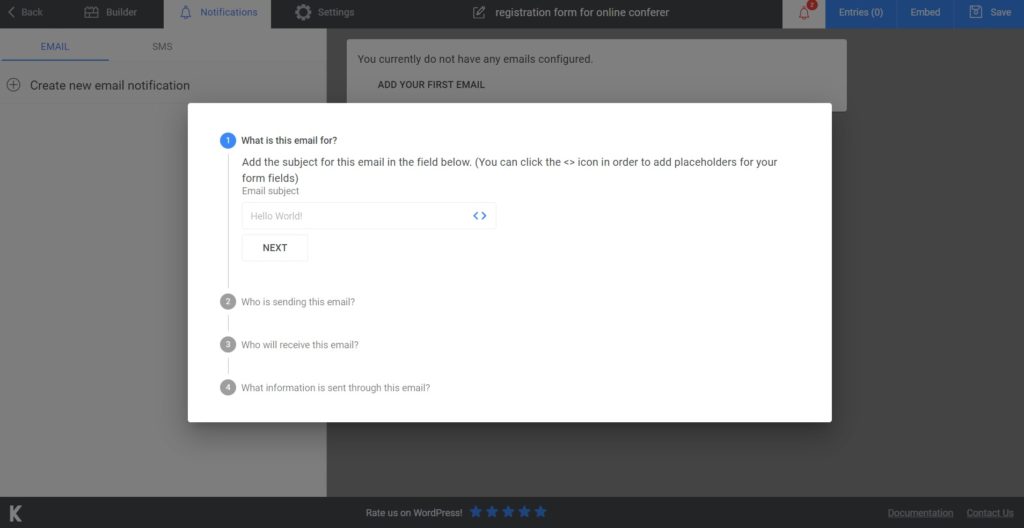 Furthermore, if you want to take your online registration form to the next level, you have to take a look over all the customization options you will find in Settings. There, you can modify the Form style, display a personalized "Thank you for attending our conference" message. There are a lot more options if you go for the premium version.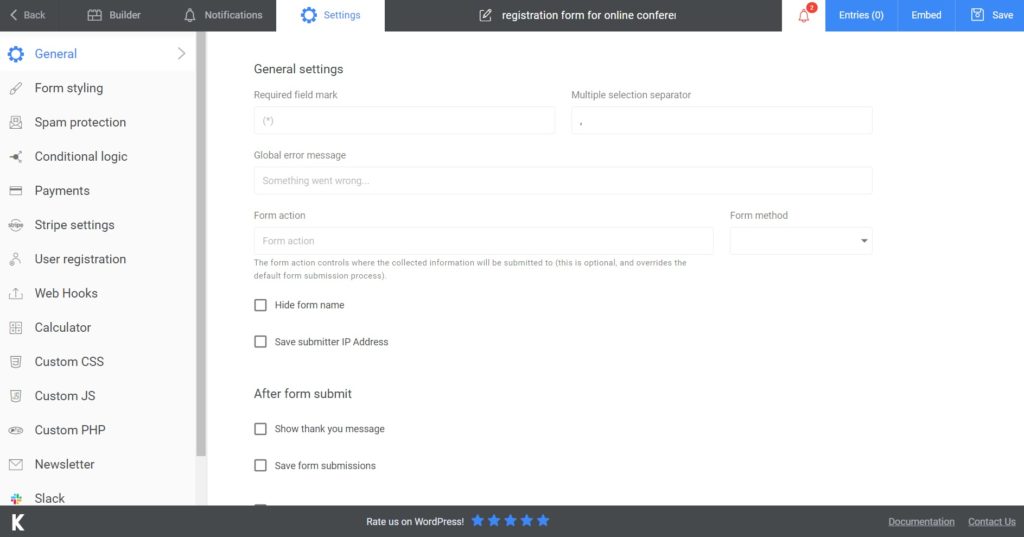 ---
Adding the online conference registration to your website
You can add the form to an existing post/ page or just create a new one. After you are done building your registration form, press Save. The shortcode will be generated, so copy and paste it into a page or post. It's easy as that!
Above all, if you consider that you want to export your data somewhere, for safety reasons, or any other reasons, you can! Export your form to Excel or CSV to have the certainty that all your database is safe.
---
Final thoughts
To sum up, you have already noticed that Kali Forms is a super responsive form builder, intuitive, and user-friendly. You can create as many forms as you want with our free version, but always you can benefit from all the amazing features at a click of a button if you decide to upgrade to the premium version.
Choose to create your registration form for your online conference with Kali Forms to get the job done in minutes!