Do you want to bring more people to your workshop, but you are not sure how? A workshop registration form is the answer you've been looking for!
Regardless of the type of your workshop, or whether it is online or physical, organizing one is extremely time-consuming. Maybe you have to hire the right people, search for volunteers and rent a location. In other words, it's extensive work. Creating a workshop application form will help you manage things better. Moreover, whether you organize cooking, photography, or any other workshops, a sign-up form will attract more people to your event.
In this article, you will learn how to create a workshop registration form with the help of our drag and drop plugin named Kali Forms.
---
---
Why should you create an online workshop registration form?
A workshop comes in handy for multiple reasons. Maybe you want to engage with like-minded and shared interests, form new partnerships, or share amazing practices with thought-leaders or experts. Whether it is the reason for holding a workshop, you have to create a workshop registration form to accomplish your needs.
Professionality — A great first impression is crucial. Basically, the participant application form is the image of your event because it is the first thing attendees will see. So, it has to look as professional as possible. By doing so, the chances of people attending your workshop event will be even higher.
Database — Even after the event starts, you will have all the necessary information about the attendees. But why do you need them? Having a database is essential because you can ask for feedback through email, send a newsletter or even build a community.
Efficiency — Last but not least is efficiency. As I already said, hosting a workshop is extremely time-consuming. You have to rent a place, hire the necessary people and search for volunteers. After all these, you need people to attend your workshop. The most efficient way is an online registration form for the event.
---
How to set up a workshop registration form
This is a straightforward process that will take you through all the needed steps to create the most authentic workshop registration application. Building an online workshop registration form — like the one we will do next — will help participants better understand what they are enrolling in and create an amazing first impression.
All you need is a strong tool to guide you through the process! In other words, give Kali Forms a try, and you won't regret it. Using this tool, you can create photography workshop registration, student workshop registration, cooking workshop registration, and training workshop registration form as well.
---
How to install Kali Forms
First of all, you will need a running website. Don't worry if you don't have one yet. Just follow this step-by-step tutorial on creating a WordPress website. You can use your website for marketing your future events, post any photos or information about actual projects, create a photography portfolio, and so on.
Once you've built your website, go to WordPress dashboard > Plugins > Add New.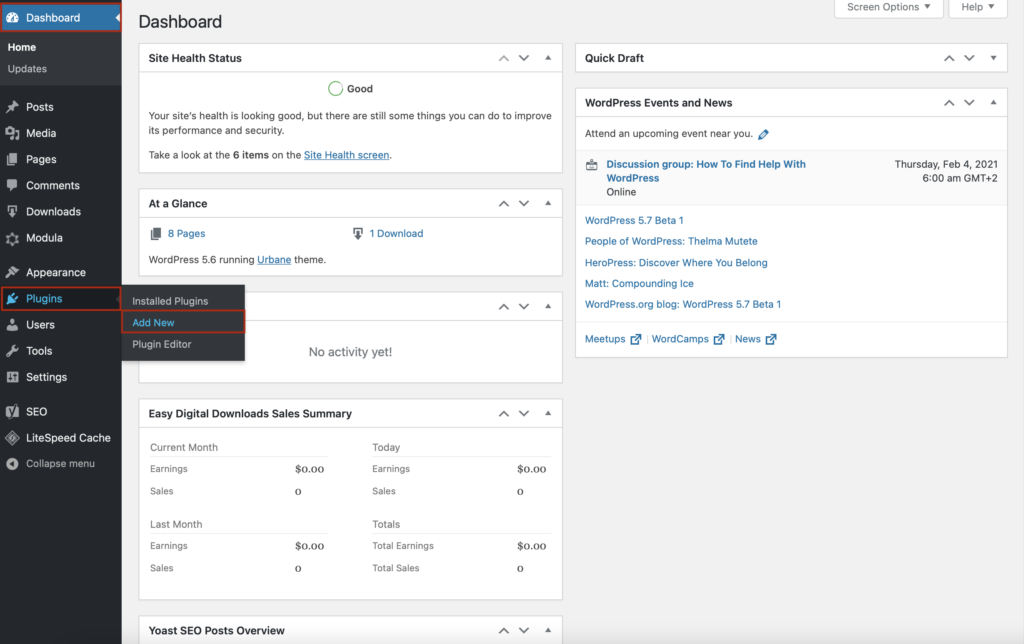 After that, you will be redirected to a page with all the available WordPress plugins. Look for the search bar in the top right corner, type Kali Forms and then Install it.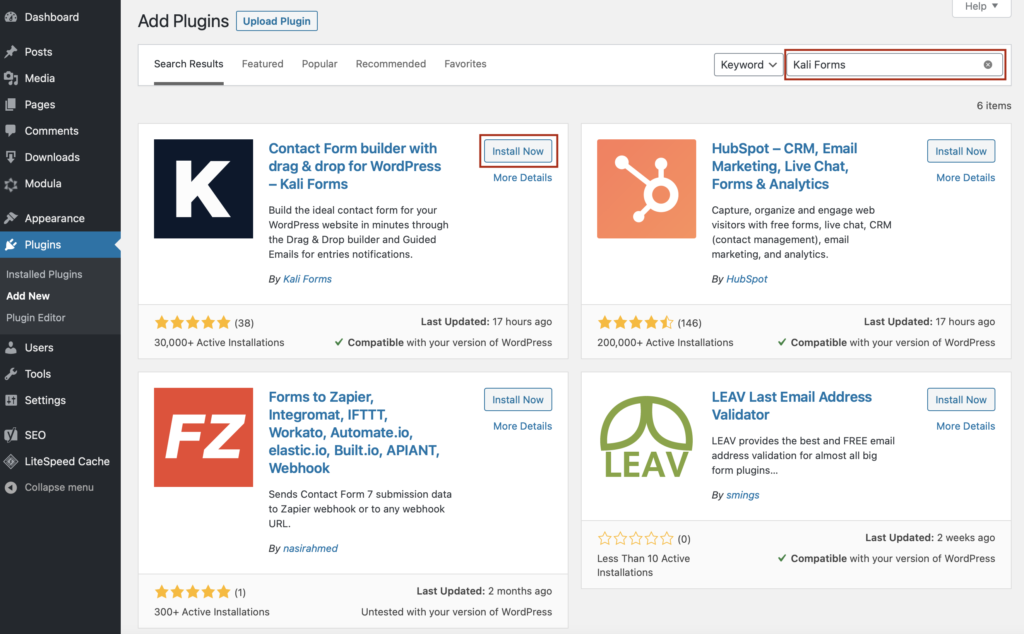 When the installation process is done, click on Activate.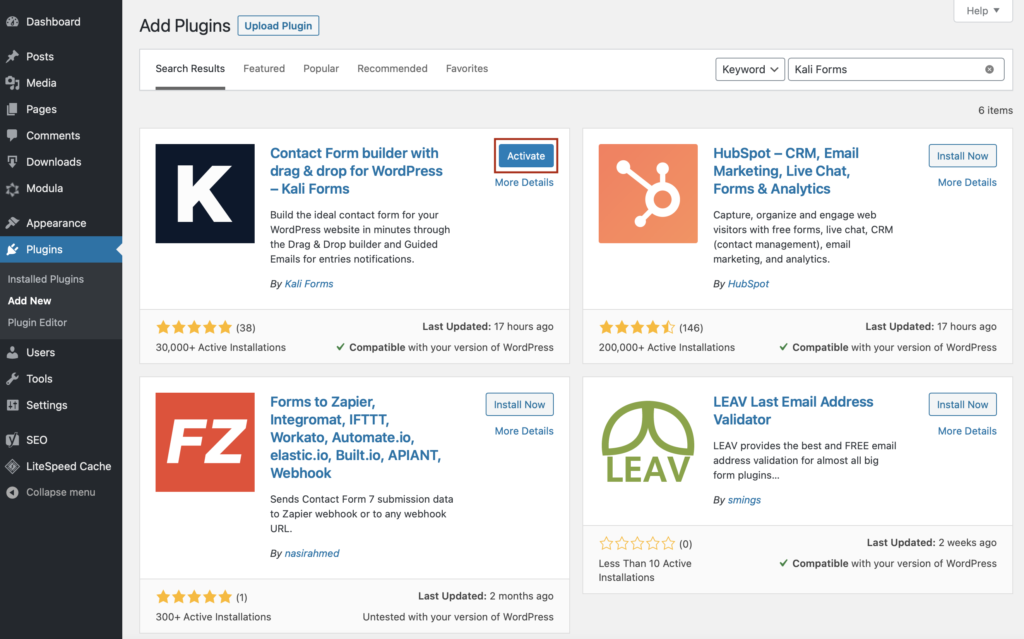 You will find Kali Forms in your WordPress menu.
---
Create a new form
Anytime you want to create a new registration form, go to WordPress menu > Kali Forms > Add New.
You will be led to a page with all the predesigned templates that Kali Forms offers. Since there isn't a workshop registration form template, we will create one from scratch. Click on Create New, and let's get to work!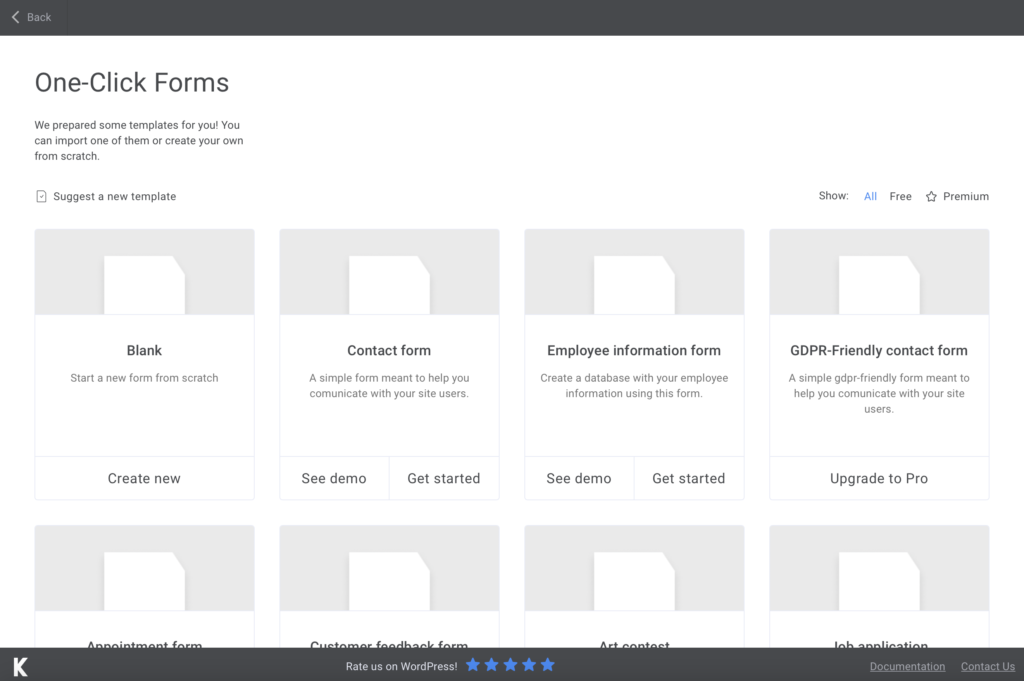 I suggest you start by naming your form so that the participants are aware of the purpose of your form.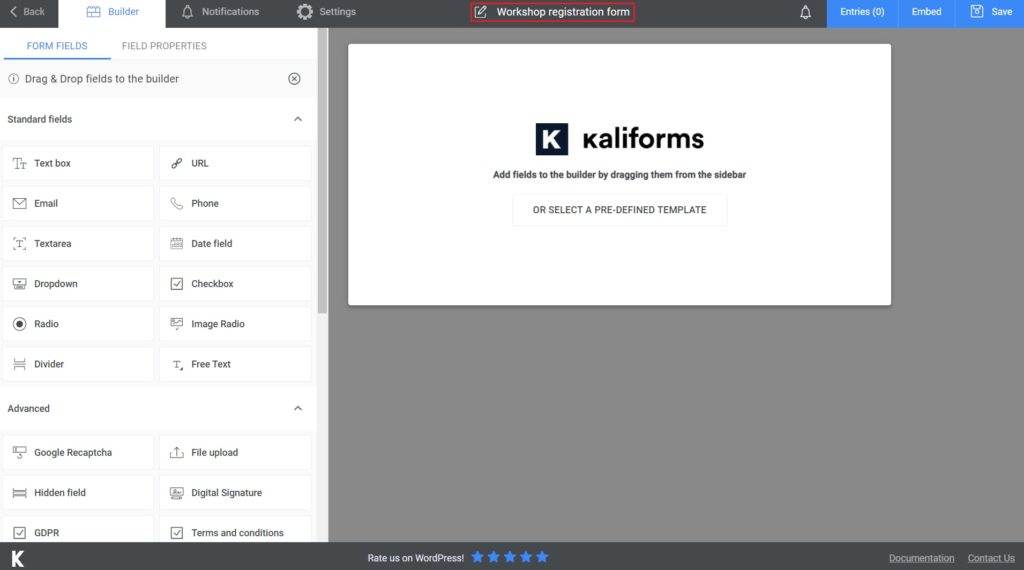 ---
Adding form fields
Before starting, you should know that all the fields are customizable. They can be found in the menu placed on the left. To start, drag and drop any field you want into your form. If you want to customize your field, click on it. Instead of a menu, you will find different editing options such as Field name, Field Description, or Field caption.
This workshop registration form is available whether the event will be held online or physically.
For the first section of our workshop registration form, I added two Text Box fields for the full name, an Email field, and a Phone field. After that, I added two Text Box fields for the address lines and two Dropdown fields for the ZIP code and the US States. To end this section, I added a Divider to separate it from the rest of the form. I also made all the fields required to fill by selecting the option: Required.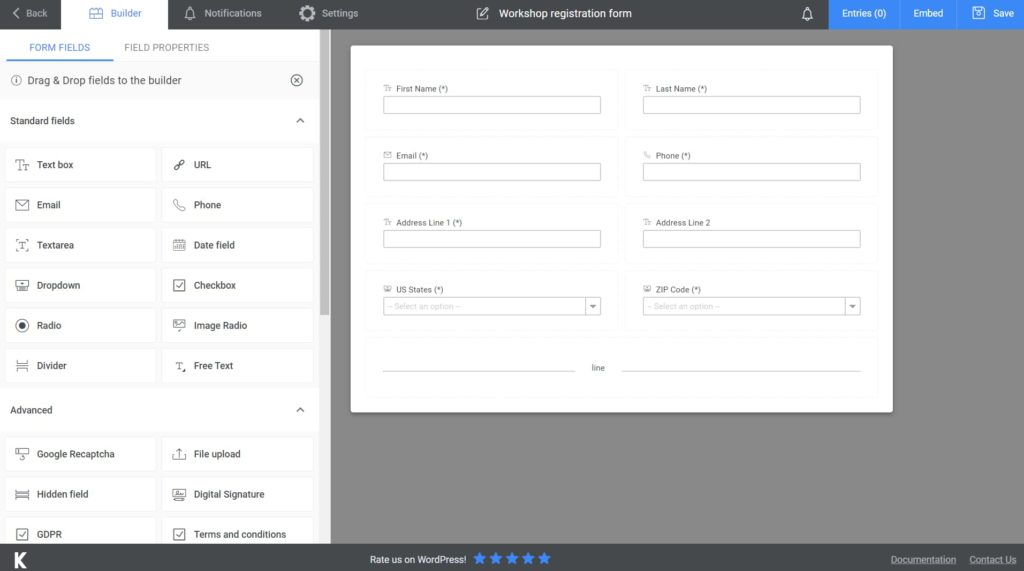 To add all the US States to the Dropdown field, left-click on it, scroll down to Options > Presets > the US States > Select All > Import Preset. The same process is applied to the Postal Code as well.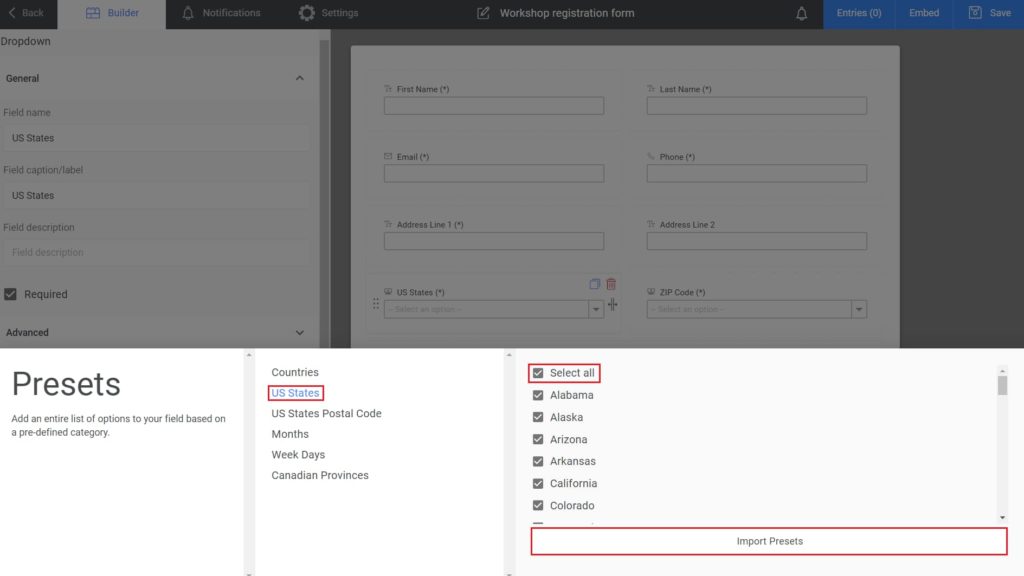 For the second section of this form, I added two Checkbox fields, one for the days the participant will attend the workshop and the other to find out where the attendant heard about it. Why? Because if you are advertising it, you will know where to increase your advertising budget. Then, I added the payment methods — you will need them only if the workshop has a paid entrance — and finally, a Submit button.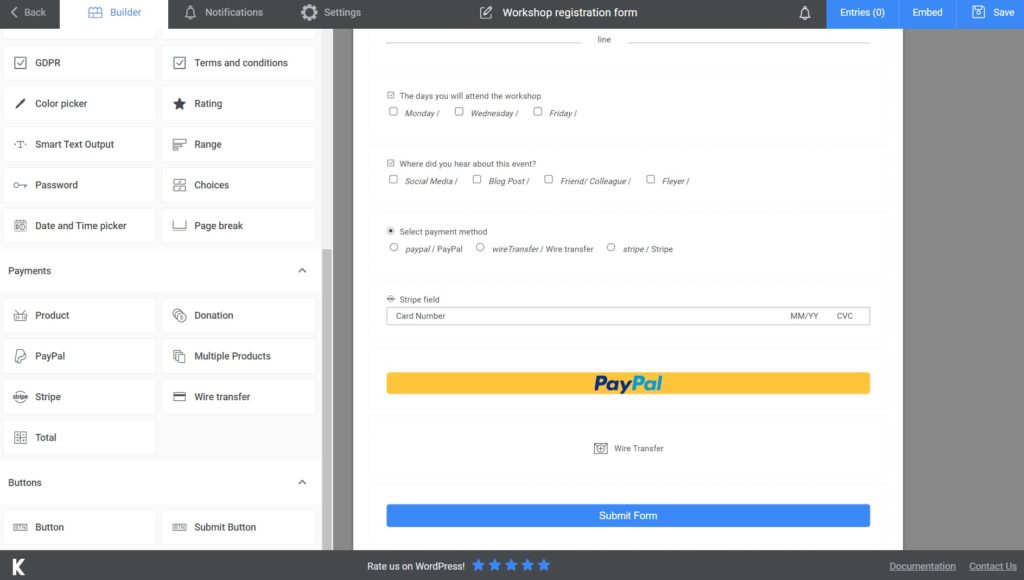 ---
Additional features
So, this is how you create a workshop registration form. If you want, you can send an email to the participants to confirm their registration for the workshop. To do so, go to Notifications, and follow the instructions there step-by-step. Moreover, if you choose the premium version, you can send an SMS confirmation as well.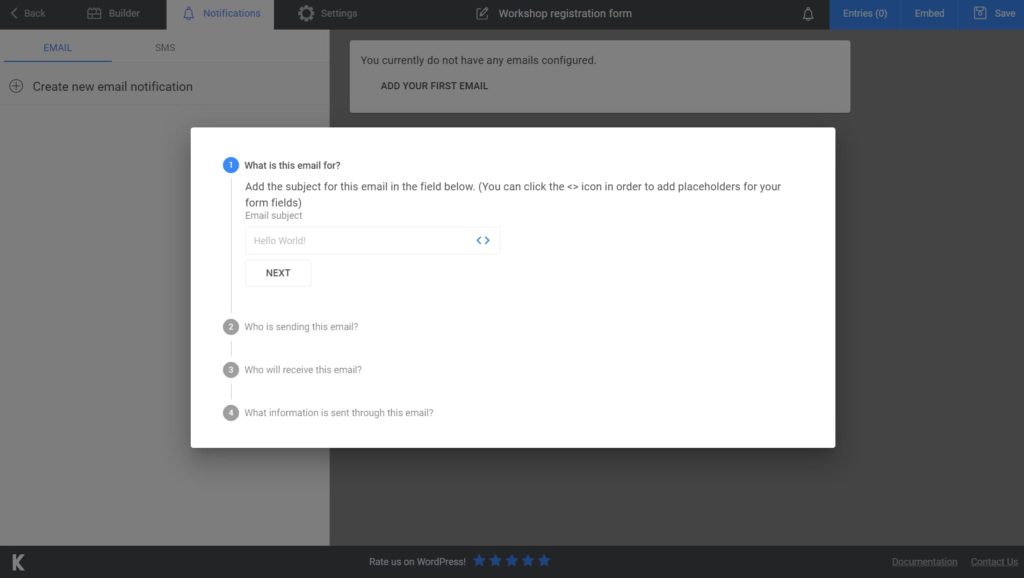 If you want to take advantage of all Kali Forms' features, go to Settings. There, you'll find plenty of other customization options, such as displaying a "Thank you for your registration at our workshop" after they press the submit button or choosing the form style. You can also add your form to Slack or HubSpot and submit newsletters if you upgrade to the premium version.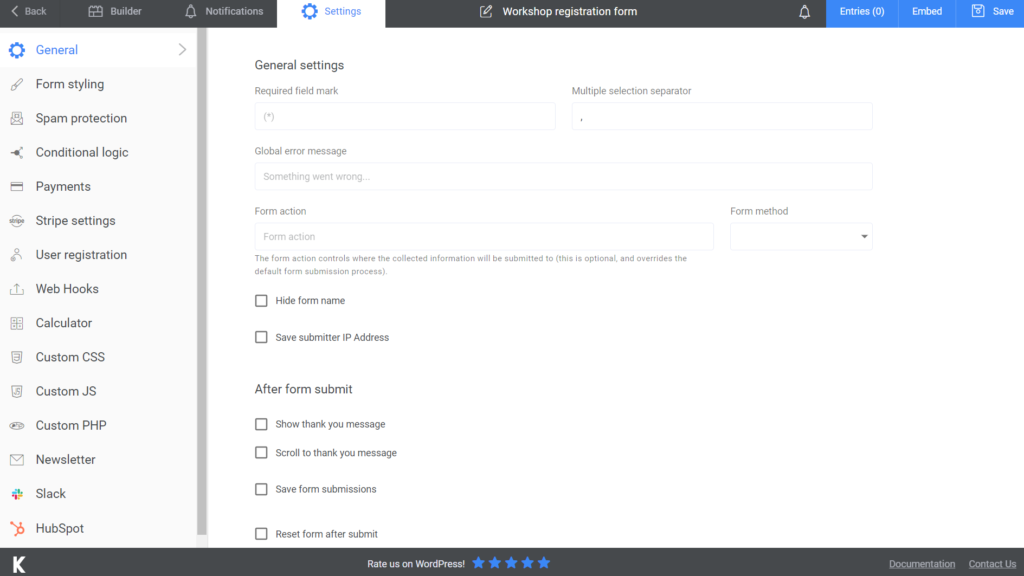 ---
Adding the workshop form to your website
Once you finish creating and styling your application form, click Save. Kali Forms will create a shortcode that you can copy and paste into your website.
If you consider that the information gathered is confidential, export it to CSV or Excel, and keep it safely.
---
Summary
To sum up, creating a workshop application form is important for multiple reasons, such as efficiency, professionalism, and a database. Thanks to Kali Forms, you will accomplish all these easily.
Give it a try, and I am sure you'll create the most impressive forms.