Are you looking for a more efficient way to distribute and keep track of your talent release forms?
If you are working in an agency or on your own, you are familiar with what a talent release form is. For those of you who are not entirely sure, it is a legal document that prevents the unfortunate event of you getting sued for using videos/pictures/recordings of people who came by your studio. It's something both parts should agree on, and it usually comes as an addition to the actual contract you have with that specific person or group of people.
But why should you offer an online talent release form? Well, for the obvious, legal reasons stated before, as well as having it easier for your business. An online form could speed up the entire process and make it more efficient.
In this tutorial, we will show you how to create a talent release form from scratch!
---
Why should you use an online talent release form?
If you are still using paper forms, we will give you a piece of advice – get rid of them. They are old-fashioned since the whole digitalization process. And not only that. Many trees are cut down to create paper. So, stop using it and go for online forms. Besides that, there are a lot of other benefits for your business that you can take advantage of. Let's see some of them below:
Time saver
One of the most important benefits of online forms is that they save a lot of time. And you know how important time is for each of us. By using an online form builder, you will easily add fields to your forms and fill them in them with the necessary information. And it's not only you that gets to save time – the people you work with, both the employees and talents will have it easier as well. They won't need to come to your headquarters because they will be able to do everything from their computer or smartphone. Wonderful!
Fewer errors
Well, online forms are designed to collect accurate data and will ensure a minimum of errors. How can they do this? As you may know, the fields have an option to make them required to fill or not. So, if someone forgets to fill in some areas, they won't be able to submit the form. This way, you will make sure that you will have all the necessary information.
Data storage
You can easily store the data on your computer and keep track of everything. Also, you won't have to worry about losing documents or needing extra storage space. With online forms, you will have full control over the data, and you will be able to store it somewhere of your choice. Better safe than sorry!
---
How to create a talent release form
After you follow this tutorial, you will be 100% able to create a talent release form and ensure your safety. All you need is the help of a superpower tool that will do half of the work. And it's called Kali Forms.
Installing Kali Forms plugin
For this step, you need to have a running website. Nowadays, everybody that has a business, has a website as well. It will help you become known and sought after. If you don't have one, no worries. You can follow this simple tutorial on how to build a website. It won't take you very long and you'll be able to use it for multiple purposes afterward, like advertising for your business.
Once you're done creating your website in WordPress, go to your Dashboard, and look for the Plugin section on the menu. Then, click on Add New and type Kali Forms in the search bar that appeared in the upper right corner of your screen. When you find the plugin, click Install.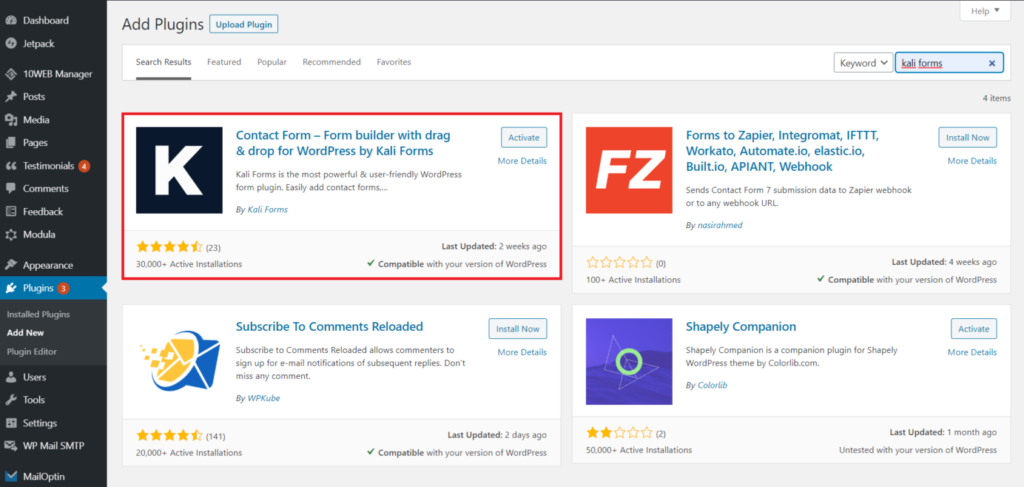 This will take only a couple of minutes. After the installation is over, Activate Kali Forms by pressing the button outlined below.

Now you are ready to find out how to create an online form with this tool. Whenever you want to build a form, just click on Add New, and start the process.

---
Creating a new form
When you click on Add New, you'll be redirected to a page with a bunch of pre-designed form templates. We're not going to use any of those right now, because we will create this form from scratch. Click on Create new, and let's see how it's done.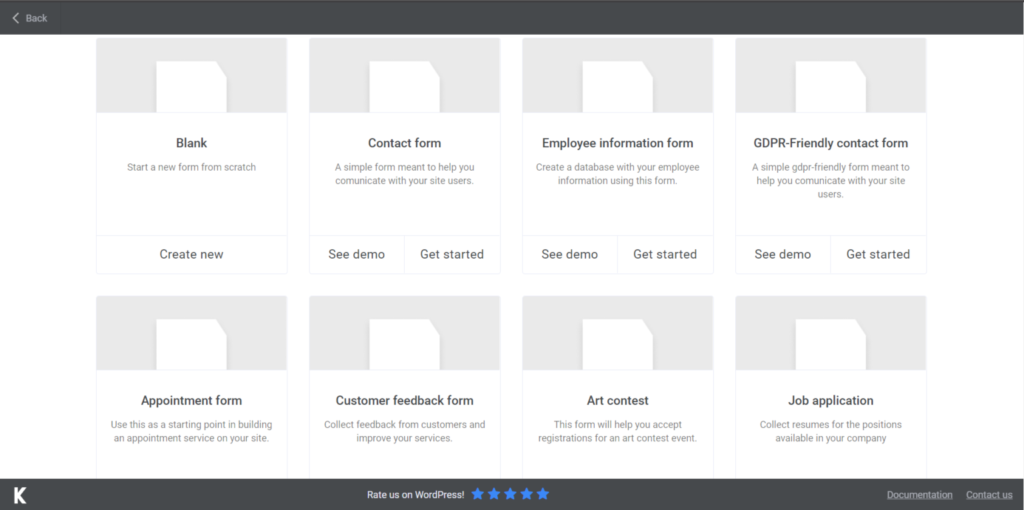 In the first place, you have to give a descriptive name to your form so that people know what they fill in. I simply named mine "talent release form", but you can choose whatever you want.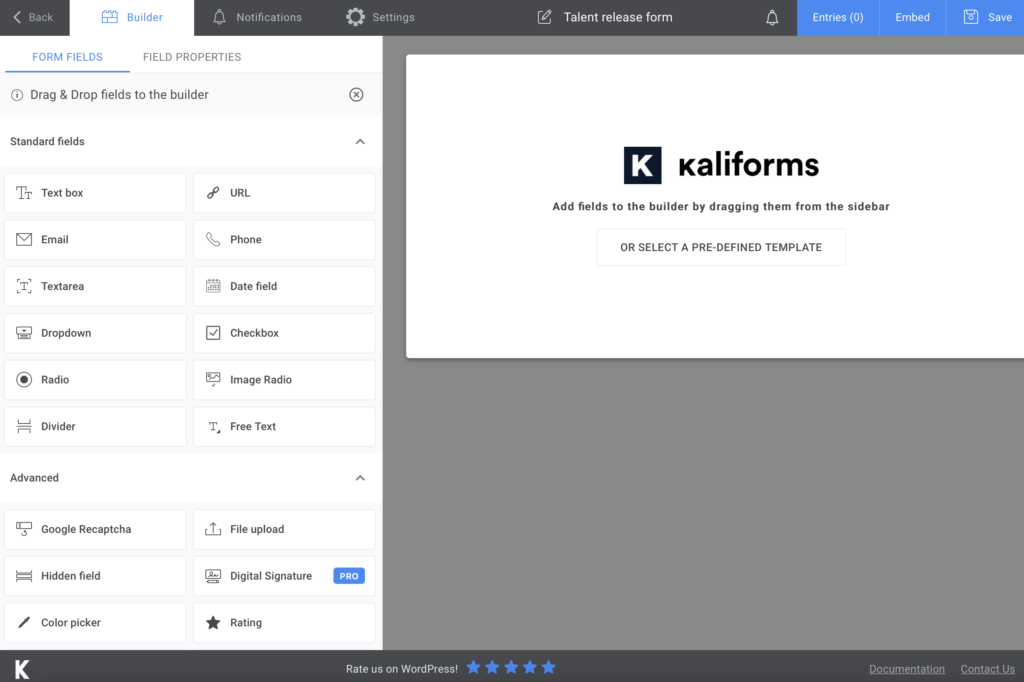 ---
Adding form fields
Here comes the part where we start adding fields and creating the talent release form. Before we start, we want to inform you that everything here is customizable. On the left of your page, you will see all the form fields and their properties. You get to name your fields, add a description, and use placeholders. As you can see, it's super easy.
Regarding our form, I started by adding a Free Text box where the information about the future usage of the recordings is displayed, so everyone knows what they're agreeing to. I wrote a sample text, but you can add whatever you feel it's appropriate. Then, I added a Text box for the name, and another three Address, Phone, and Email fields. As you can see in the pictures below, I made all the fields required to fill.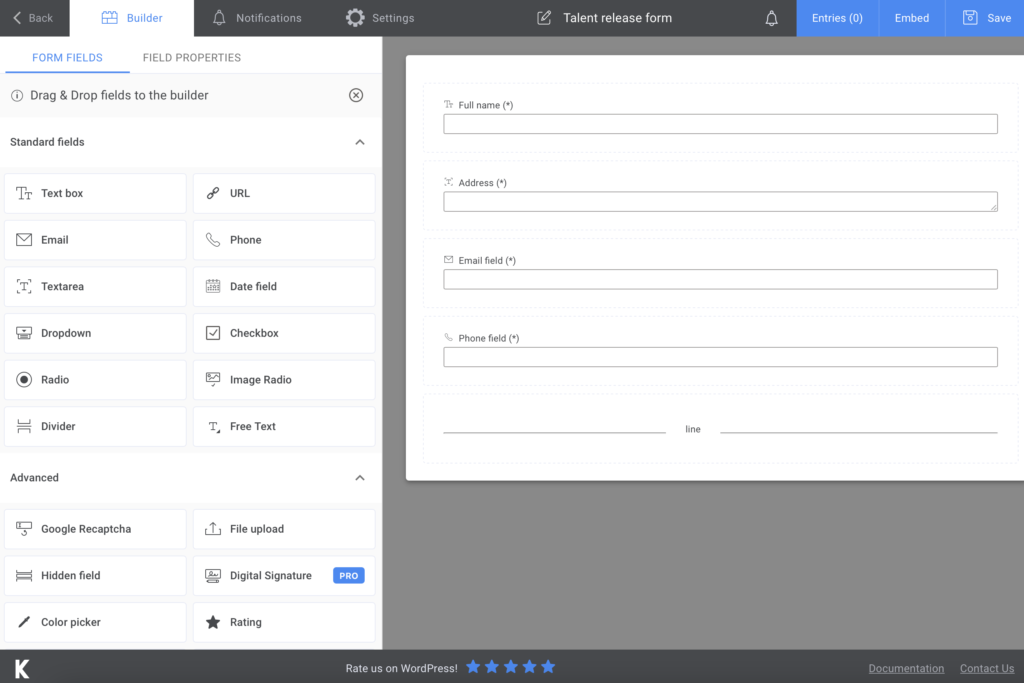 After you have finished with this section, add a Divider to separate it from the next section. Once you have all the information about the talents, you need to add two more fields – a Data field and a Free Text field for their signature. If you choose the PRO version of Kali Forms, you will be able to add a Digital Signature.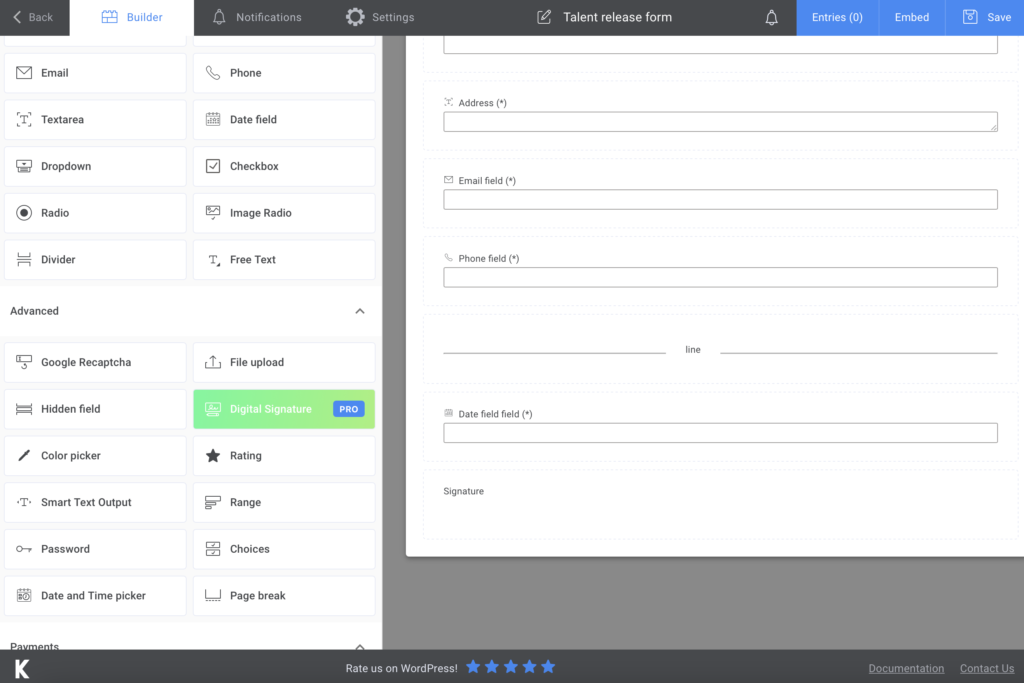 Now you have all the fields ready to be filled in. The last step is to add a Submit button to get things done. Lovely!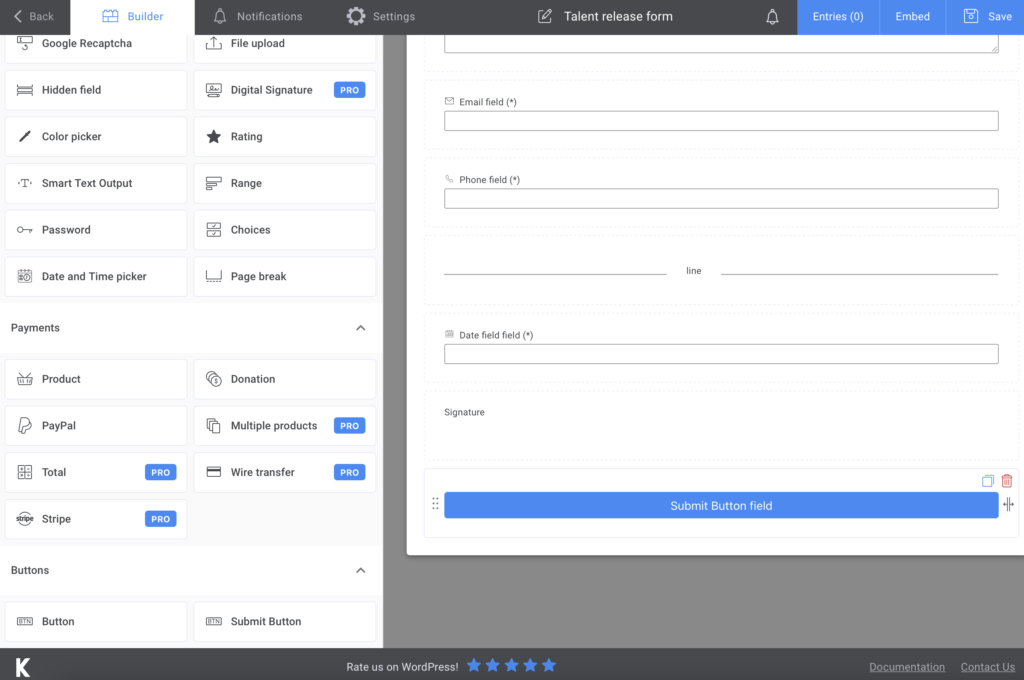 ---
Additional features
What's even more? If you want your talents to be sure that you received the talent release form, send a confirmation email by going to the Notification section. The premium version will give you the opportunity to send SMS notifications as well. How cool is that?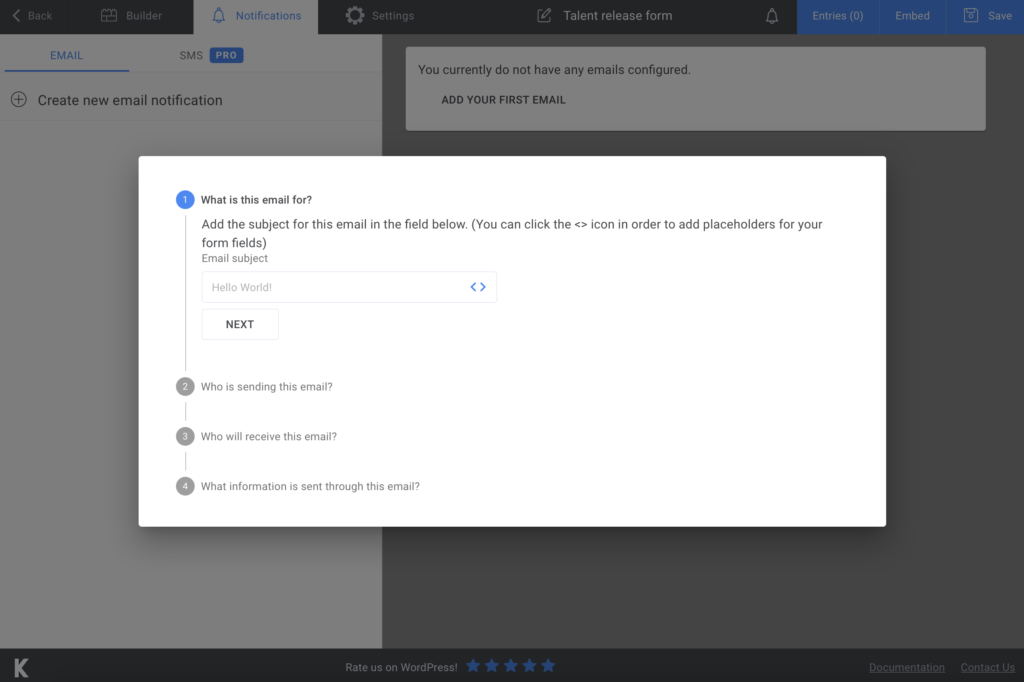 So far, so good! If you want to take advantage of all the features that Kali Forms provides, go to the Settings page, and you will find some more. You can choose a Form style, display a "thank you" message, and add any other options.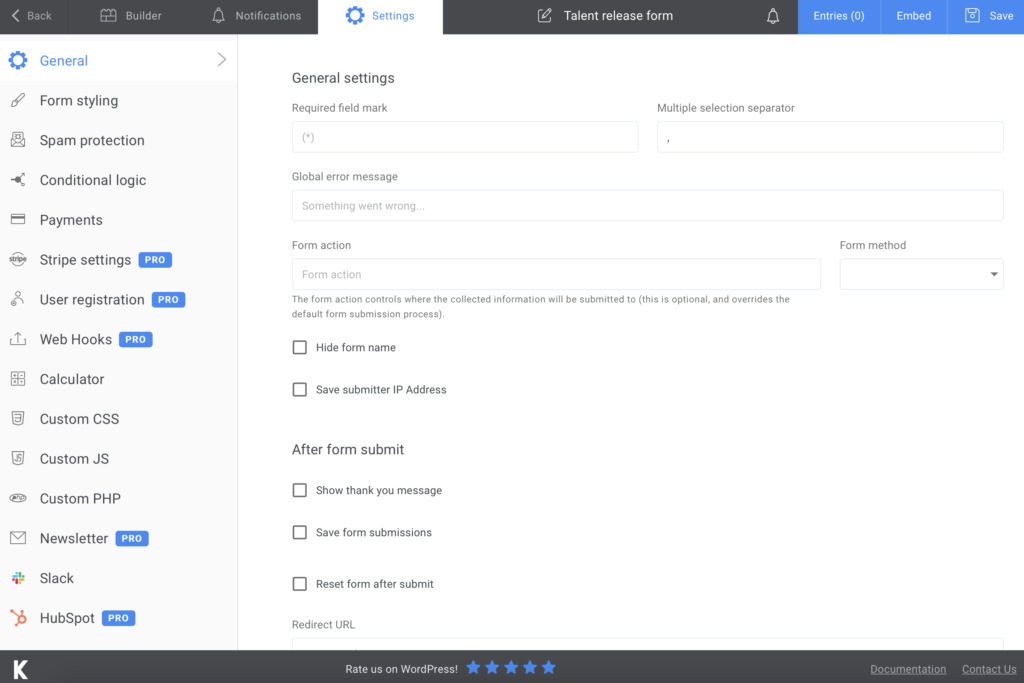 ---
Adding the talent release form to your website
I promise this is the last part of the talent release form. Press Save and a shortcode with the link of this form will be generated. Create a page on your website or choose an existing one, copy and paste the shortcode wherever you want, and you're are done.
Once you received the talent release form completed by your clients, export all the data to CVS or Excel, and keep it stored in a safe place.
---
Summary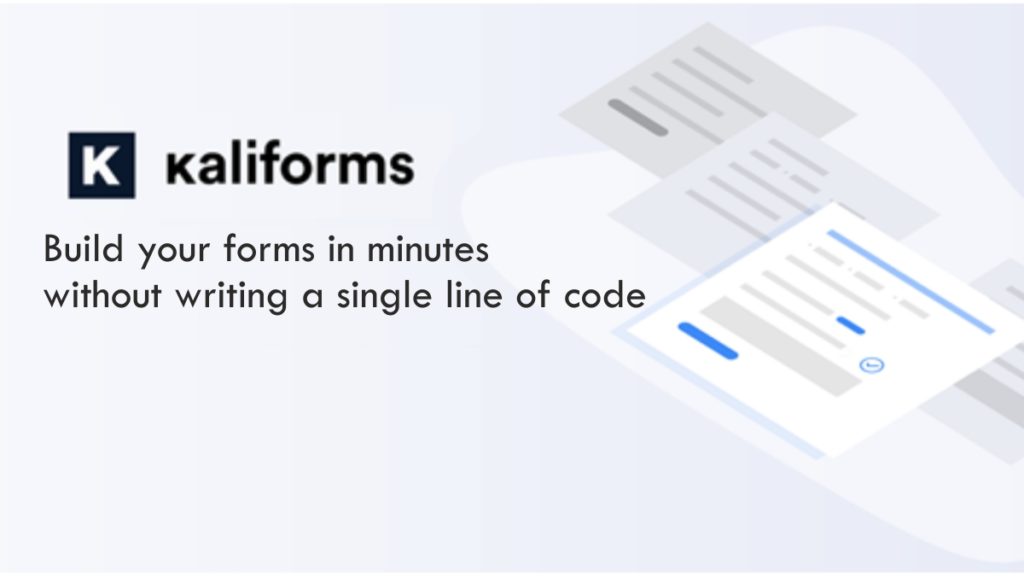 With the help of this powerful tool, we went through a super easy process. There's not much effort to put in, thanks to Kali Forms. Have fun with all the customization options and give this plugin a chance to provide you with the best.