Are you running a transportation business and need a request for quote form?
Keep chill; we've got you covered! Any type of transportation your business provides ( tour bus, limousine, party bus, etc.), you will definitely need a more straightforward way for your customers to ask for a price quote through your website. You will need personal information about the riders, so make sure you take care of this.
In this tutorial, you will learn step-by-step how to create a request for quote form for your company and your customers as well. Let's see how to do it.
---
Why should you use an online request for quote form?
The benefits are pretty obvious, but I will list some of them accompanied by an extensive explanation.
Save time, time, and more time
Filling in digital forms will save you a significant amount of time. You won't have to retype the data, and you can share it with different customers without being needed to come to your headquarters or calling you. Let's be honest, it's a win-win. Digitalizing this process will also help you save paper, trees, and money too.
Real-time information
Well, maybe you will have to change some information from your forms like the type of transport, or you add new types of transportation and want to attach them in this form – you can easily make these changes by returning to the form and updating it. If you use paper forms, you will have to get rid of the old forms and print other ones. So much pointless effort!
Keep track of everything
Having online forms will help you store your take care of your data and store it somewhere safe – for example: on your computer. Everything will be in a single place and organized. Get rid of all documents on the shelves – it is out of fashion. Also, this way, you will ensure that you don't lose any information about your customers. Better safe than sorry!
---
How to create a request for quote form
As I kept saying, creating a request for quote form is very simple and beneficial. In that regard, you only need the help of a powerful tool that gives you all the necessary features. Kali Forms is the most intuitive, responsive, and easy-to-use plugin that will handle your needs. Let's see how you can install it.
Installing the Kali Forms plugin
Assuming you already have a website, you can download the Kali Forms plugin in just a few minutes. If you don't already have a website, don't stress out. You can easily create one following this tutorial on making a WordPress website step-by-step. Once your website is up and running, go to your WordPress menu and find the Plugins item. After you click on Add New, a search bar will pop up, so type Kali Forms.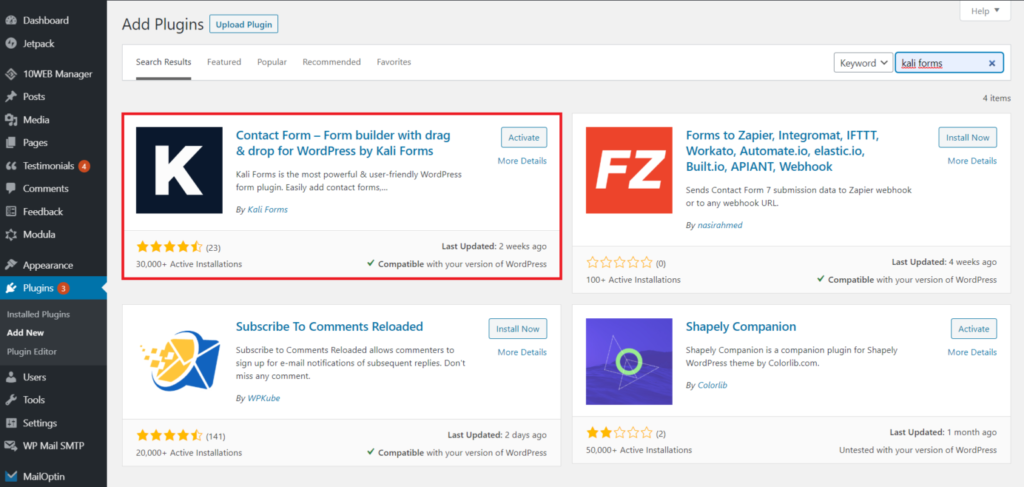 Once you find it, click Install, wait a couple of seconds, and then Activate the Kali Forms plugin. So far, so good!

Whenever you need to create a form, go to your WordPress dashboard, look after the Kali Forms plugin and click on Add new. Simple as that!

---
Creating a new form
Well, now you'll be redirected to a page with a bunch of pre-designed templates. We're going to create one from scratch, but you find one of your interest, you can use it without any restraint. Click on Create new, and let's begin the building process.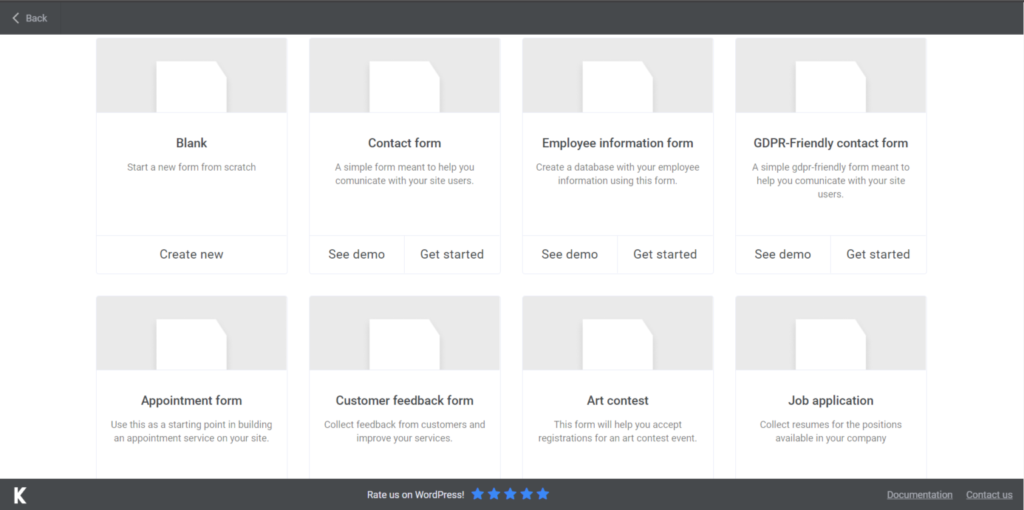 I advise you to name your form. People have to know what they are filling in, so find an appropriate name. I simply called mine "request for quote form", but you can choose whatever you please.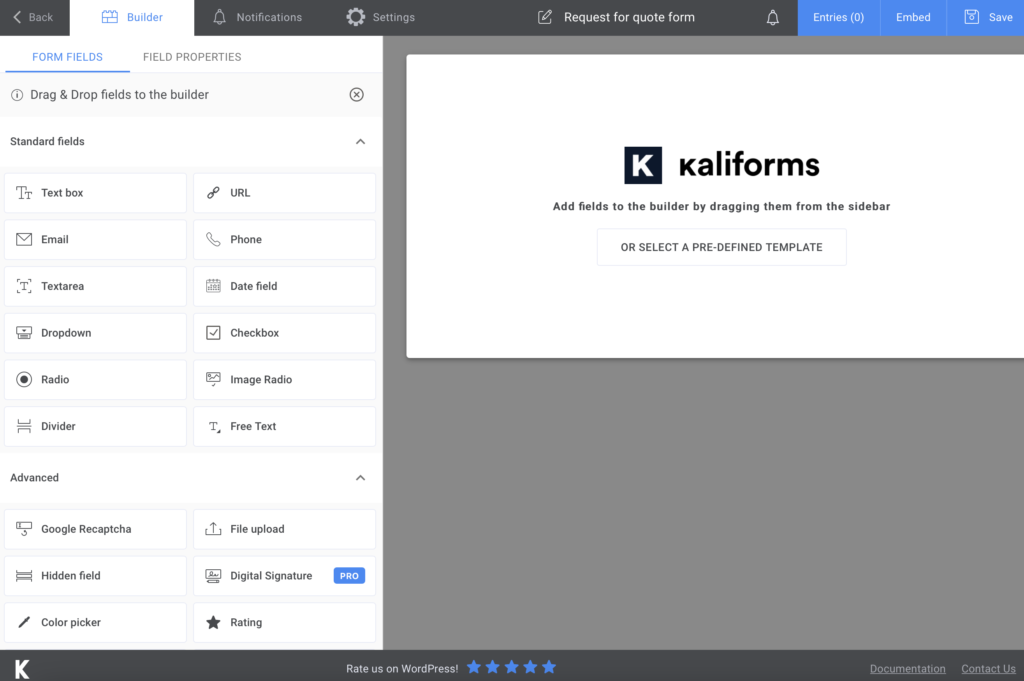 ---
Adding form fields
Before we start adding fields, we want to let you know that everything here is customizable. All the form fields and properties will be on the menu on the left of the page. If you click on one field, you will see that you can customize it, adding a name for your form, description, and make them required to fill or not.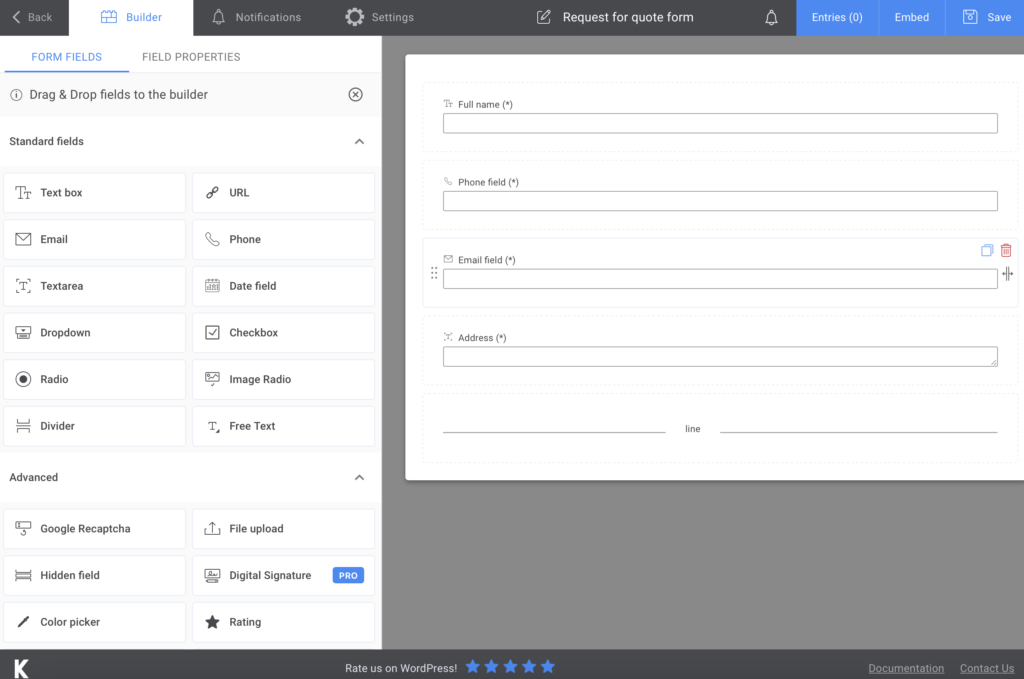 In the first place, I added a Text box for the name of the person that requires the ride. Next, I added a Phone field and an Email box to contact your client. You will have to pick up your client from home, so I added a Textarea field to find out his location. Once I have finished with this section, I added a Divider to separate this one from the next one.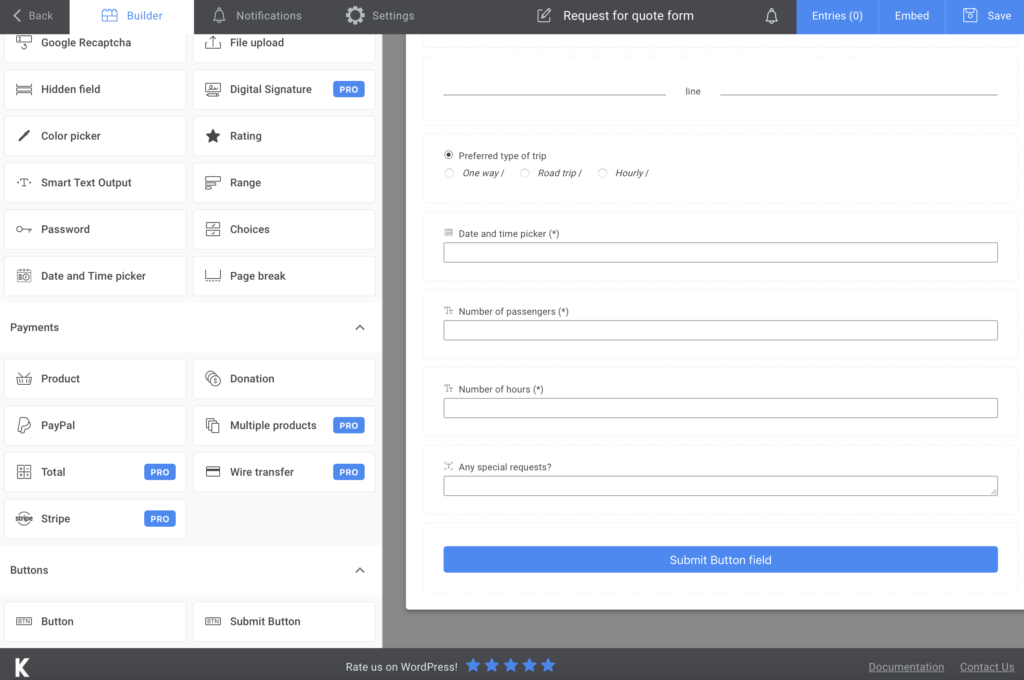 For the next section, I started with a Radio field intended for the preferred way of the trip. Then, I added a Date and Time picker field and two Text boxes for the number of passengers and the number of hours that they will enjoy the trip. The last field I added is a Textarea field for special requests of clients. Now that your form has the necessary fields, add a Submit button field, and we are done with this part.
---
Additional features
There's more. You can send your customers a confirmation email notification to let them know that you received their form. Go to Notification and customize the form according to your preferences. If you choose the PRO version of Kali Forms, you can even send an SMS notification.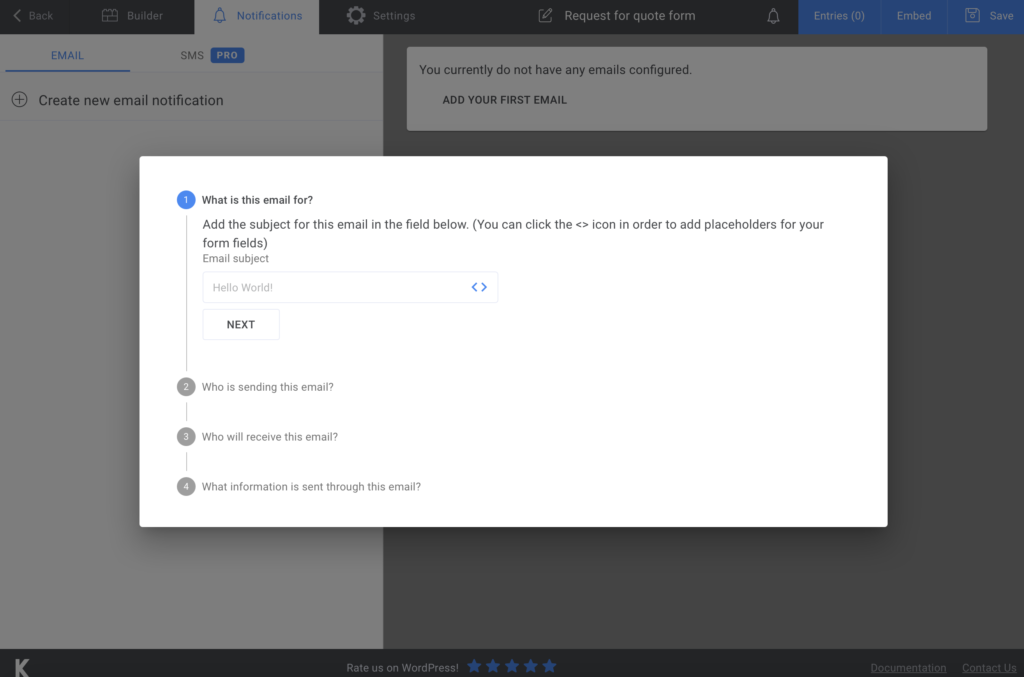 You can take advantage of the more customization options by going to Settings page. There you can choose your Form style, display a personalized "thank you" message, and many more.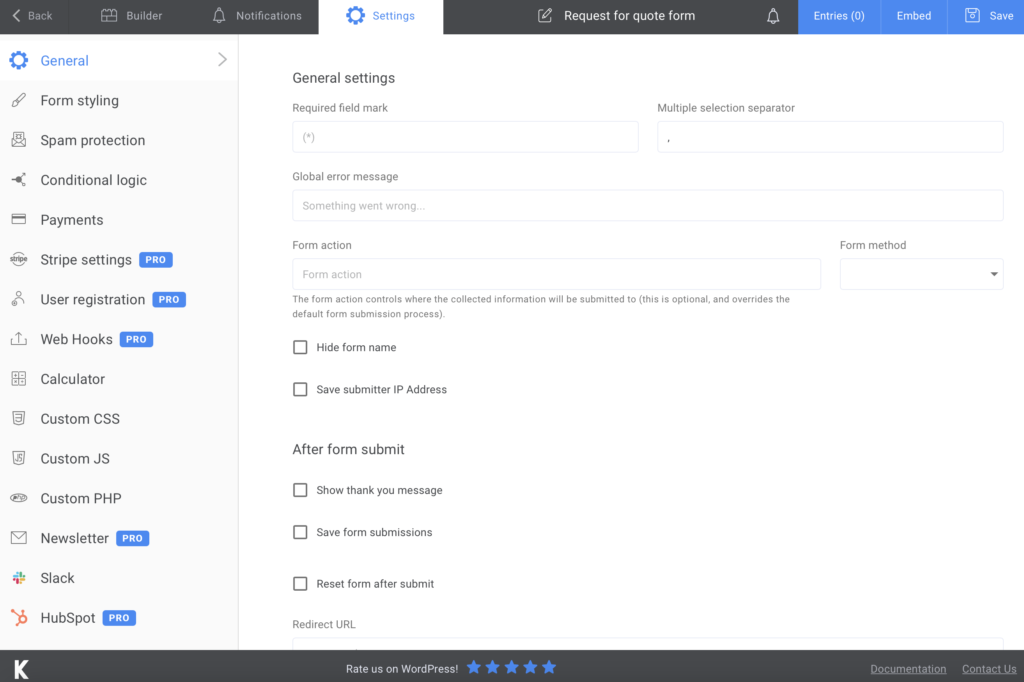 ---
Adding the request for quote form to your website
Once you are happy with your request for quote form, press Save and a shortcode with the copy link will be generated. Copy the shortcode and paste it wherever you need on your page – you can paste it in a post as well.
One more thing to know, you can export all the information to CVS or Excel to keep all the data safe. You can store it anywhere on your computer and organize it as you wish. Now your clients can fill in the request for quote form that your agency has prepared.
---
Summary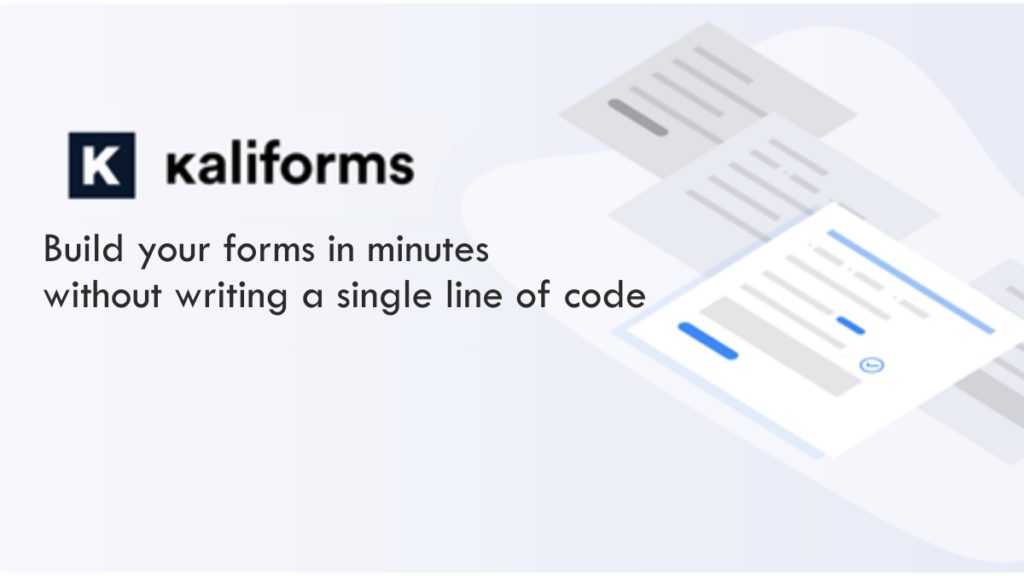 Creating an online form with Kali Forms has never been easier. It is the most user-friendly, intuitive, and straightforward tool that will help you build easy-to-fill forms for your customers. Don't you believe me? Try it and convince yourself!