Are you looking for a way of optimizing your hiring processes?
We all know that the hiring process can be time-consuming, and it takes a significant amount of your energy to go through all the recruitment stages. Not every stage can be fully optimized, but try to simplify your work as much as possible. We're here to show you how to create an online reference request form. It can be sent directly to you from the person who wants to make a recommendation for your potential future employee.
Let's see how you can create a reference request form, step-by-step.
---
Why should you use an online reference request form?
In a nutshell, there are a lot of benefits to creating an online reference request form, so let's list some of them.
Time saver
I bet you have already thought about this advantage. You definitely have to know that an online form will be more productive than a paper form. It can be filled and sent directly to you from the person who's making the recommendation. There's also the trust factor, that you should consider – if it only goes from the source to the destination, there is no chance it will be tampered with.
Do not lose information
We know how important is the hiring process and how much information you need to find out. With digital forms, you won't have to worry anymore. You can make the fields required to fill, and all the details about the employee will be undoubtedly added in the reference request form. Well, the person completing the form won't be able to submit it if they didn't fill in all the fields.
Keep your data safe
Once you have collected all the information about your candidates, you must keep this data somewhere safe. Instead of creating a million files of paper forms, and a lot of documents, you can download the reference request forms in your laptop. They will be safe, and you can be sure that they won't fall into the wrong hands. When you want to search for a specific form, you no longer have to search through the pile of papers.
---
How to create a reference request form
Look here! You can create an online form that's coding skills- free, in just a few minutes. You just need the help of a super-power tool. Go with Kali Forms, the most user-friendly, intuitive, and responsive plugin that will design your form with a lot of customization options. Let's see how you can create the most impressive forms.
Installing Kali Forms plugin
Before we start installing this awesome tool, you need a running website. Don't worry if you don't have one. You can follow this tutorial on how to make a website – it's a piece of cake. You can use your website for many other purposes, so you definitely should create one. Once your website is up and running, go to your WordPress menu and find the Plugin item. Then, click on Add new, and a search bar will appear in the upper right corner. Type Kali Forms, and click Install. So far, so good!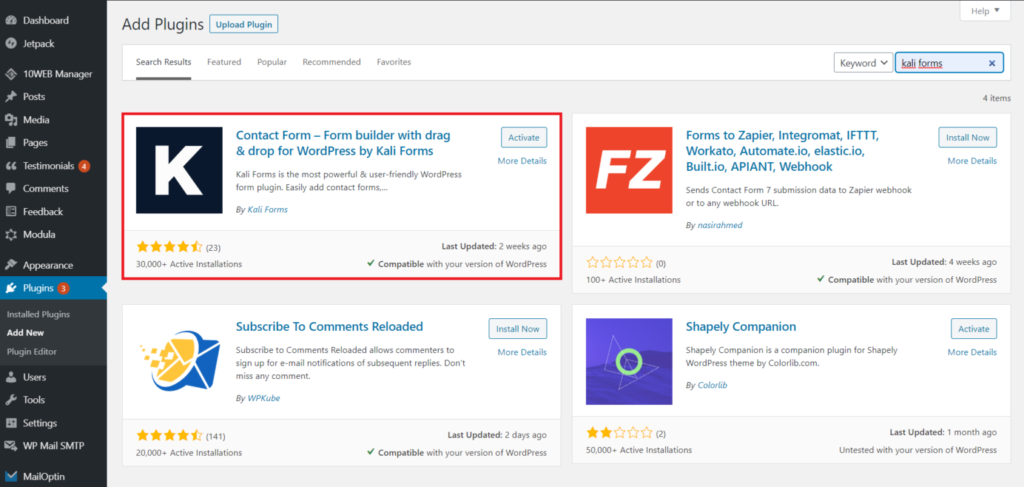 You will have to wait a couple of seconds, but once the process is over, click on Activate.

There you go! Let's see how you can create your first online form. Go to Kali Forms item from your WordPress dashboard and press Add new.

---
Creating a new form
Now, you have been redirected to a page with a bunch of pre-designed templates. You can use any of them as you please, should you need them one day, but right now, we will build one from scratch. Press Create new and let's get into it.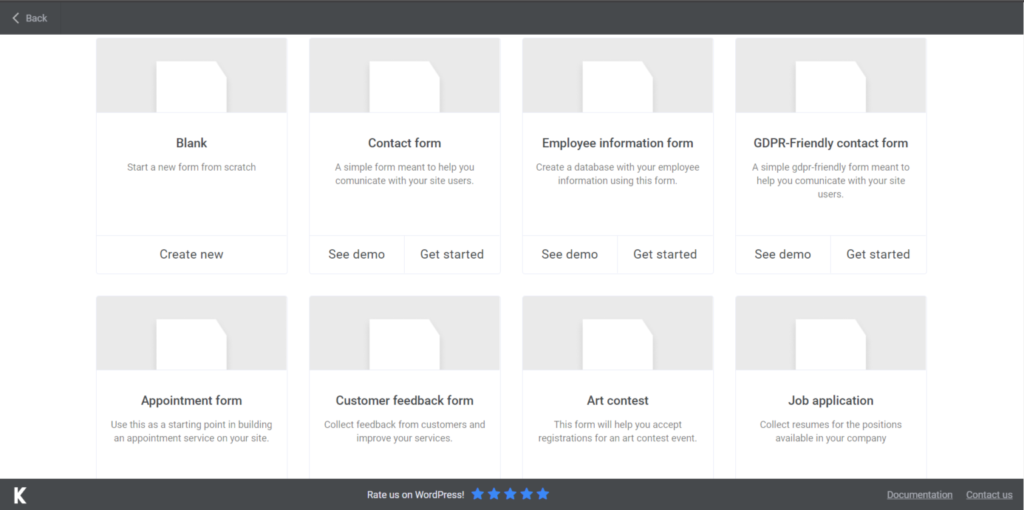 The next step is to give a name to your form. I simply named mine "reference request form", but you can choose whatever you find appropriate.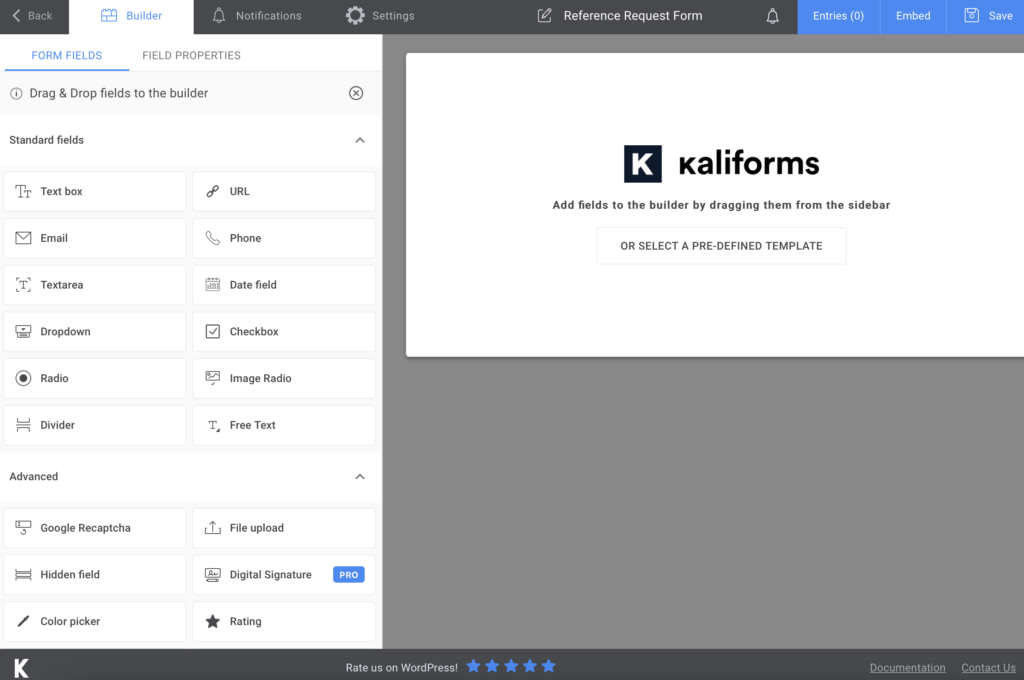 ---
Adding form fields
Here comes the creative process. Before we start venturing through Kali Forms' features, I want to let you know that you can customize every option that appears on this page. Once you click on a specific field, some customization options will pop up to help you make your form look impressive. You can name your field, add a description, make the fields required to fill or not. Easy-peasy!
Now let's see what do we need for this type of form. In the first section, I added fields to find out information about the referees. I added two Text boxes (one for the referee's name, and one for his position), an Email field, and a Phone field for contacting the referee if necessary. Then, I added a Divider to separate this section from the other ones.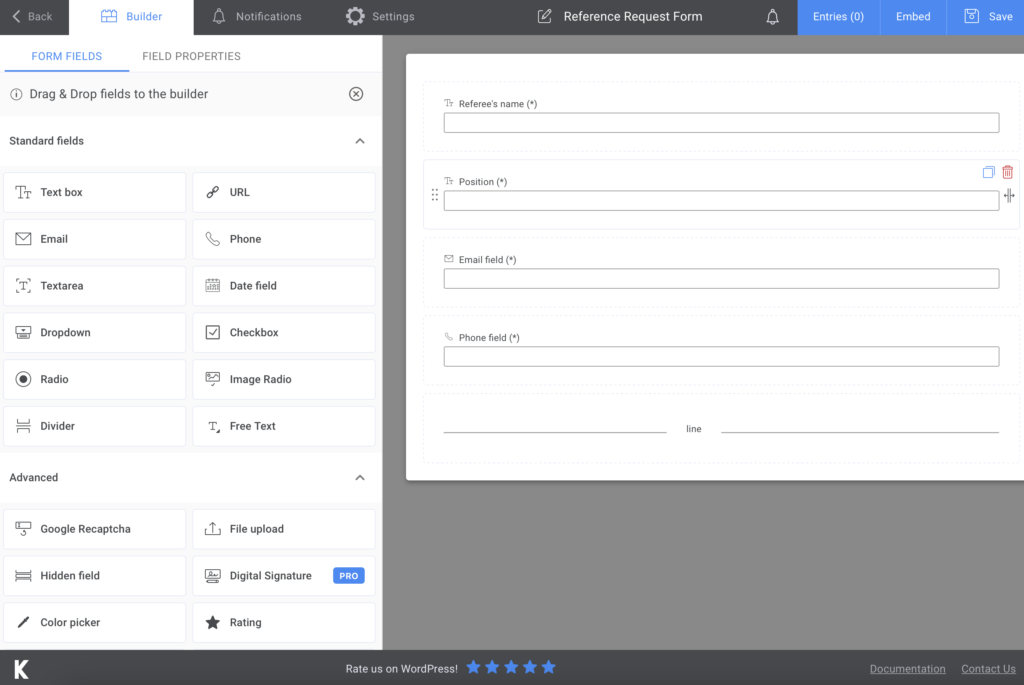 The next section will be intended for your applicant. First of all, I added two Text boxes for the name of the applicant and the position he applied for. Then, I added two Date fields that seek to find out the start date and the end date from the other job. Moreover, you will need to know the position that he had and the reason for leaving, so add two more Text boxes. Don't forget to add a Divider once you are done with this section.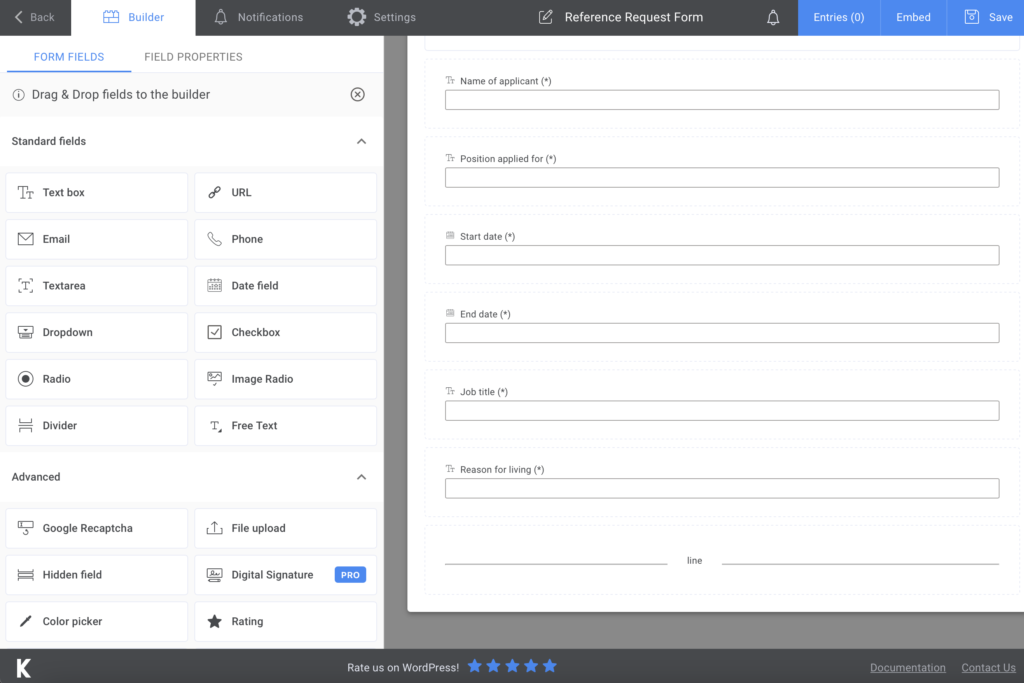 The last section of this form will contain information about the candidate's performance. So, I added four Text boxes to find out the strengths and the weaknesses of the applicant, is he is suitable for his job and a field for the referee's comments. If you opt for the PRO version, you can add a Digital Signature. Once you have all the fields in your form, add the Submit Button.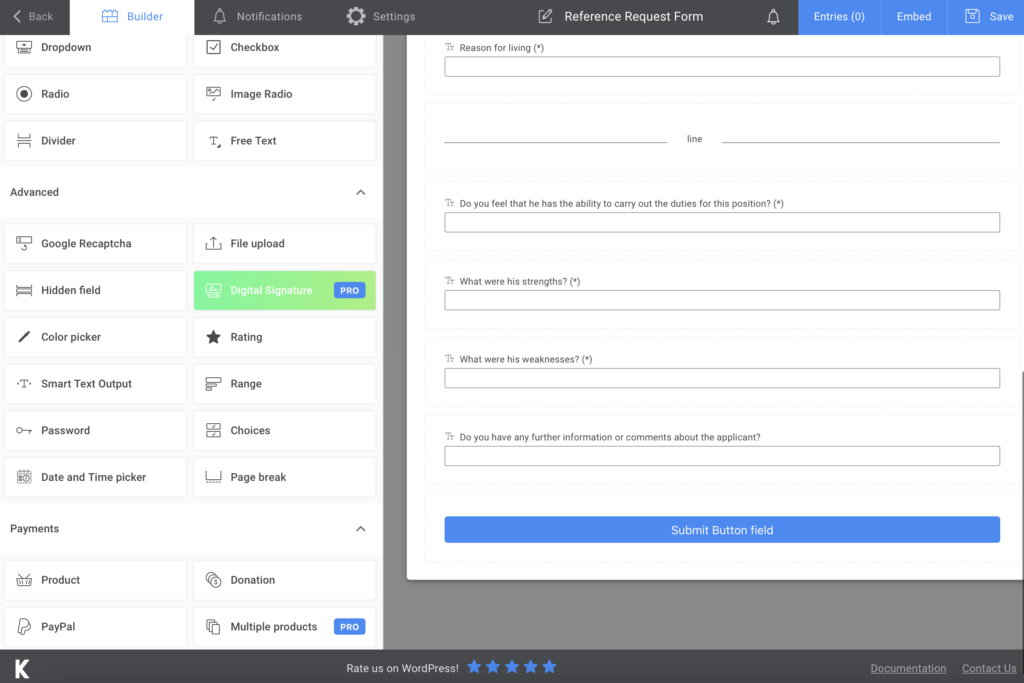 ---
Additional features
Well, there's more. You can send a confirmation email to assure the person that the form has been completed and received by you. Go to Notifications and you will see there how you can do it. Moreover, you can send even SMS notifications if you choose the PRO version.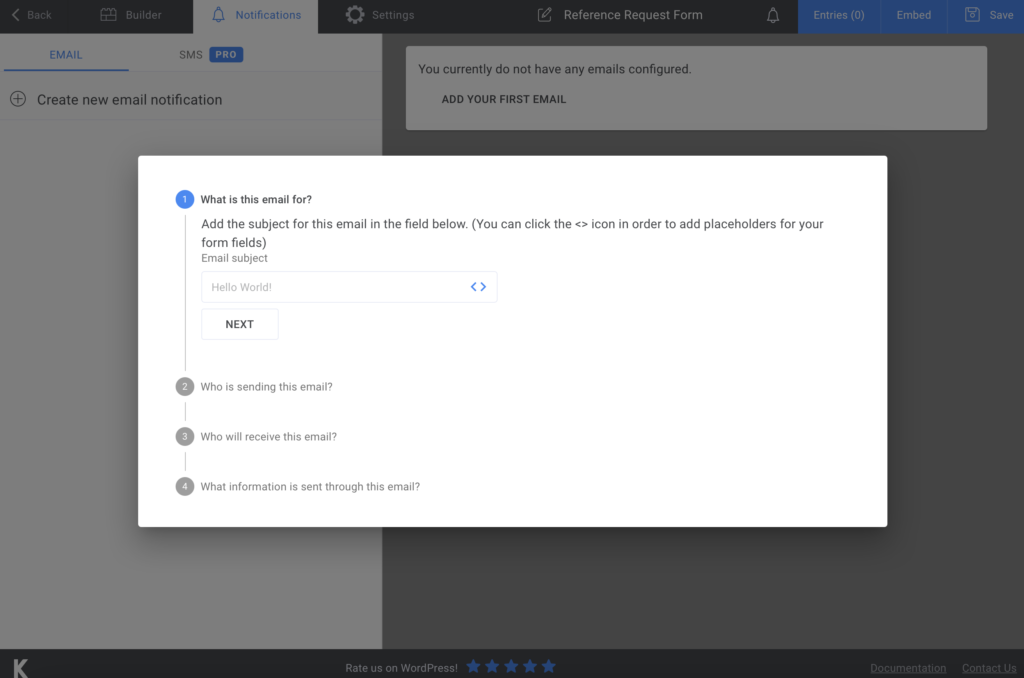 You can benefit from more customization options by going to the Settings page. Here you can choose to display a "thank you" message and find a suitable Form style. Also, with the PRO version, you can include user registration and newsletter in your form.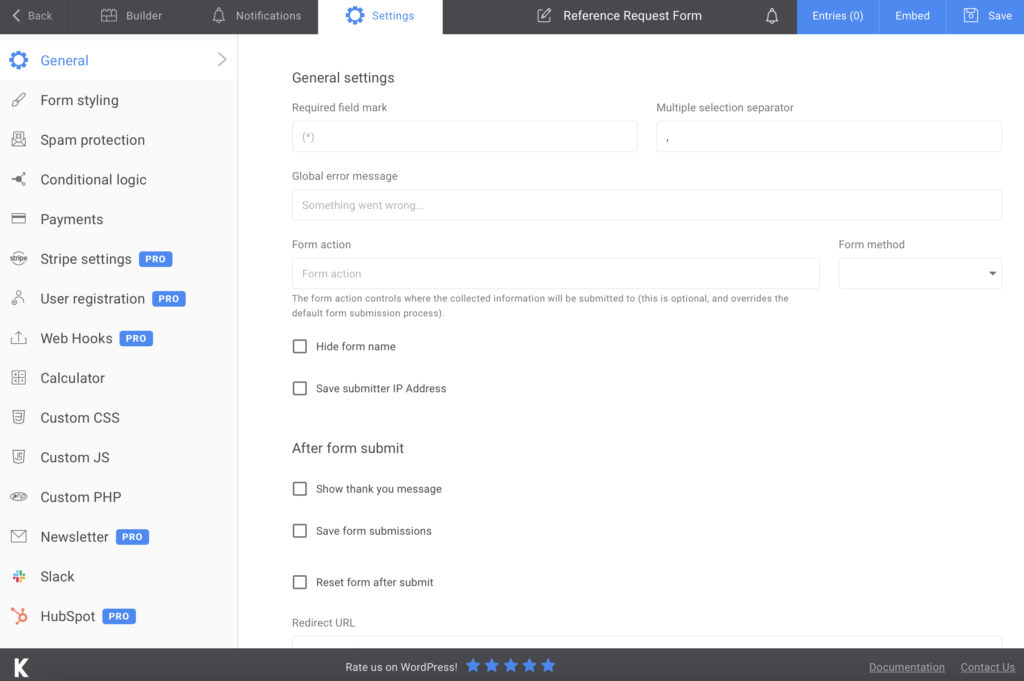 ---
Adding the reference request form to your website
Now we are in the final phase. Once you are done creating your form, click on Save. A shortcode with the link of your reference request form will be generated, so copy and paste it wherever you need. You can paste it on a page, and even in a post. Now, this form is up and running.
Bear in mind that you can export your data to CVS or Excel. You have to keep track of everything and organize your forms, so make sure you store them somewhere safe.
---
Summary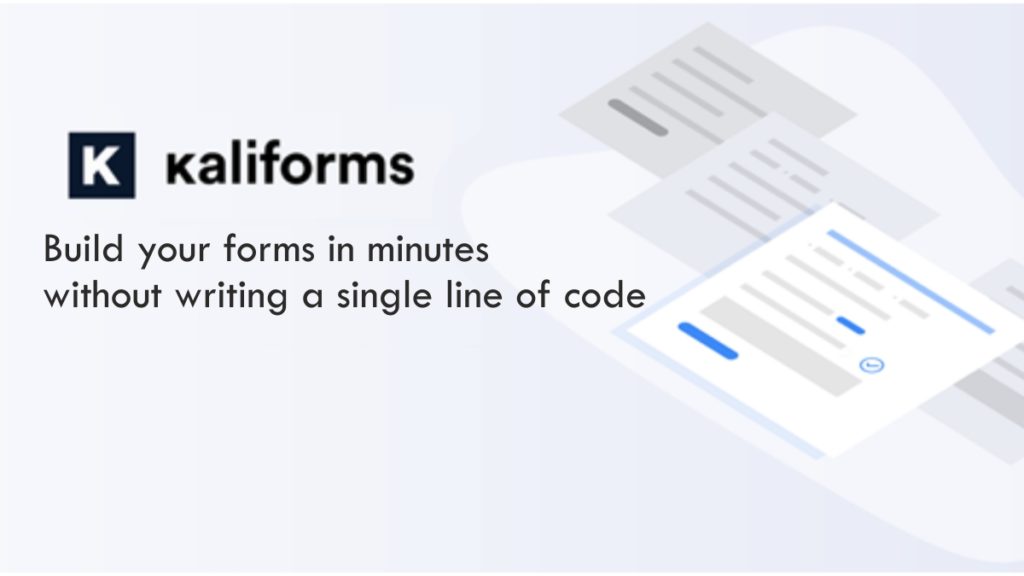 All in all, following this tutorial, you will create the most comprehensive reference request form to find out information about the candidates. Take advantage of all the features that Kali Forms provides and increase your workflow. Start discovering all the customization options and watch how to create online forms.