How many times have you invested energy and precious time into a fresh lead only to realize that they were unlikely to become clients in the first place? What do you think it's like when you eventually discover a lead doesn't have a budget or a demand for your product? Fortunately, we have an answer for that: a pre-sale questionnaire form.
I'm sure you'll agree that marketing becomes even more difficult when you realize how much time you spend on average processing terrible leads. Every successful marketing effort begins with thorough research.
---
---
What are pre sales surveys?
What are pre sales and their meaning? A pre-sales survey is a questionnaire that businesses use to gather qualifying information about potential leads. A pre-sales survey helps a company or its sales staff to have a deeper understanding of the lead. From their requirements to the context of their inquiry.
We will explain the pre-sales process in this post and how you may apply it to your own organization. We will also look at why collaboration between the pre-sales and sales teams is so crucial.
By using a pre sale order form, a business may save money on poor leads while also speeding up and improving its sales process. Entrepreneurs are constantly seeking new methods to grow their company, but they frequently ignore the pre-sales phase.
According to a Harvard Business Review study, this is a waste because organizations with more significant pre-selling objectives earn 40–50 percent new business and 80–90 percent recurring business. These figures are significantly higher than the national average, demonstrating the importance of the pre-sales process.
---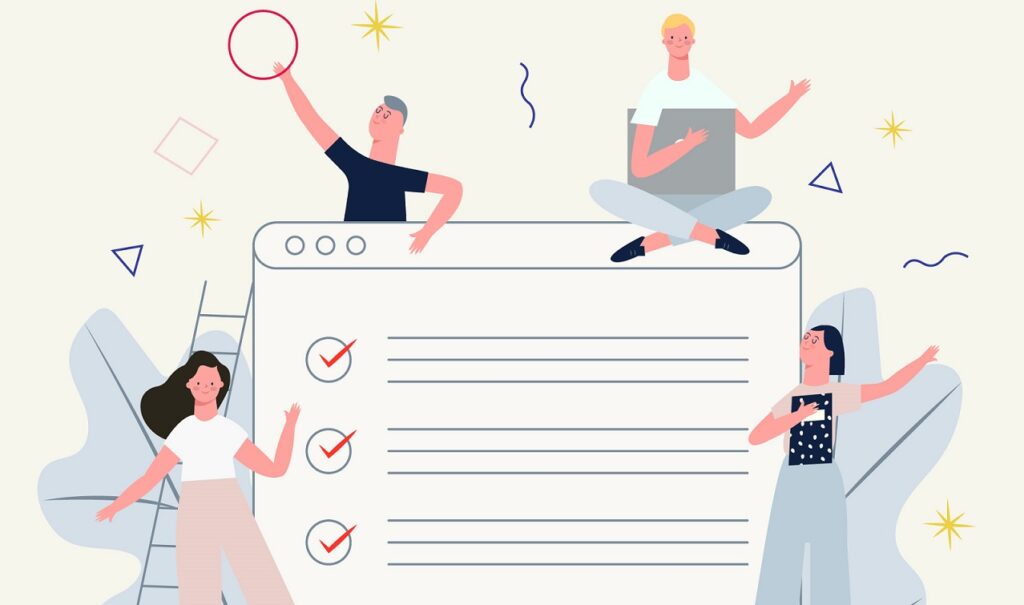 The pre sales process flow
It's no doubt that pre sales questionnaires are essential for market research. When you contact a prospect for the first time, the pre-sales process begins. In a typical sales cycle, you'd go through the following steps:
Identifying and making contact with potential clients
Determine the requirements of the prospect.
Make a proposal
Taking care of objections
Complete the transaction.
Inquire about recommendations
A salesperson's responsibilities include networking with prospects, setting up client appointments, and delivering proposals. A salesman is also in charge of closing the deal. Every month, salespeople are generally required to reach a personal quota.
The pre-sales procedure and the sales cycle should, in theory, complement each other. Here's how the pre-sales process may assist you as you progress through each stage of the sales cycle:
Finding new leads
Presales consultants now have more possibilities to find new clients than ever before because of technological advancements. This isn't to say that all of those opportunities are worth pursuing. Pre-sales will evaluate a new prospect before the sales team starts working with them to ensure that it is worth the business's effort and cost to follow. They also work on pre and post questionnaire surveys.
Making contact with potential clients
The pre-sales team is in charge of determining what challenge the consumer wants to be solved once the lead has been qualified. This will help you establish a relationship with your potential consumers and persuade them that you can deliver on your promises.
Making the proposal
The pre-sales team is in charge of putting up a proposal that outlines the service being given to the client and the company's means to provide it. The pre-sales and sales teams should agree upon the conditions mentioned in the proposal. The salesperson will give it to the consumer after it has been finalized.
Customer solutions
Contrary to popular belief, the pre-sales process does not cease after a customer has been gained. The pre-sales department also handles the technical parts of seeking answers to the customer's concerns. This might include things like keeping track of time, reacting to disgruntled clients, and understanding how to interact with them.
This is significant since client retention is an essential element of any company's growth. A substantial portion of a company's future revenue will come from 20% of its current consumers.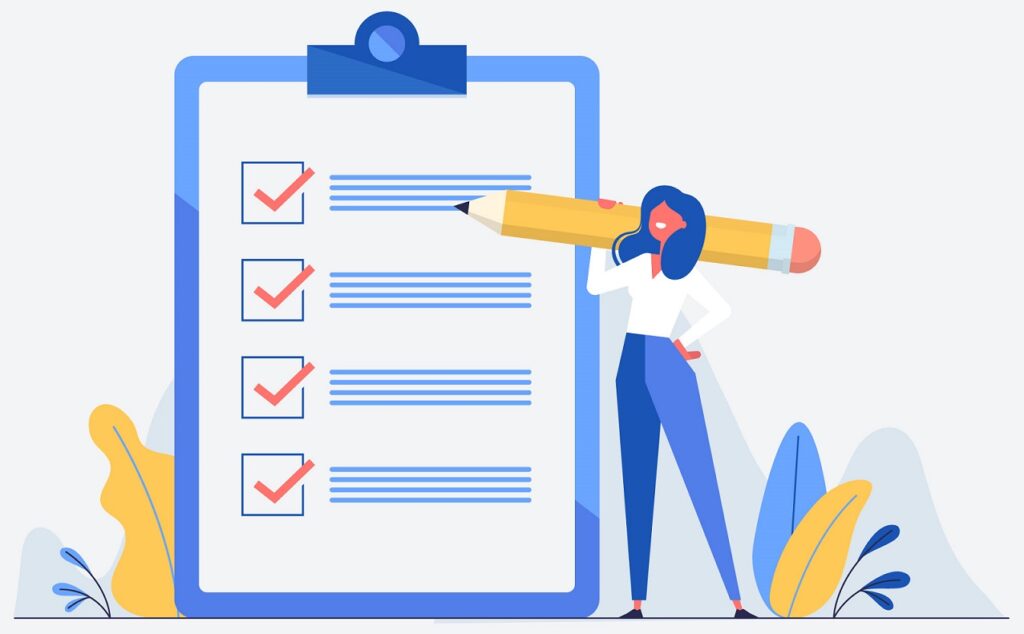 Writing your sales questionnaire
It's evident that weeding out poor leads and getting right to the point will help you boost sales. What pre sales interview questions to ask, though? Here are some suggestions for topics on your sales survey, including market research questions and firmographics:
Information about the size and focus of the company
Department, position, and duties of the contact
Concerns about your customer's present setup and tools
Confirmation of any prerequisites that you may have
Find out what your prospect's top priorities are
---
How to use the pre sale questionnaire form in the sales process?
Utilizing a pre-sales questionnaire is one of the most popular inquiries companies ask when they want to survey their prospects. What kinds of questions should you ask to qualify them? And when should you send a lead at what point in the relationship?
Here are some suggestions for using these surveys in your sales process. It focuses on the BANT and Champ qualification models.
The money, authority, need, and time is all considered while using the BANT model.
On the other hand, the Champ model considers the lead's difficulties, authority, money, and priorities.
Despite significant differences, they all seek to achieve the same goal: determining the chance of a lead becoming a client.
---
The 5 most effective pre sale questionnaire form questions
Your pre sale questionnaire form serves two purposes: the first step is to eliminate poor leads, and the second goal is to gain insight into our potential clients' objectives. In your pre sale questionnaire form, it's critical to strike a balance between those two goals. Here are five effective sales survey questions you can ask:
Are there any obstacles you want to tackle with our product?
In a pre-sales survey, you want to see if the prospect has a business problem that your solution can solve. This is an excellent way to separate the good leads from the bad ones.
It's a good indicator if the consumer can see how your product can offer value to their life. However, even if customers cannot explain their problems in the pre sale questionnaire form, you may utilize this information to propose remedies based on your product.
What is your company's current strategy for dealing with this problem?
This is most likely one of the most critical data points you may obtain from a pre sale questionnaire form. A sales pitch must demonstrate that your product is superior to the company's current setup. You'll only be able to accomplish this if you know how your business is set up.
Let's have a look at an example. You work for a microwave manufacturer. You will have two types of customers: those who possess microwaves and those who do not. Your sales pitch to microwave owners will focus on why your microwave is superior. You're better off talking about the advantages of microwaves to folks who don't own one.
This pre-sale questionnaire form determines the type of microwave consumer you are. This information can boost conversions for a sales team. Knowing what you're up against might help you figure out how to persuade your consumer.
Do you have any other solution suppliers in mind?
The pre-sale questionnaire form assists you in strategizing for the following dialogue by identifying your competitors. To establish a business case for your service/product, you must demonstrate that you are superior. But who is better? Allow your pre-sales survey to answer these questions for you.
There's another way to look at this. Suppose your lead responds negatively, your chances of closing the deal increase dramatically. If they're evaluating vendors that aren't giving as fantastic a deal as you are, your chances of conversion are much better.
Because every consumer is different, you may utilize a pre-sales survey to determine who your competitors are. Create a sales plan based on this information, and you'll have a better chance of turning a potential lead into a customer.
What is your job title at the company?
Interacting with people who don't have authority is one of the most prevalent sales bottlenecks. This will not happen if you include this question in your pre sale questionnaire form.
You don't want to sell a high-priced solution to a low-level worker. For those below in the pyramid, your sales aim is to persuade them to recommend you to the decision-maker. Depending on the classification of your contact, you can alter your sales technique.
One of the best things about a pre-sales survey is that you may find out your contact's title and sector before you meet with them. You may then focus your efforts on making sales pitches for those who are likely to become clients. If you have many leads, the classification might also assist you in prioritizing who you should contact.
Do you know about the purchasing procedure at your company?
In a pre sale questionnaire form, you can use this question in a variety of ways. To begin, you must choose who you must sell to for the deal to be final. An employee with no power will almost certainly remark that the supervisor must authorize it. Knowing how the process works might help you figure out who to target for a sale indirectly.
This form is essential for a different reason if your client base includes businesses. Many businesses have a procurements department that has particular vendor requirements. It's crucial to determine if you'll be able to satisfy these criteria.
You don't want to spend a lot of time and effort marketing a product to a corporation just to find out you're not qualified for the transaction. So understanding the purchase procedure will assist you in determining whether or not there are any grounds to be concerned.
---
How to set up a pre sale questionnaire form with Kali Forms
Creating a pre-sale questionnaire form is simple. To make this procedure more smooth, you need the help of a powerful tool. So make use of Kali Forms, the most user-friendly and intuitive form builder available. Drop an eye below at how to install and set it up.
1. Installing Kali Forms
We'll just assume you already have a working WordPress website. If not, you can follow this tutorial on how to create a WordPress website from scratch.
To get Kali Forms, head over to the WordPress Dashboard and select Plugins > Add New. You will be able to see the available WordPress plugins. Locate the search bar and type Kali Forms. Once you have found it, simply click Install Now.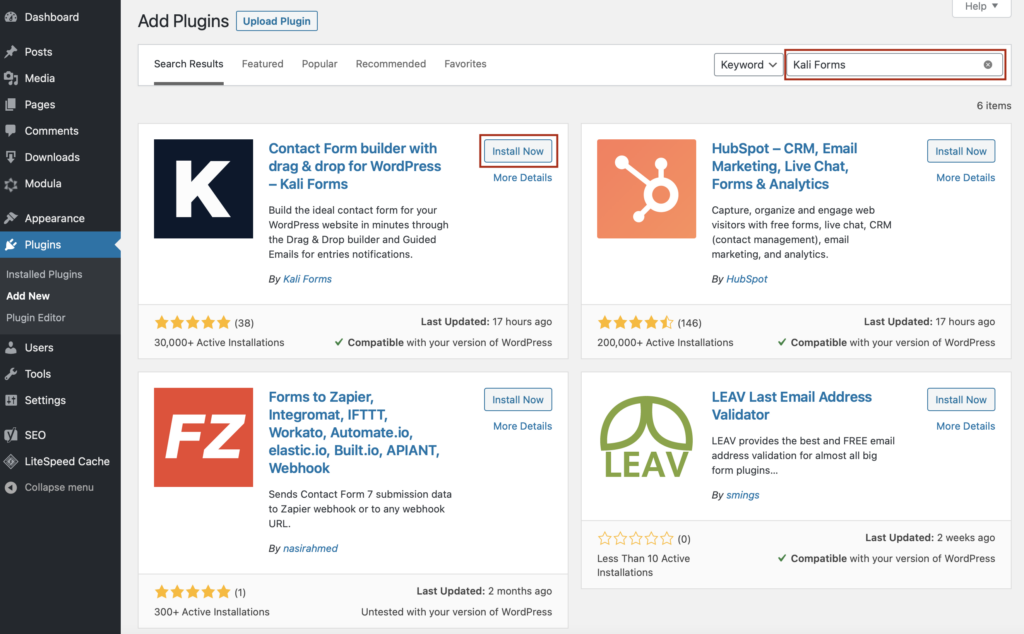 Once the installation is finished, you can click Activate.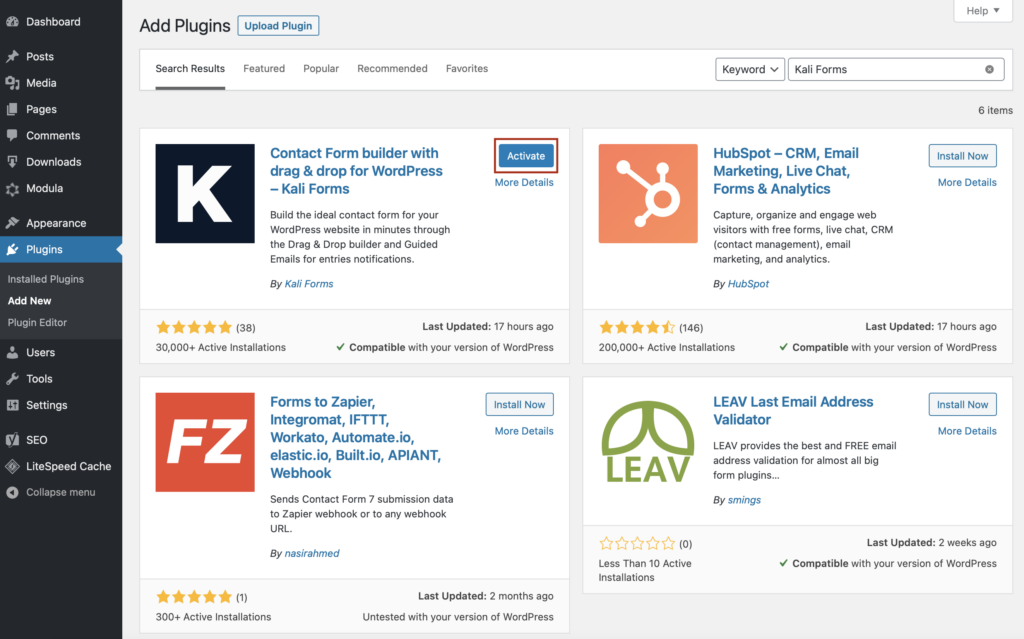 You can now find the plugin in your WordPress menu.
2. Creating a pre sale questionnaire form
Once you have Kali Forms installed and activated, whenever you want to create a new form or questionnaire, head over to your WordPress Menu. From there, select Kali Forms > Add new.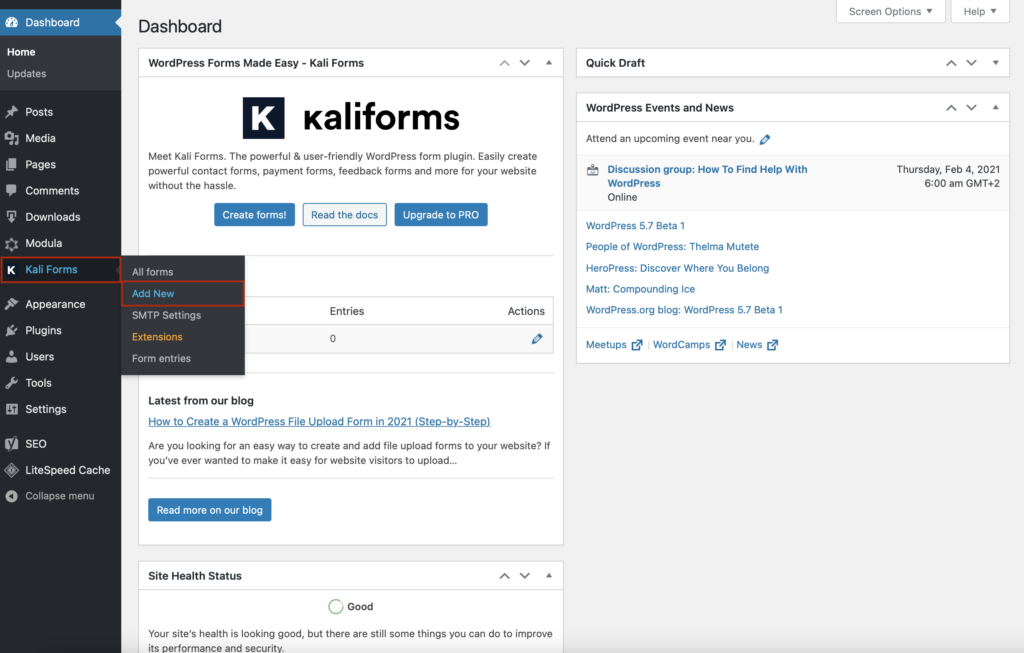 You'll be sent to a website with ready-made templates. We'll make one from scratch to test how the plugin works because there isn't a convention registration form template. Let's get started by selecting Create New from the drop-down menu.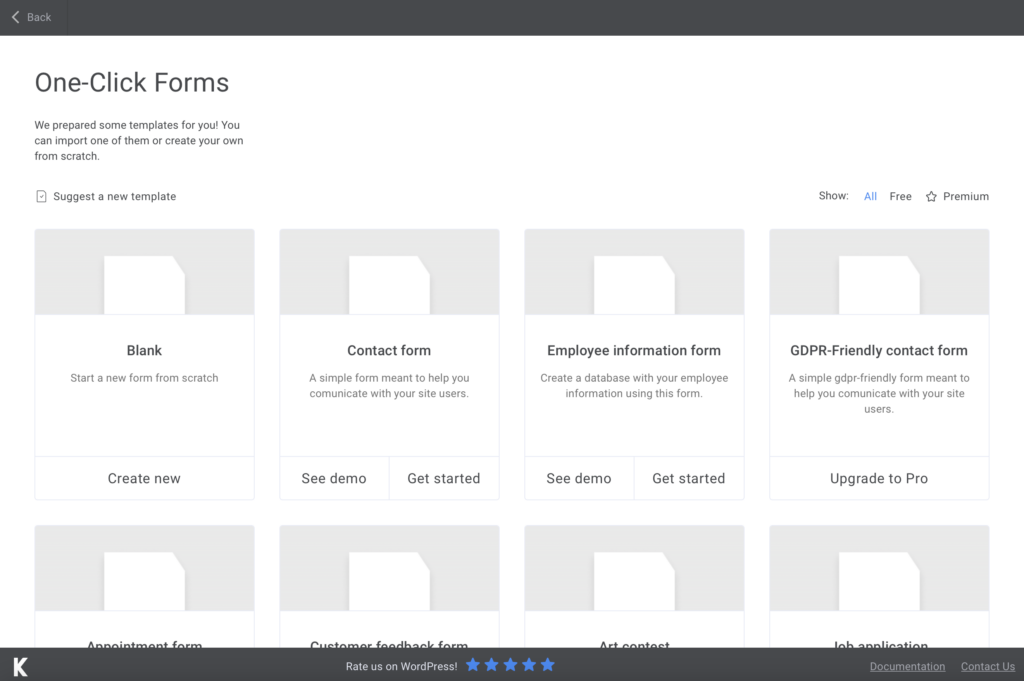 To begin, give your form a name so that the participants will know what they are signing up for. In this case, we have a pre sale questionnaire form.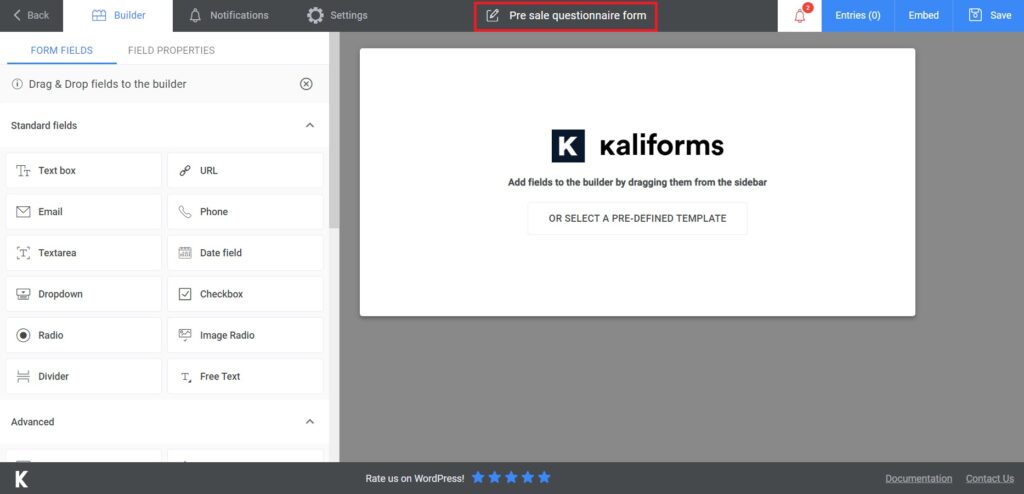 3. Add the fields
The fields in Kali Forms may be located in the left menu and are fully customizable. Drag and drop the fields into the form, then click on each one to begin modifying it. You'll discover various customization tools that let you customize the fields however you like. You may add descriptions, placeholders, name the fields, and make them compulsory to populate.
For our pre sale questionnaire form, start by adding a few Text boxes, each with essential basic information. This information can be first name, last name, email, phone number, job title, company. Next, depending on the purpose of the form, business type, and your end goal, you can have multiple text boxes regarding employee statistics, general business statistics, selling channels, marketplace integrations, etc.
We will only be creating a simple form with the questions mentioned above.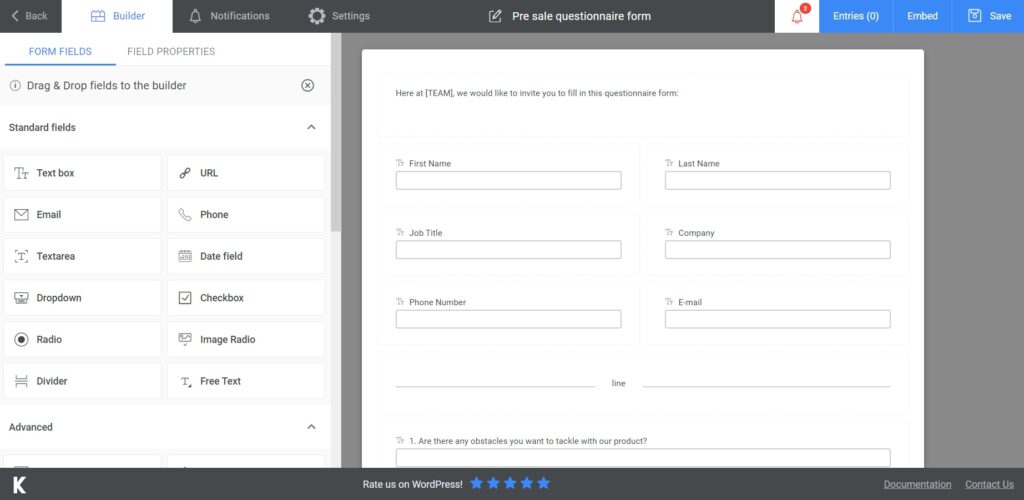 You can finish the form by adding a Submit button at the end.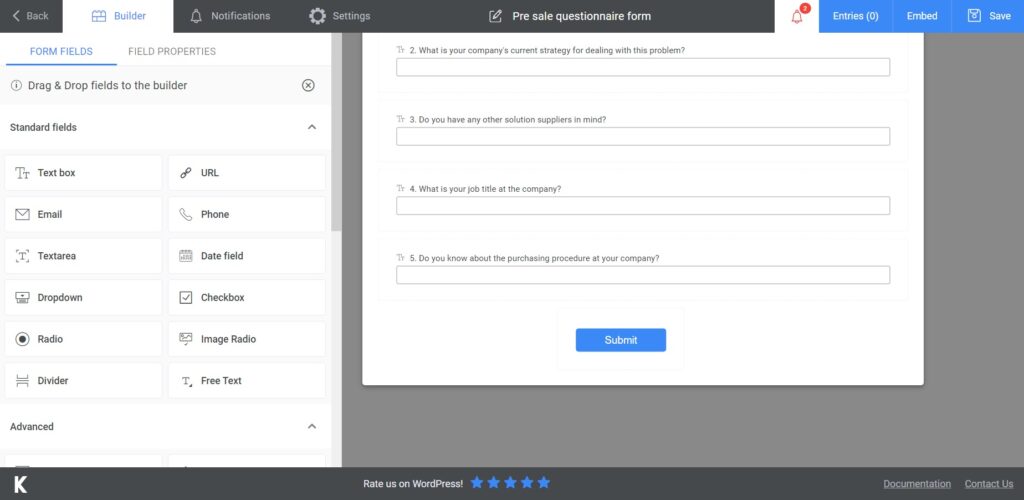 By heading to Notifications and following the procedures there step by step, you may email your participants informing them that their answers were registered. You may also send a confirmation SMS if you pick the premium version. It's all up to you.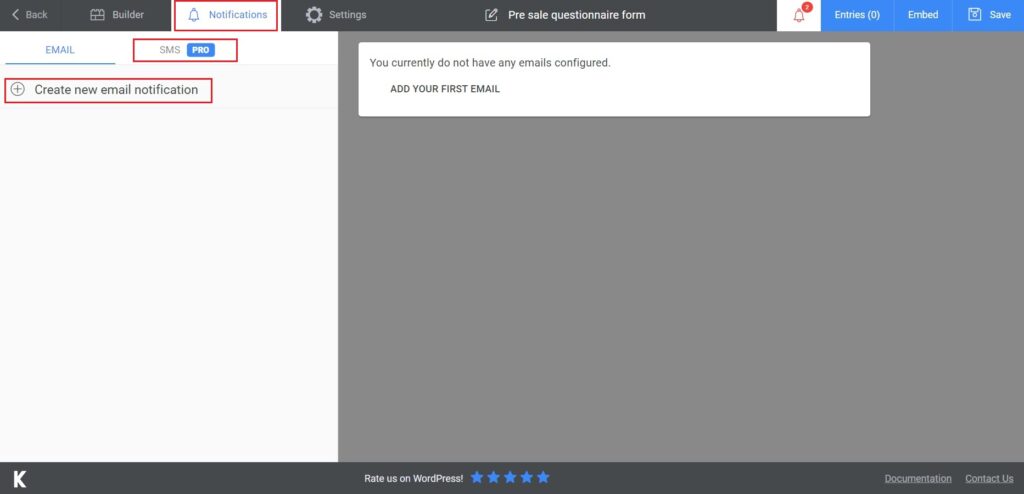 In addition, if you wish to use all of Kali's features, click Settings. Selecting the form style allows you to see more customization choices. If you upgrade to the premium edition, you can also integrate your form with Slack, HubSpot and send newsletters.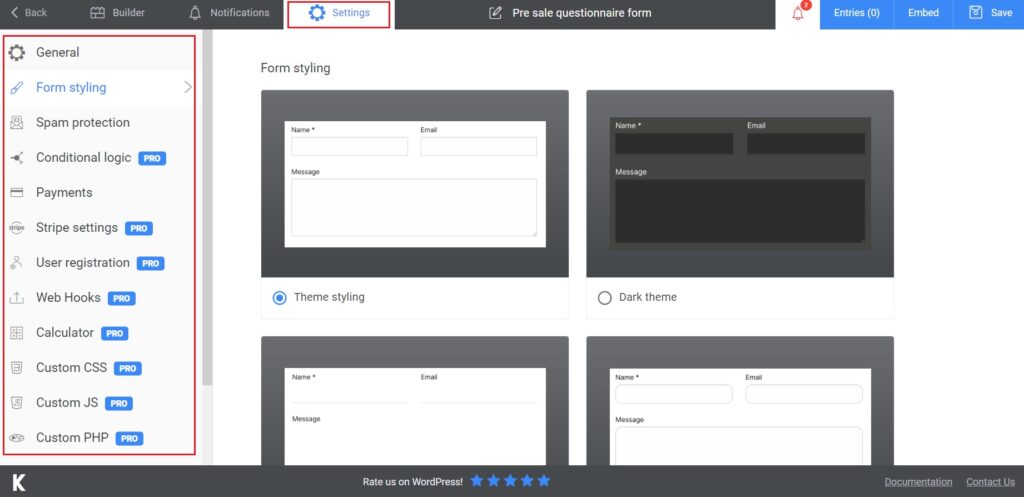 4. Add the pre sale questionnaire form to your website
You may either edit an existing post/page or create a new one to include the pre sale questionnaire form. After you've completed your form, click Save. After you've produced the shortcode, all you have to do now is copy and paste it into a website or post.
You can export your data to Excel or CSV if you need to export it for security or other reasons.
---
Conclusion
Companies typically pay the price for failing to take easy actions to do more in less time. Maintaining efficiency is problematic because it necessitates continual adaptation to new workflows. Organizations may, however, employ easy measures to infuse new vitality into the workplace. A pre sale questionnaire form is a perfect example of this.