Are you looking to create a more straightforward hotel registration form for your customers?
Nowadays, most of people love to travel a lot and look for good accommodations. Making booking easy for your customers will help you satisfy them and receive good reviews. If you manage or own a hotel, add a hotel registration form to your website and get rid of all the paperwork.
There are a lot of benefits for you, your staff, and your customers by using this method. In this tutorial, we will teach you how to create a hotel registration form in order to make this process easier.
Why should you use an online hotel registration form?
Transferring this whole process online will grab you a lot of benefits and make your customers happy. A happy customer will get you more customers, am I right? Let's see how you can digitalize this process and highlight some of the benefits.
Save time
One of the most significant benefits that an online form can provide you is that it saves a lot of time for you and your customers. Think of all those times when customers were waiting to fill out the registration forms or you had to fill them out for them. It was a waste of time. It is easier to complete the forms online.
Better accuracy
There are times when customers are not careful and forget to fill in certain fields. Well, creating online forms will allow you to make the fields required to fill so you will have all the necessary information. Now you will be sure that all the data you needed is complete and kept in a safe place.
Data use
Speaking of safe places, if you want to keep track of people who are coming, use these online forms. Once all the data is captured, you can store it in a folder and give access to your staff to find information about the customers easily. Also, digital storage reduces the risk of data loss and increases data protection.
How to create a hotel registration form
I'm convinced that you will do great with creating an online hotel registration form. It's very easy to build one and gather the necessary data. All you need is a running website, which I think you already have one, and a tool that will help you with this process. Take advantage of Kali Forms, the most user-friendly, responsive, and intuitive plugin. Let's see how you can create an online hotel registration form by walking through a few simple steps.
Installing Kali Forms plugin
The first step is to install Kali Forms on your website. I bet you already have a website for your hotel, but if not, you can watch this super easy tutorial that teaches you the whole process. Next, you will have to go to your WordPress menu and look for Plugins. Click on Add new and you will see a search bar in the upper right corner. Type Kali Forms in the box, press Install, and wait for a couple of minutes.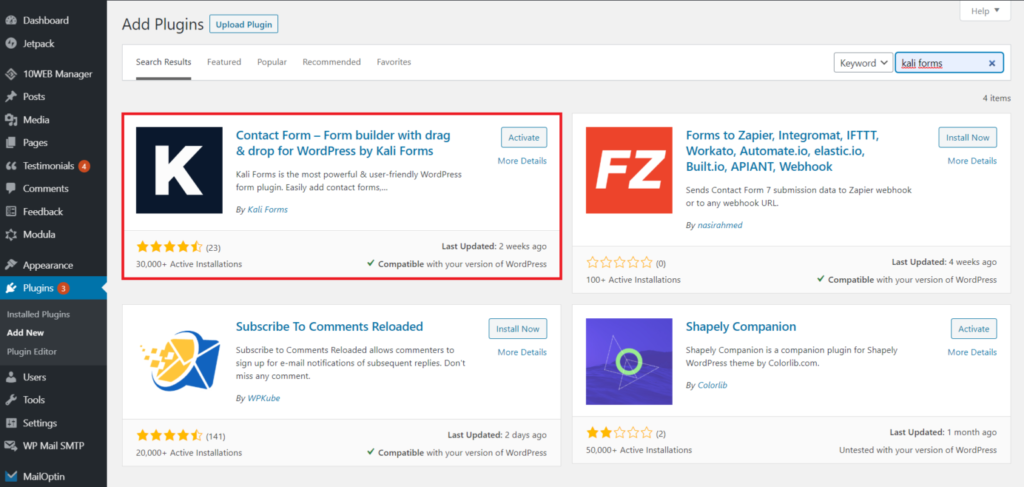 Once the installation is done, you have to Activate the plugin. You'll see the activation button, as in the picture shown below.
The installation part is over so, let's start creating the hotel registration form. You'll find Kali Forms in your WordPress menu. Go to the plugin item and click on Add new.

Creating a new form
By clicking on Add new, you'll be redirected to a page with some predesigned form templates. Maybe someday one of these will be useful to you, but now we will create it from scratch. So, press Create new, and let's sort fields out.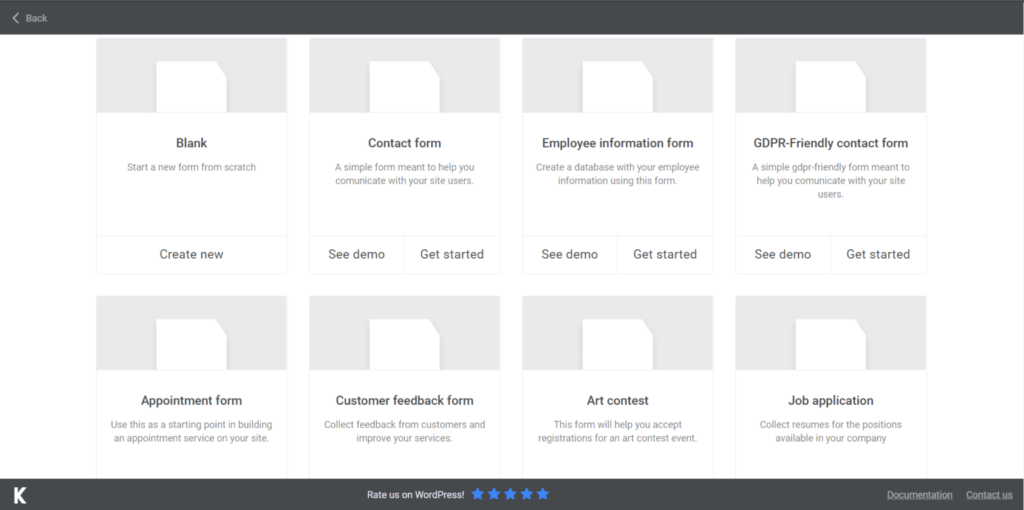 Firstly, you have to name your form, so people know what its purpose is. I will name mine "hotel registration form", but you can name it whatever you want.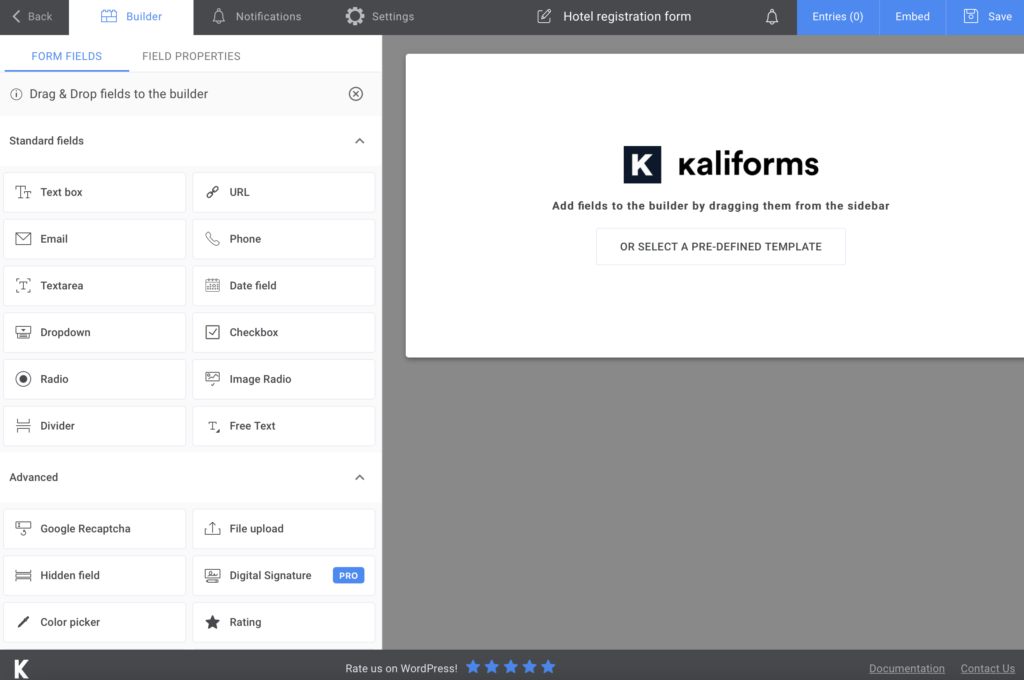 Adding form fields
Creating forms with the Kali Forms plugin will bring a lot of benefits. Everything here is customizable – you can see all the options in the menu that appears in the left. Once you chose a couple of fields, click on them, and the customization options will be displayed on the left. Name your fields, make them required to fill or not, add a description, and so on.
You'll get other customizable options in the Settings section, but we'll discuss that later.
The first field of my form started with a Text box for the person's name. Then, I added a Textarea for the address information.
Moreover, you will need some contact information on your customers, so I added Email and Phone boxes. Once you are done with this section, add a Divider to separate it from the others.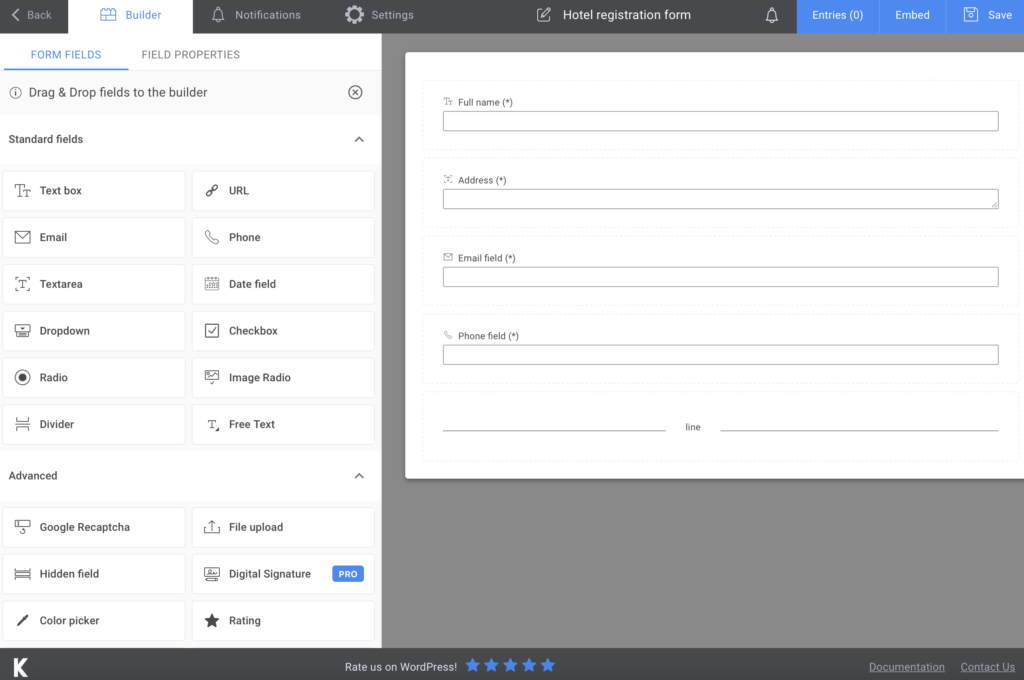 In the last part of the form, I added two Date fields for the arrival and departure dates to know for how many days your customers want to make the rooms reservation. I usually supplement the form with Textarea field for information the customers need to add. In addition, I completed the form with a PayPal field for the payment process and a Submit Button.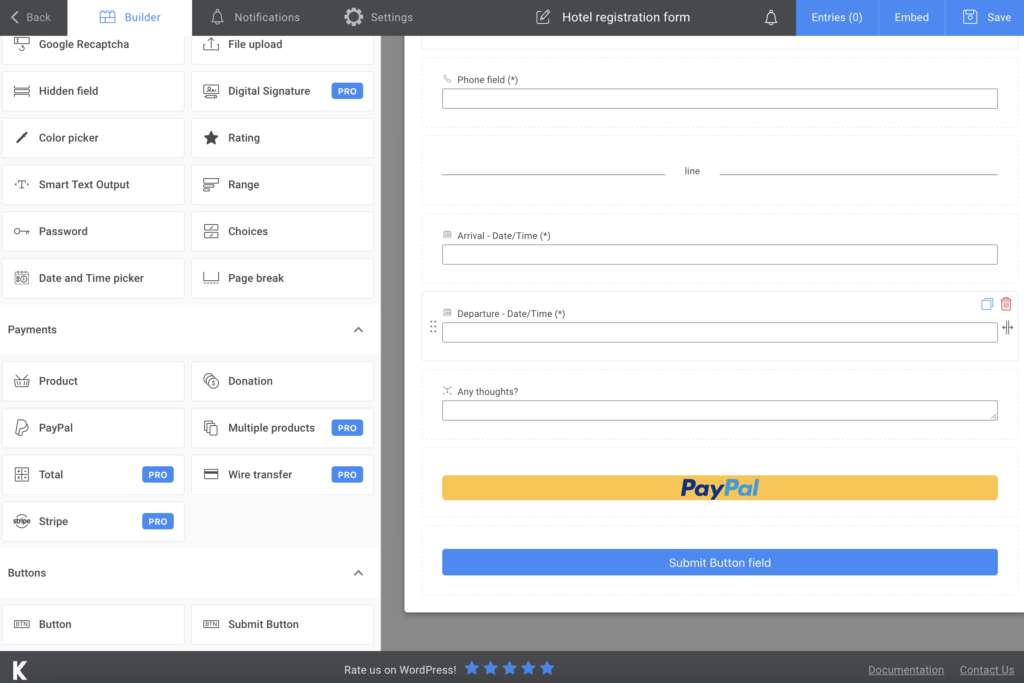 ---
Additional features
You can send your customers a confirmation e-mail notification to let them know that you received their form. Go to Notification and customize the e-mail. If you have the pro version, you can also set up an SMS notification.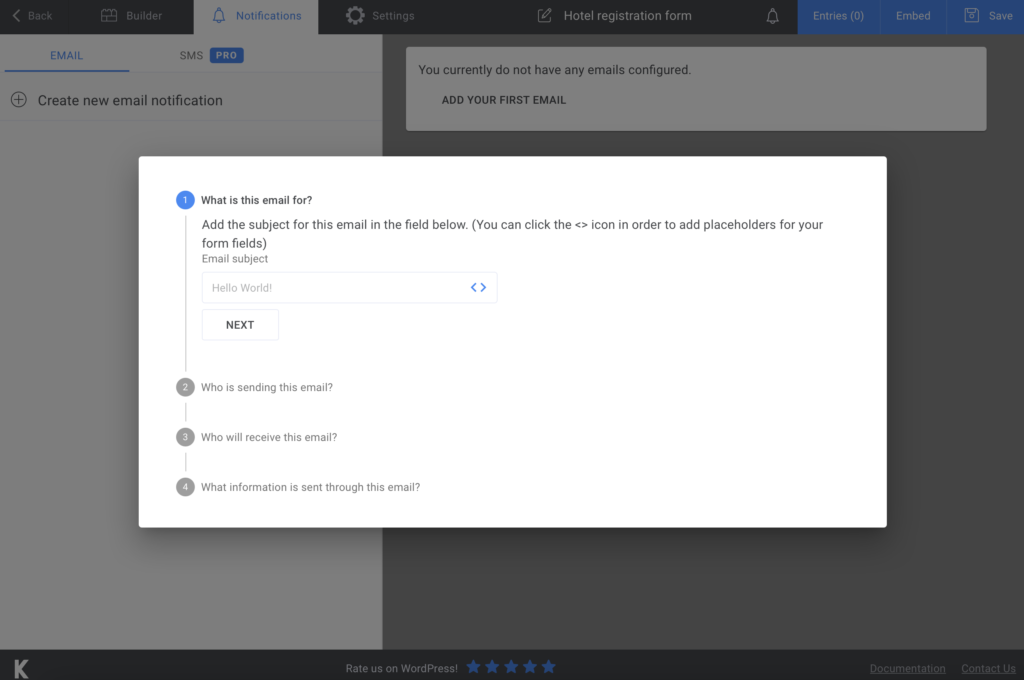 To finish this process, go to Settings section in order to customize your form according to your needs. You can choose your Form style or display a personalized "thank you" message. You can take advantage of more advanced features, so make sure you try them.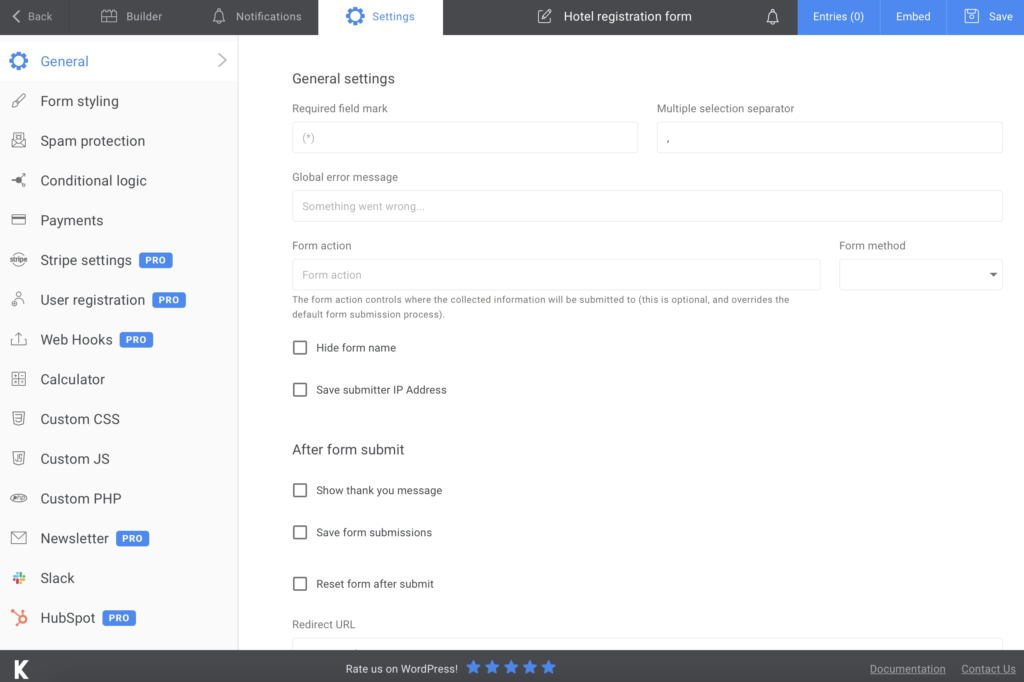 ---
Add the hotel registration form to your website
Here we are, at the end of this process. Press the Save button, and a shortcode will be generated that will allow you to post the hotel registration form to your website. Copy the shortcode and paste it on a page on your website.
One more significant feature that Kali Forms provide is that you can export all the information to CVS or Excel. Now you will have a database with your customers' registration, so store it somewhere safe.
---
Summary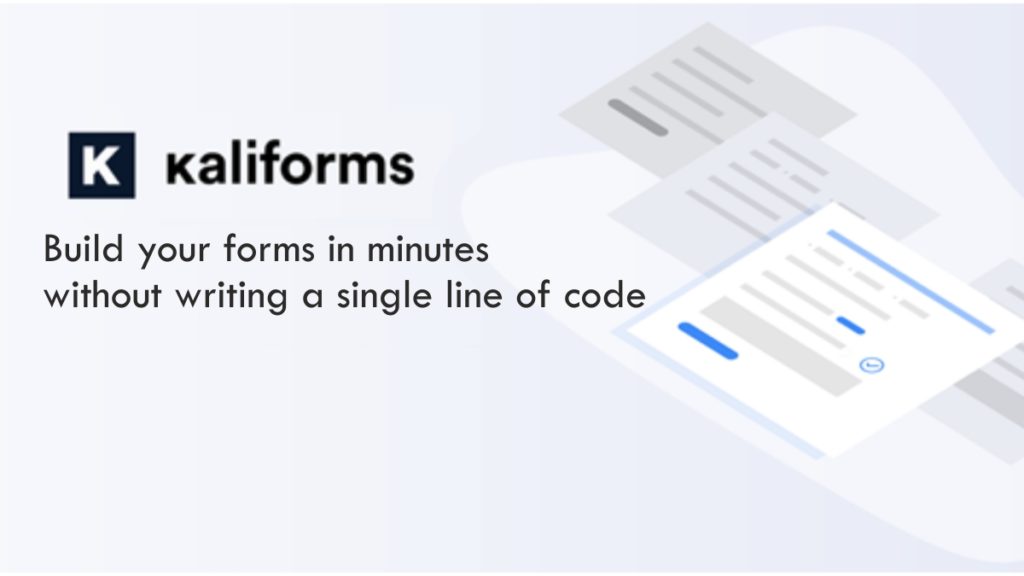 Your customers need an easy-to-fill hotel registration form, so take advantage of the features that Kali Forms provide you. This plugin is super useful, and you can create forms for everything you need. Try it and convince yourself that it is an up-to-scratch choice.