Are you looking for a high school transcript request form for your former students?
Don't worry; we got you covered! We will show you how to create an online high school transcript request form with all the necessary details. Step-by-step, we will make your work easier by filling in this form online, and you will save some time.
Why should you use an online high school transcript request form?
Well, there are many benefits to creating this request online for you and your students as well. So let's dive right in!
Save time
One of the benefits of digitalizing this process is that you get to save a significant amount of time. You won't have to call students to high school to complete these forms. They will do this online. Ease the process and create this form on the Internet. Also, making this process online will save some paper too.
Organized process
It will be more straightforward for you to create a database with the online high school transcript request form than having these requests on a paper. Think of all those requests from your students – shelves full of paper. Headache! Moreover, you will be sure that the requests will not be lost, and you will have a more organized online folder.
Additional documents
Most likely, you will need copies of students' IDs to prove that the data in the form coincide with those on their identity cards. It will be simpler to collect pictures of their IDs and ask them to upload it in the online high school transcript request form than receiving many prints. Digitalizing this process will save you a lot of hassle.
How to create a high school transcript request form
We know that this process can seem monotonous and may be challenging, but it is really as easy as falling off a log. How can such a thing be? Well, with Kali Forms, the most astonishing, user-friendly, and intuitive plugin, you will be able to create the best high school transcript request form. Take advantage of all its features.
Installing Kali Forms plugin
If you already have a website, you can quickly go directly to the part where you install the plugin. But, if you don't have one, keep still. Follow this guide on how to make a website in 2021, and you will get the help you needed. You can use your website for many other purposes so, start creating one. After your website is ready to go, step to your WordPress dashboard, and look for the Plugins section. Click on Add new, and will appear a search bar in the right upper corner. Now, search Kali Forms and start the process.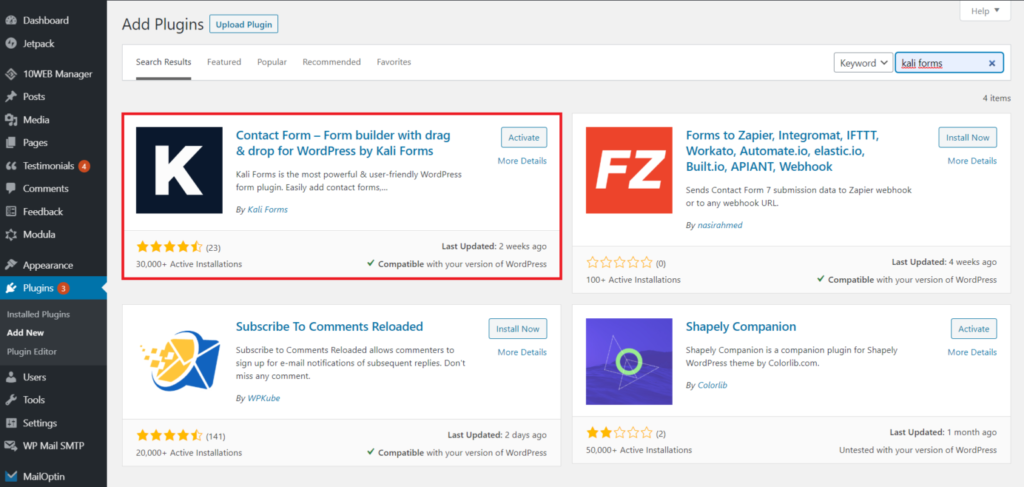 Here it is! Press Install and wait for a couple of minutes. What's next? Click on Activate, and the Kali Forms plugin will appear in your WordPress dashboard.

Let's move on and see how you can create a high school transcript request form. Once the plugin is installed and activated, click on Add new.

Creating a new form
Once you've clicked on Add new, you will be redirected to a page with a bunch of predesigned templates. You can use them whenever you need, but right now, we will learn how to create a high school transcript request form from scratch. Press Create new and let the game begin.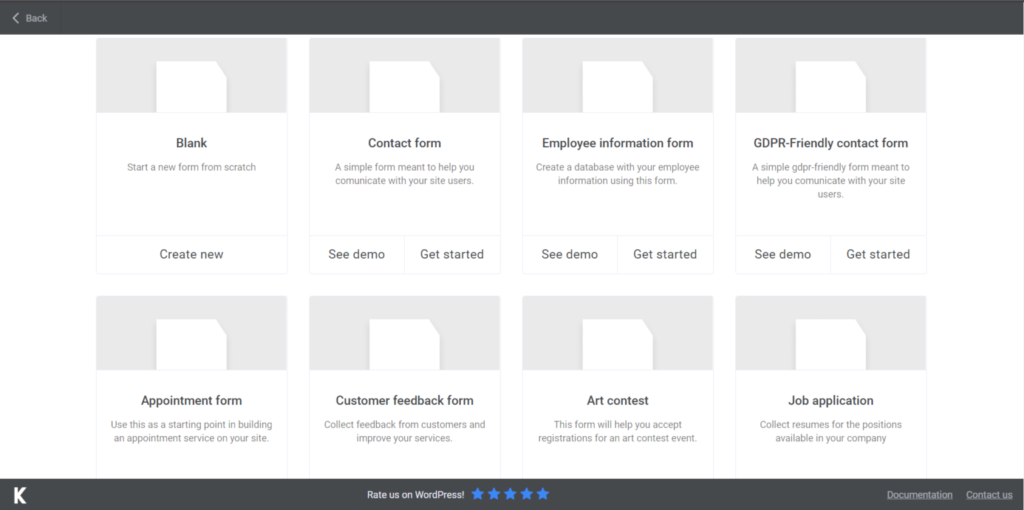 First, give the form a name, so students know what they are supposed to fill in. Simply name it "High school transcript request form".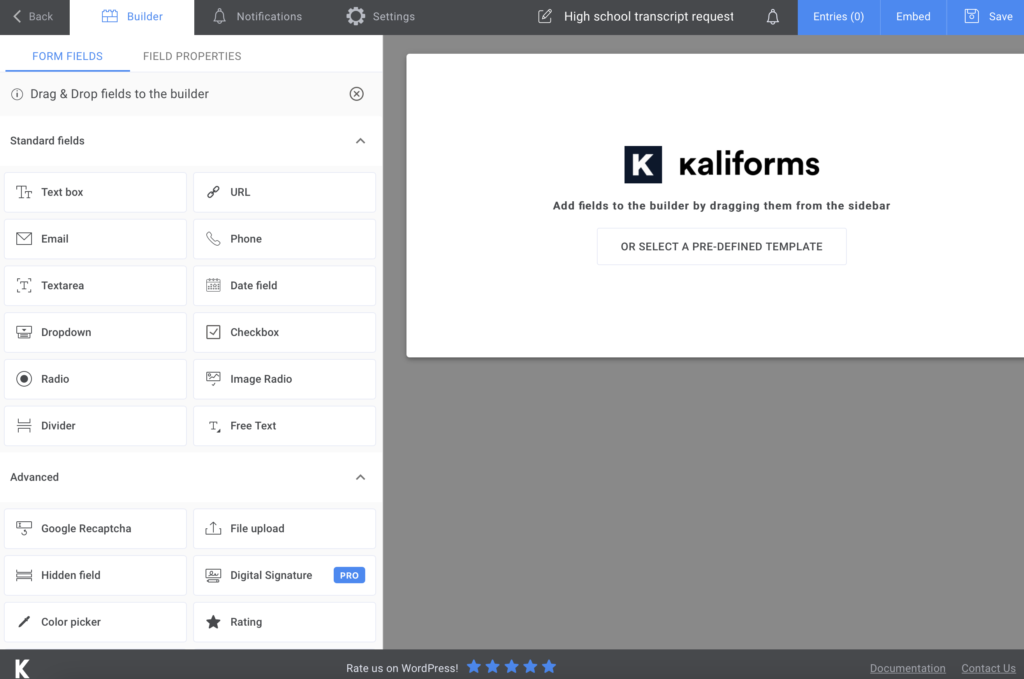 ---
Adding form fields
One thing I want to start with is that everything here is customizable – from format to fields, text, and so on. Once you selected the blank form, the menu will show on the left. Click on a specific field if you want to customize it, and a list with options will come up.
You can name your field, add a description, and make it required to fill or not. It doesn't seem difficult, does it? Now, let's find out what we need for a high school transcript request form. Start by adding a Text box for the students' name, a Date field for the date of birth, and another Text box for the year of graduation.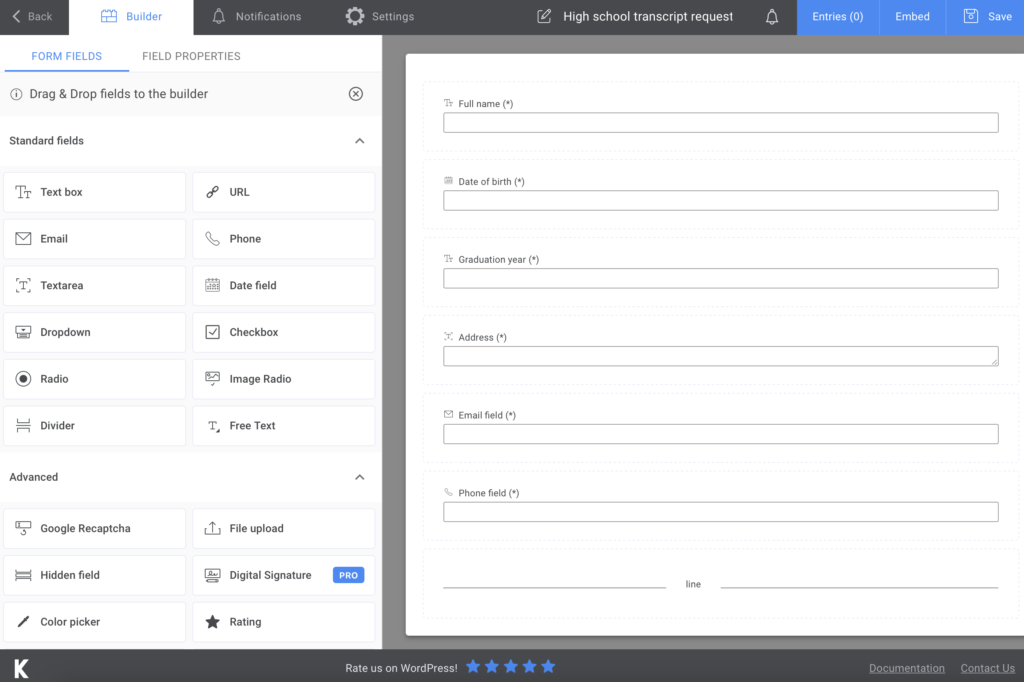 Next, I added several Text boxes to find out their actual address, so you know where to send the high school transcript. More, you can add a Dropdown box for the State field and fill in the options.
As you can see in the image above, I added two more boxes – one Phone box to call them if there is something wrong or let them know you sent the transcript, and an Email box for the same reason. Well, we finished with this part of the form, so I added a Divider to separate this section from others.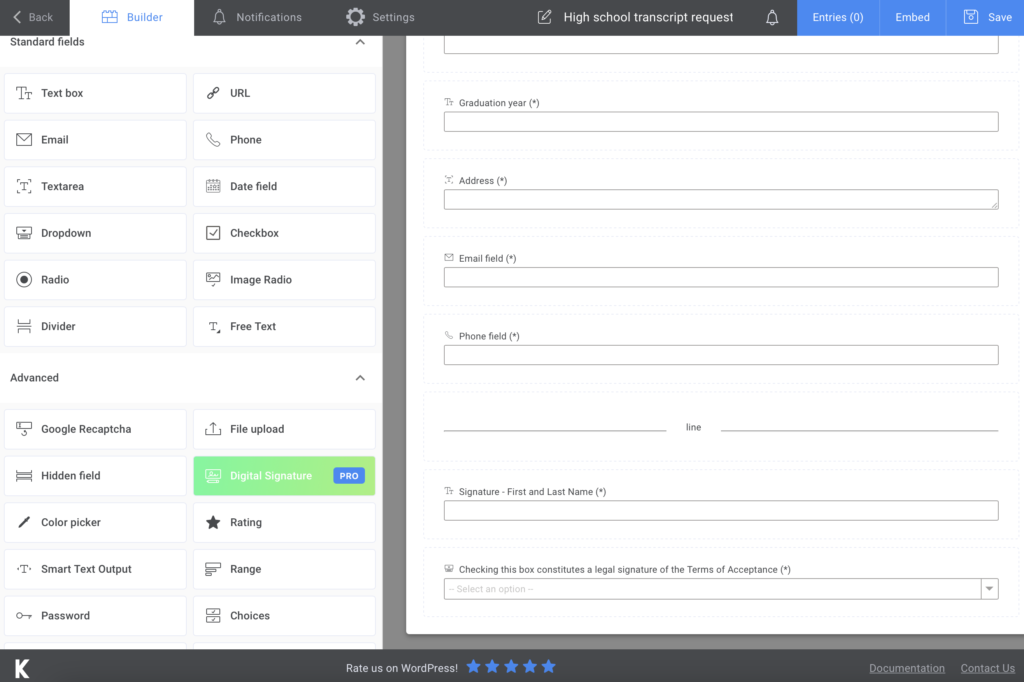 The next part of this form is entirely designed to request the students' signatures confirming that the data completed above belong to the requestor. If you have the Kali Forms PRO version, you can add to your form Digital Signature. If not, add one more Text Box with the name of the students and a Dropdown with their agreement.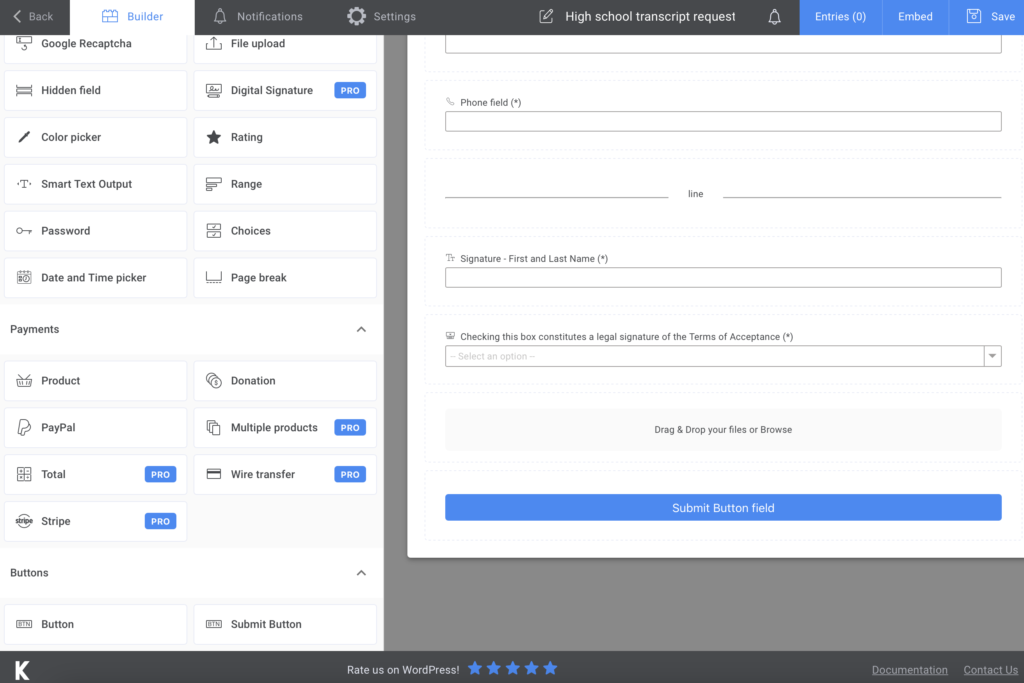 For the last part of your form, you can add a File upload box to ask for their IDs and a Submit button.
---
Additional features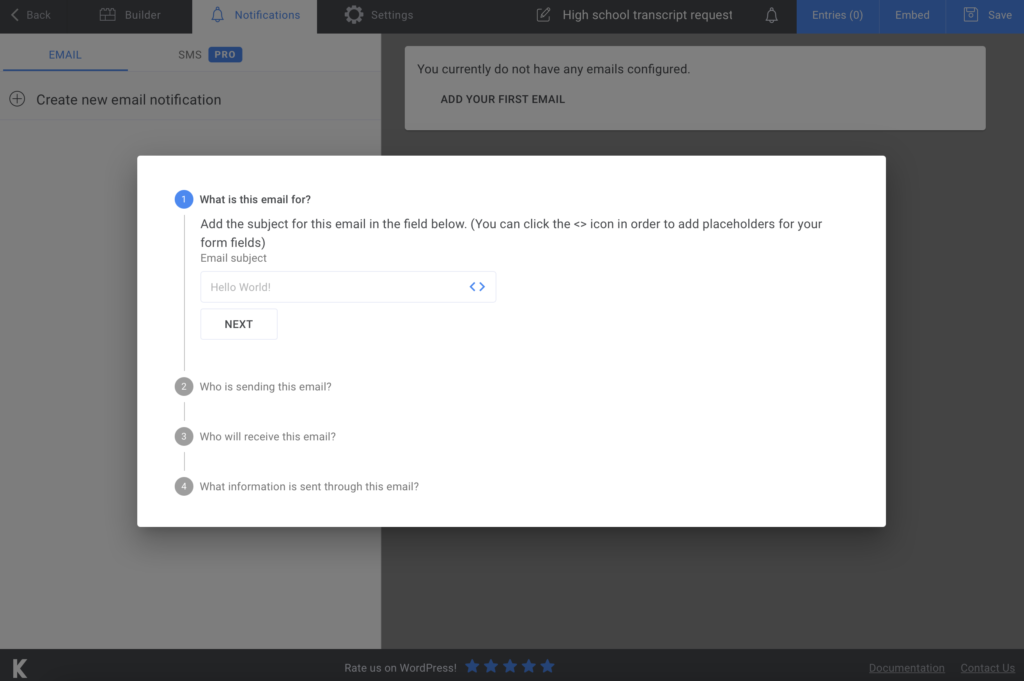 What's more? You can send a confirmation email to the students who send requests. You can easily do this by yourself or following this tutorial of how to send the submitted data in the form notifications. Just go to the Notifications section and fill in the details. You can also send SMS notifications, if you opt for the premium version.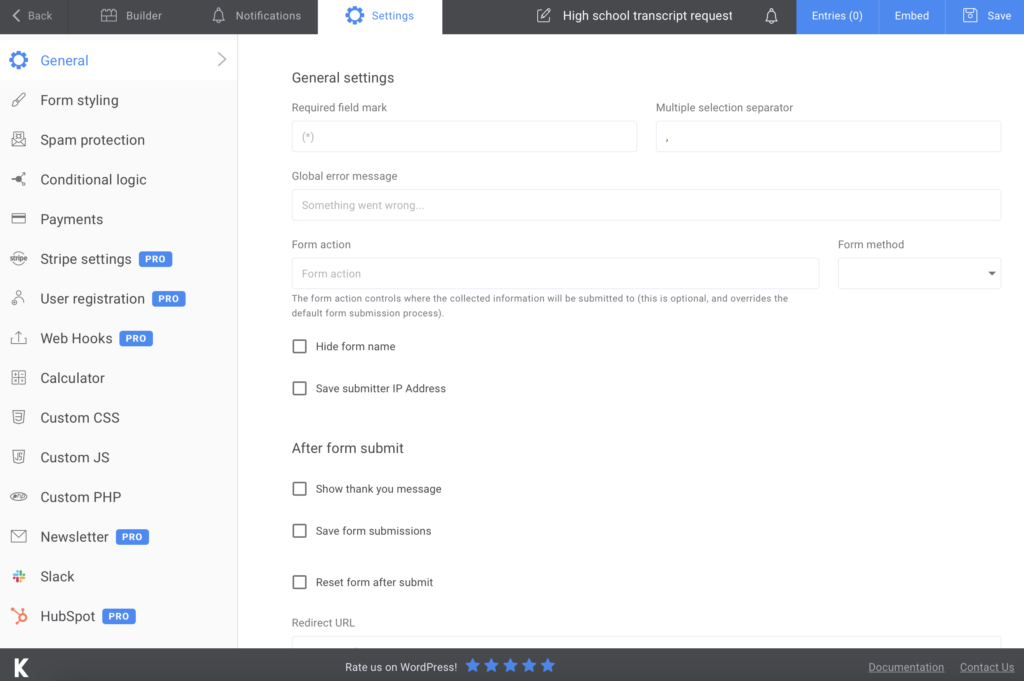 Last but not least, go to the Settings section and go crazy with customization. You can choose the Form Style or even display a personalized thank you message. Take advantage of these features and create the best forms. Send newsletters to your future students by purchasing the premium version of Kali Forms.
---
Add the high school transcript request form to your website
Here we are, at the end of the process. Once you have finished setting up the form, press Save. A shortcode will be generated, so copy it. Next, you will be able to create a new page or mingle the form into an existing one. Just paste the shortcode in the place where you want it to appear. Now, students can fill in the request form.
If you want to keep everything tracking and be more organized, you can export your data to CVS or Excel. Keep it stored somewhere safe and organize them accurately.
---
Summary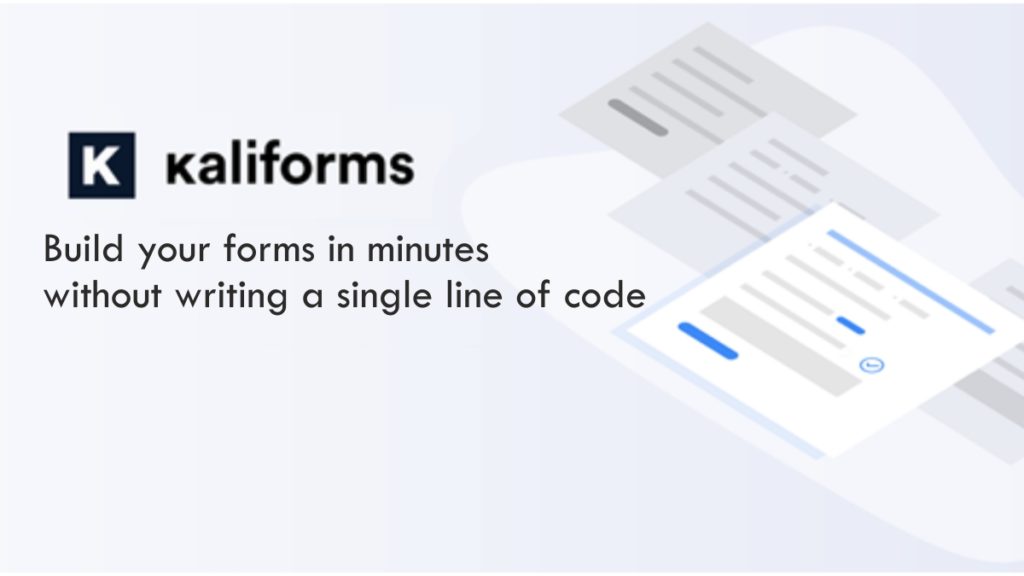 All in all, you can convince yourself that creating an online form with Kali Forms it's easier than ever. You will also benefit from a lot of features – predesigned templates, multi-page forms, email notifications, and I'm going to stop here and let you discover them all.