Are you looking to optimize your accident reporting process?
First things first, we have to make a clear statement: you'll see this kind of form under two names – accident and incident form. The difference between them consists of the consequence of the actions. In an accident, as a result of an unexpected event, it results in property damage as well as in an injury or illness to the person involved. An incident is based on the same premises, that happens due to an unexpected event, but it only results in property damage, with no collateral victims.
This article will be your guide to creating an online workplace accident report form. Accident report forms can be used in various situations, but we'll choose this example, as this is one of the most common situations encountered. This will make it easier for you to keep track of your employees' actions.
---
---
Why should you use an online accident report form
It's true that the main reason might be the digitalization of basically everything that surrounds us, but there are a number of other reasons that can direct you towards this choice.
Keep track of information
It's true that having physical forms can be of help when an accident happens outside of the workspace – but the type of accident will be of another nature, such as a car crash or some sort of natural disaster. But since everyone is in the office, an online form is much more helpful, as you can keep the information in the cloud or in your computer.
It's easier to make reports to prevent future unfortunate events
Since it's an online thing, you can just export all the data in CVS or Excel and make a report. It's easier to follow and make, so you're just steps away from digitalizing more than one process.
Go back to remember or verify information
Going back to check things can be a pain if you have a pile of papers you have to look for. Here we can also add the fact that, even if it's not the most important of all issues, someone's bad handwriting can make everything worse. Because this is a rather detailed form, it needs to be readable and comprehensive. So forget about the trouble of spending more time than necessary on something that could be done in a couple of minutes.
---
How to create an accident report form
It's a very simple process that you'll master in a matter of hours, if you're motivated. You just need a tool good enough to support you through this journey. Our recommendation is Kali Forms – a user-friendly, super affordable plugin that will basically do the work for you.
Let's see what are the steps of starting the process of digitalizing your accident report forms.
---
Install Kali Forms Plugin
If you already own a website, just install the plugin there. Or create one with WordPress, as it has never been easier to do this. However, if you're struggling, you can scroll through this complete guide on how to build your own website. Once you're done with this step, just go to the Plugins section in your WordPress dashboard. Click on Add New, and type the name of the plugin in the search bar.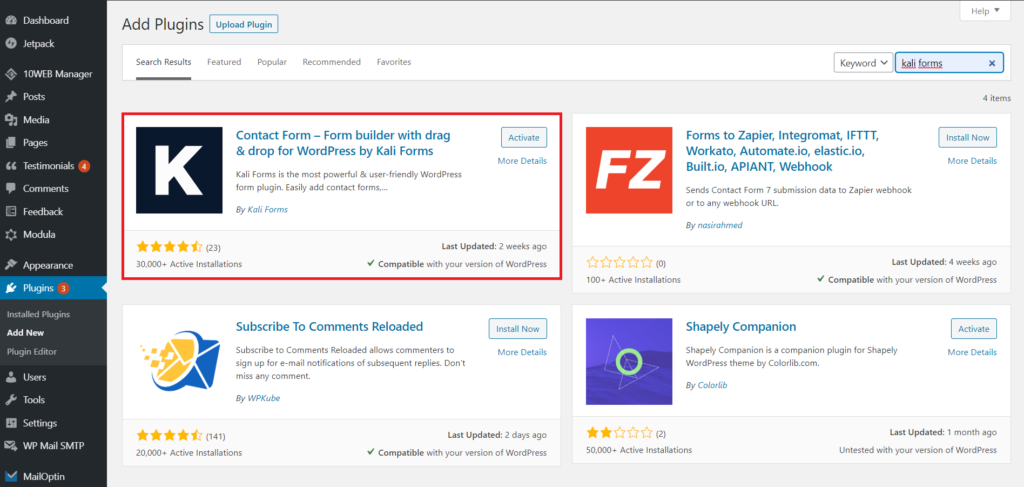 The plugin will show up after your search – click Install and wait a couple of minutes. After it's installed, Activate it and you're good to go.

Once everything is up and running, you'll see the plugin integrated into your dashboard's options. Press on it, and the Add New option will pop up. Click on it and you're ready to start creating your first form!

---
Creating a new form
After you've clicked Add New, a series of pre-made templated will show up. We leave them aside for the moment, and select Create New. We'll start building our new form from scratch.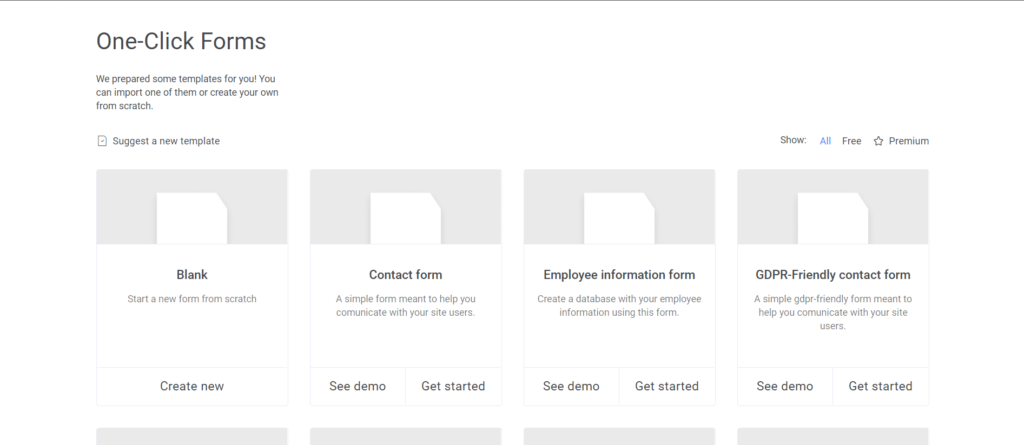 I started by naming my form. You can do the same just to have clarity over the process.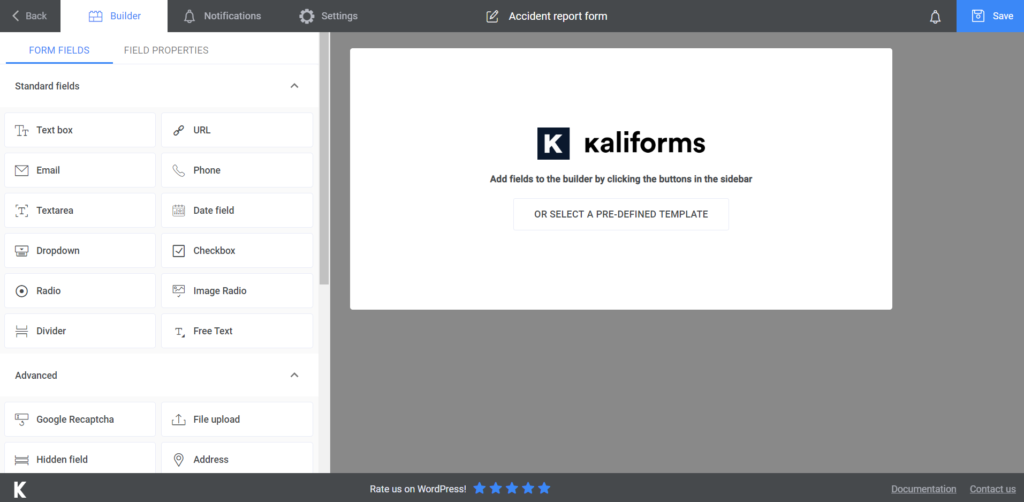 ---
Adding form fields
If you already have some old accident reporting forms, you can just grab one on them and see what are the essential pieces of information that you should include in this one. It's true that there's always room for improvement, so maybe our suggestions will be of help as well.
You'll see a menu on the left, with all the options you can introduce in your form. You can make it as complex as you want, but remember that keeping it simple will save you a lot of trouble later. All the options are customizable – after you've selected one, just click on it. The customization options will appear instead of the menu. You're free to name your fields and play with their features as you please.
You can begin by adding Date field and a Text field, for the date and time of the reported accident. After that, I added another Text field for the name of the reporting facility. Besides this, I also added a Divider, to separate the next section.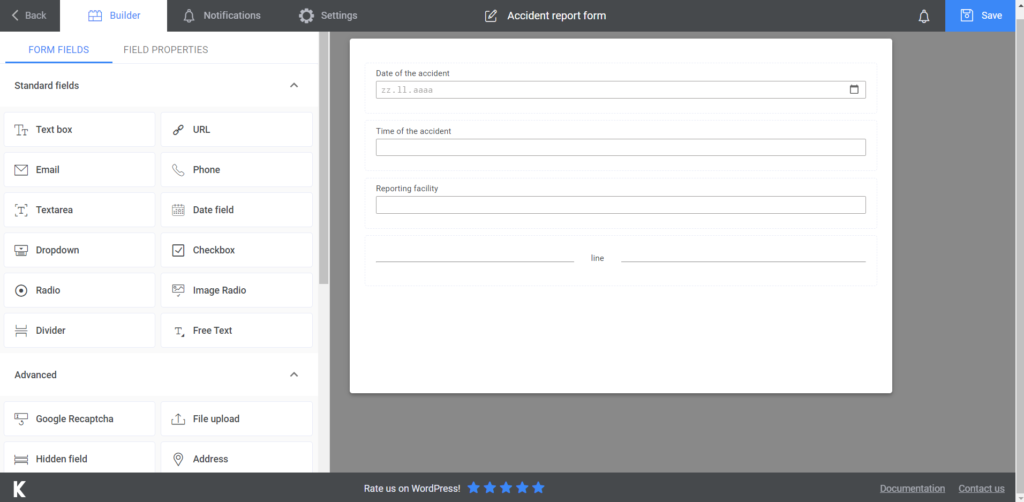 Next on our list comes the part where all the information about the accident and people involved in it is stated. We'll start with a few Text boxes, for the name of the person involved, the person who is completing the document, and potential witnesses to the scene. We'll also add a few Phone number fields, for the contacts of everyone involved.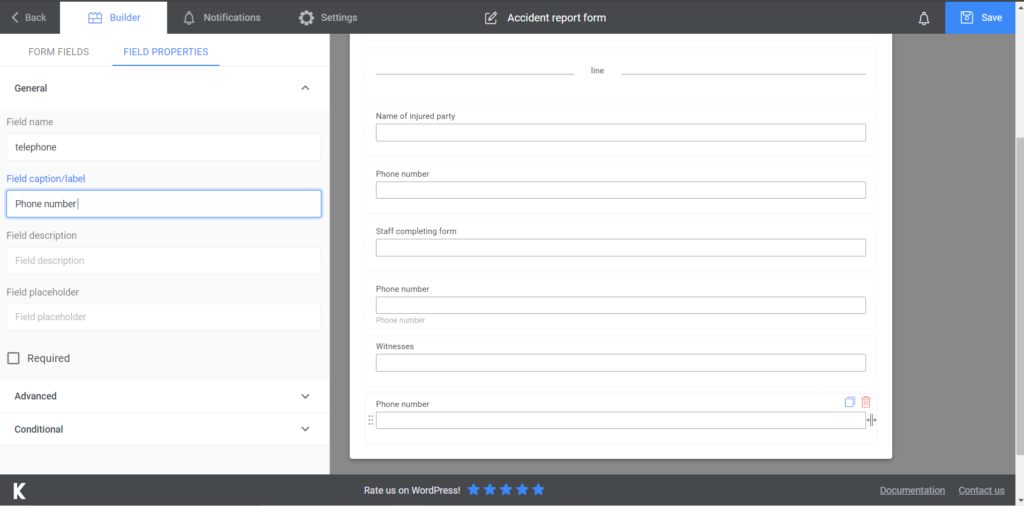 The only things that are left are three Textareas where the description of the accident, action taken/ treatment administered, and follow up (if necessary) should follow in the next section. I separated the last one and this one with another divider. I also added a Submit button at the end of the form.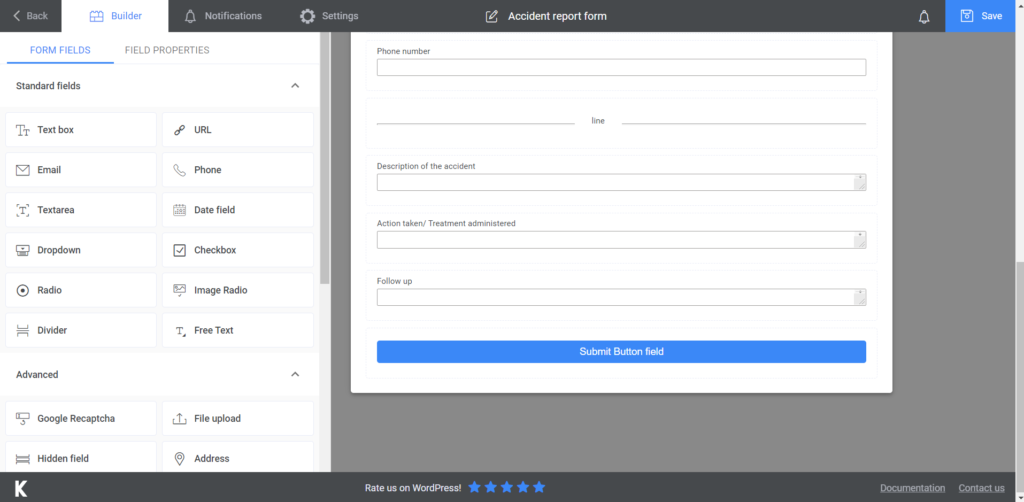 Remember that this is a purely informative tutorial – you can add anything you think it's important. It can depend on your company's policy or laws that should be followed in the area you're from.
You can also send e-mails, to notify the people who are supposed to handle or at least see these reports. In the Notifications section, you'll find all the steps explained on how to enable these e-mails. However, if you feel like you're not acing it from the start, here's a helpful article on how to do it. You can also send SMS notifications if you choose the premium version.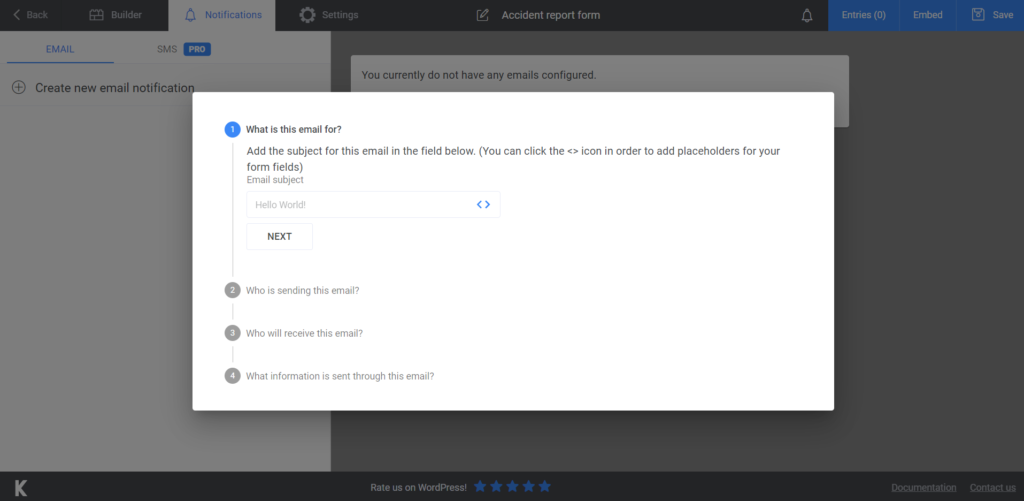 For the last part, you can go to the Settings section and make the final touches for your form. You can choose your Form Style or adjust anything that you feel it's necessary.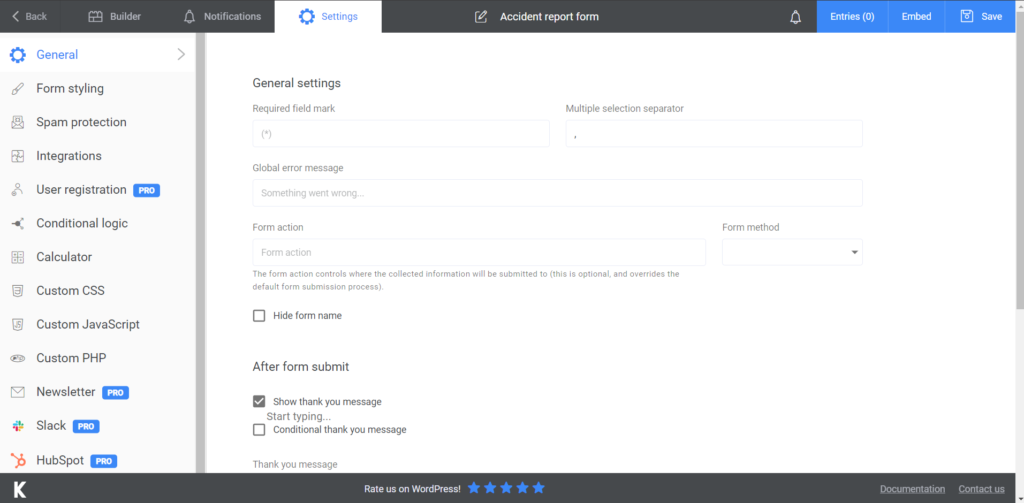 ---
Add the accident report form to your website
The last step is to incorporate the form into your website. After editing everything in it, click on Save. A shortcode will generate and you just have to copy and paste it on a new page or an already existing one.
You can also export your form submissions to CVS or Excel to store it somewhere safe – your computer or in the cloud.
---
Summary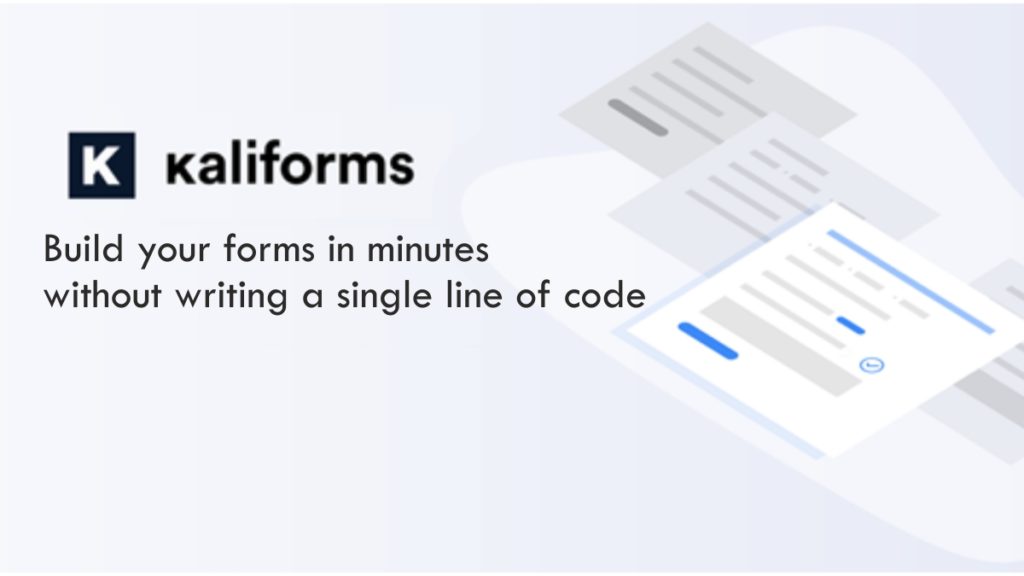 All in all, this is everything you have to do in order to create an online accident report form. It's a fast and simple way, which will save you a lot of trouble and time. Use Kali Forms to make sure you do it in a professional manner as well – intuitive, user-friendly, and very efficient!