Are you looking for an easier way to have conference proposals submitted?
As an entity that accepts conference proposals, you should have a system that allows you to receive and check them in a professional manner, without the possibility of losing anything in the process. It's true that nowadays people can send their conference proposal via e-mail, instead of mailing it through the post or completing it at the headquarters of the facility which is dealing with this. But submitting a form takes away the pain of receiving incomplete proposals.
In this tutorial, we're going to show you how to create a complete conference proposal form that will make you say goodbye to handling a lot of the usual struggles. You will save time and energy and the people who are sending the proposals will have an see how efficient your process is.
---
---
Why should you use an online conference proposal form?
Well, there are a lot of reasons behind the reasoning of using forms instead of traditional methods, such as e-mails or manually filled proposals. Below are stated the most important ones.
---
Save time
This is the number one thing. Because a form is structured in such a way that allows you to check if all the information is complete – you can make all the fields in your form required, so the person will not be able to submit it unless they fill everything. It's easier for the people who are proposing as well, because they will have all the requirements in one place. So going back and forth to a list of needed things will not be necessary anymore.
---
Accurate data
As I said before, there are always people who forget to send some papers or skip their birth date or something. By having a form that has required to fill fields, you'll no longer have to worry about contacting people to send you stuff again.
---
Easy storage
Even if you're accepting proposals via e-mail, it takes time to download documents and complete Excels with people's contact data and personal information. If you're using a form, you can export all your data to CVS or Excel and forget about all this trouble. You'll have everything in one place, without any change of not finding someone's mail.
---
How to create a conference proposal form
This is a super easy process. You'll find yourself sitting in front of the computer for a maximum of 30 minutes, if you're following this tutorial. And all of this thanks to a great tool called Kali Forms, a plugin that basically does the job for you.
---
Install Kali Forms plugin
You probably already own a website – if you don't, here's a guide on how to create it. It's a necessary element, but even if you don't have one, creating it will take you a little extra time. The next step is to go to your WordPress dashboard and look for the Plugins section. Click on Add New and a page with a search bar in the upper right corner will appear. Type Kali Forms and press Install.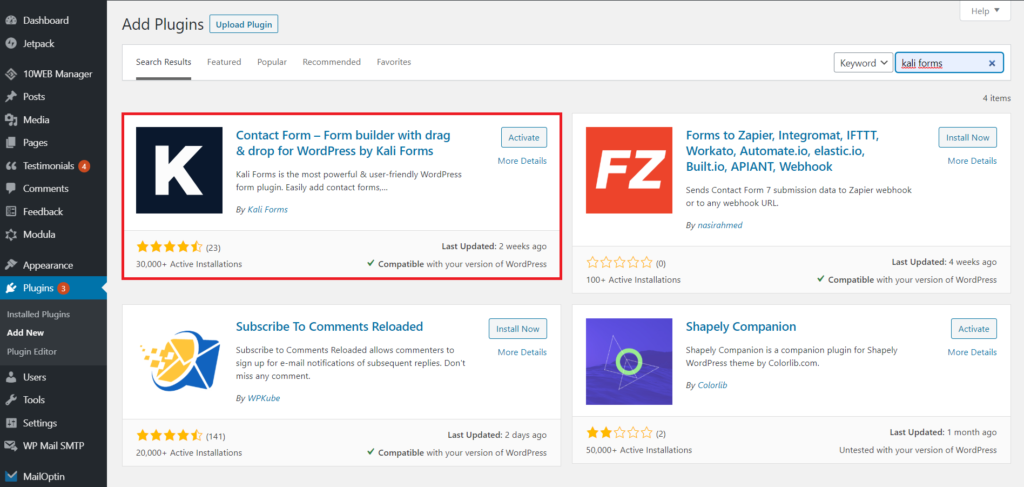 After your plugin is installed, you need to Activate it.

Kali Forms will now appear in your WordPress menu. Every time you want to add a new form, just click on Add New.
---
Creating a new form
As I said, to start creating a new form you have to press on Add New. This will take you to a page with a bunch of templates – you can put them to use if you need them, but right now we're going to create a form from scratch. So press on Create New.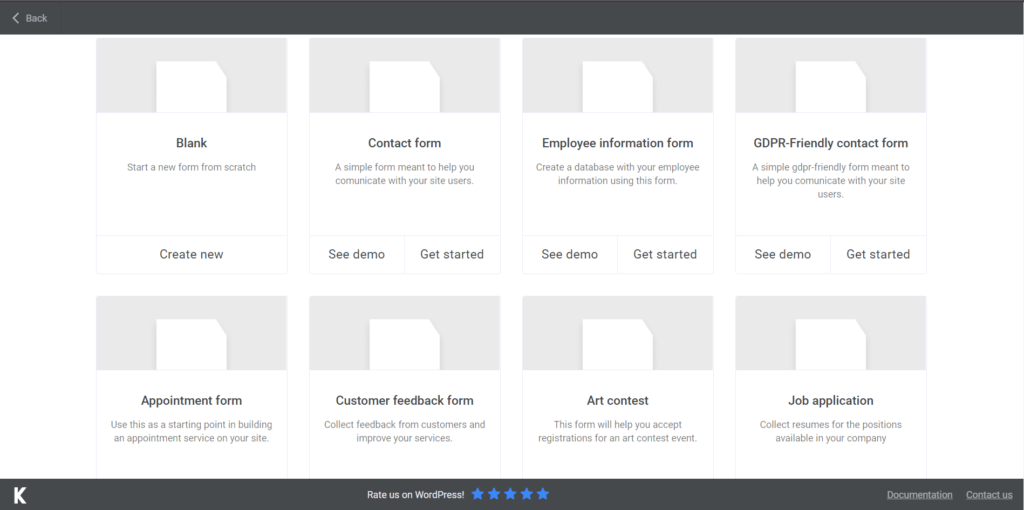 I started by naming my form. I simply named it Conference proposal form, but you can type whatever you find appropriate.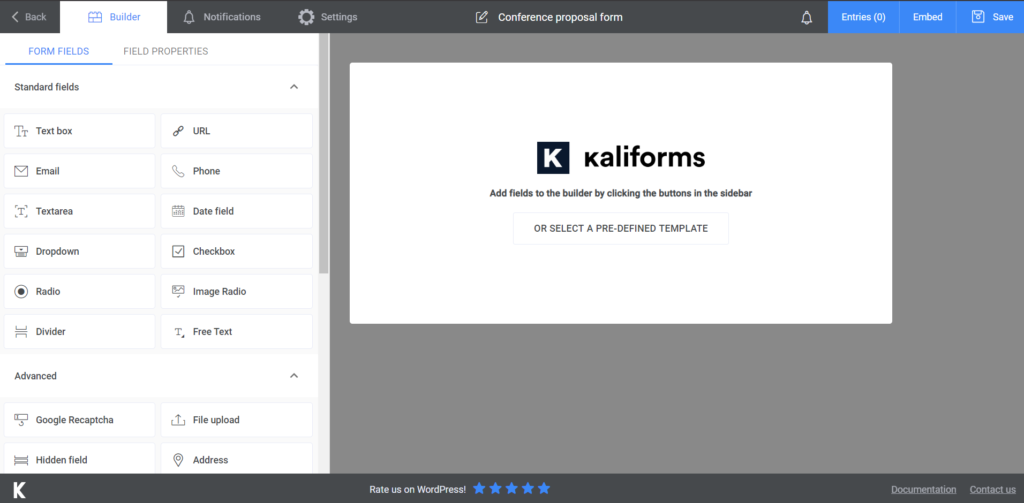 ---
Adding form fields
Let's start by telling you what you're going to enjoy, besides your form. First of all, you can customize any of the options it gives. Play around with it for a bit if you're curious, and maybe you'll find things you didn't know you needed before.
When you want to create a new form and select the Create New option, you'll see that a menu with all the fields you can include will appear on the left. To customize any of these options, click on it to add it to the form. After that, select the field from the form and you'll see that instead of the regular menu, the customization one will be shown. Name your fields, add descriptions to them, and make them required. You can do pretty much whatever you please. Now let's create our conference proposal form.
I'm going to start with the personal information of the person proposing the conference. I firstly added three Text Boxes – one for the name, of for the organization or university the person who is proposing is from, and the last one for the department they're in. Next, I chose a Phone and an E-mail field, and an Address one as well.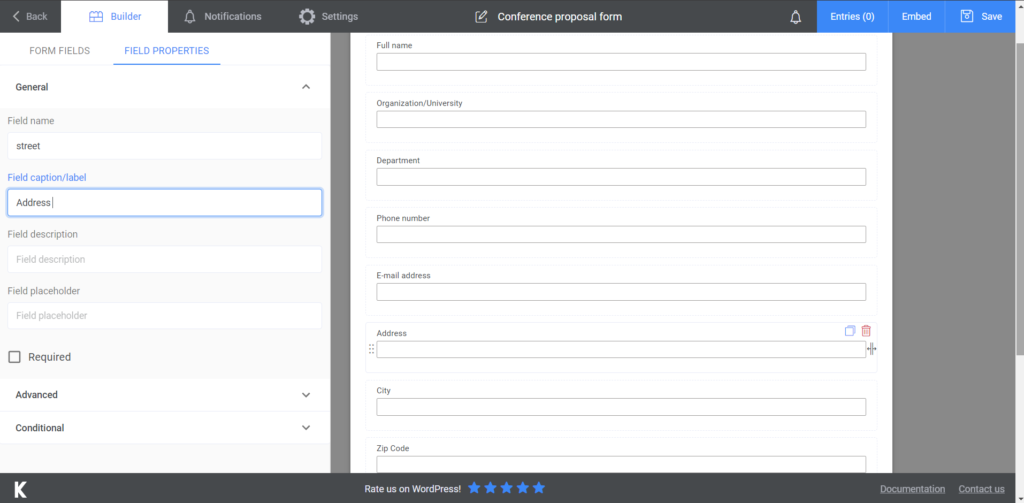 For the next part, I started by adding a Divider, so we can clearly distinguish between those sections. I used another two Text Boxes, one for the title of the conference and one for the subject they want to propose for the conference. I also chose a Date field, for the proposed date of the event. Next, I went for a Textarea, so they can make a summary of what everything will be about and a File Upload field, so they can send the required papers, which include the structure of the proposal as well.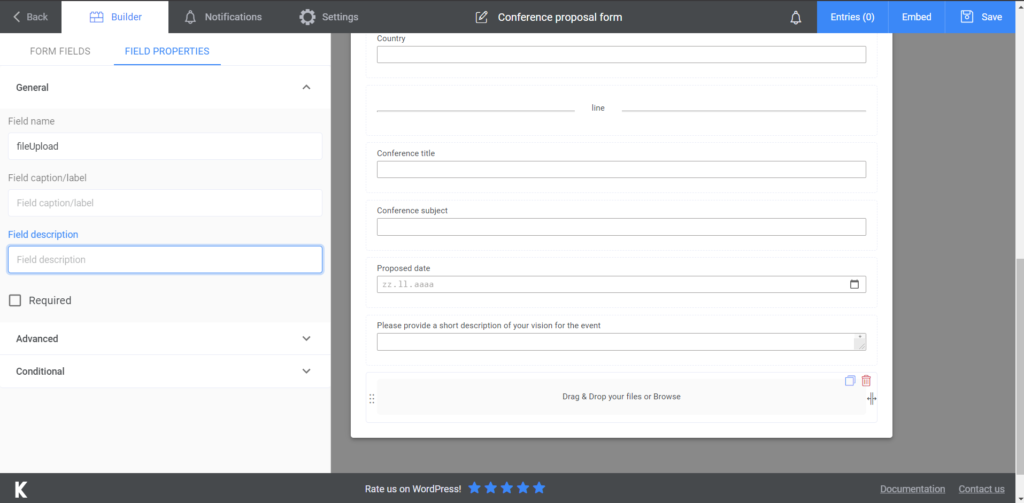 For the last part, I added another Textarea so they can make any comments they feel like making and a Submit button. We've now created a conference proposal form template, which you can feel free to add things to at any given time. If you have any, you can follow any old conference proposals you feel that are useful.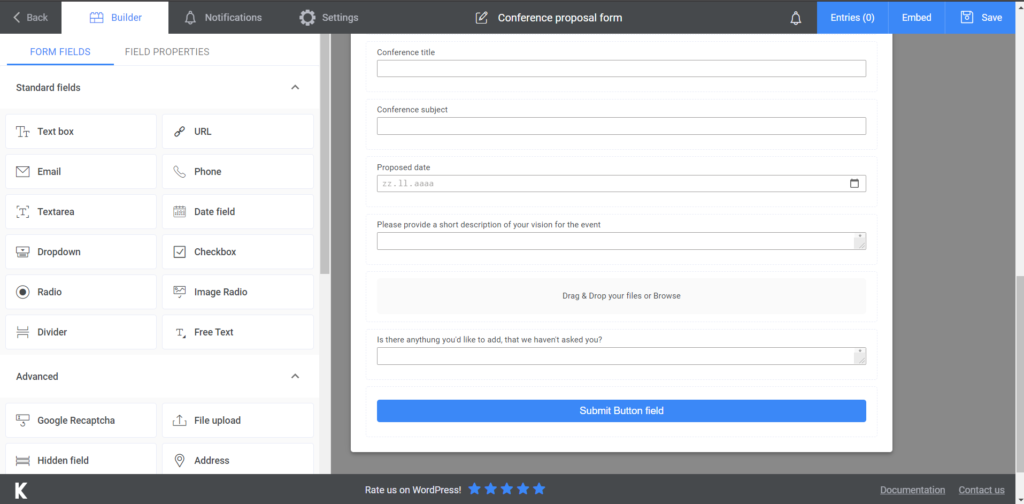 You can also send automated confirmation e-mails. Go to Notifications and follow the step by step process that is suggested there. It's as easy as creating the form. You can go for the premium version and have the option to send your participants SMS notifications as well.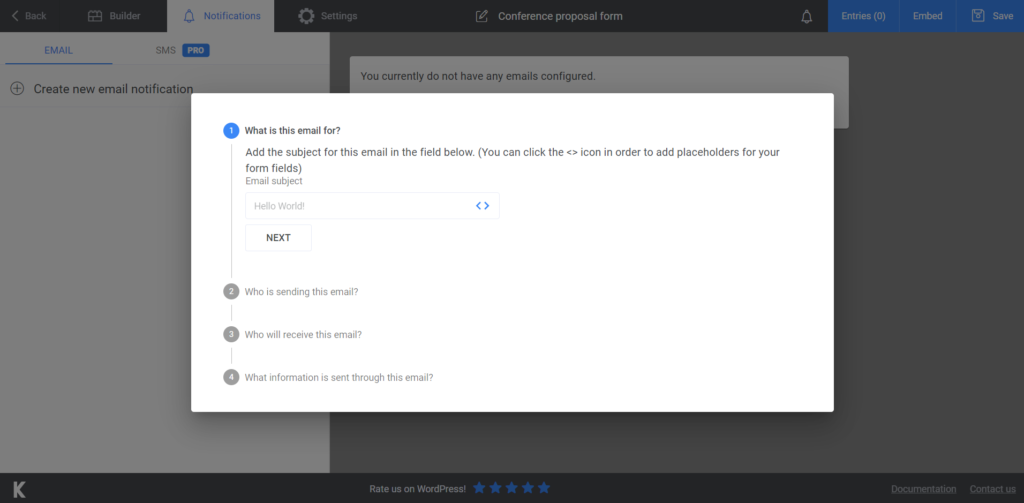 You also have the chance to customize some things from the Settings section. Choose your preferred Form Style or display a ''thank you'' message after people press submit. There are other customization options you can play around with as well. The premium version gives you the option to send newsletters, which can be helpful if you have information that you want your participants to receive.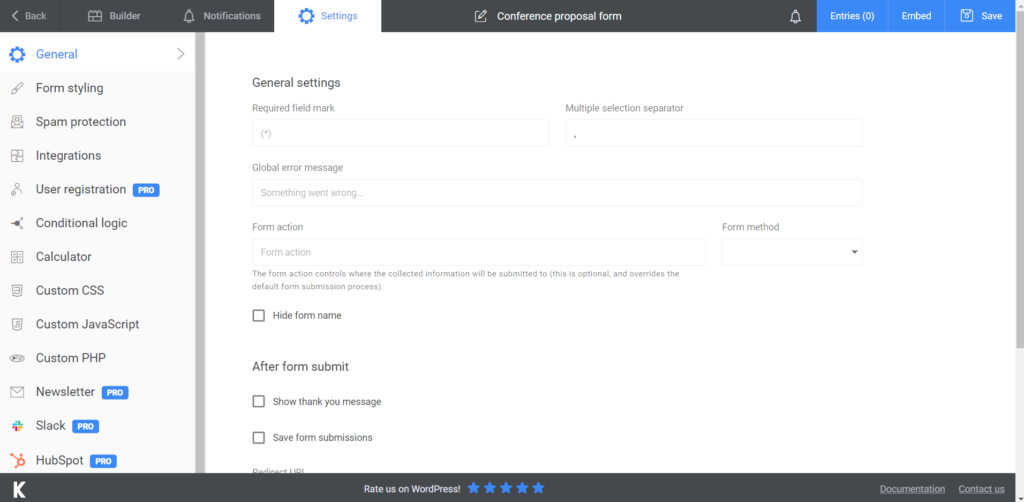 ---
Add the conference proposal form to your website
Finally, we've reached the last part – integrating the form into your website. Once you're done setting up your form, you should press Save. A specific shortcode will be generated for your form. All you have to do is copy the code and paste it into an already existing page on your website. Or, you can also create a new one for it, if you'd like.
---
Summary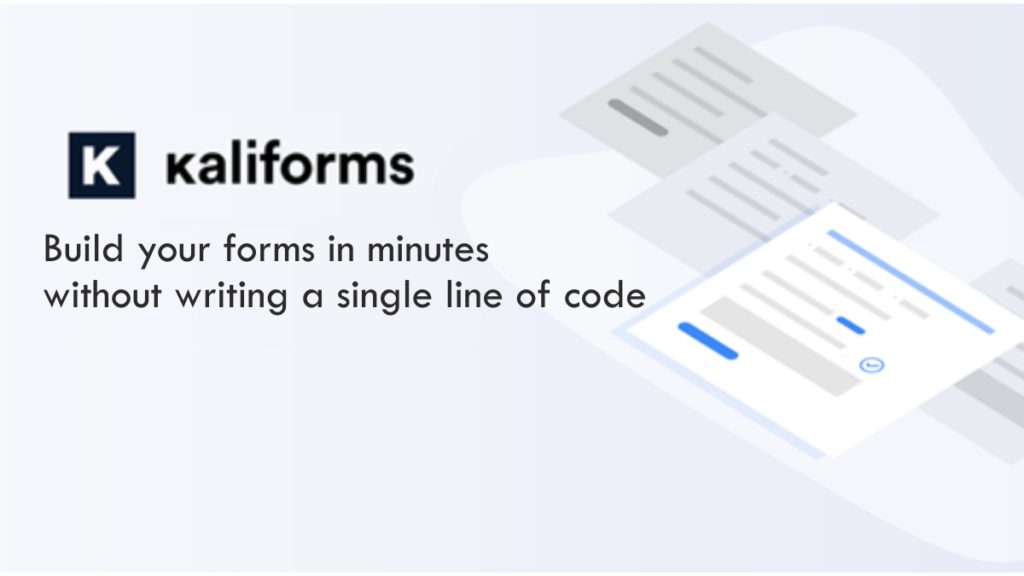 Now that we've discussed the most important aspects of creating a conference proposal form, all you have to do is get to work. It's simple, time-saving, and very comprehensive thanks to Kali Forms, the most user-friendly form creating plugin. Give it a go and see how some aspects of your old routines change.