Are you running a restaurant and need a faster way to deliver the food? How about creating an online food order form?
Take food and drinks out of your restaurant and start making home-deliveries for your customers. If you don't want to complicate yourself with food ordering apps and you want to do everything on your own, you can create an online form to make this process easier. Spice up your form and design it to be user-friendly for your customers. This tutorial will help you learn how to create an easy-to-use online food order form.
---
Why should you use an online food order form?
There are many aspects which state that you should digitalize this process, and I'm going to write down some of the most important ones.
Save time, time and more time
We would do anything to save some time and make our work easier. And not only ours. Your customers will be happier to fill in the food order form on your website, rather than calling your restaurant and doing this process on the phone. The orders or addresses may be mistaken or a confusing mess. Also, the information is gathered automatically. No time is wasted while waiting for paper forms to be filled in.
Accurate data
An online form can increase efficiency and gather accurate data. Your customers will be able to complete the food order form on mobile, tablets, laptops, and other devices. Digitalizing this process will help you gather all the necessary information, and you can make the fields required to fill so that your customers don't omit specific data. It would be troubling to forget to fill in the phone number or the address, right?
Full control
When it comes to online forms, you will have full control over the data, and you can store it somewhere safe. Digital storage reduces the risk of data loss, and since the GDPR came into force, you should take care of personal data that you collect from your customers.
---
How to create a food order form
This is a straightforward process that will spare you an incredible amount of time. How can such a thing be? With the help of a responsive tool called Kali Forms, you will be able to create the most practical food order form. Take advantage of the most astonishing, intuitive, and user-friendly plugin and get crazy with all its features. So, let's see how it works.
Installing Kali Forms plugin
First of all, you need a running website to create an online form. Do you already have a website for your restaurant? If you don't have one, there's no problem. Just follow this easy-peasy tutorial on how to make a website with WordPress. It will take a while, but you will be able to benefit from a lot of other aspects.
Once this step is over, you need to go to your WordPress dashboard and find the Plugins section. Click on Add New, and you'll be redirected to a page with a search bar in the upper right corner. Type Kali Forms and, when you find the plugin, press Install. So far, so good.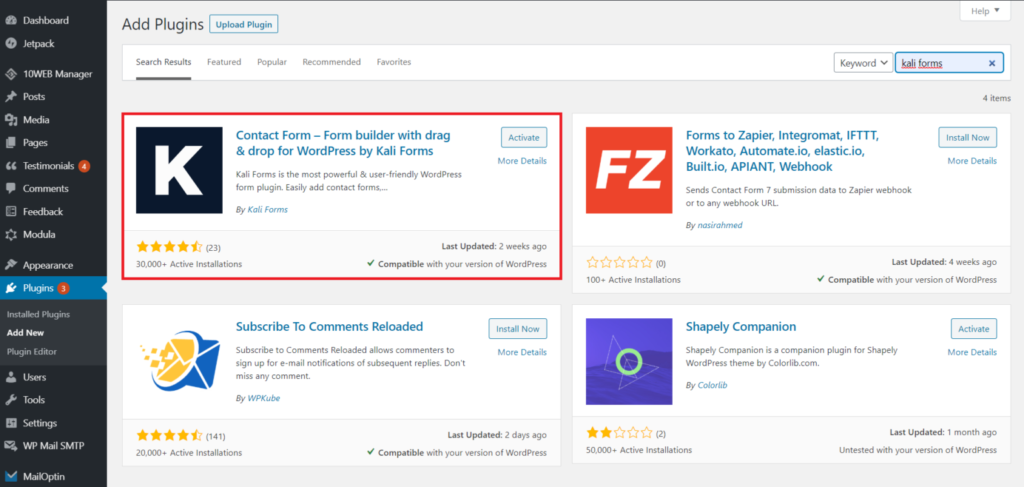 The installation will be pretty quick, so after it's done, Activate Kali Forms by pressing the button showed below.

Now you are ready to start creating your first form. Whenever you want to build an online form, just click on Add new and start the process.

---
Creating a new form
After you click Add new, you'll be redirected to a page with a bunch of predesigned templates. You can take a look and see if there's one that meets your interests. However, right now we will create one from scratch to see how it's done. Click on Create new, and let's see how it's built.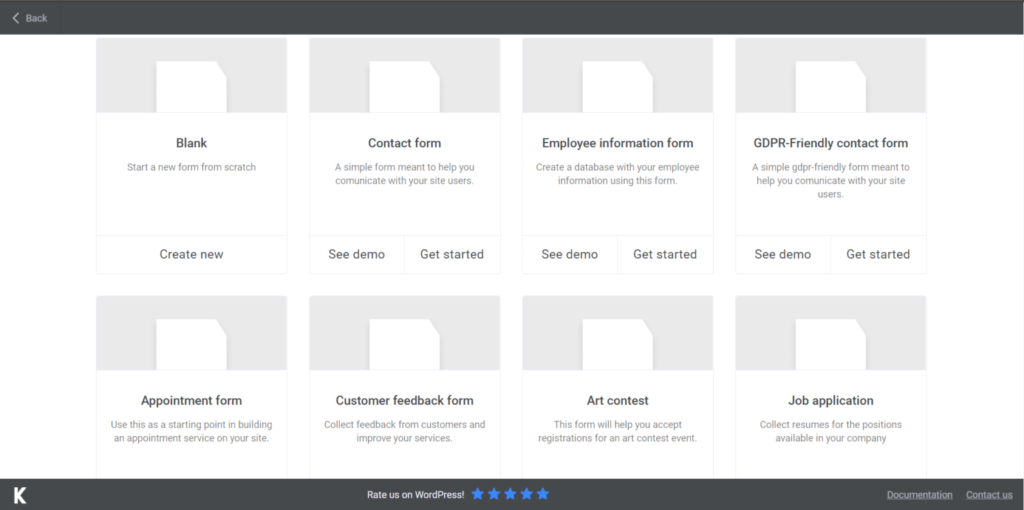 The first step is to name your form. When you create more forms, it will help you distinguish them. I simply named mine "food order form", but you can choose whatever seems right to you.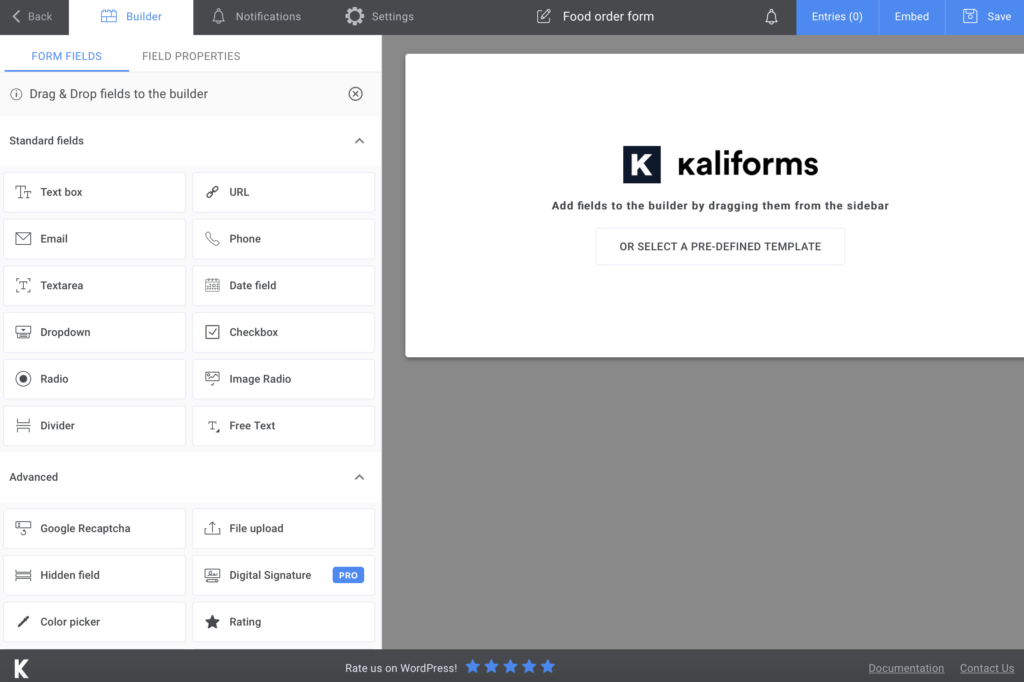 ---
Adding form fields
Before we start adding fields, I want to let you know that everything here is customizable. On the left, you'll find the menu with all the form fields and field properties. Another alternative, add a field to your form and then click on it. You can customize the fields from here as well. You can name your fields, add descriptions, and make them required to fill or not. Juggle with all these options and see which ones meet your needs.
For the first section of the food order form, I added a Text box for the customer's name, a Textarea field for the address, Phone, and E-mail fields. Most of your forms will begin with the customers' personal information like these.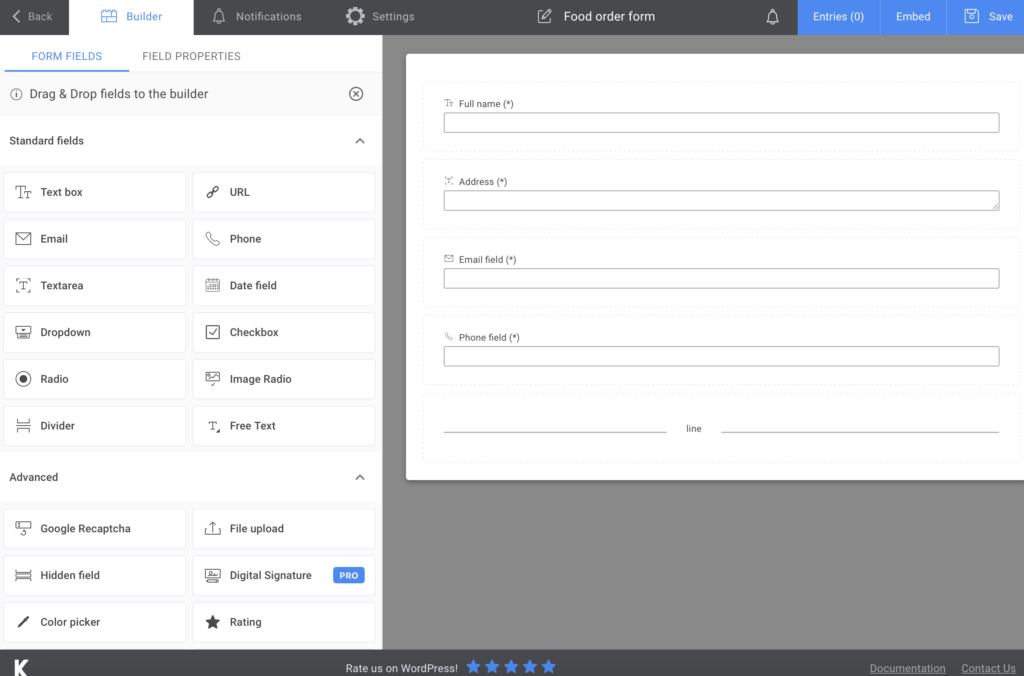 What's more?
As you can see, I added a Divider to separate this section from the others. In the next section, scroll down in the Builder section and look for Payments. Here you will be able to add Product fields with the dishes. In the field properties section, I wrote down the name of the product, the ingredients, a picture with the dish, and its price. You can add all the food you want to deliver by including product fields with the details mentioned earlier. Once you are done putting in the food you want to deliver, add a Divider.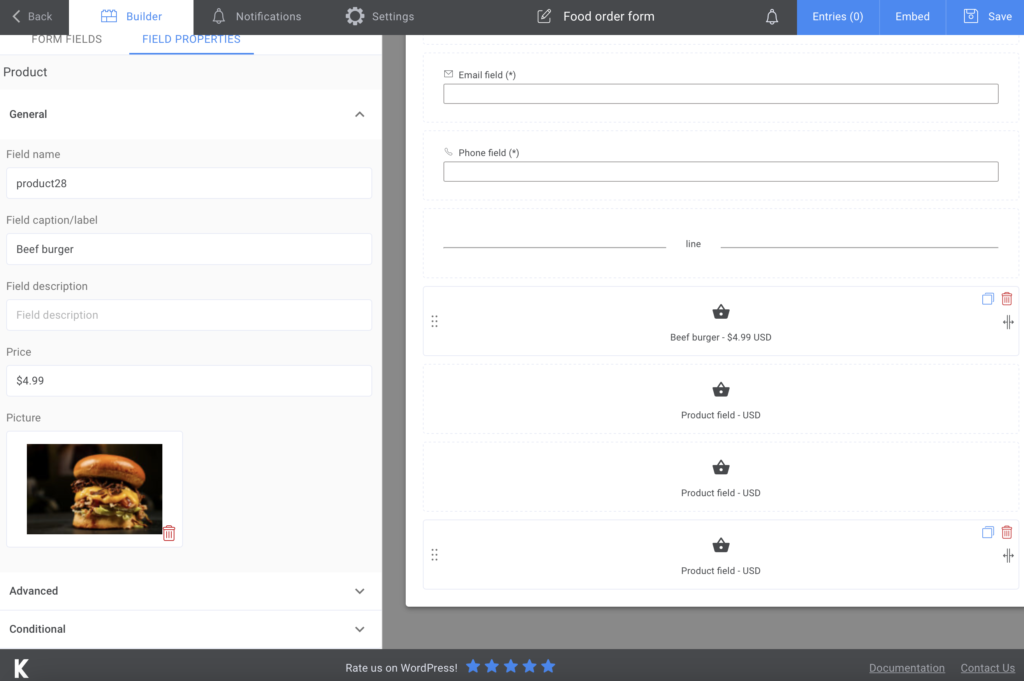 Now that your dishes are ready to be chosen, we'll go to the next section. I added a Textarea field for other mentions that your customers want to write down. Maybe they don't want certain ingredients, so give them the opportunity to mention this. What about the payments? On the left of the menu, you will see a Paypal field, so add it to your form. To get things done, add the Submit button field, and you are ready to make deliveries.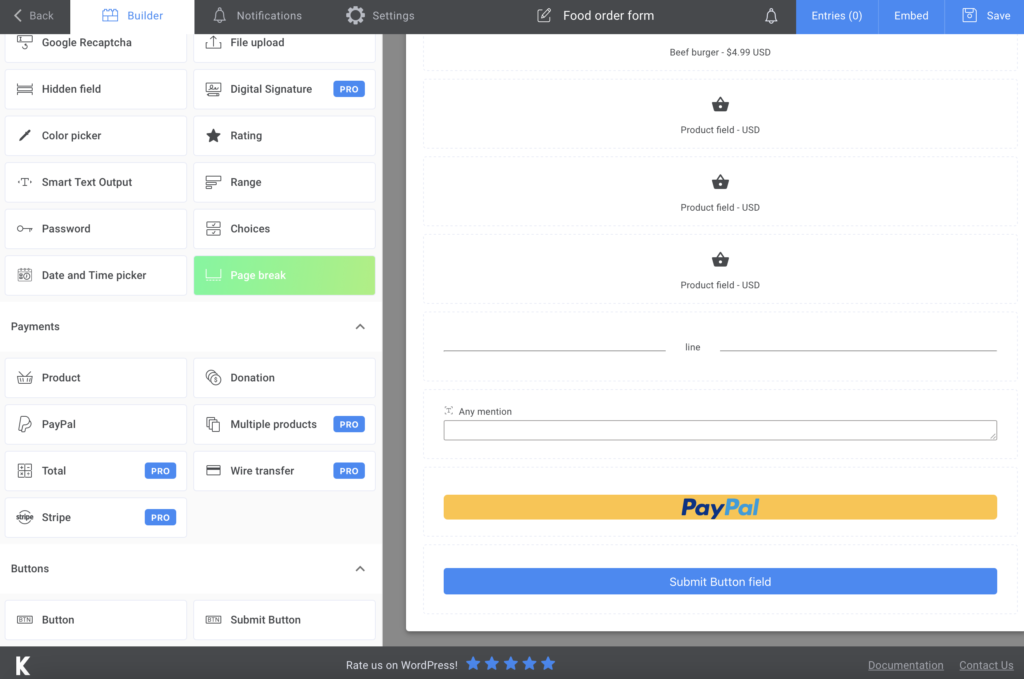 ---
Additional features
Let your clients know that you received their order and send a confirmation e-mail. How can you do that? Go to Notifications and follow the steps that are explained there. Moreover, the premium version will allow you to send SMS notifications. It's up to you.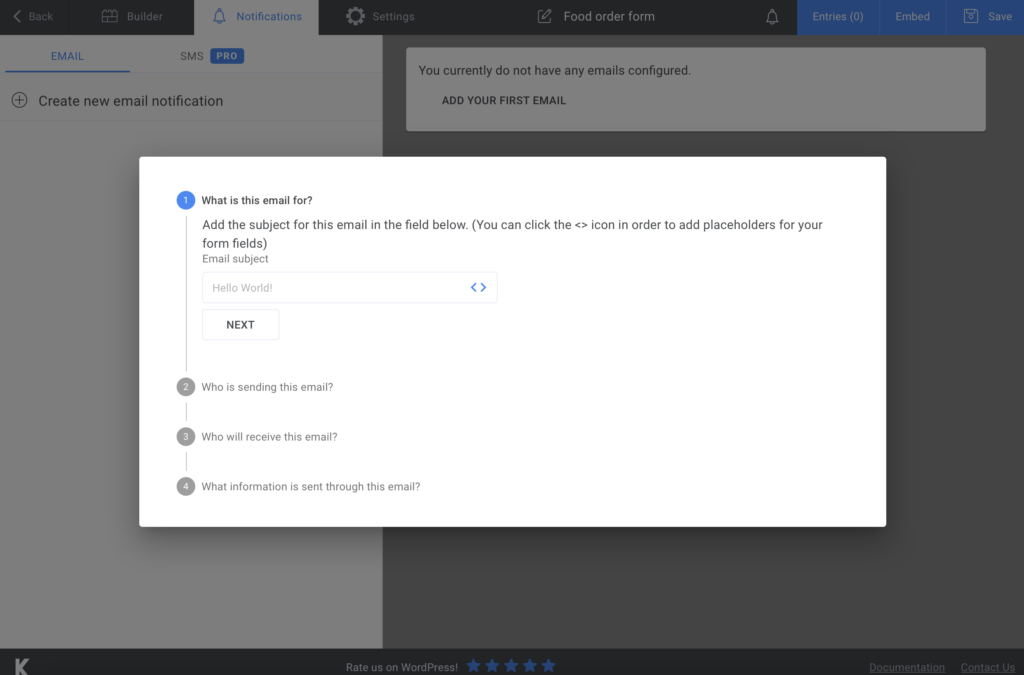 Here we are, at the end of this process. Go to Settings to take advantage of more features. You'll find a bunch of other customization options – choose your Form style or display a "thank you" message. If you opted for the premium version, you will be able to connect your form to Slack, HubSpot, and send newsletters.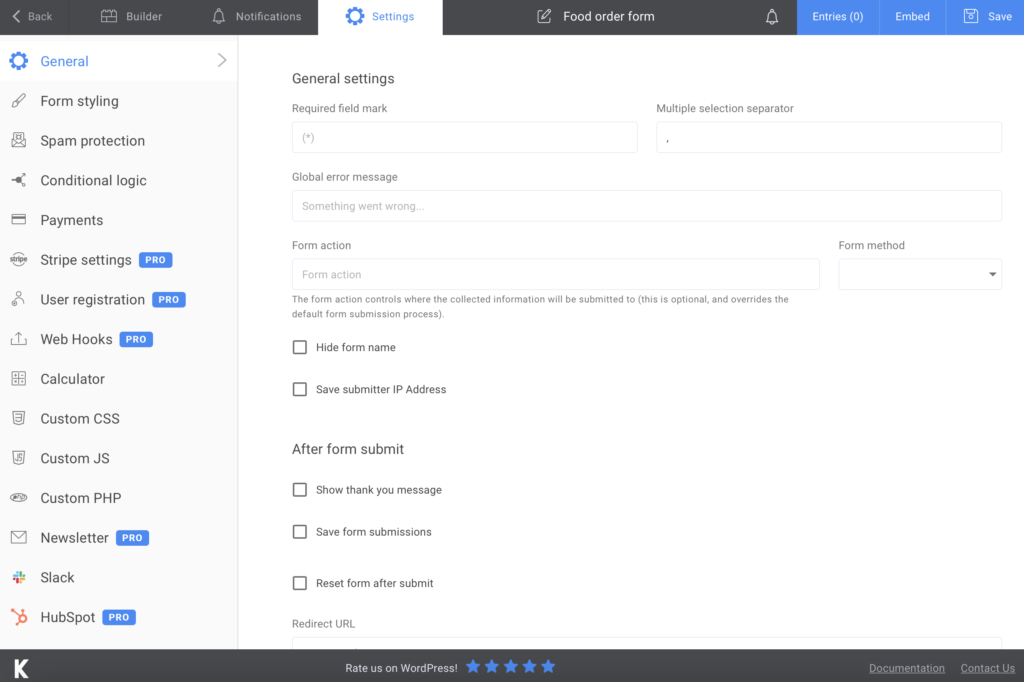 ---
Adding the food order form to your website
Now it's time to add the food order form to your website. Press Save, and a shortcode with the link of your form will be generated. Copy the shortcode and paste it wherever you want it to appear on your website.
Once your clients fill in the food order form, you can export all the data to CVS or Excel to keep stored in a safe place.
---
Summary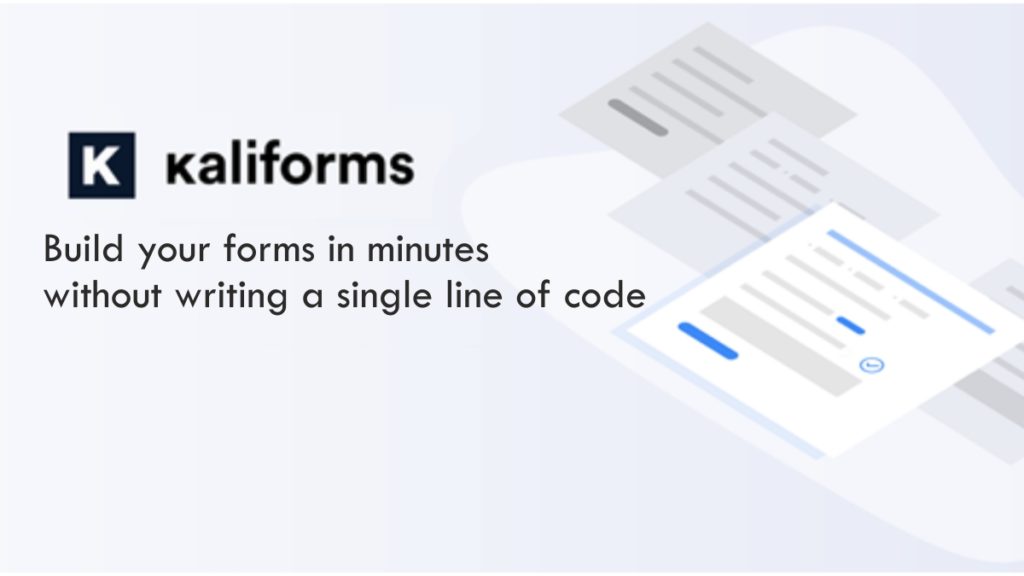 Well, it wasn't that complicated. With the help of Kali Forms, I'm 100% sure that you will do a great job. Get in touch with all the features and the customization options to create the most straightforward online forms.