With this add-on you can easily collect contacts in your HubSpot account through Kali Forms.
This add-on is only available to Kali Forms Pro users.
Let's start configuring the integration. After you install this add-on a new tab will become available in the Kali Forms menu: HubSpot Settings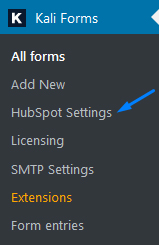 Accessing this section will provide two options: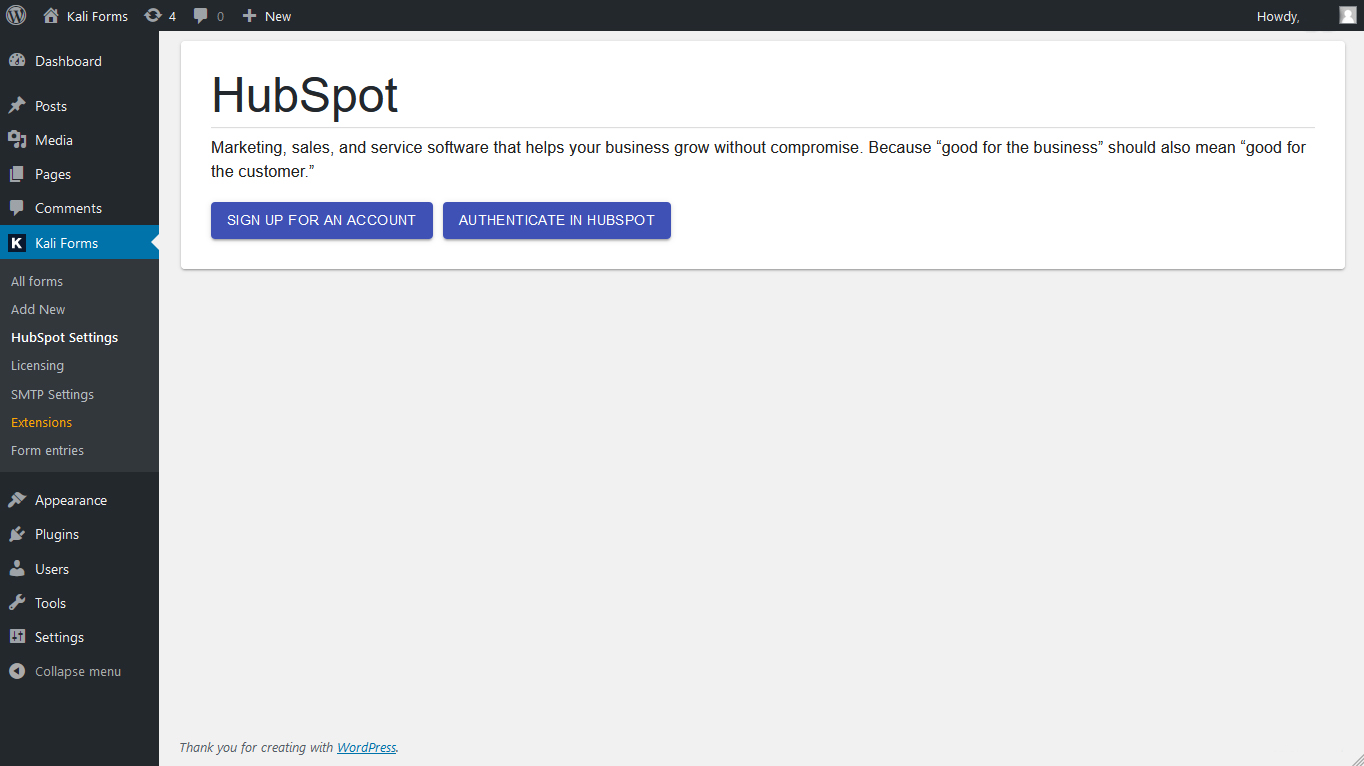 Sign up for an account
Authenticate in HubSpot
If you already have an account then you can select the second option, this will take you to the HubSpot login page.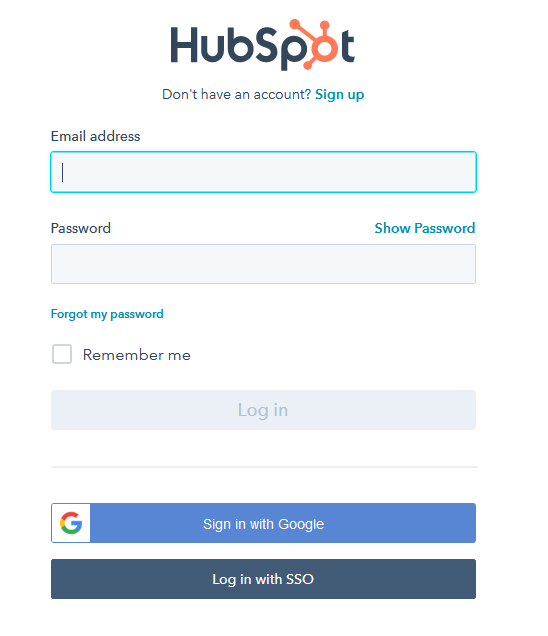 After accessing your account you will be asked to grant permissions to the Kali Forms app for: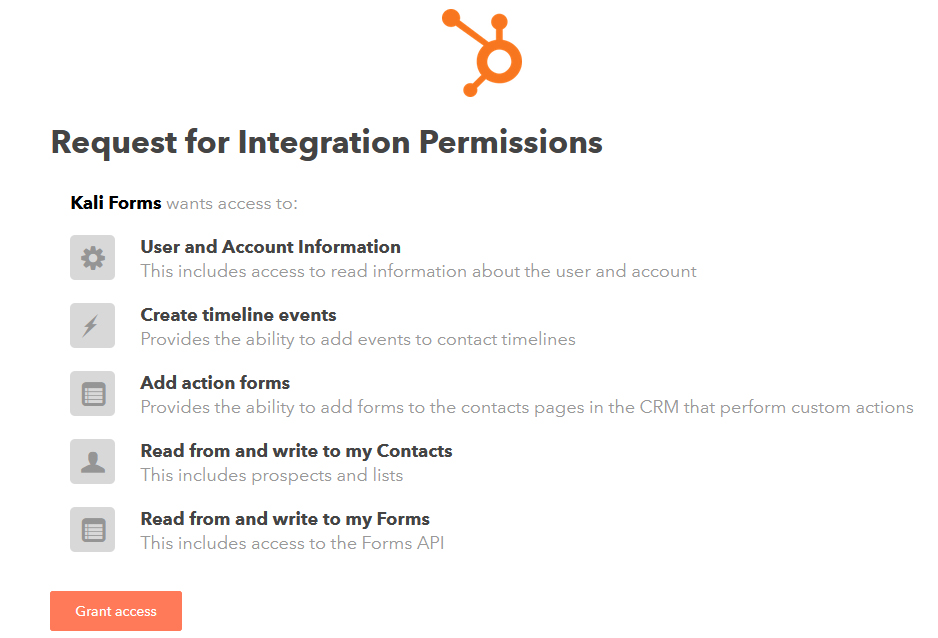 User and Account information
Create timeline events
Add action forms
Read from and write to my Contacts
Read from and write to my Forms
That is all you need to do to sync your HubSpot account with Kali Forms.
---
Now we can start defining the functionality of our integration. This is done by creating HubSpot Actions that will be performed when the form is submitted. You can create one or multiple actions for each form, then condition each action based on the user's input.
In the Settings section of your form configuration you will now be able to access the HubSpot section. You can easily start adding a new action by clicking the + button on the top right side of this section.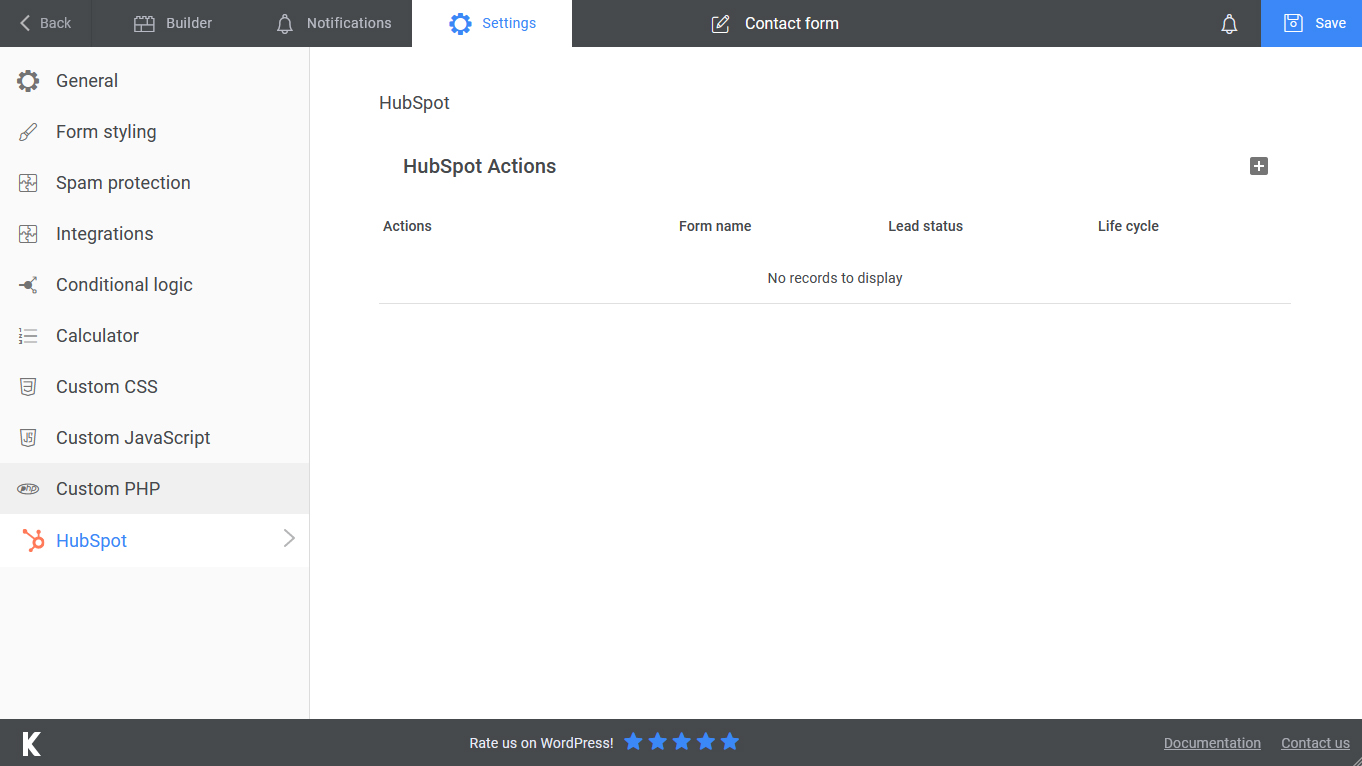 After the action is added we can start editing it through the edit button. Each action has the following fields: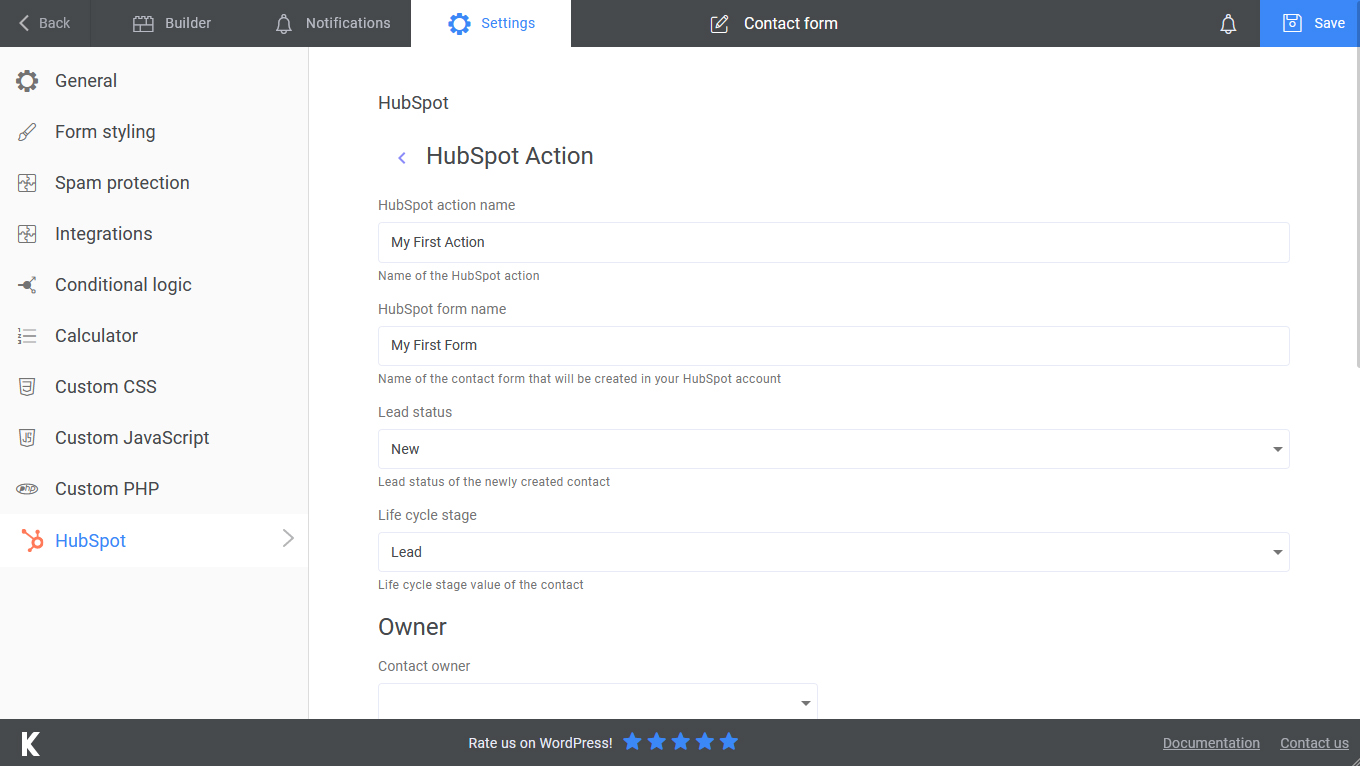 – HubSpot Action name: the name of the current action. This should be a unique identifier so you can easily determine what the action does.
– HubSpot Form name: the name of the form that will be created in your HubSpot account. The form will be created when the action is saved.
– Lead status: the status of the newly created contact. You can choose between: New, Open, In Progress, Open deal, Unqualified, Attempted to Contact, Connected and Bad Timing
– Life cycle stage value: the lifecycle stage of the newly created contact. Available options are: Subscriber, Lead, Marketing Qualified Lead, Sales Qualified Lead, Opportunity, Customer, Evangelist, Other
Next we can select the owner of the recorded contact:



This will provide two options,
Select an existing owner
Set the owner based on conditional statement (similar to how conditional fields work).

After the owner is set we can start mapping our form fields. There are three required fields to start:
Email: the email of the contact that will be created;
First name: the first name of the contact;
Last name: the last name of the contact.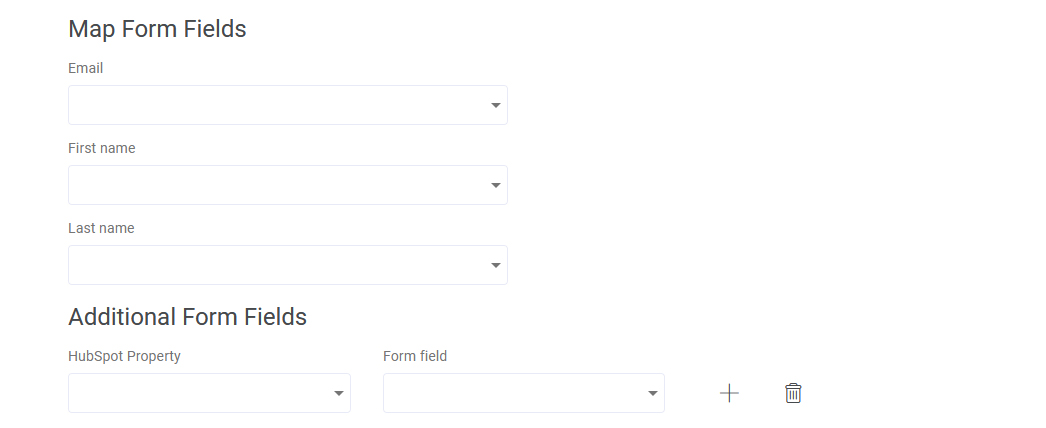 If you want to collect additional information you can do so with the help of the Additional Form Fields section. You just need to select the desired property and select the form field that will provide this information.
If you have more than one action defined, you can condition them so that each action will only be performed if the correct conditions are met. This is done from the Conditional Logic section. You can set one or multiple conditions for the action and if these are not met the information will not be mapped to HubSpot.


---
Quick Tips:
1. If you see more than one form in your HubSpot account, Forms section, this is caused by the HubSpot automatic collection of data from website forms. You can easily disable this by setting the toggle to OFF from Access your HubSpot account > Settings > Forms > Non-HubSpot Forms.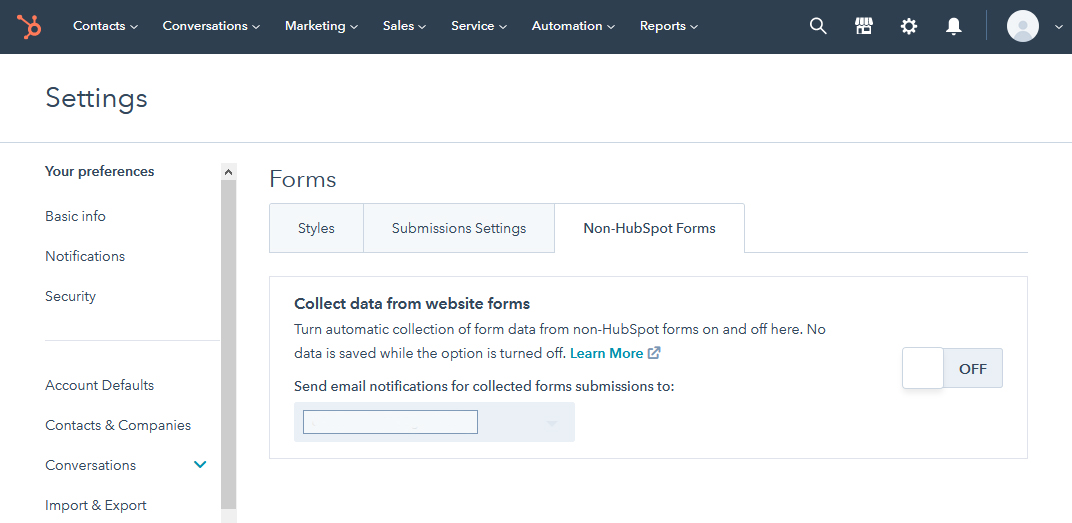 2. During your test submissions do not be alarmed if you only view one entry in the Contacts list even if you make several test submissions. This is due to the fact that a cookie is generated by the HubSpot API after your first submission and each following submission will update your first entry instead of creating another one. You can easily work around this by clearing your browser cookies or using a different browser for your second test.